Well, we are back from our 2 weeks away in the adirondacks (upstate NY). It was totally lovely. We were there with all of Dan's family – 7 cousins all under the age of 5 (!!). The weather, despite a few cool days, was warm and sunny and gorgeous. We spent afternoons by the lake, I tried stand up paddleboarding for the first time (loved it!), ate lots, slept lots, and relaxed. When you are at home by yourself with baby everyday, it definitely felt like such a treat to have Dan there 24/7 for two whole weeks.
Beansie totally loved swimming. Squeals of delight – especially when we let her go in totally naked. So fun!
And guess what happened this morning? We dropped Maya off at daycare for the first time! I was obviously nervous (typical mummy), but she just went right in, left me, and headed off straight to the other kids and toys. I barely got a kiss out of her. Ha! My social little butterfly. Anyway, I'm starting a 3-day a week contract (consulting, so my own hours, which is nice) and continuing to run my other small businesses on the side. I'm planning on keeping Maya at home with me on Fridays, so we are hoping it will be a nice balance for everyone. We'll see how it goes! Right now, as I sit at my computer solo, it's feeling totally strange…
Oh, and the house. Here are some photos of how it is looking these days.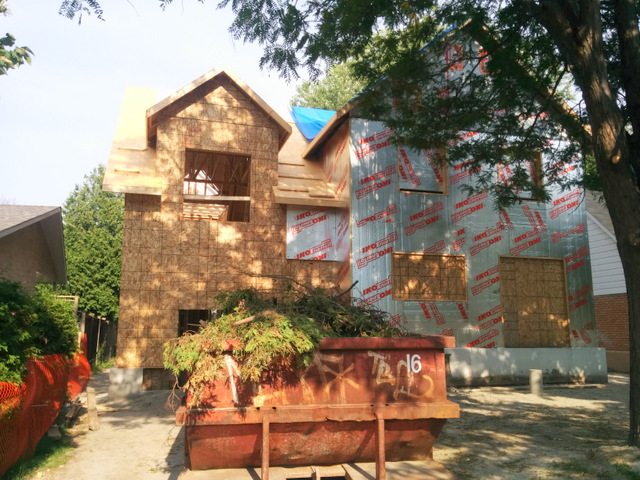 They have got all of the framing done, which is neat because now we can really start to see the new shape come together. It was looking super rectangular there for a while, so to have some rooflines up is great.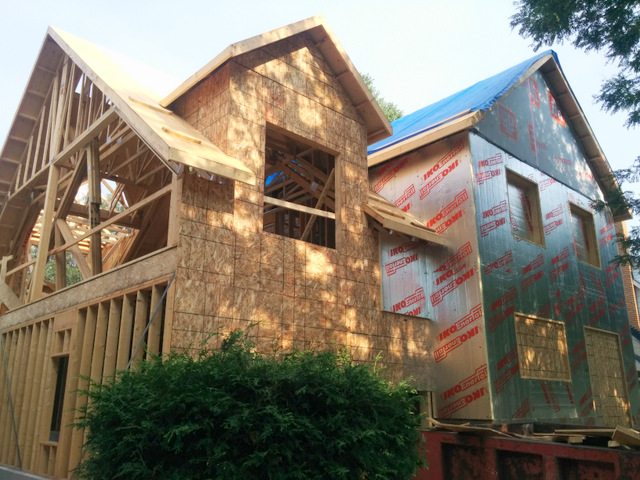 As you can see they have started to wrap the house with insulation, and some of the sheeting on the roof is done. This week they should be finishing that, and getting the shingles on. I had to make a quick decision on the shingles while we were away so they could get ordered, so I went with a basic solid black from BP Shingles (the company our contractor uses).  I had originally been thinking a grey, but with the grey siding we are going to use (Hardie Board in Iron Gray), it means that I don't have to worry about greys matching.
This is the backyard. Those concrete pillars are for our future deck. Yes – A deck! After living with just grass back there for 5+ years, we are seriously pumped about creating a nice outdoor space. Right now the building of the deck is on the list for our contractor, but if money gets too tight, we might put it off and build it ourselves next summer. We'll see…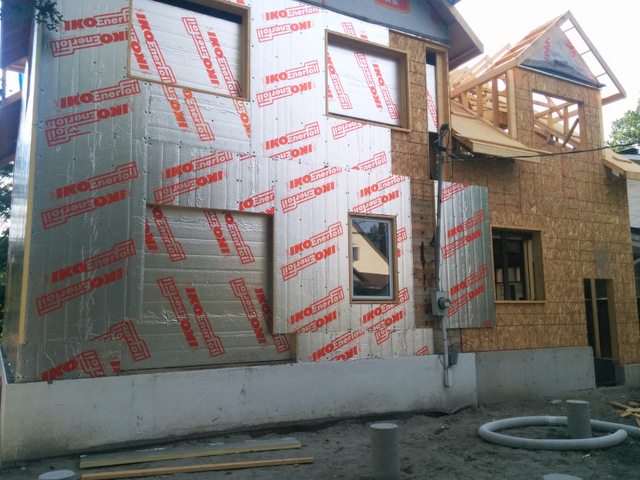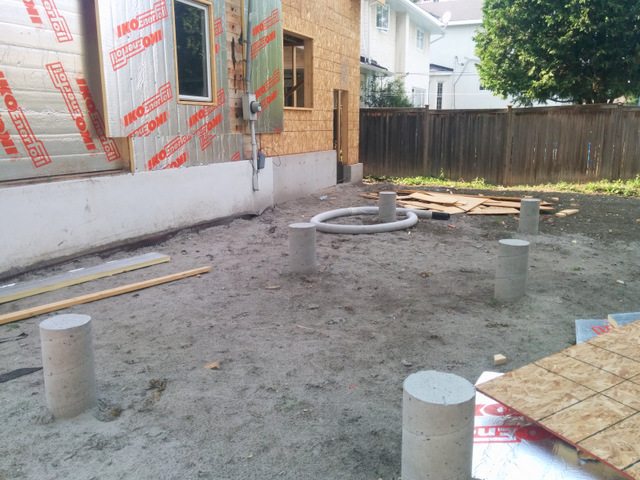 As with any project like this, you always have to expect some delays. I won't get into all of the details, but the permit process back in the spring/early summer got a little crazy. It got lost in sending to a certain section of the City department, so we didn't get all the feedback right away. Anyway, it took about 2.5 months to get everything approved and sealed – about a month longer than we had anticipated. Then, last week, the truss company made a mistake and didn't allocate for one of the stairwells. It had to go back and be partly re-built. Another week (or more) delay. Anyway, you expect this kind of stuff, but it's still a nuisance when it happens. We had hoped to be almost done with the trades (electrical, HVAC, plumbing) around now, but we're probably about 6 weeks behind where we originally thought we would be. In any case, we better be back in here by Christmastime!
Here's hoping that we are smooth sailing from here! Cause we're pretty giddy to move in….!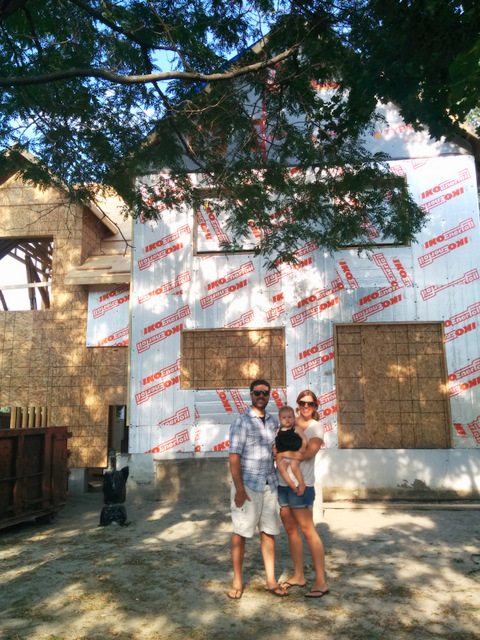 Did you guys do any kid dropping off this morning? Daycare? School? This always feels like the "real" start of the year to me. I used to LOVE the first day of school. So excited to bust out my new jeans and school supplies. I still get the feeling like I want to go out and buy a new planner and set of pens and pencils.