Happy Friday, lovelies!
In house news this week.. a garage door was installed. Yay for no longer having big pieces of plastic and wood boarding up the garage.
In terms of the look, I went for a traditional white door with ranch-style panels and "stockton" windows (from the Wayne Dalton brand). Similar to this guy: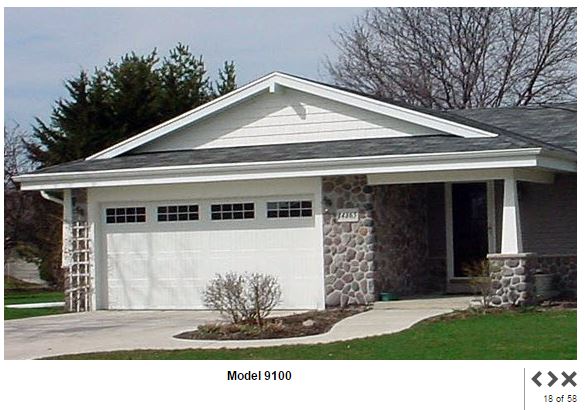 There were some more craftsman style doors that I loved, but they were expensive and I felt like this was an area where I could happily compromise on the look. It's funny – garage doors aren't something I always notice on houses, but once you are looking for one for yourself, you all of a sudden look at EVERYONE'S doors. I have been finding everything has been like that. Front doors, siding, roof shingles, porches, steps/walkways, etc. Anyway, we are super pleased with the door and with the installers (Al Parsons, if you're curious). More pics of the exterior next week – I forgot to snap any!
On the inside, some of the fun things are starting to happen. Like what, you ask?
Well, this.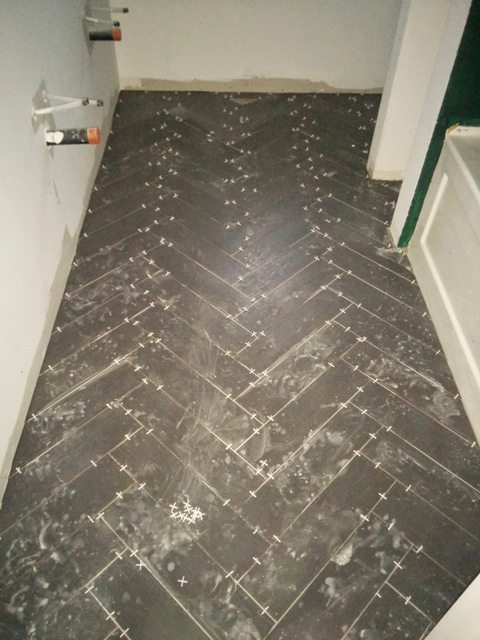 Yes. That is a herringbone floor in the kids bathroom. Be still, my herringbone-loving heart.
I will go into more details about sources and stuff used in each room later on when I write posts on each room, but I'm going for a "Paris cafe" look in this bathroom. Think black and white, herringbone, subway tile, etc. I'm on the hunt for some reasonably priced black faucets for the vanities – anyone have any suggestions?
And to continue on the flooring trend, the hardwood started going down this week too. Hallelujah! We chose a maple floor that has, to me, the perfect combination of grey and brown.
We went with the wide-planked engineered wood version for the main floor, as I was really pining after the 6 inch boards…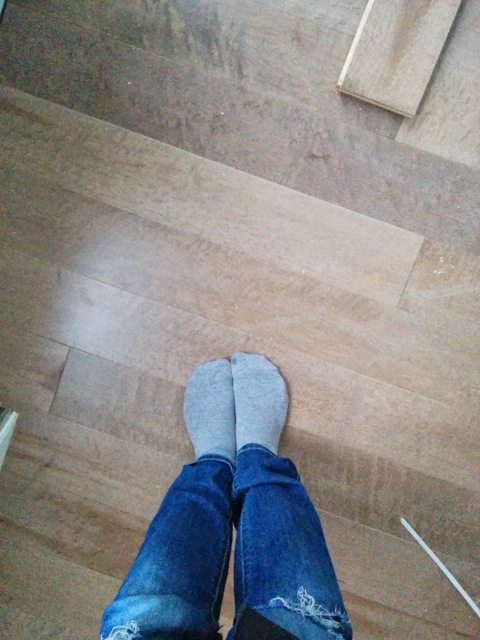 And then on the second floor, it's the same colour but in solid wood, which comes in 3.5 inch planks.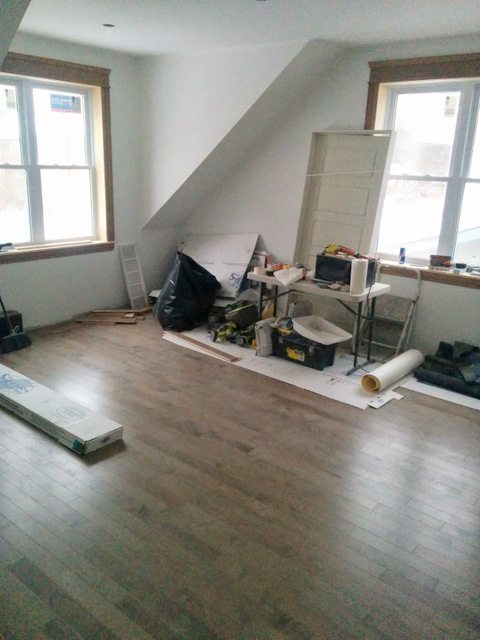 I'll go into way more details about how I chose this floor in another post, but as it's going in I can happily say that I'm totally pleased with the choice (thank god… with this much square footage to cover, it's a seriously expensive decision!).
The main floor was looking so clean and tidy before the flooring started to go in, and now it's like a bomb has gone off again. It's constantly like two steps forward, one step back.
In other news, we had one of the first snow storms of the year this week. It meant that we all hunkered down at home on Wednesday. Because we have a 1-hour commute into town right now since we are shacked up with my parents, it just didn't make sense to try and brave the roads. Dan and I switched off on entertaining our little monkey while we both tried to get a bit of work done.
(also – notice the haircut?! I solved the mullet problem by giving her a straight-across cut on the hair at the back, while she was distracted in the bath. Such a good tip from my sister in law!)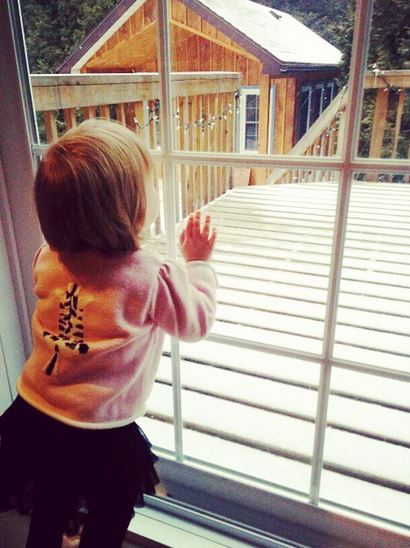 I popped by IKEA this week to see if they had a couple of things for our bathroom, and of course got sidetracked by all the pretty. Besides mint-coloured LACK tables for $4.99 (why didn't I buy one of those again?!), I fell in love with some of the global-inspired textiles. I totally have my eye on some of these cushion covers…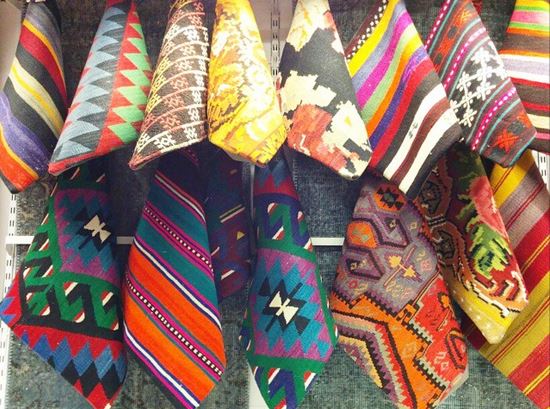 And this granny-meets-kilim rug had me at hello. Now to figure out where I could sneak this in without Dan noticing…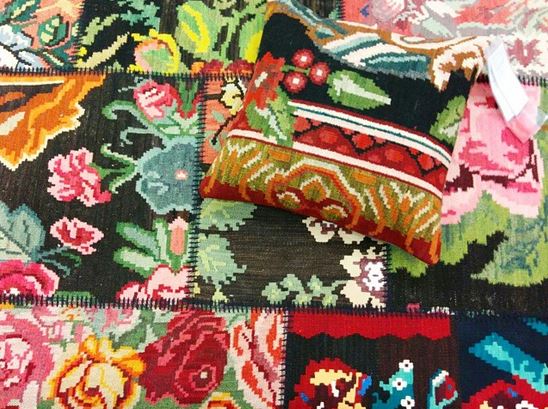 Oh, and don't forget to enter the camp & cabin giveaway I have going on. The prize? One of these sweet camp & cabin fleece onesies (amaaaazing!) and $100 VISA gift cards. Basically you can throw on your onesie, be super cozy, and do some online shopping with your gift card. Pretty dreamy if you ask me.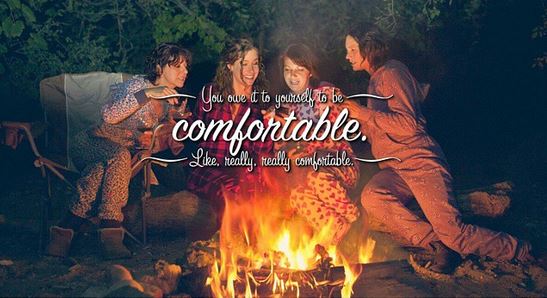 And I am participating in my last craft fair of the season this Saturday (phew! last one! it has been a BUSY two months!). If you're in Ottawa and want to go on a sweet craft fair crawl, check these out. I'll be at the Hub fair!
Have a great weekend, guys! We are planning on bringing Maya to meet Santa this weekend. I'm curious about whether it will end up in tears or a happy picture. She is a social girl, but the white beard might throw her… we'll see!