Finally! I can do a reveal of the cottage bunkie. It's been a long time coming. I first posted about making it over last summer, and then baby and life took over, and so my parents and I finished it up this season. Well, we can happily put a fork in it. This nautical bunkie makeover is done-zo.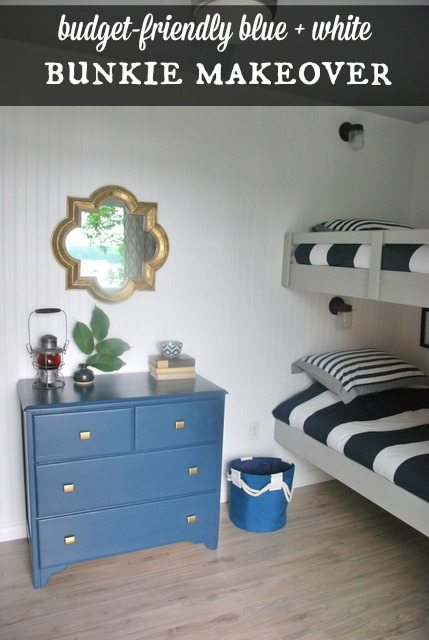 Remember when it looked like this, as my Dad's former workshop?
Well it was re-worked to double as tool storage at the back, and bunkie with deck at the front.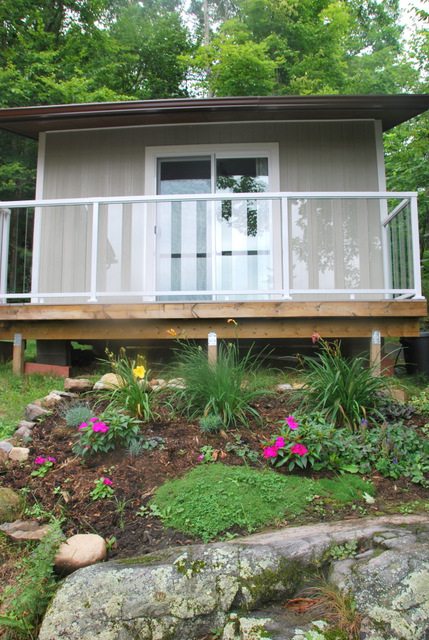 The deck and glass railing really help to show off the lake view. The plan is to put a chair up there so you can grab your cup of tea and sit and relax with a book.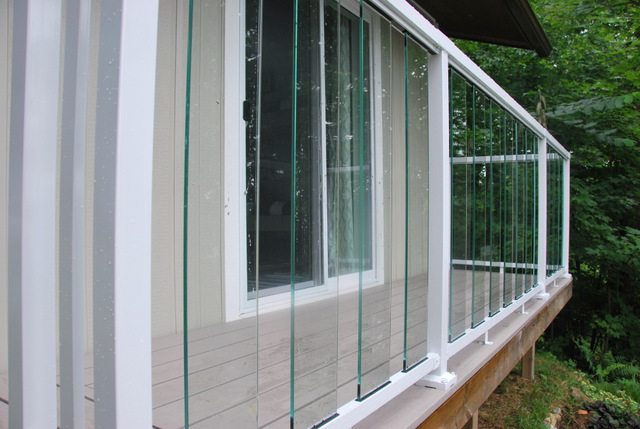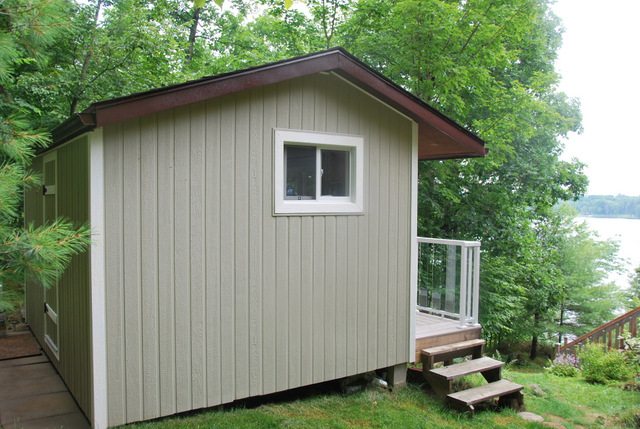 From the inside, it had been jammed with tools and other junk, and there were only the two small windows.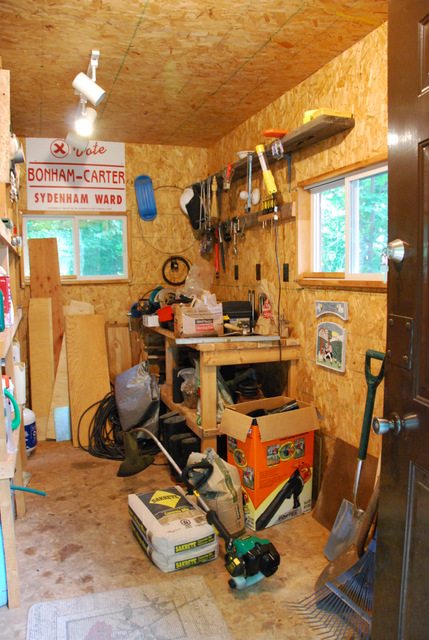 And now it is this light, fresh, and beautiful space.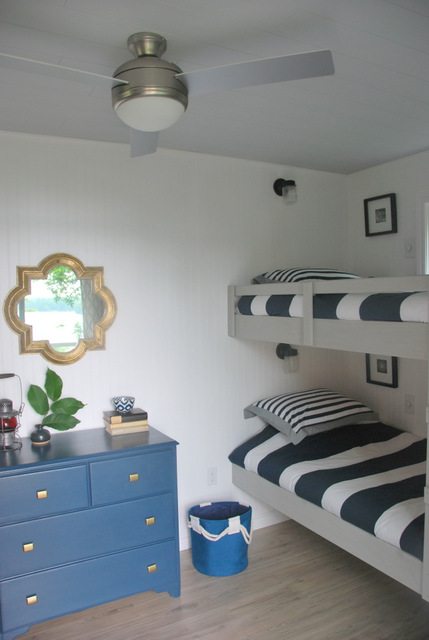 Seriously, who wouldn't want to sleep out in this cute bunk house? My mum has been sleeping in there on the regular since it was finished. Likes it better than her own room!
The black frames were from Target and I put in some vintage nautical prints – anchors, shells, sailboats, that kind of thing. I'll have them up for sale in my shop shortly.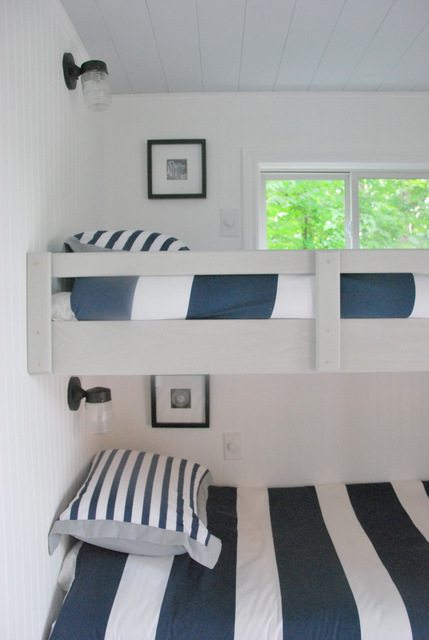 The blue and white striped bedding was from Target. We bought it at the end of the season last summer, and unfortunately it doesn't seem to be in their stock anymore. I did see some really similar bedding over at HomeSense recently though , and this collection at Target is pretty similar.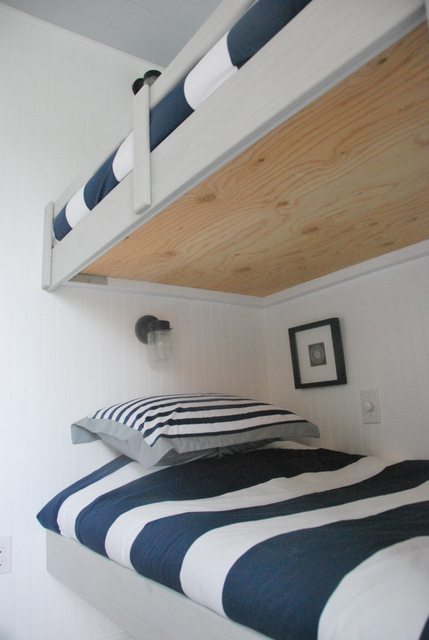 The dresser was a thrift store find that was made over with navy blue paint and new hardware from Lee Valley Tools. The mirror above came from HomeSense (the Canadian version of HomeGoods). I love the injection of brass into the room – it adds a lot of character and warmth.
I had thought that I was going to search out fabric and make the drapes, but when I came across these pre-made ones at HomeSense, I was sold. They had some interest with the grey wavy pattern, but weren't overly bold. Paired with a black curtain rod, they add a certain crispness to the space.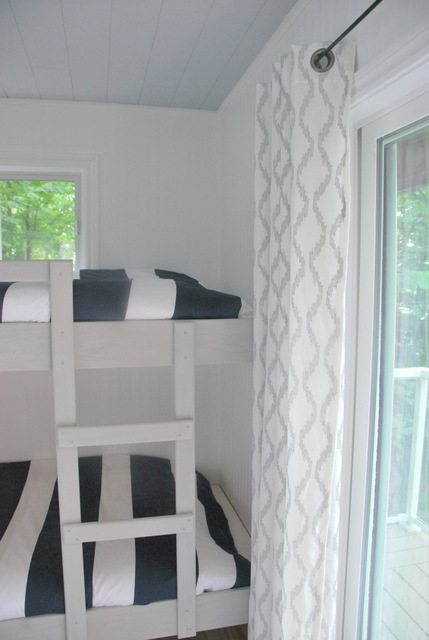 I was really happy with our decision to keep the walls white and paint the ceiling in a light grey. It definitely adds more dimension to the room.
I usually can't stand ceiling fans, but the newer sleek modern ones really aren't so bad. This 3-blade beauty came from Lowe's, and totally works in the room.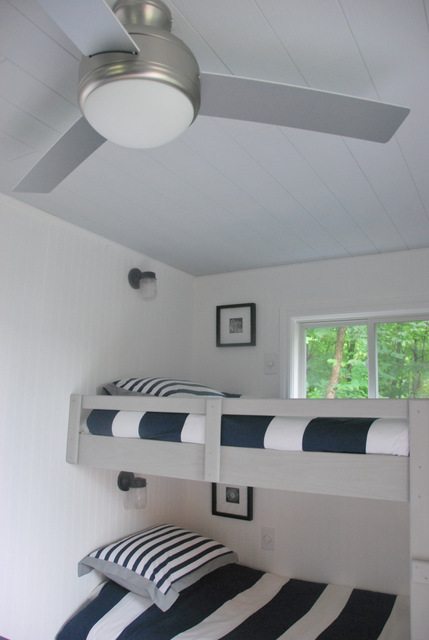 We installed the holder for the fan remote behind the curtain, so you always know where it is, but it's out of sight and won't get lost at the back of a drawer or something.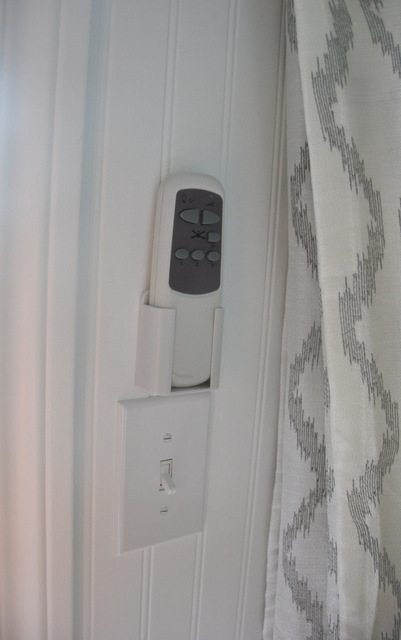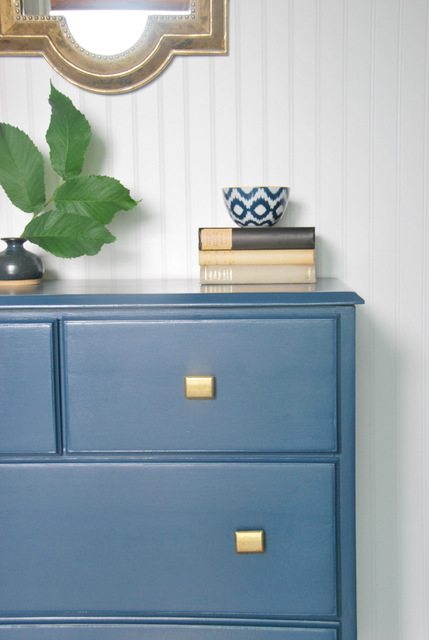 Here is a recap of the blog posts associated with the bunkie makeover (more source info there, if you are looking for it!):
–Design Inspiration
–Exterior Finishes
–Interior Finishes
–Dresser makeover: navy + gold
–DIY bunk beds
What do you think? Definitely has a cottage vibe going on, right? I just love makeovers like these. I have so much fun shopping around for everything and pulling it all together. Especially when it's for my parents – easy clients, that's for sure!