This is the year I turned 30. Some of my very best girlfriends also hit this same milestone this year, so we decided that rather than sending each other gifts back and forth across the country, we would organize a 30th birthday trip. One big present to ourselves and each other. We debated on where to go, but when one of my friends mentioned that she had had a pretty magical time the year before in Tulum, Mexico it didn't take long to convince the rest of us that it was the perfect spot to spend a week all together. And you guys, it did not disappoint.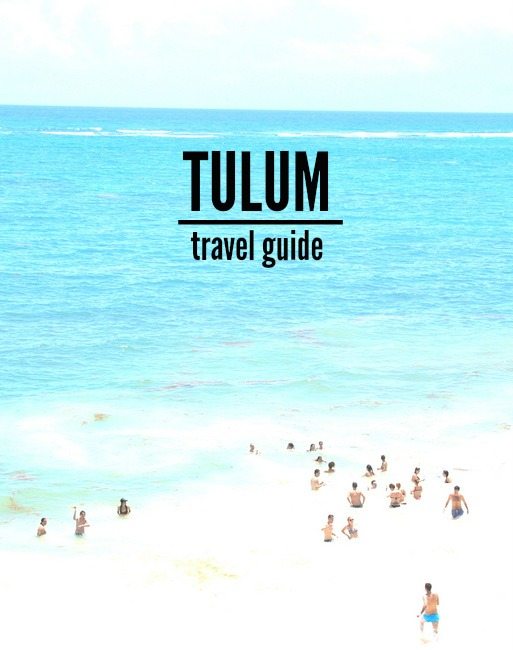 We sent out the invite to a big group of friends, and in the end it was 6 of us + Dan (the only hubby who was able to join!). Don't feel too sorry for him – he was getting major props from everyone. "Buddy, tell me your secrets. You + 6 beautiful women? Daaaamn."
We had a pretty fabulous week. Tulum is this amazing, hip little spot in the world. You fly into Cancun, drive about 1.5 hours, past the Mayan Riviera area where you see entrances to all kinds of big all inclusive style resorts, you go over a bridge and then are welcomed to this little strip of boutique hotels, restaurants, yoga studios and shops.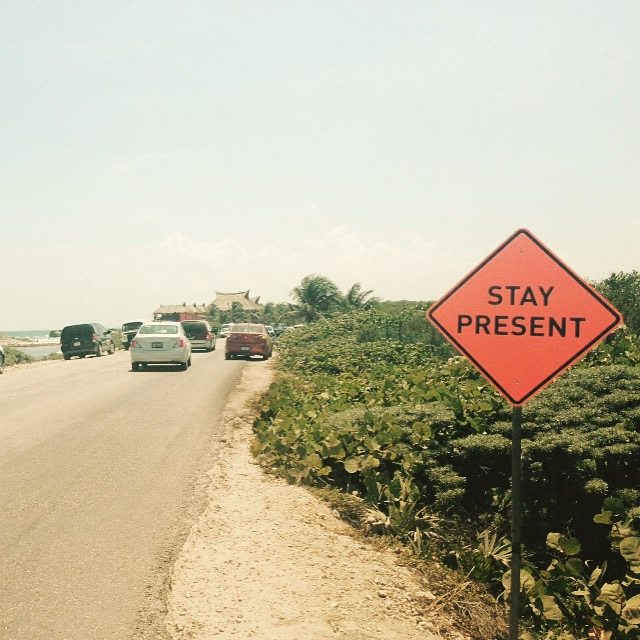 Note that this is different from the main town/city of Tulum, which is about a 10 minute drive away. This little piece of paradise is along the beach – roughly a 10km stretch.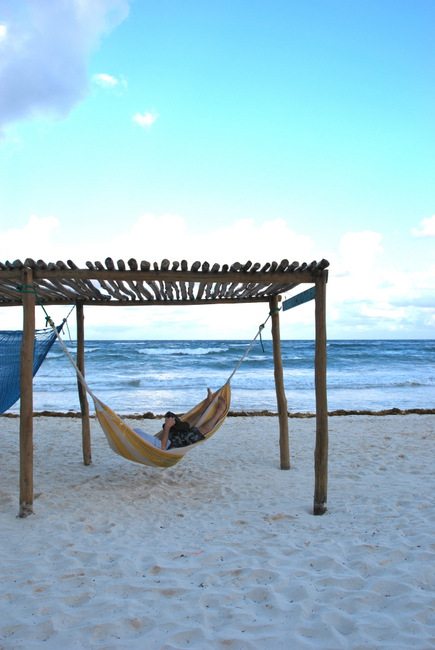 FOOD
Tulum is a foodie paradise. There are SO many amazing restaurants to enjoy. Keep in mind that you won't be eating cheaply as you might elsewhere in Mexico. It's sort of like eating at the fanciest restaurants at home, but at "family restaurant" prices. You could expect to spend $15-$20 for a pretty spectacular dinner entree.
Honestly, there wasn't one restaurant that we didn't like.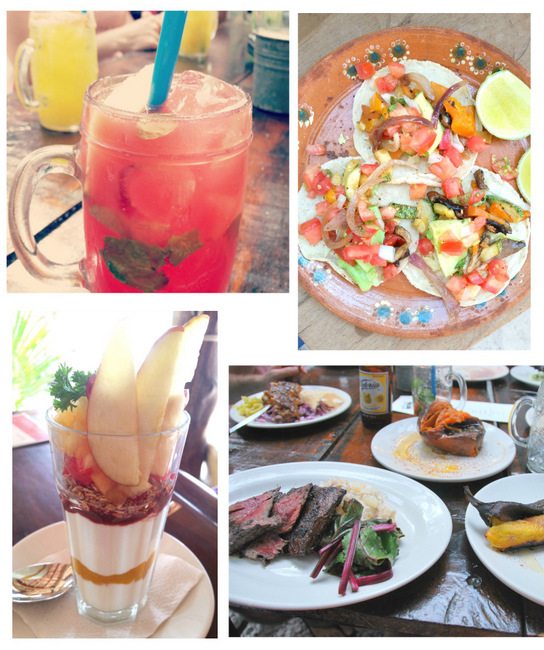 Breakfast consisted of eggs for Dan and a "caribbean cup" for me (granola + yoghurt + fresh fruit) from Ahau.
Lunches varied, but would almost always be from one of the restaurants on the beach, so that we could sit and enjoy the view. We found that if you ate at a restaurant, they didn't mind you using their beach lounge chairs. If you're staying at a hotel that is on the other side of the road (ie. not beachfront), you want to be strategic about where you buy food from so you can use their chairs/loungers for the day.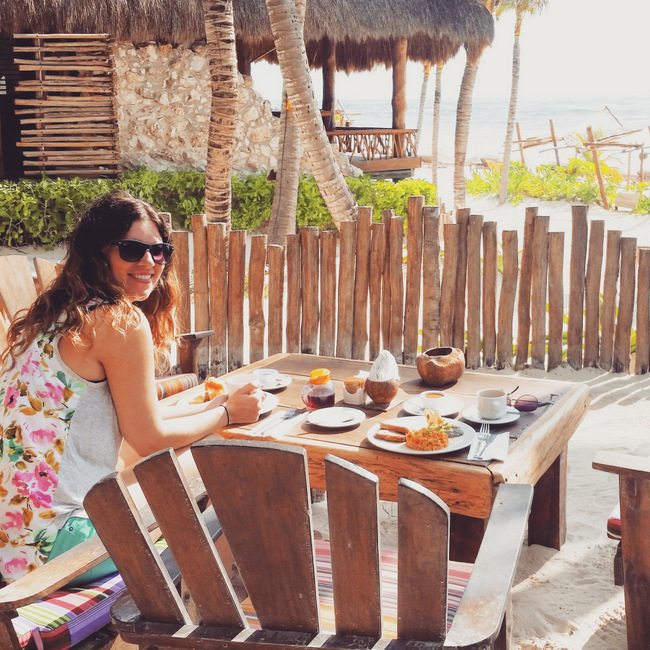 We had dinners along the various restaurants on the strip – some right on the beach, and others on the "jungle side" (across the road from the beach).
Posada Margherita > Probably my favourite of the group in terms of atmosphere. It has the look of an old Italian villa and everywhere you turn there is something beautiful and rustic to look at. Honestly, I could have happily stayed there the whole week. Since I actually spent my 30th birthday during the week we were there, this is where we celebrated that evening with dinner and drinks. The pasta is made fresh and to order, the menus are these huge blocks of wood, and the whole ambiance was just unreal. It's a must, for sure.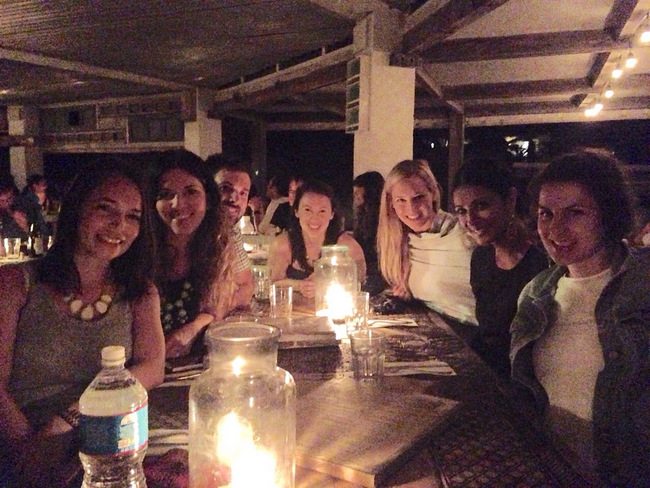 Just some snapshots from around Posada during the day…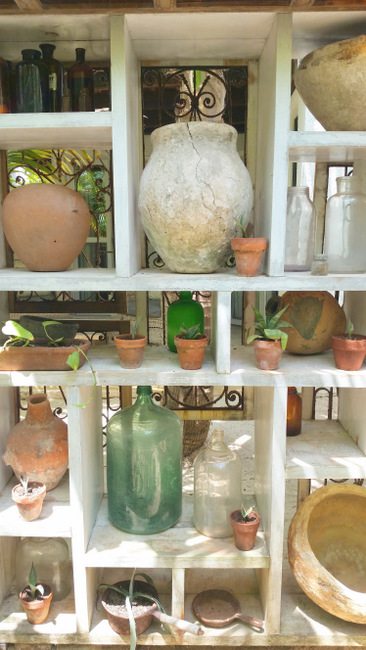 Hartwood > This is the major buzzed about restaurant in Tulum. It was named by NY Times as a restaurant to travel for, and was featured in Bon Appetit magazine. It is a bit of a pain to get into – you need to hit it at just the right time in the afternoon (2ish) to wait in line to get on the dinner list. There was a lineup everyday, and most of the people in the line didn't get on the list. After not arriving at the right time for a few days in a row, we almost gave up, but one of my girlfriends was super adamant that we have dinner there and stuck it out.
Lucky for us, she got us in, and I have to admit, it was totally worth it. Some of the best food I have ever had. My steak was unbelievable, Dan's pork was delish, and apparently the octopus one of my girlfriend's got was the most amazing she's ever had. Oh and the vegetables were hilarious — probably the biggest beet you've ever seen, served whole. I ordered two different veggie sides – a sweet potato and plantain – and they were both served whole as well, and ridiculously delicious.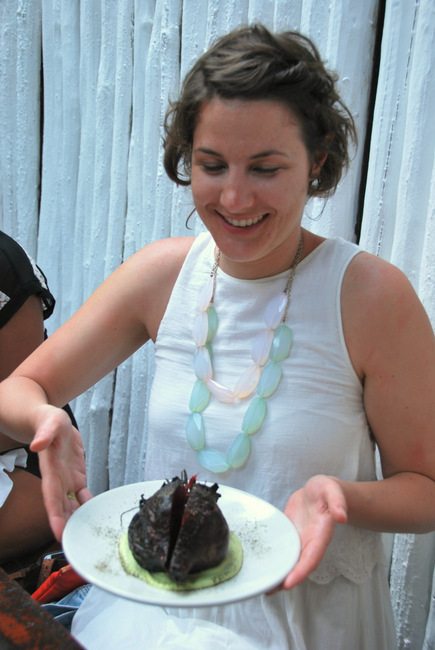 Coco Tulum > The pizza at this joint is so, so good. We had to wait a while for ours as they all go into one wood burning oven, but it was worth it.
Gitano's > AMAZING atmosphere – live music, twinkly lights, just stunning. We all had yummy taco's but the real winner were the drinks. Really fabulous cocktails.
Secret Garden > Just had drinks there in the loungy section at the back, but it had a low key, sweet vibe. Drinks were delish and the menu looked good from what we could tell.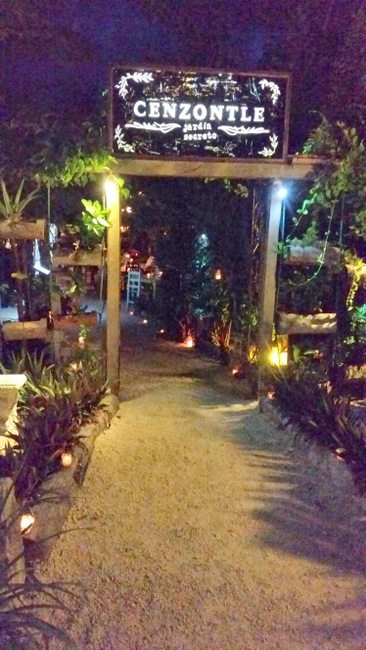 Shiva > Indian resto under a huge thatched roof with these massive couches to lounge on and have your dinner at. Again, amazing atmosphere and the food was great, too. Dan and I waddled home after eating far too much (as you do with Indian…).
Others to check out > Playa Papaya, Amansala (especially healthy menu – good for lunches), Amansala's taco booth that is located across from their hotel, Hemingway's, El Posada, and the list goes on. You really can't go wrong anywhere, pretty much.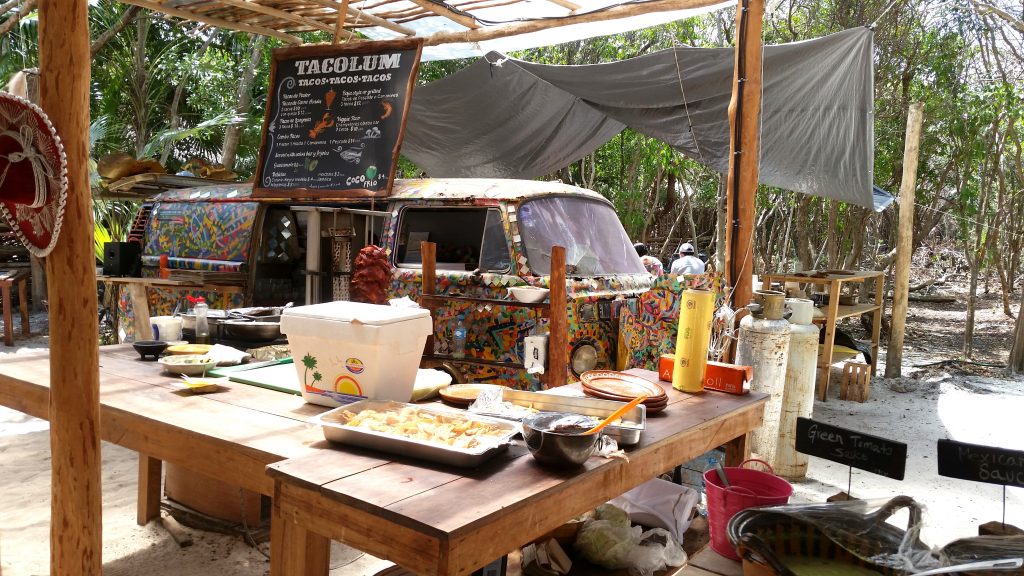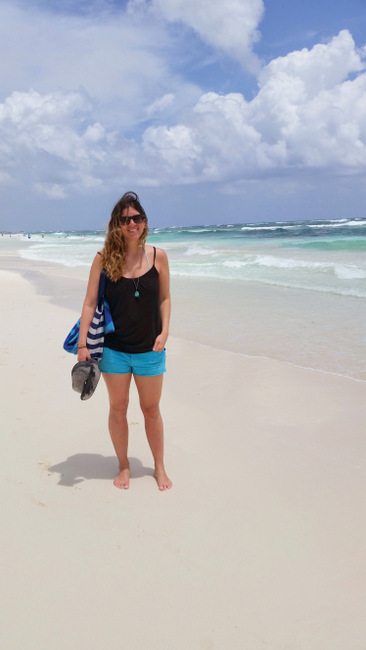 ACCOMMODATION
In order to save some money, we all stayed at YogaShala. It is a small place – about 12 rooms – that is on the jungle side, so not directly on the beach. The rooms were good (nothing super special, but clean and well looked after), and the money we saved by staying there meant we could splurge on dinners and activities (we were all on a budget). If I went back though, I would probably save up a little more and splash out at one of the beachfront spots. Just nice to have the view + a dedicated beach lounge chair waiting just for you. I won't list out places to stay as we haven't tried them out, but there are tons along the beach – a quick look on TripAdvisor would bring them up. Oh, my girlfriend who had been there before stayed at Coco Tulum and said that the beach front huts were amazing and beautiful, but the one downside is that it's a shared washroom (she would still stay there again though – she loved it).
One thing I will say about YogaShala if you stay there, is that we didn't like the bed in the mezzanine room. It was floating, which sounds all romantic, but is actually incredible uncomfortable. Major bed swaying anytime someone rolls over at night. We were propping suitcases and towels underneath to try to stabilize that bad boy. Oh and it was really "in the jungle" with big screened-in windows… which again sounds lovely in theory, but actually means that you hear the birds really loudly first thing in the morning and can hear the music and other goings-on from the nearby restaurants and hotels late at night. My girlfriends in the rooms on the main floor had beds with legs and not as many windows – better sleeping conditions, in my opinion!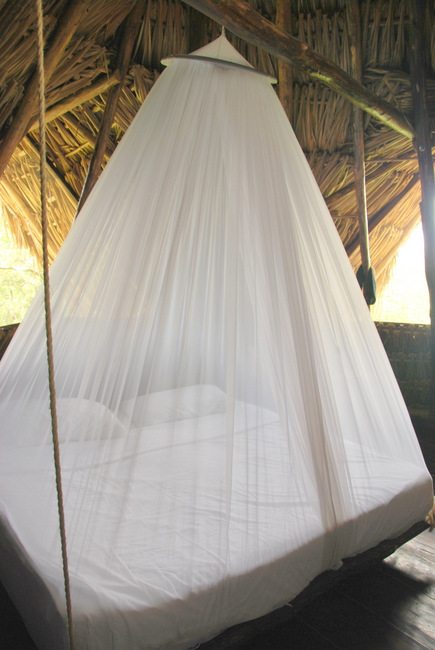 The level of place you stay can really vary from more low key spots like ours to like $500 a night super chic hotels. It's just a matter of how much you are able to spend, really. None of them are all inclusive type places though with big pools and rooms with air conditioning and TVs. Just know that Tulum is this earthy place with a zen vibe and all of the hotels are more like "eco-boutiques". Beautiful, but not with a ton of western amenities. For instance, this whole area of Tulum doesn't have a water system yet – all the water is delivered in big trucks to the area everyday, and each hotel has their own waste system. So if you want an all inclusive type vacay, this probably isn't the spot for you. I will say though, that electricity wasn't an issue for us and you could easily get wi-fi just about anywhere.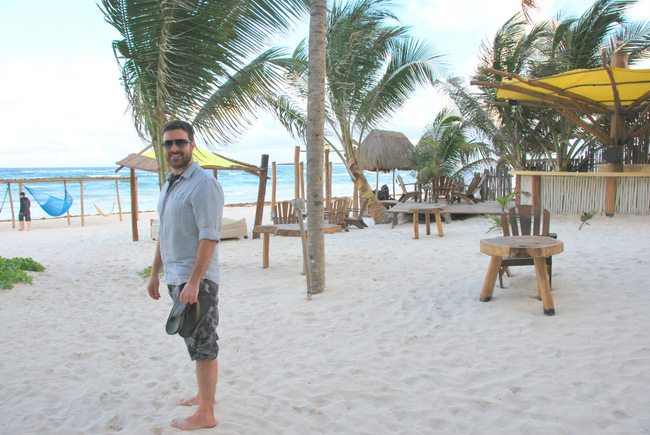 In terms of travelling to Tulum as a family, I think it would depend on how much you had to spend and how old your kids were. I'm not sure that I would go there with young kids, as I would probably prefer somewhere with a pool and more kid-friendly activities to do during the day. Going to yoga classes and fancy restaurants isn't all that fun with a toddler, you know? Of course there is the beach, which is endlessly fun for kids, but not too much else. Just something to keep in mind. What I would potentially do is stay at one of the larger resorts just outside of Tulum, and come for a daytrip!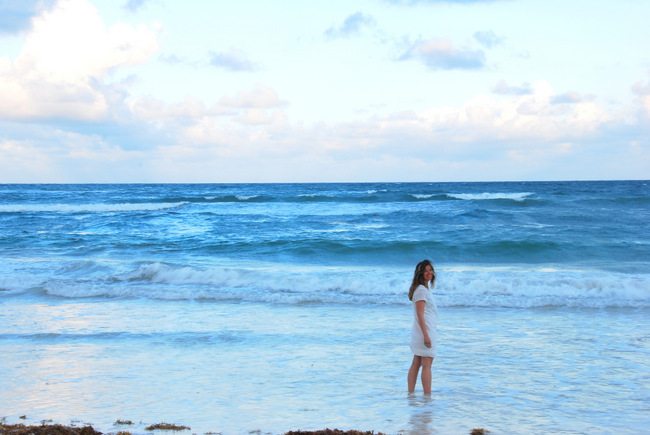 THINGS TO DO
YOGA >> If you're into yoga, then this is the spot to indulge. There are various places that offer classes – YogaShala, Ahau, Amansala, etc – and it's fun to go to different places to experience the different styles and teachers. Admittedly Dan and I planned on doing way more yoga than we actually ended up doing (whoops), but my girlfriends went to at least one class on the daily. Expect to pay $12-$15 per class, as you likely would at home.
KITE SURFING >> We didn't do any, but there were tons of folks kite surfing along the beach. Lessons and rentals were available, and it did look like lots of fun!
SPA >> Want to really pamper yourself? Go hit up Coqui Coqui spa. WOAH. I had a 3-hour package with body wrap, scrub, massage, and essential oils bath on my birthday, and it was out of this world. Just check out the pic below of my treatment room (that was the bath all prepped for me at the end of my treatments). Not cheap, but worth every penny in my opinion. The massage especially was excellent.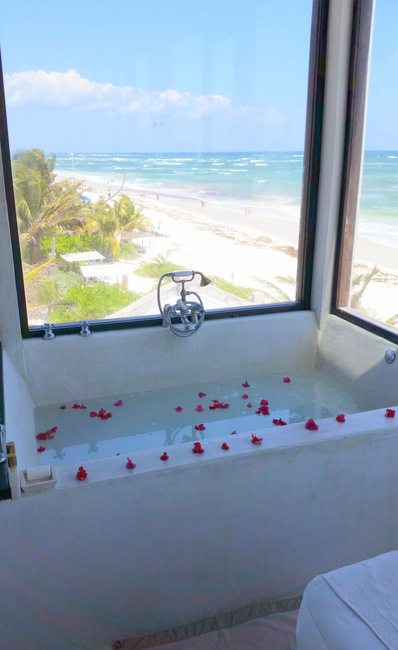 Even if you don't indulge in the spa services. go check out Coqui Coqui. It's an AMAZING old stone building – so, so gorgeous. They even have a perfumerie so you can make your own scent.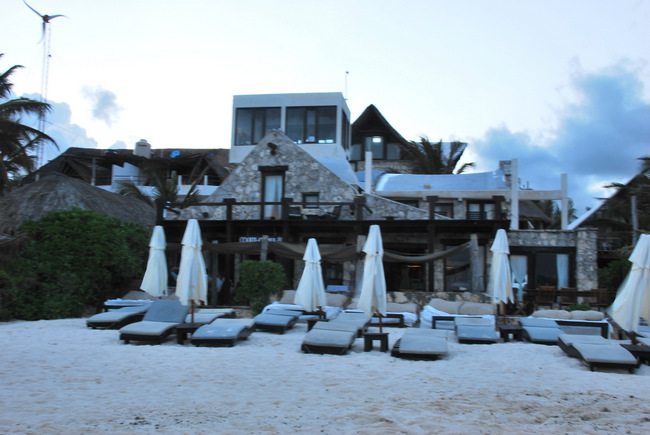 TULUM RUINS >> The Tulum ruins are only about 10 minutes away by taxi (or you could bike) and are absolutely worth checking out. Beautiful history and great views. Plus there was a popsicle vendor there when we finished our walk through and it might have been the best coconut popsicle I have ever had.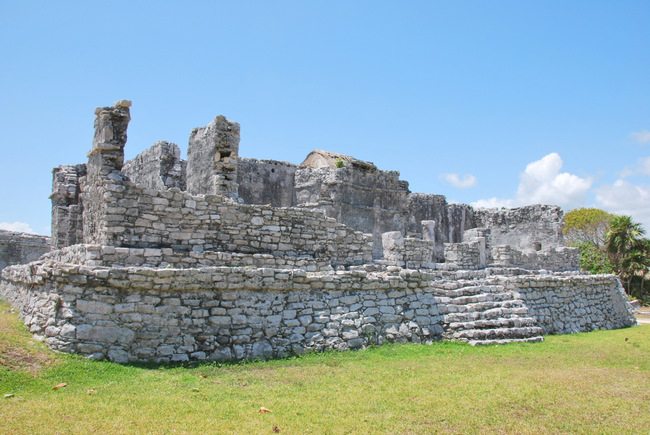 CHICHEN ITZA >> If you have a full day to dedicate, I have heard that the Chichen Itza ruins are amazing. We didn't make it all the way there, but if we had've had a day or two more, I definitely would've made the trek.
CENOTES >> We took a half day and went to the Gran Cenote, which is only about 10 minutes from Tulum. It was smaller and more out in the open than I expected, but it was still neat to throw on some snorkel gear and swim around. You swim under the caves – the water is incredibly blue, there are bats lining the top of the caves, and you can see some interesting stuff under water (but no fish really – too many people I think). We did a few turtles though, which was cool. I wouldn't say that you *need* to go to the Gran Cenote – probably any of them would be just as fun to check out.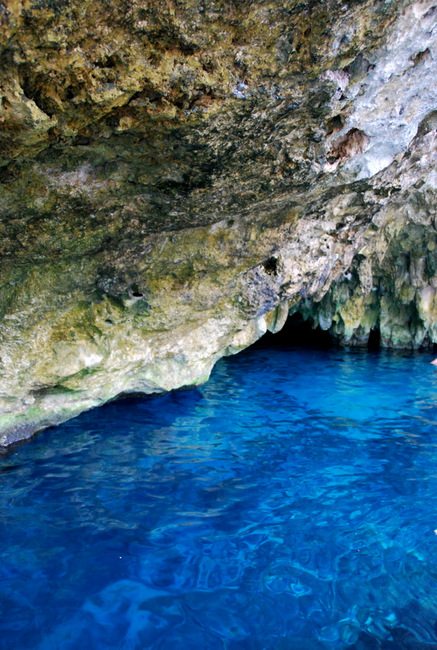 RELAX >> Most of our time in Tulum was just spent relaxing on the beach with a drink in hand. Oh and lots of girl chat for me (the best, right?). Bring a few books with you, leave the computer at home, and just zone out. It's so good to do that every now and then.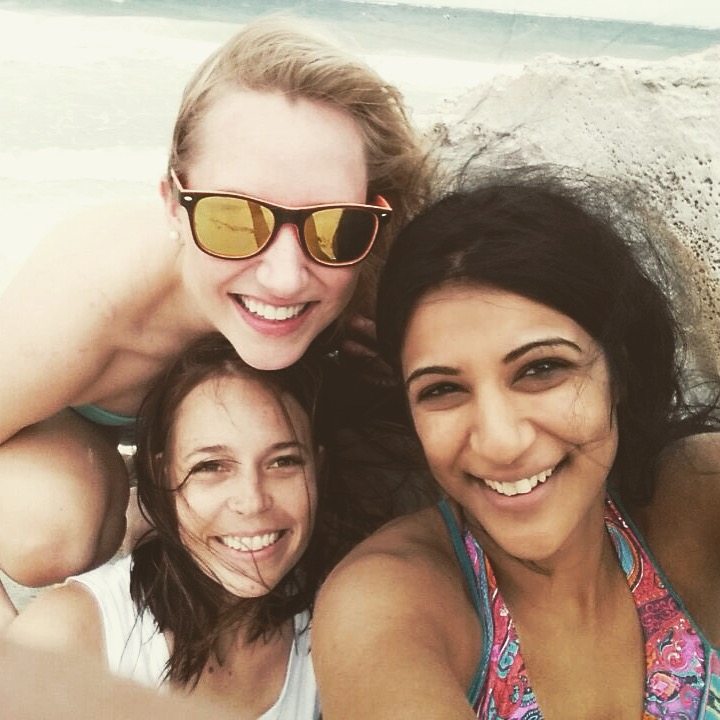 Oh and bring flash tats. My girlfriend brought a whole stack of these, and I'm telling you, they are the bomb. We had them on our feet, arms, legs, everywhere.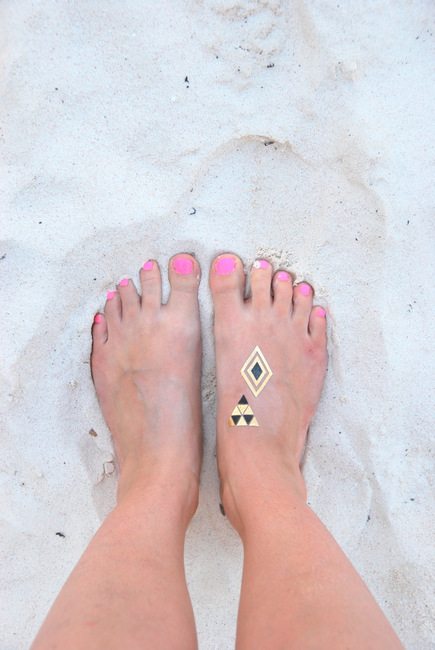 SHOP >> When you are first coming into that beach stretch of Tulum, there are a bunch of little shops right away selling largely Mexican souvenirs like blankets, hammocks, bags, clothes, etc. Definitely worth checking them out as the selection is great and they are really cute. If you want slightly lower prices though, then I would recommend taking a taxi into the actual town of Tulum as you can find the same stuff about 20% cheaper. I bought several blankets, a bag, and a table runner. I would have loved to bring home a whack of the embroidered pillows and poufs, but they were actually quite pricey, so had to restrain myself. Beautiful though, right?
There are also quite a few little boutiques dotted along the main Tulum road, amongst the hotels and restaurants. Rather than selling Mexican souvenir type things, these were more specialty goods. And definitely a lot more expensive (like what you'd expect to pay at a boutique shop at home). Beautiful places to browse!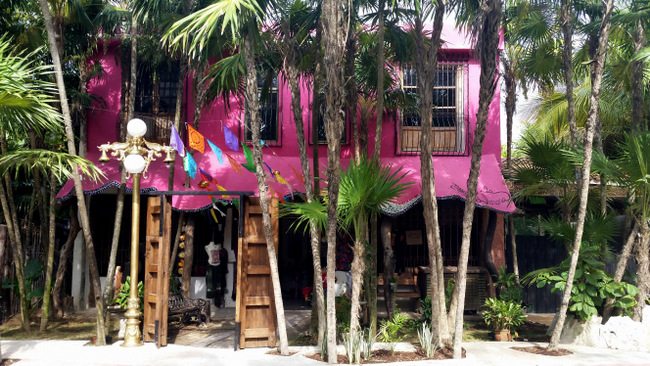 The decor of so many of these places just blew me away. There was so much thought put into the small details, and I was just loving every single nook and cranny. Each spot had its' own character.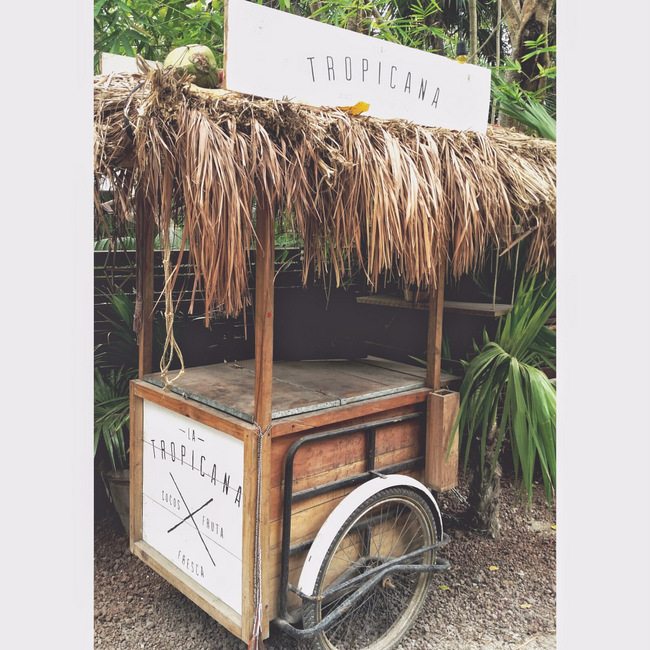 I have a feeling that this little spot is going to change drastically over the next 10 years. It has become suddenly so incredibly hip and popular, and I think that special vibe it has going on will morph into something different over time as it gets more and more developed. Even during the one week we were there, we saw a new store pop up. They literally took it from a basic wood box to a whole store with inventory in a matter of days.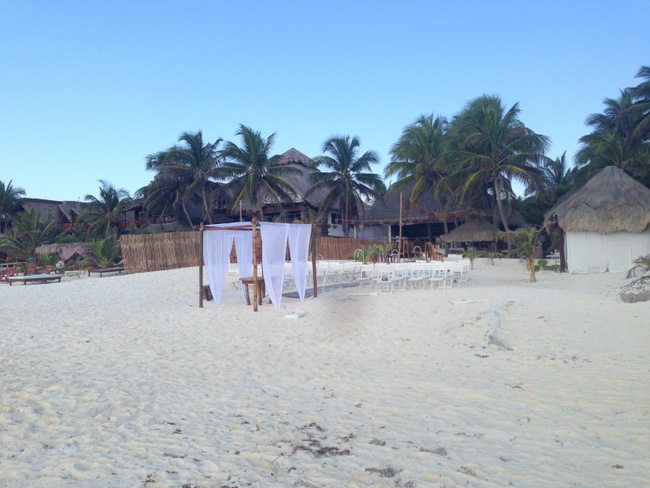 All in all, we had one lovely week. We were sorely missing our little lady (who had stayed home with my parents at our place) and couldn't wait to get back to her by the end of it. We have left her for nights here and there, but this was the longest stretch that we had ever been away together. I definitely had some tears at the airport, but once we were away and I was getting regular (2x a day!) updates from my Mum with photos, I relaxed and really took advantage of the quiet, no-responsibility time with Dan. We have enjoyed travelling with her in the past (have taken her to Puerto Rico, Florida, and England), but it's also nice to get some adults-only time, you know? A little taste of what life used to be like pre-baby, and a reminder that we are still us.
If you're thinking of going to Tulum, here are some more reviews/guides worth checking out:
–Design Love Fest
–100 Layer Cake
–A House in the Hills
–TurnTable Kitchen
–A Week at the Beach
–36 Hours in Tulum, NY Times
Have you guys ever been to Tulum? Or elsewhere in Mexico? Been travelling lately? Got a favourite travel spot to share? Tell me about it. I'd love to add it to my bucket list!