I love an organized house. I hate cleaning (seriously, the day when I can hire a cleaning service to do my house on a regular basis will be HEAVEN), but organizing? It's my jam. Having a spot for everything in the house and having less clutter makes me feel more relaxed and happier in my own home. That isn't to say that we don't have huge messes on the regular (hello, two kids under 3!) and even areas of our house that are still full of boxes we haven't unpacked since our reno (!!), but I am constantly organizing little areas one at a time, working towards a whole-house de-cluttered dream.
Here are my top 10 must-have items for organizing your home.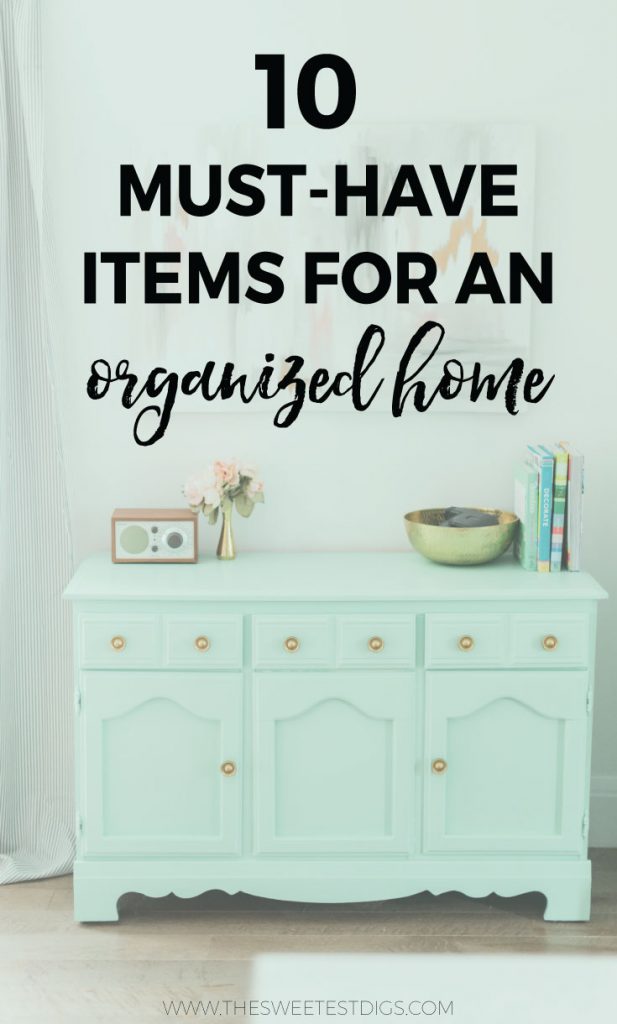 1 // Labels
Labels are like a sickness for an organizational junkie. I need to start a label makers anonymous or something. Besides the pantry, storage bins, and other regular house-stuff, I have come to realize that labeling kids gear is also a must. From the snack containers Maya takes with her to preschool, to her clothes and shoes, having them labeled keeps us from losing things and getting her stuff mixed up with others.
Until recently I had just been writing "Maya" in sharpie on her clothes tags and then had a really pathetic masking tape situation going on with her tupperware (case in point see below), and finally needed to up my game and get some good quality, kid's clothing labels.
MyLabelFactory.com got in touch and I was pumped to try out their products. Maya and I went on the computer and ordered her a starter combo set, which has a mix of big, little, and circle labels. The girl LOVES purple and so the daisy duck ones were speaking her language.
I also ordered a fish set (Finding Nemo) that have just our last name on them so they can be used for stuff that will be used by both Maya and eventually by her younger bro, James.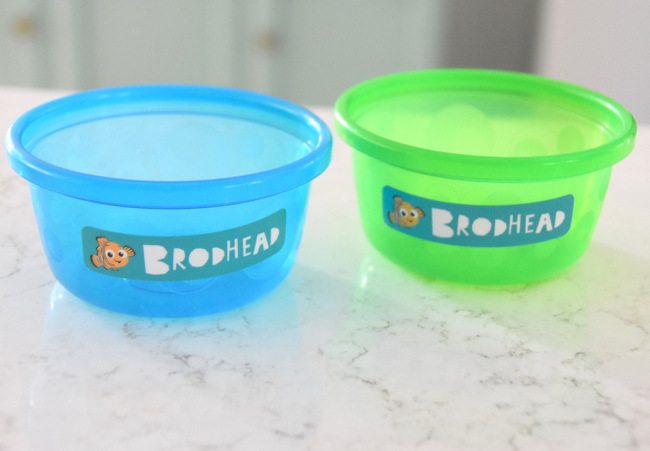 We have been putting these labels to the test lately between laundry and the dishwasher, and I am happy to report that they are standing up really well. No wear or peeling at all, so far. The different sizes are useful for different items, and I still have tons left over.
We have used the bigger ones on containers, and the smaller guys on her clothes.  They are greenguard certified for low chemical emissions and have lots of design options with licensed partners like Disney (so think Frozen, Mickey Mouse, etc).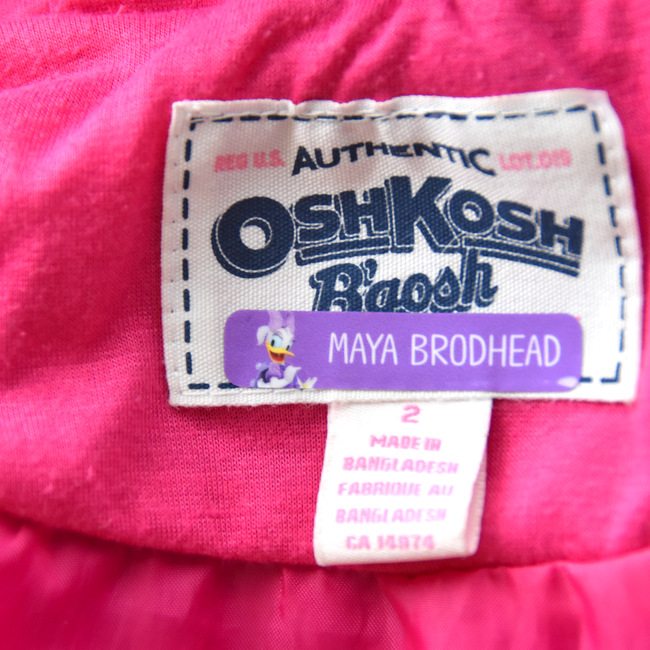 Totally recommend them if you're in the market for children's labels! And, just to sweeten the deal, MyLabelFactory.com has offered a discount code for 20% off any order until the end of July! Just enter code SWEETESTDIGS20 when you are checking out. So nice of them, right?
2 // Baskets
This is a pretty obvious one, but baskets are literally the number one thing you should integrate into your house if you want a quick way to keep things organized. We use baskets all over the place, from wicker ones in our bathroom, smaller ones that hold diapers and wipes, to bigger floor baskets for kids toys. It's easy for kiddos to throw everything back into a basket when they are done with it, and all of a sudden your house isn't looking like such a wreck.
This corner of our living room is Maya's play area. That basket for lego gets pulled around all over the house for wherever she wants to setup shop, and the rest of her toys are in that white cabinet (yep, in baskets!).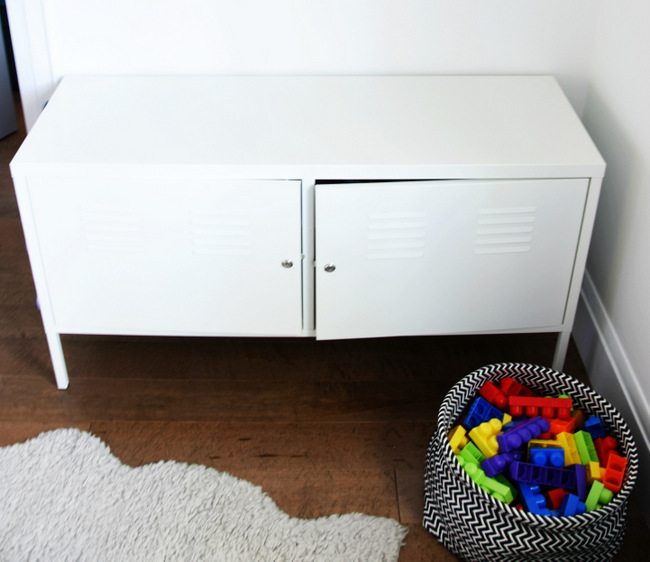 And here are a few of the wicker ones in our bathroom.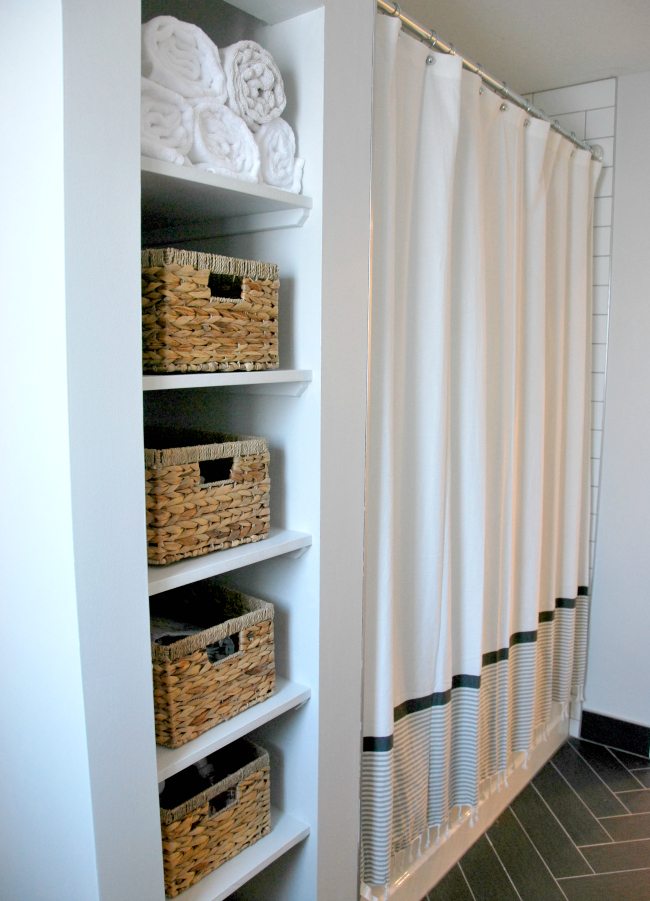 I love Target for baskets. A few that we own and some from my wish list:

3 // Trays
Similarly to baskets, trays are one of those transformational items. They can take a bunch of "clutter" and all of a sudden make it appear organized. I like to use one in my closet for my jewelry, one on my desk where I drop all of my paperwork and miscellaneous stuff, and one on our coffee table for magazines, a candle holder, and rotating accessories.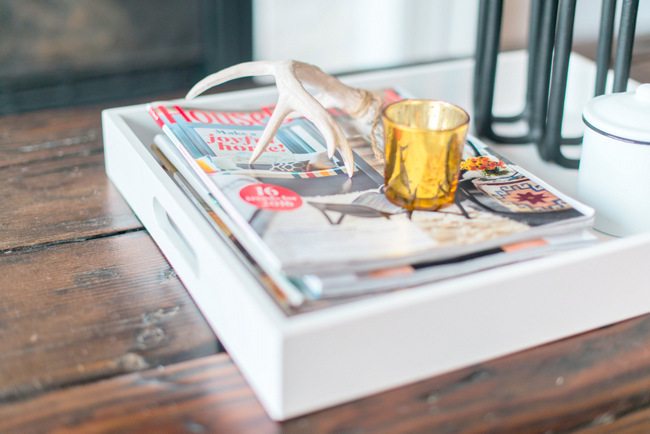 That white tray is this guy from West Elm.
And here are a few other favourites:


4 // Matching Tupperware
Sounds so ridiculous, but starting to convert all of our tupperware to matching sets is a game changer. It means that they stack nicely in the drawer or in the fridge and you're never left with that one random lid that doesn't seem to fit on anything. I have also been switching to all glass containers for leftovers, and just have a few plastic for on-the-go (mostly kid size). For glass, I bought this Anchor brand set and have loved them so far. Really useful sizes and we've been able to put them in the fridge, freezer, and microwave.
5 // Fridge Organizer
I like opening the fridge and seeing it full of healthy fresh food and looking all clean and appetizing. The door is full of sauces and condiments, but there were always also a few random smaller containers of stuff on our top shelf. I bought a white plastic bin from IKEA (this 'Pluggis' one) when I was there recently so that I could coral all of those small things. I'm obsessed. I love how it makes the fridge look all neat and organized. I'm going to grab a few more of those bins next time I'm at IKEA too, for our medicine cabinet. They are a perfect size.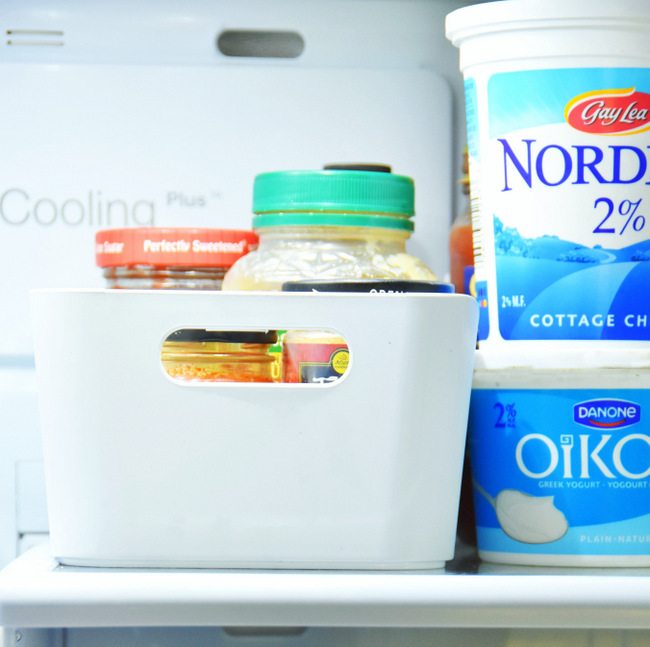 6 // File Boxes
We don't have a traditional filing cabinet, but have so much paperwork that we need to hang on to (taxes, bills, warranties, etc). I found these stack-able boxes where you can insert a bunch of file folders with tabs – and now everything we have is nice and organized into 3 of these boxes. As for hanging folders to go in the boxes? I'm totally regretting not getting these aqua ones (is it weird that I want my file boxes to be pretty?). Over the span of a week or two, I'll usually end up with some paperwork in a pile that I bring up to the loft (where those boxes are) and file away all the paperwork at once. It's nice to have a bit of a system.
7 // Gmail shared calendar
Okay, so this isn't as much about organizing your house as it is about organizing your life (and not having to have a traditional calendar pinned to your wall full of chicken scratch). Sharing an online calendar with Dan has literally been a game-changer. I feel like it helps us avoid so many miscommunications or crossed wires, because literally EVERYTHING we both have to do goes into the calendar. There are options to put things in that are "just Gemma" or "just Dan" and then a "Gemma and Dan" option so we know that those are things we both need to be at. Kids appointments, car maintenance checks, work commitments, yoga class, everything goes in the calendar. So do birthdays and special occasions, so there isn't any forgetting of anything. Seriously, gmail shared calendar keepin' our marriage afloat since 2014.
8 // Door clips
We installed some of these 3M command spring clips onto the back of the door in our broom closet, but you could do this on just about any kitchen cabinet door. These little clips is where we put up coupons, notices, invitations, and other little bits of paperwork. It means they stay more visible instead of being stuffed into the junk drawer, and so I remember to use and toss them when they are no longer needed.
9 // One designated junk drawer
OK so this might go against the whole "being organized" thing, but having 1 drawer in your main living area that is your "junk drawer" means that we can avoid having the need-to-deal-with-it stuff piled up on the kitchen table or counter. We use one drawer of our buffet near our entryway and it holds things that we know we are going to need soon. For example right now we need to hang our flower baskets on our porch. Dan went out and grabbed the hardware to do that the other night but we haven't had a chance to actually put them up yet, so those hooks are sitting in the junk drawer. It's also where we stash batteries when they are dead, until someone is going to Staples and can drop them off. Or paperwork that needs to be dealt with.
Who would know one of these drawers is a total mess, right?
10 // Shelf Risers
We had closets and shelves throughout our house that weren't being used to their fullest potential. You know, like a bunch of small items on a shelf with a huge amount of blank space above before the bottom of the next shelf. I grabbed some of these shelf risers and all of a sudden I have been able to get so much more real estate out of my cupboards. I use one in my broom closet to fit more cleaning supplies, some in our bathroom closet to hold extra toiletries, some in our linen closet, etc. So super handy!
So what about you guys? Are you organizing junkies like me? Any fave tips or products you love? Dish 'em. 
Disclosure: This post has been sponsored by MyLabelFactory.com, but all opinions as always, are fully my own. Affiliate links have also been used for brands I use and love!