House tour time! It's been a while since the last tour around our pad, so I figured it would be fun to have a look at where we are today, plus the big ol' list of spaces we still haven't gotten to.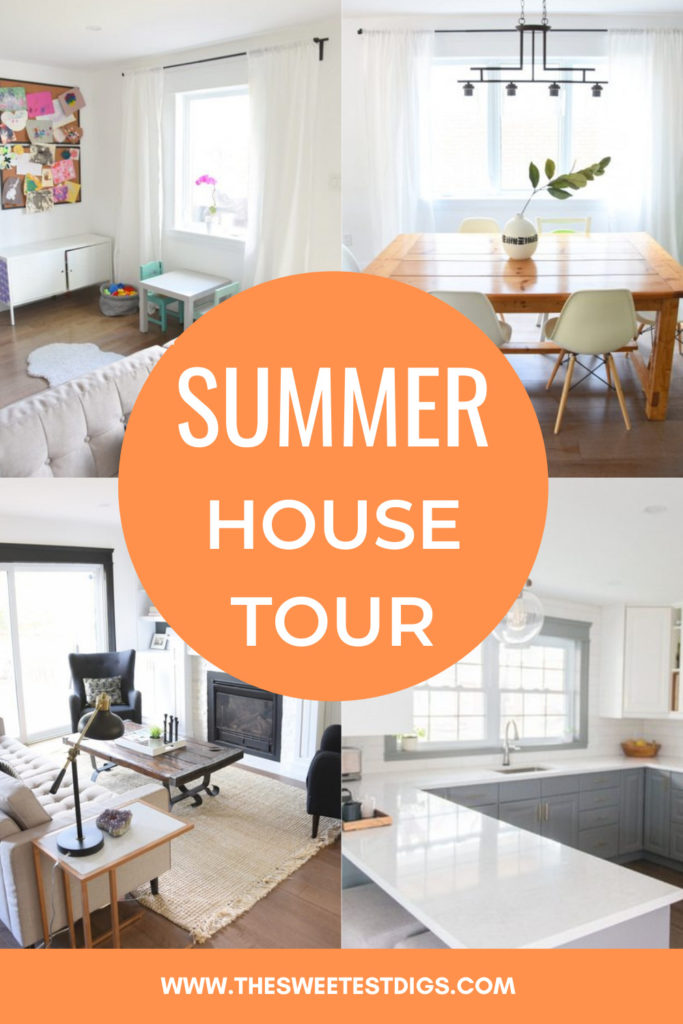 Let's take a little trip back down memory lane for a sec. It's hard for me to even believe that we started with that sweet little bungalow…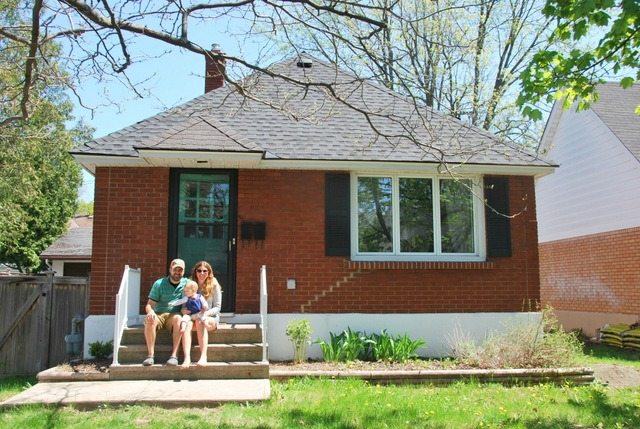 Construction time! Mid-reno… adding our second story plus attached garage (PS. look at how little Maya is here! #sob)…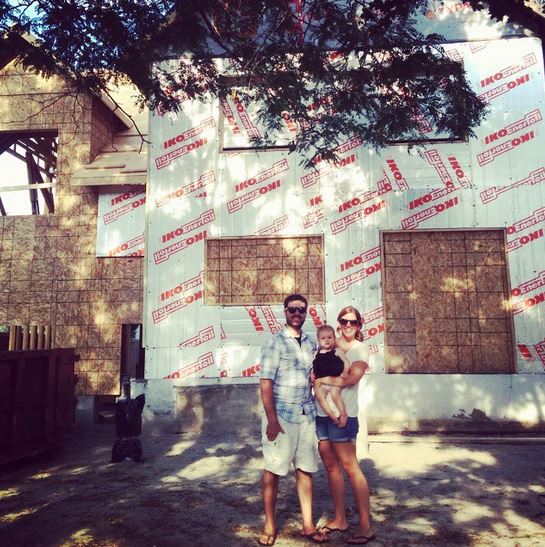 And, this is where we're at today!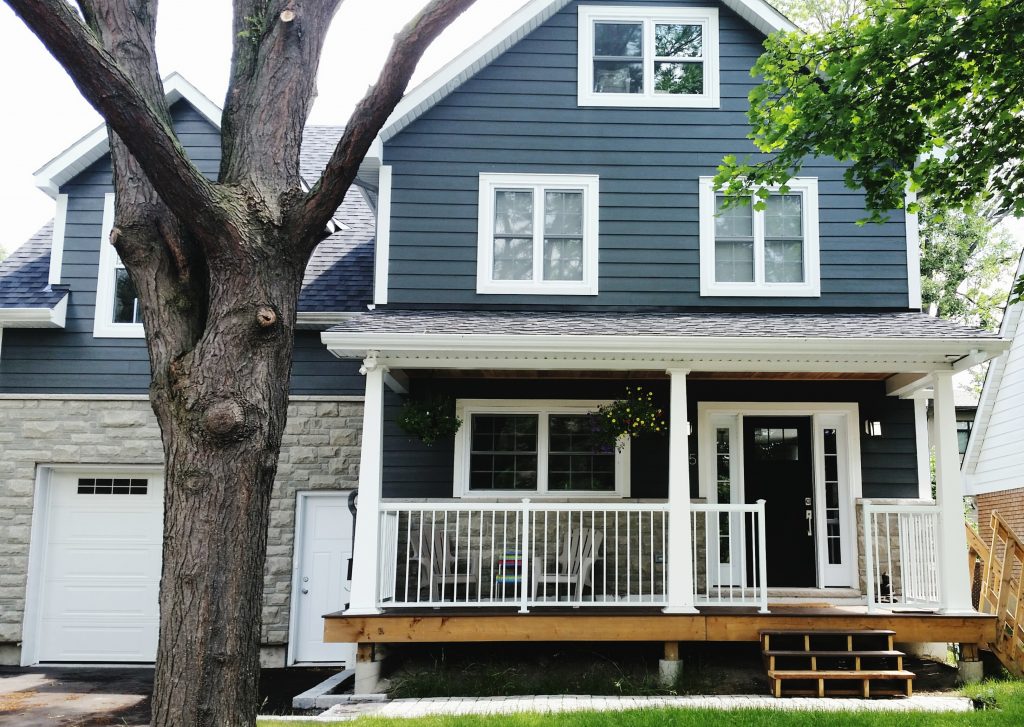 So far this spring/summer we have been focusing on getting our grass to come in, and as you can see, are midway through finishing up the porch. The steps are a work-in-progress, we need to install the skirting around the porch, and then add some plants in front of it. We figure that both in the front and back of the house, we will work on the landscaping over a number of years. We don't have it in the budget to go out and drop a bunch of money on plants right now, so we're going to work towards our vision over time. A plant here, a plant there, ya know?
Beside the entryway is the kitchen. We kept the kitchen in the same spot as it was in the bungalow so we wouldn't have to do any major plumbing movement, but just opened it up and tweaked it around a bit. If you want a full rundown of the kitchen before + after with sources head on over to this post.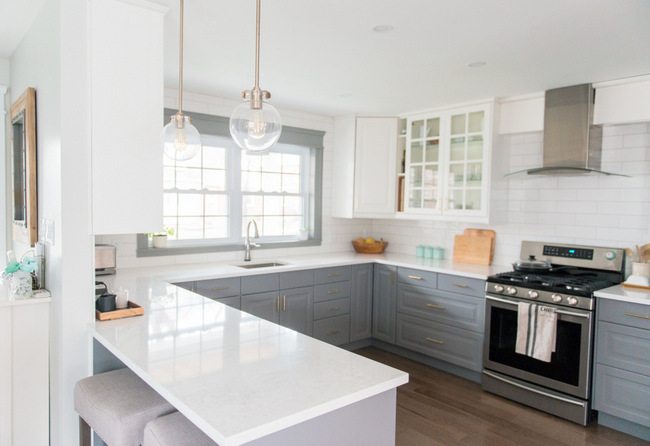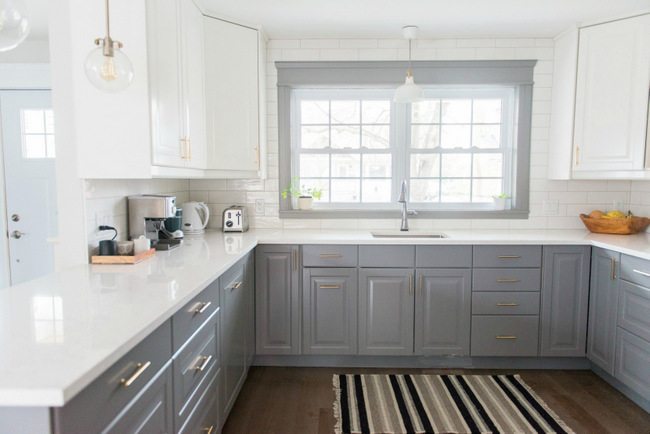 We have been super happy with all of the choices in our kitchen (especially seeing as they were all budget-friendly!). The only thing still on my wish list is a custom built hood range.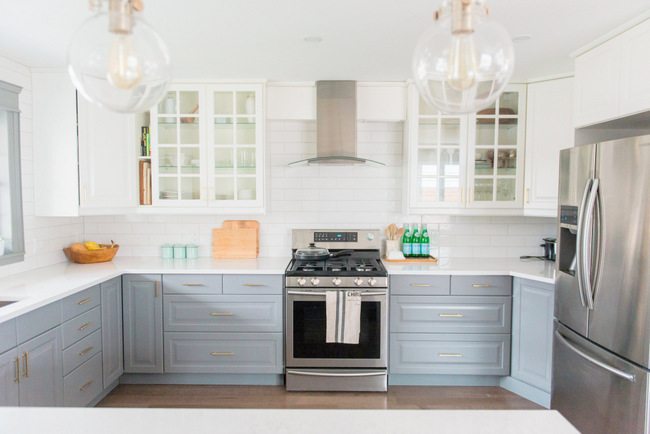 The whole main floor is open concept, so from the kitchen we can pan over first to my little buffet area. Remember that $5 dresser I turned into this mint beauty? Oh and the abstract artwork DIY? Still loving those.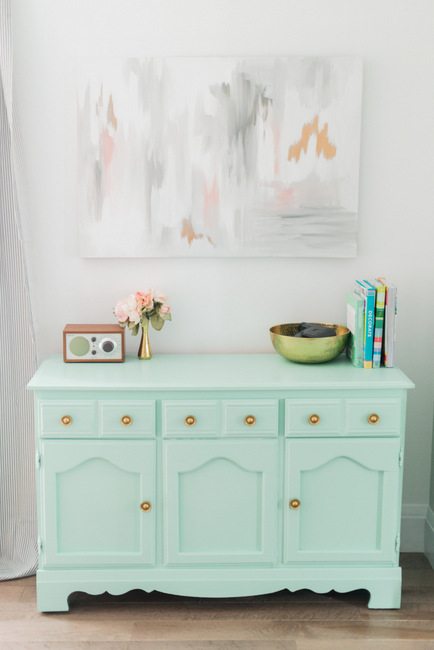 And then onto the dining area. This is how it looks most days – I like having the one big vase with plain greenery stem as it looks pretty but isn't too fussy.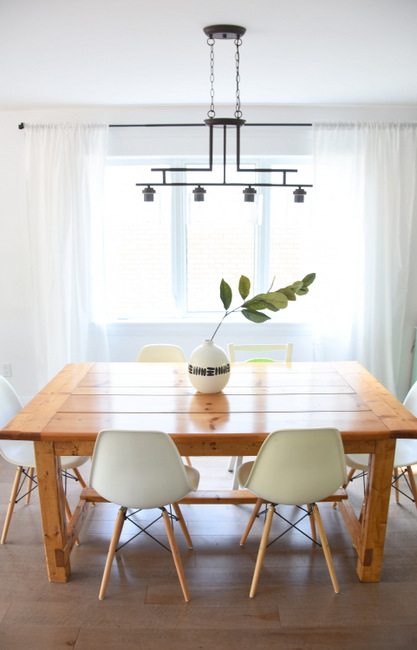 I don't love how golden the harvest table is with all the cooler tones in the space (when I had built it, it made sense with our original golden floors), so eventually building another table is on my to-do list. The space can also handle a larger table, so I'd love one that seats 8. Our plan is to move the current table out onto the deck as our outdoor dining table.
I originally had gray curtains up in here, but switched them out for white IKEA ones. Simple and not as distracting. I have come to understand with open concept spaces, that you need to have lots of muted layering rather than having too much colour, pattern, etc.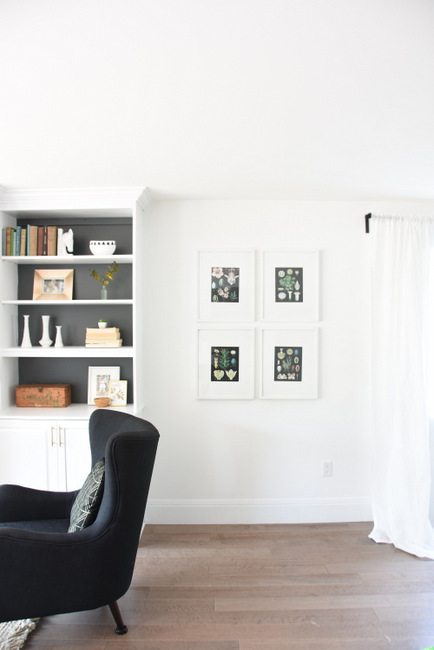 Real life? The play mat and often the exersaucer live right here!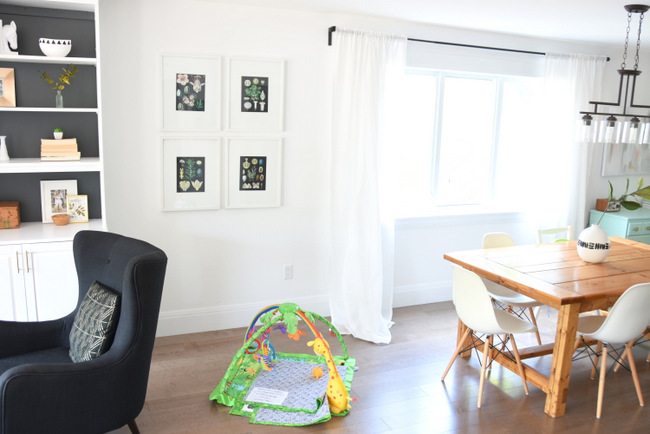 Then over into the living room. The room isn't big, but with a 3-seater couch and two big wing chairs, it can still seat quite a few folks. The TV above the fireplace is a controversial design choice, but this is real life. This is where we watch TV, and it was the only spot that made sense for the TV. And actually, I feel like with the other hits of black in the room (chairs, trim, fireplace, etc), it isn't too jarring.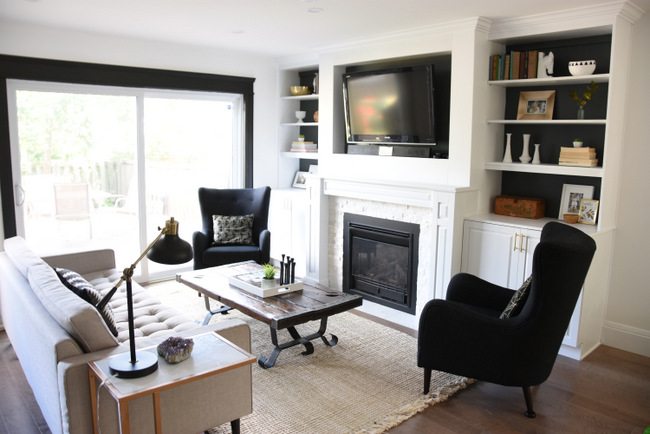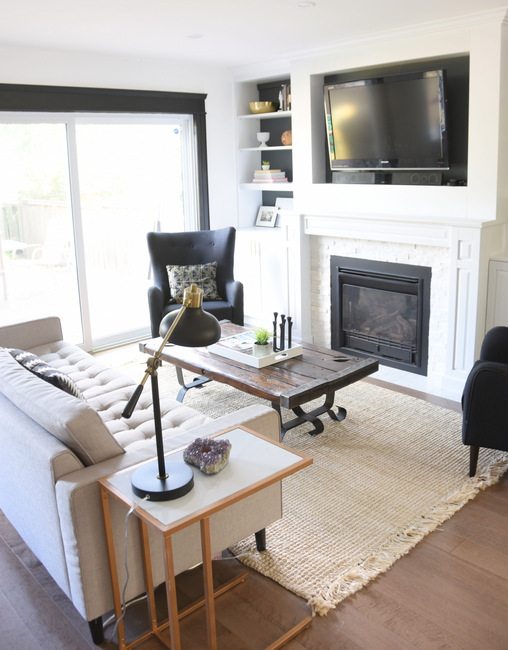 That IKEA side table hack – turning it into this gold and faux marble beauty – is still one of my fave DIYs to date.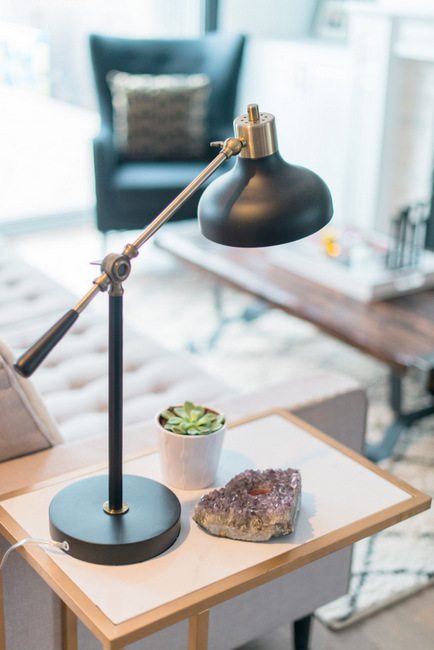 Ever wonder where Maya's toys are? Just behind the living room is this kids nook. I put some corkboards up to hang her artwork, that cabinet is full of toys, and she has a little table and chair set. Is often turns into a total disaster when she's playing, but it's pretty easy to tidy up.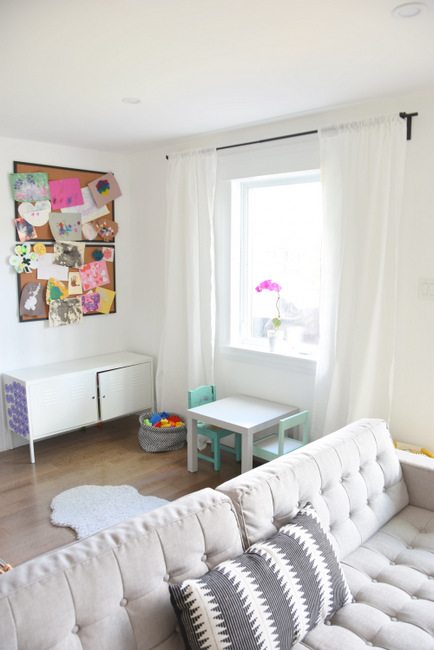 Then continuing to pan left, you see the staircase. We kept it simple with having stained treads to match the flooring and white risers. No runner to vacuum! I also kept all of the design details squared off, in keeping with the craftsman look I was going for.
The gray door on the right leads to Dan's office (which is a glorified storage unit right now – not painted and FULL of boxes) and the gray door on the left is to our main floor bathroom (also super unfinished). Eventually that little black painted door will be the entrance to a little magical under-the-stairs hideaway for Maya and James. Right now it has paint cans in it… but I'll get there!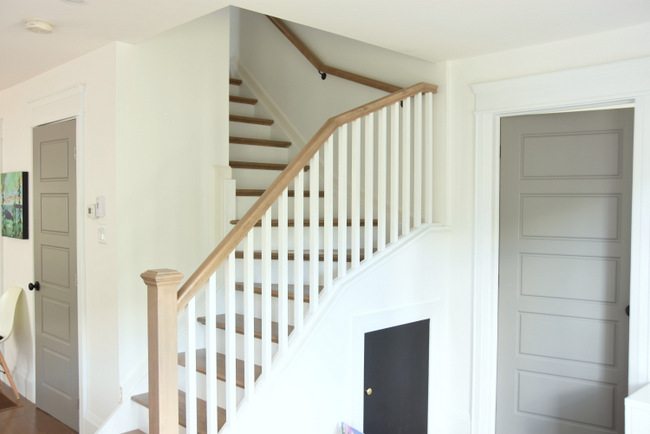 So heading on upstairs, we still have lots of work to do.
The kids bathroom is more or less done (except for a window treatment and some shelves above the toilet, which is hidden in this pic):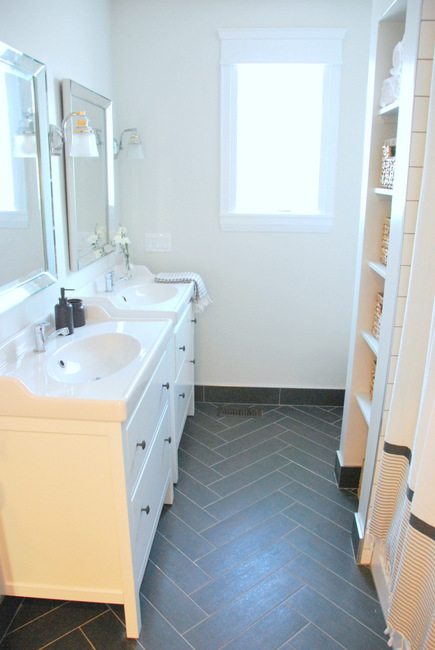 Maya's room is cheery and sweet.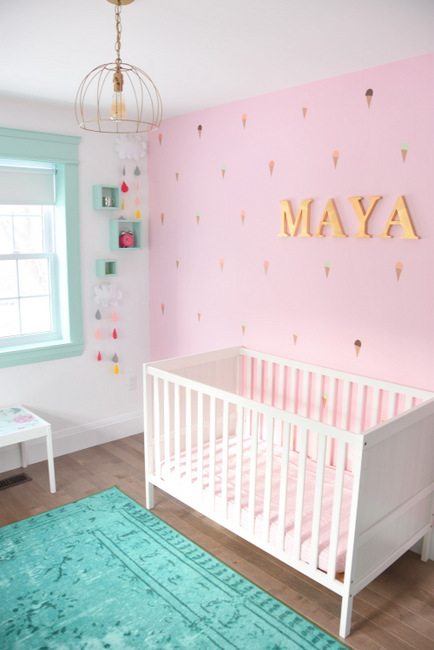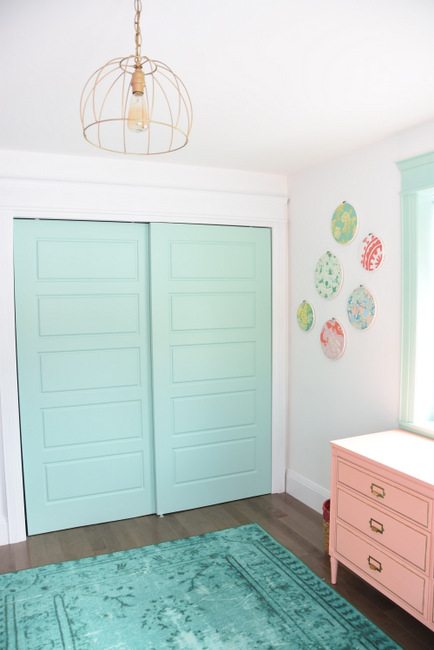 And James's room inspires adventure.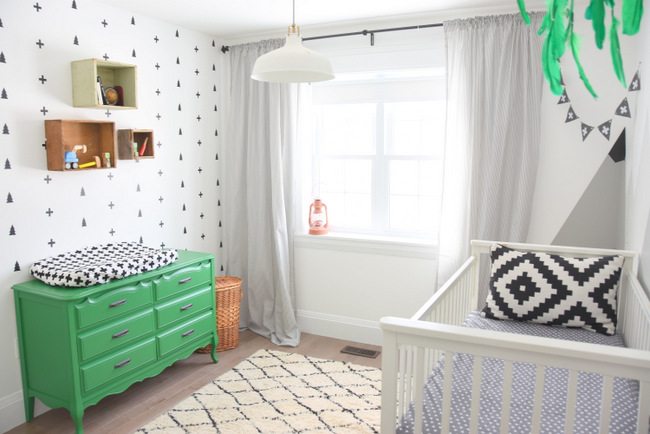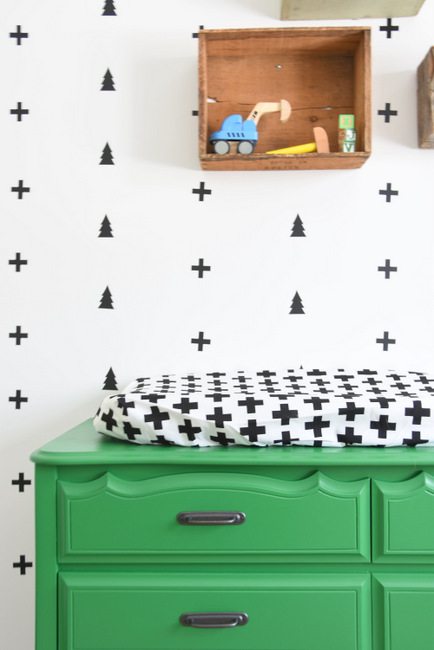 This guy was trailing around with me as I went from room to room shooting pics! (4 months old and 16 pounds … is it just me, or doesn't he seem huge?!)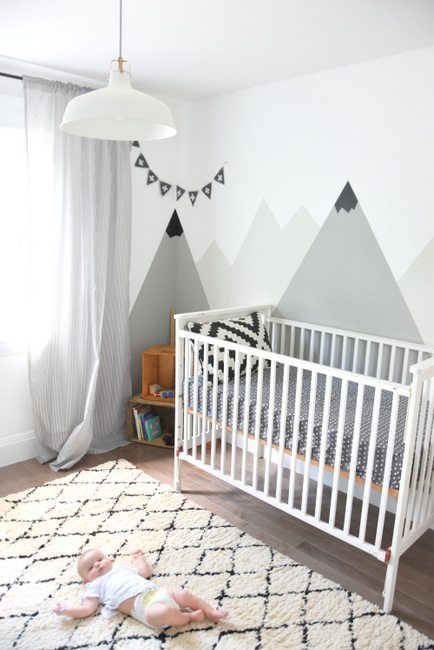 I didn't even bother photographing our bedroom as it's a hot mess, and there is still work to do on the landing and hallway upstairs. Oh and our master bathroom is completely unfinished. Well, there IS a functioning toilet, and James's pack and play, but not much else. Hang on a sec – a pack and play? Yes you read that right, he's sleeping in a bathroom. Ha. It's right off our bedroom, so we figured while he was still waking up in the night it would make sense to have him close and not right beside Maya (their rooms share a wall). Once he starts sleeping those blissful 12 hours through the night, he'll move over into his room (and in case you're worried that I'm setting myself up for disaster, I put him down for all of his naps in his own room right now so that he is used to the space!).
Our bonus room upstairs is going to be a family room slash guestroom. Up until very recently it was just a pile of un-packed boxes, but here's a sneak peak at what I've been up to in there…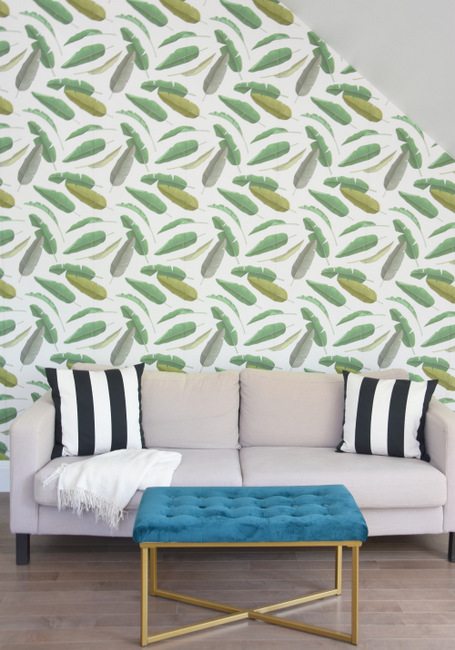 Details on THAT to come soon!
So that's how things stand right about now. It's so nice to have some rooms really close to the finish line, but there are still lots of spaces that need some love:
Dan's office
main floor bathroom
our master bedroom and bathroom
3rd floor loft (my studio/work space)
backyard deck (we have the floor boards done but still no railing, steps, landscaping!)
our garage is a serious disaster (hoping to tackle that a bit this summer)
the little nooks and crannies – things like closets, upstairs hallway, stairwell, etc haven't gotten any attention yet
That's just how it rolls when you are doing all the finishing of a reno yourselves, with two young kids in tow. Things just take a while. And actually, I'm not complaining – I like slow and steady! It gives me lots of time to think through the design and find the best deals I can.
And now go check out a bunch of my canadian blogger pals and their pads. These gals are AMAZING decorators and this tour hop will be full of eye candy. Grab and coffee and go look around!
The Sweetest Digs (me!)