Ready for a pretty epic DIY project that will totally transform a room? Well, you're in luck. If you're slightly obsessed with banana leaf wallpaper like I am, here is how you can get the look for less.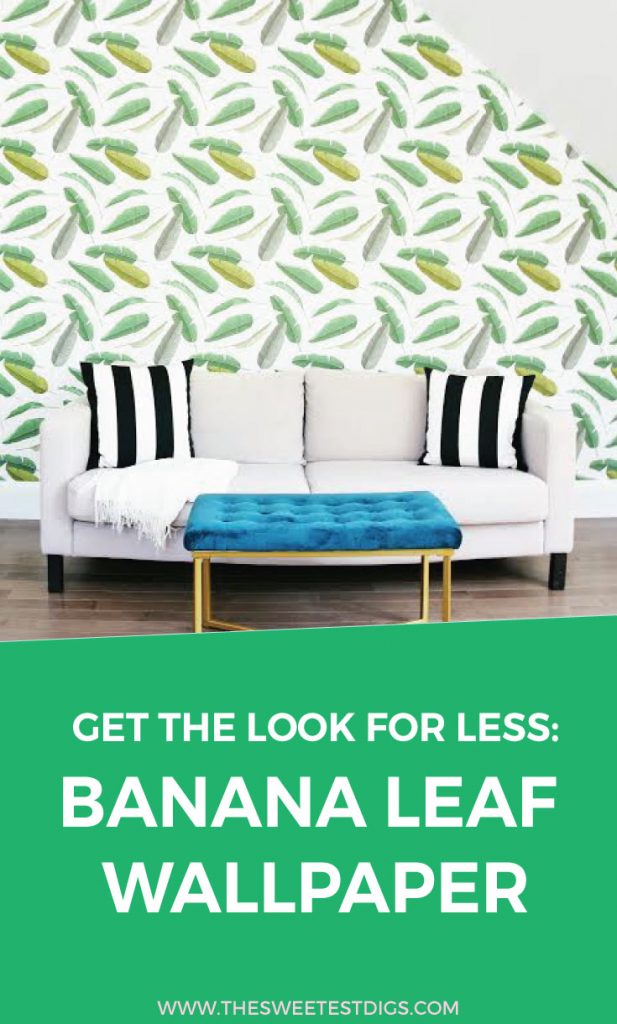 Let's take a sec and go back to the beginning of this room in our house. You might not actually realize where we are! It's not a room that I have talked much about on the blog, as it has been a bit of a disaster ever since our reno.
When we were designing the addition to our house, we knew that we would always want to keep our basement as a rental unit (it's a 1-bedroom apartment that we rent out), and because our main floor living room isn't that big, we had this idea of having a family room up on the second floor. Kind of like what you would use a basement for: play room / media room / family room. Instead of having a guest bedroom that gets used like 5% of the time, why not have it be a space that we actually use, and that can double as a sleeping space for guests when they come over – right?!
Construction zone!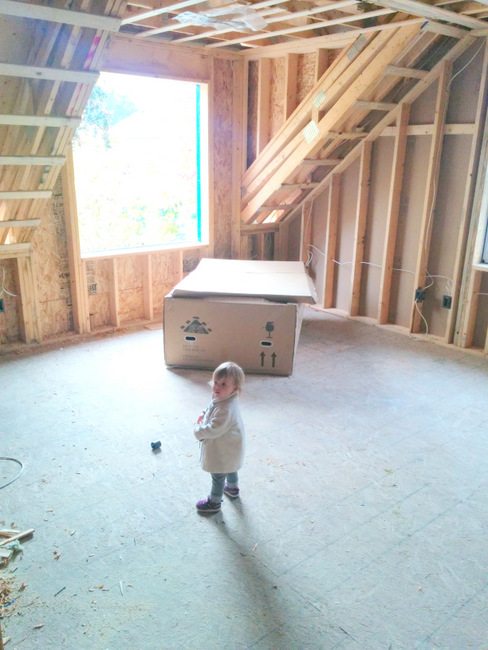 (This photo of Maya basically makes me want to curl up on the floor and cry. STOP GROWING UP!!!)
When you come up the stairs to our second floor, this room greets you on the right hand side. It's over top of the attached garage that we put on during the renovation, and Dan's suggestion was to have it drop down so that we could create really high ceilings. I was a little hesitant about the step down at first, but man was it ever the right decision. With the high ceilings and slopes (to account for the roof line), it is the most amazing room. I *almost* regret not making it the master bedroom!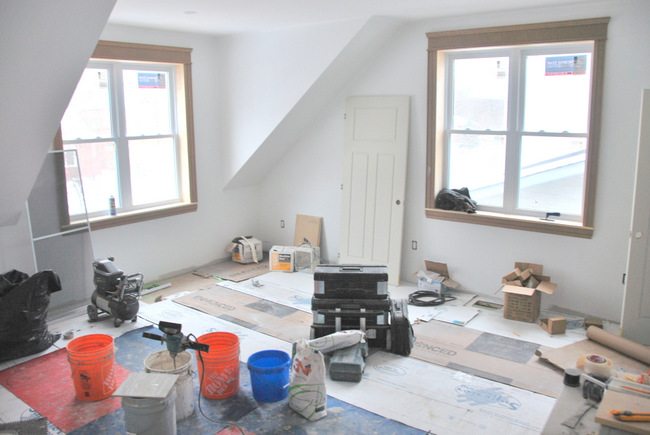 So for the last year or so, it has basically been a storage space. The place where all the "I'm not quite sure what we are going to do with these" pieces go. We have a double bed in there which is great for guests (you can see it on the right in the pic below), but eventually that will become Maya's "big girl bed".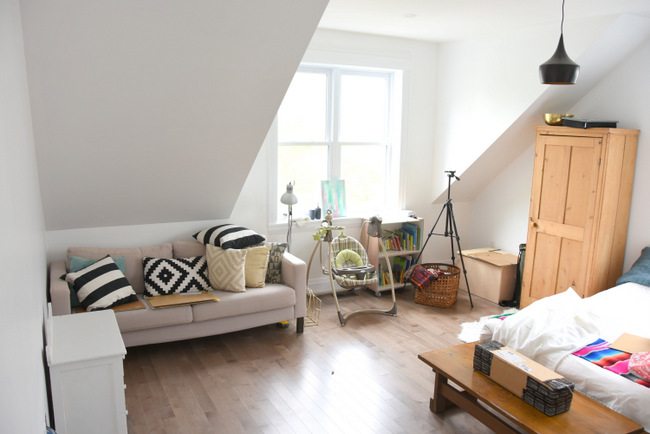 I knew I wanted this to be a super fun room. Since it's kind of on it's own, it didn't need to necessarily fit the flow of the neutral main floor.
I have been eyeing all things palm and banana leaf for a long while now. Not sure what I mean? Check out these gorgeous spaces. Oh and if Vogue is featuring the banana leaf print – you know it's a go!
Anyway, I felt like this was just the right spot to take a bit of a leap and go for it. And when I discovered that WallsNeedLove (the same folks I used for the decals in James's room) made this banana leaf REMOVABLE wallpaper? Well, I was 100% sold.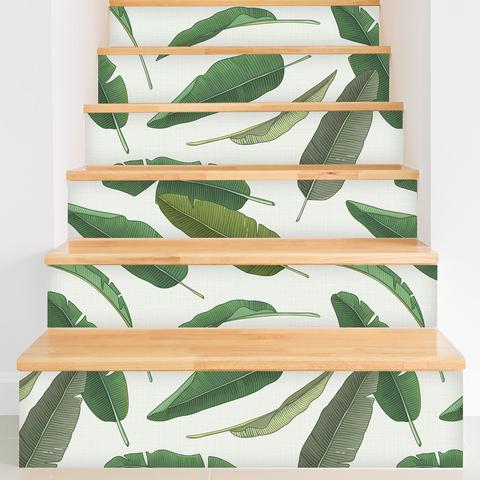 (Photo cred: WallsNeedLove)
Removable wallpaper is a bit of a godsend if you're doing something a little more "wild". It doesn't feel as permanent. If in 5 or 10 years I tire of this look, it's super simple to peel off like a sticker, and just re-paint the wall if need be. No huge commitment, you know?
I decided to do one focal wall – the one that we will eventually face the couch towards and have a TV and media unit on (I'm thinking something low, white, and glossy).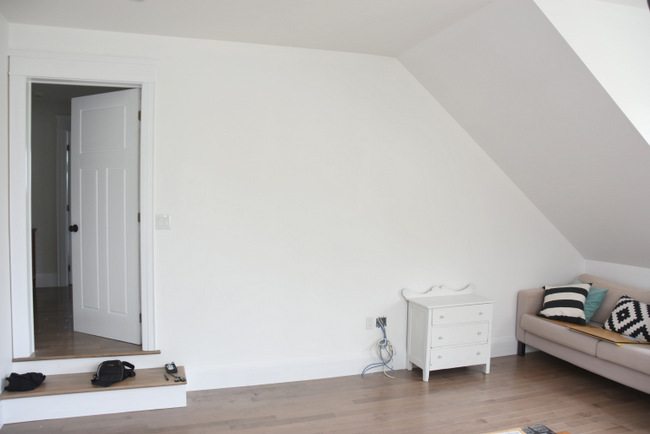 I measured out the walls and calculated the number of rolls I'd need. I rounded up a little in case there was any wastage. The wallpaper comes in a few different panel lengths, so you can get the sizing that is appropriate for the height of yours walls.
It was like Christmas getting the package in the mail. Isn't it the best when things show up at your doorstep?!
WallsNeedLove sends you an exacto knife and instructions with the paper so you don't need any other supplies (well, except a ladder!).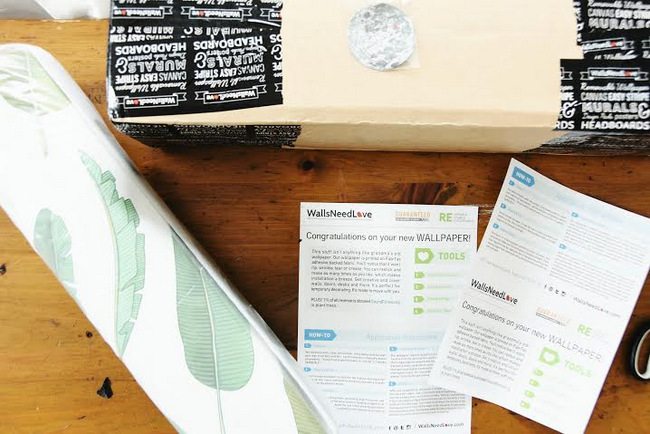 I'm not going to say the project was super easy going, like the decals in James's room were. These long rolls are tricky to get up on the walls perfectly straight and smooth down. But you do get into a bit of a rhythm after doing the first few.
I was surprised at how thick the paper was. The quality was really excellent. I kept petting it… it's got a great feel!
You have to place your paper at the top of the wall, then remove the backing carefully with two hands, and smooth down as you go. Because the panels are so huge, you definitely need two people to do the job. I would stand at the top of the ladder holding the panel up, and Dan would be ensuring it was hung straight. Then he would peel the backing as I would smooth, and we would work our way down.
We actually found that any air bubbles came out of the paper really easily with smoothing. It was probably the best paper I've ever worked with in terms of that.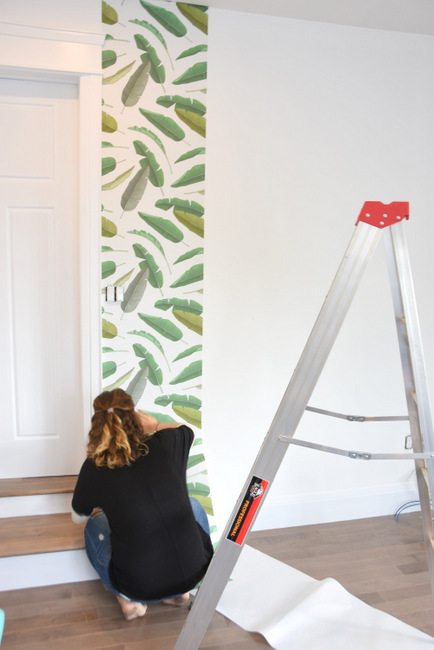 Biggest tips?
1 // Don't take too much of the backing off at once and let the paper stick onto itself. It is super difficult to un-stick. Peel just a bit of backing at a time, smooth, and repeat.
2 // Cut the panel a bit too long, and allow for it to go beyond the seams at the ceiling and baseboard. Then once everything is smoothed down on the wall, use your exacto knife to cut a perfect line along those edges.
3 // Use a ruler with your exacto knife to help create a straight line along the seams.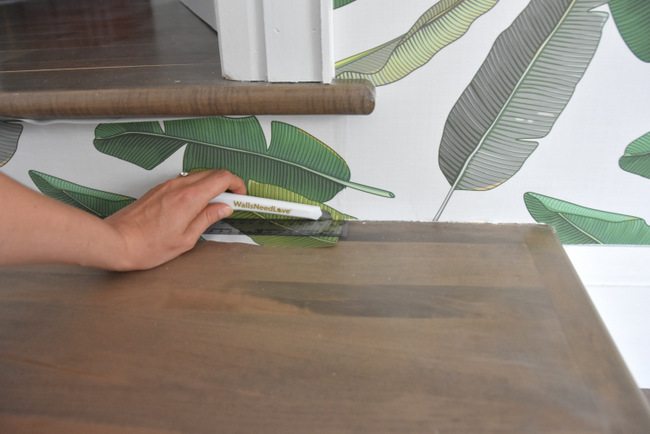 4 // Remove any outlets or other elements on the wall so you can paper behind them (don't attempt to cut around them!). Once re-mounted over top of the paper, they look perfect, and you feel like a total rockstar.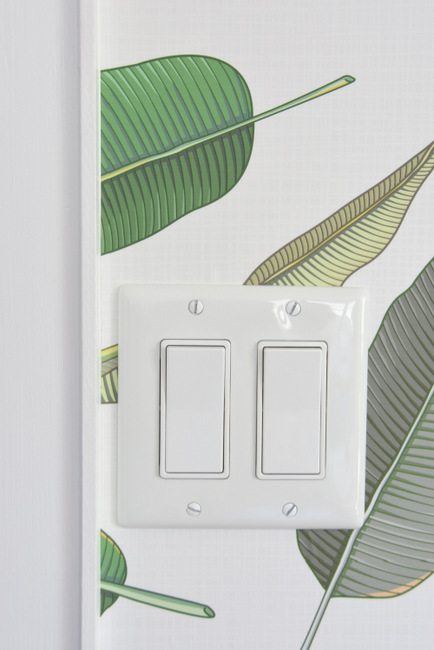 5 // Have a really cute assistant who coo's behind you as you go. This will make you swear a little less while putting up the paper.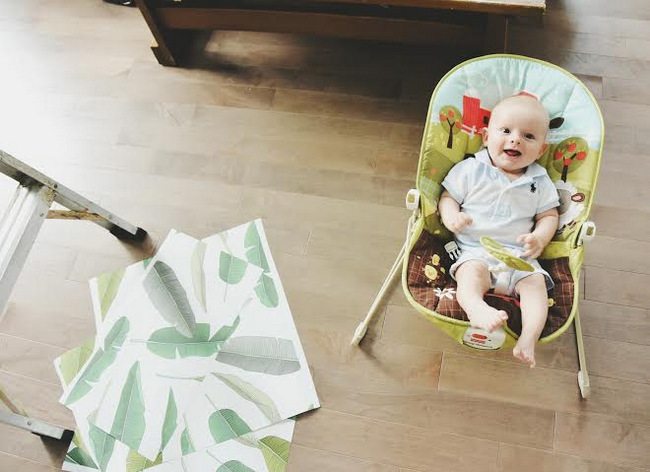 6 // Lastly, don't rush. We didn't do it all at once. We did the first few panels, had a break for a few days, then came back and did the others. I think it's better that way so you don't get frustrated or tired.
It looks amazing, hey? I'm totally in love over here. The power of wallpaper to transform a space is crazy!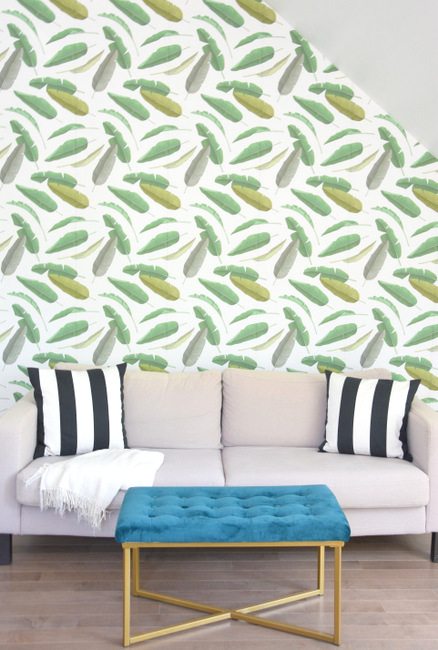 The one thing that I struggled with the most when putting the paper up was matching the seams so that the leaves would line up perfectly. Because the leaves are large and frequent, there were lots of lines to match up and it made it challenging. Having something busier or smaller scale pattern might be easier because you wouldn't notice the lines as much. That said, you can't actually see any spots that aren't perfect when you stand back and look at the whole thing!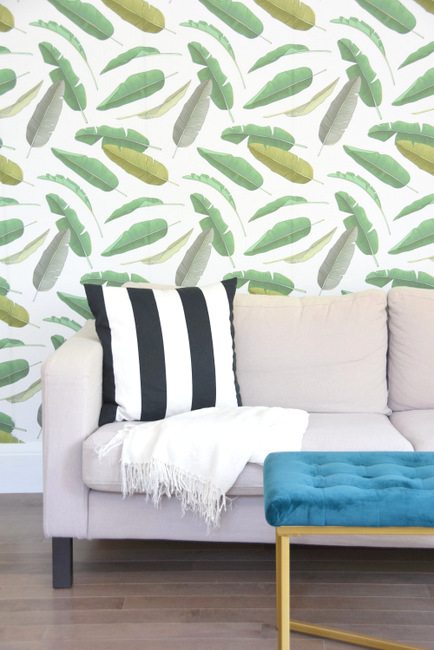 I mean really, doesn't it look pretty glam? I'm obsessed.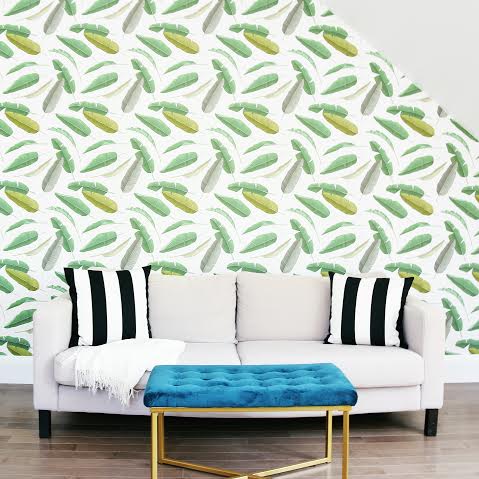 The other one small drawback is that you can see where the papers overlap a bit. In the instructions, it gives you details on how to cut away at the top layer so that your two pieces then meet up without an overlap, but when I peeled the top layer off a bit I saw that it took a bit of the print off from the layer beneath. This meant that I didn't want to cut away that top layer, in fear of the print being pulled off the bottom piece. The thing is though, you really only see the seams like this when you are right up close. If I was a crazy perfectionist then it might bug me, but when you are standing back and looking at the wall as a whole, you can't even see them. It doesn't faze me in the slightest (but I always want to mention these things!).
You can see the seam that I'm referring to down the middle of this close-up shot.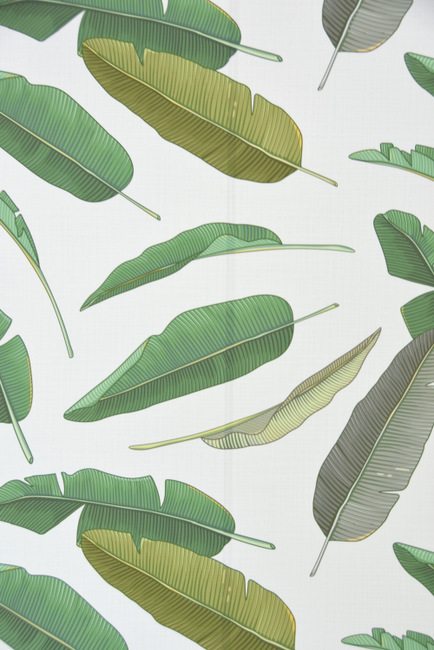 I'm crazy in love with how it came out and can't wait to work on other elements of this room. For now we things setup with that couch along that wall, but eventually I'd like to get a low glossy white media unit, mount a TV on that wall, and have a new sofa (pull-out) that faces it.
Then we'll create a play area in the opposite side of the room. I already have Maya's tee-pee setup, and a basket for toys, but there is so much more to do to bring the room together.
Slow and steady, right?
Source List: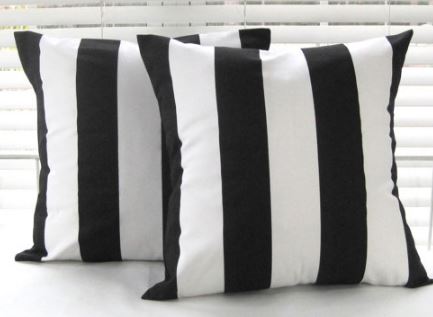 If you don't want to commit to wallpaper, you can even find all kinds of other Banana Leaf patterned goodies from WallsNeedLove. From pillows to shower curtains to headboard decals, you can inject some of this pattern without needing to do a whole wall! The pattern is gorge.
Want More?
If you want to see some more WallsNeedLove in action, check out James's nursery where I used their plus sign and tree decals to create a really fun scandi-style accent wall.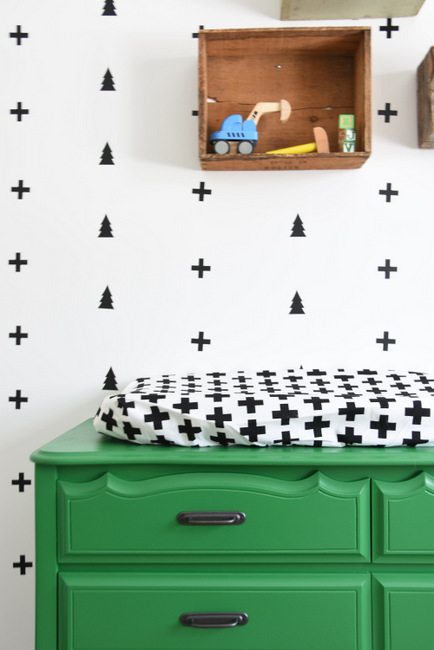 I'm already planning out the next spot where I want to use some more removable wallpaper!
What do you guys think? Into the tropical vibe in this room? Have any wallpaper or decal plans for your own pad? Tell me about them! 
*Disclaimer: This post was in partnership with WallsNeedLove. Thank you for supporting the brands I use and love!