I have had some mason jars hanging around in my craft supplies area for waaaaaaay too long. I finally pulled them out a few weeks ago, grabbed my chalk paint, and made these rustic DIY painted mason jars. This certainly isn't a new project (Pinterest is full of painted mason jars!), but I had seen a few different ways of doing them and wanted to share what worked for me.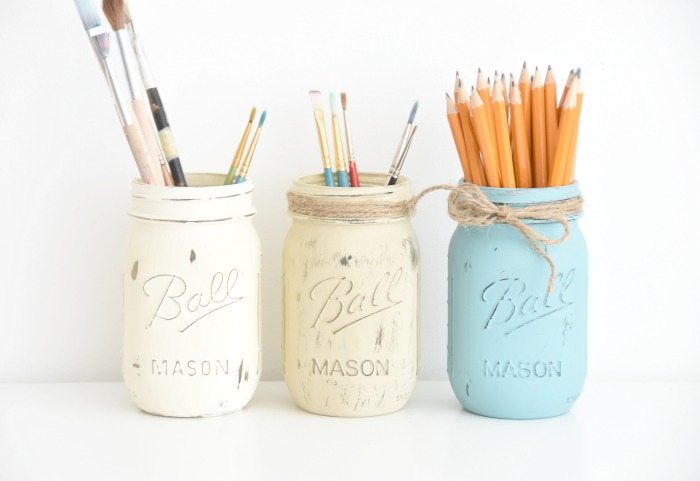 Rustic Painted Mason Jars – Supplies You'll Need:
Mason Jars

I especially like these Ball mason jars because the "Ball" text looks so good once it's distressed, and you can get them in any size (the small ones are perfect for holding paper clips or rings!)

Chalk Paint

I used Annie Sloan Chalk Paint because I had it on hand from a past project, but if you don't have a stockist near you and want something more affordable, then I have used and loved both this Rustoleum Chalk Paint brand and this Chalk Paint from Deco Art (and that one comes in smaller pots – perfect for this project since you don't need much!)

Paintbrush or Foam Brush
Sanding sponge (medium grit)
Clear Spray Sealant (I like the matte finish)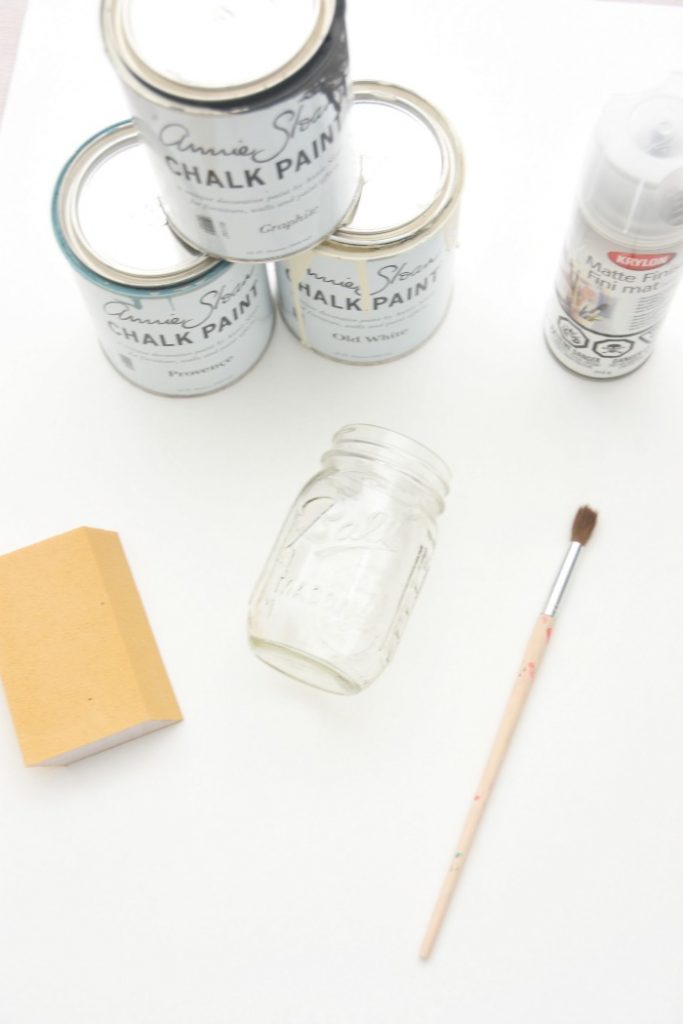 The DIY:
Step 1 / Clean and Prep your mason jars
Unless you are pulling your mason jars out from completely new packaging, you'll want to clean and prep them for painting. I rinsed mine out and then dried them off with a clean tea towel. You don't want any dust or bits of anything left on the jar.
Step 2 // Apply Paint
Get your chalk paint out. I had a few different colours, so gave them each a try. I would say that my fave is the pure white. Classic.
I used Annie Sloan chalk paint because I had it on hand, but you don't have to go with that brand (it can be hard to find and pricey). I have also used and loved Rustoleum's Chalk Paint and the Deco Art Chalk Paint.
Paint your jars using a paintbrush or foam brush – either will work (I personally preferred the foam brush). You need to do 2 coats for good coverage. Put the first on and let dry for a few hours before applying the second.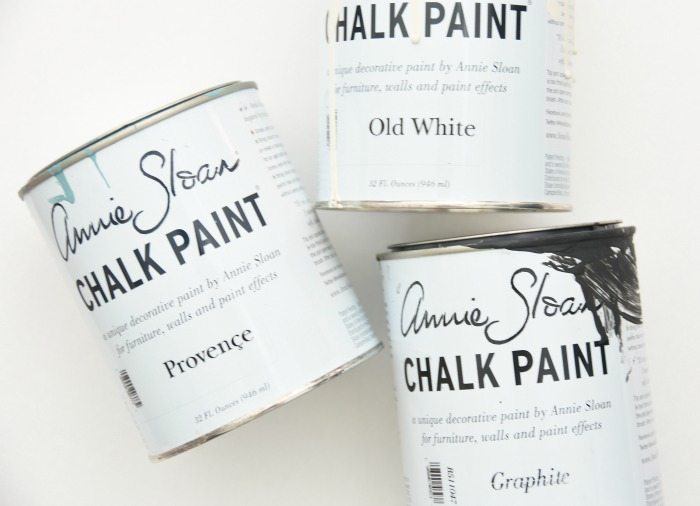 Rustic Painted Mason Jars
Step 3 // Sand
Once your paint has fully dried (overnight), now is the time for the distressing.
If you just want a painted mason jar, stop here. If you want that vintage look though, get out your sandpaper. I actually used a sanding sponge, but either paper or sponge will work.
I went with a medium grit. This was because I didn't want to pull off too much paint at once. Basically you want to sand off paint around the raised parts on the mason jar – the text areas and the rim around the top. Then if you want to make it look even more vintage, feel free to sand off little areas here and there across the jar. Do bit by bit and keep stepping back and re-assessing the jar until you get the aged look you're after.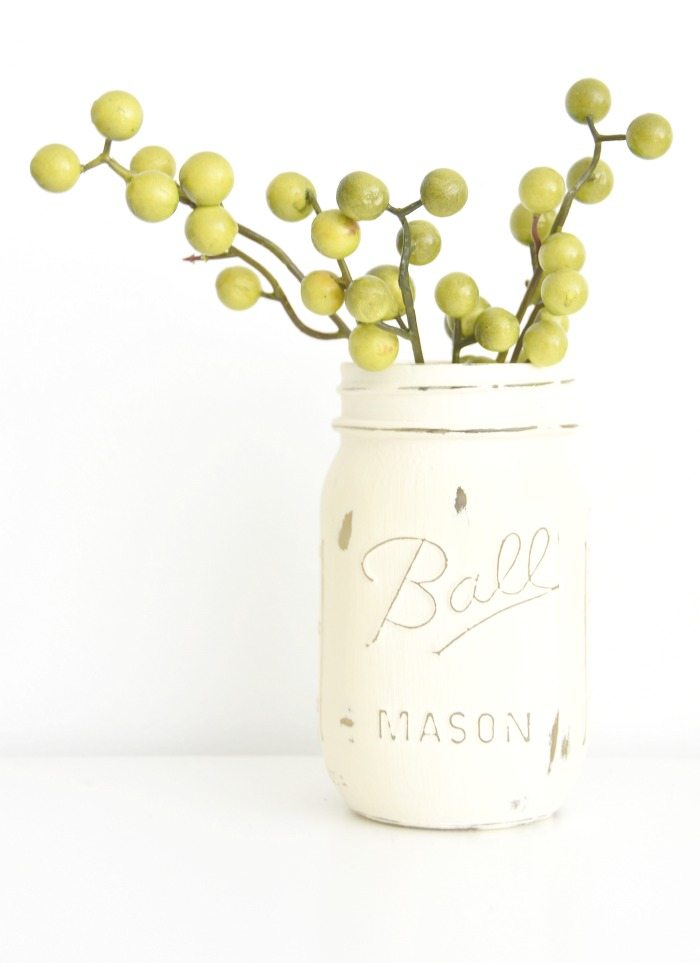 Step 4 // Clear Coat
Not everyone does this, but I wanted to make sure that the paint didn't scratch off easily, so I used a top coat. Instead of waxing it (as you might when chalk painting furniture), I just used my matte clear coat spray sealant. It didn't alter the colours on the jars and didn't give it any kind of glossy finish – they still look very chalky. Remember to do this outside or somewhere well ventilated, do two coats, and be sure to wipe off any excess dust from the sanding with a cloth before spraying.
If you don't put a sealer on, then probably any little bit of moisture on the jars will cause the paint to come off.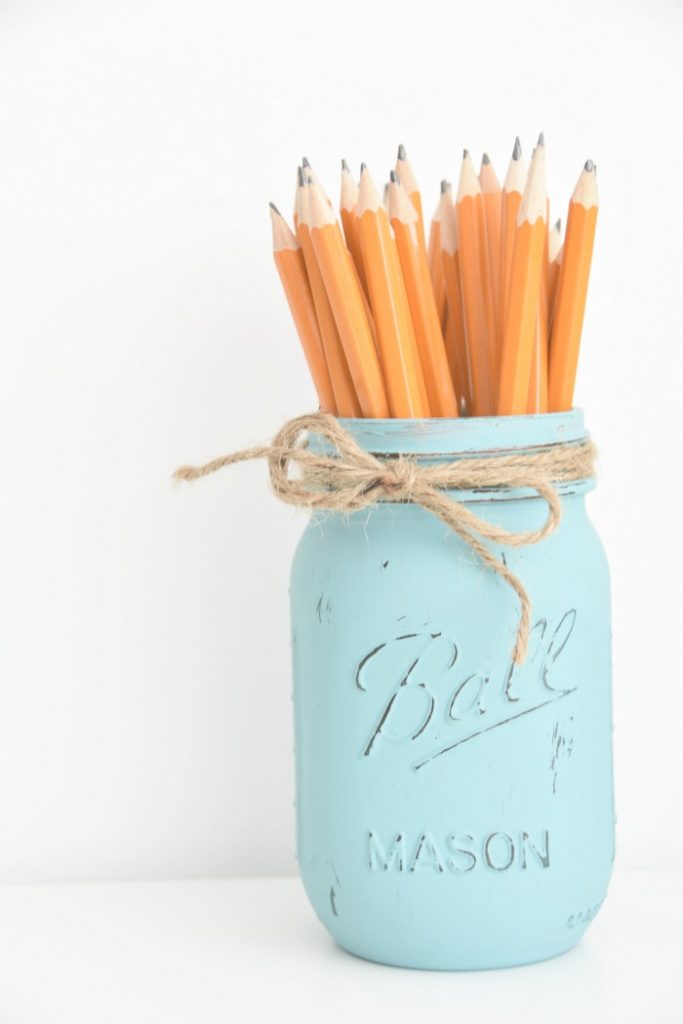 Step 5 // Embellish
This is another optional step, but if you want to add a little something more to the jars, you can wrap some jute or other string around the top. You can either tie the jute off in a bow (like the blue jar) or knot it and then cut off the excess (like the beige jar). If you were worried about the knot coming undone, just putting a dab of hot glue over the knot will keep it in place.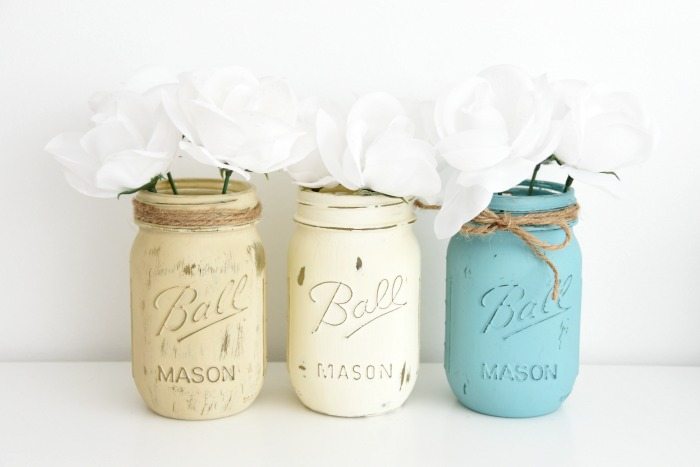 Rustic Painted Mason Jars
Aren't they sweet? You can use them for so many different things. A vase, for pens and pencils, other art supplies, makeup brushes, whatever! They have that farmhouse style charm.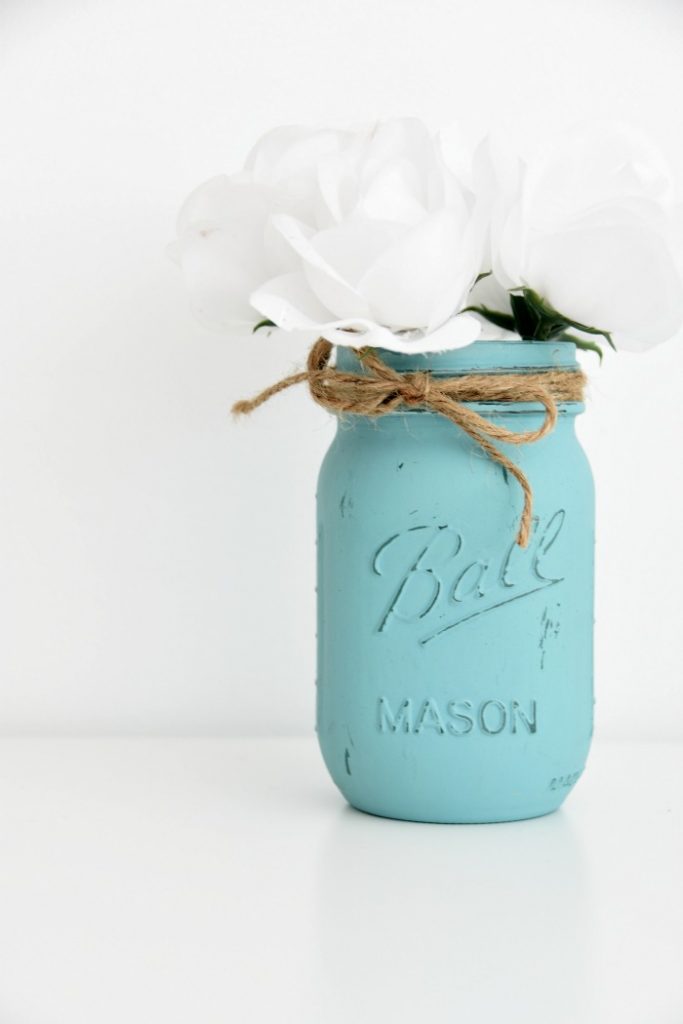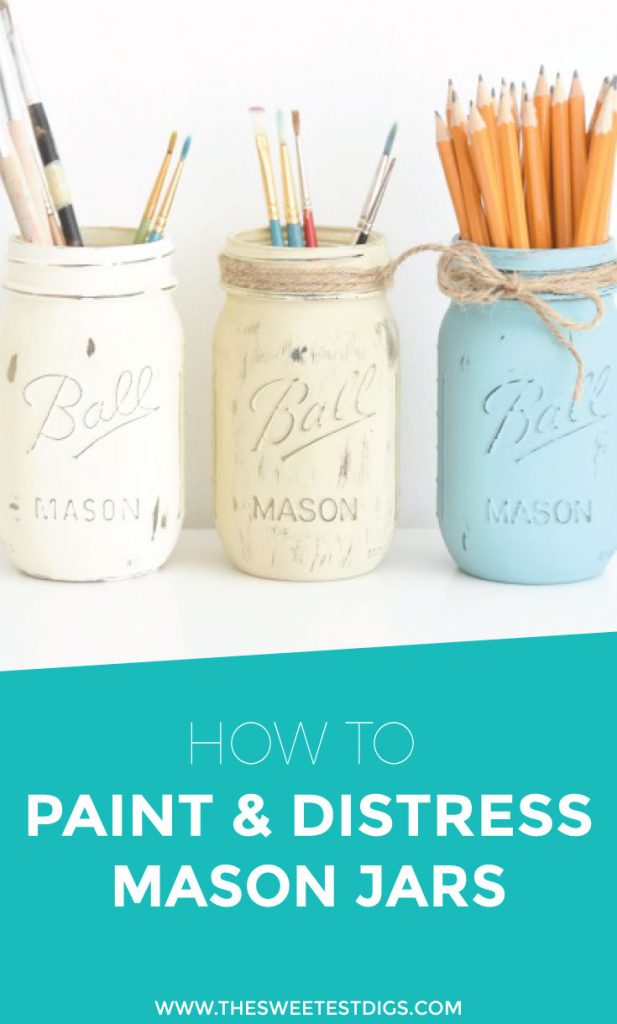 Want more mason jar projects?
Check out these ones I spray painted gold (over 2 years ago and they are still looking good as new!)…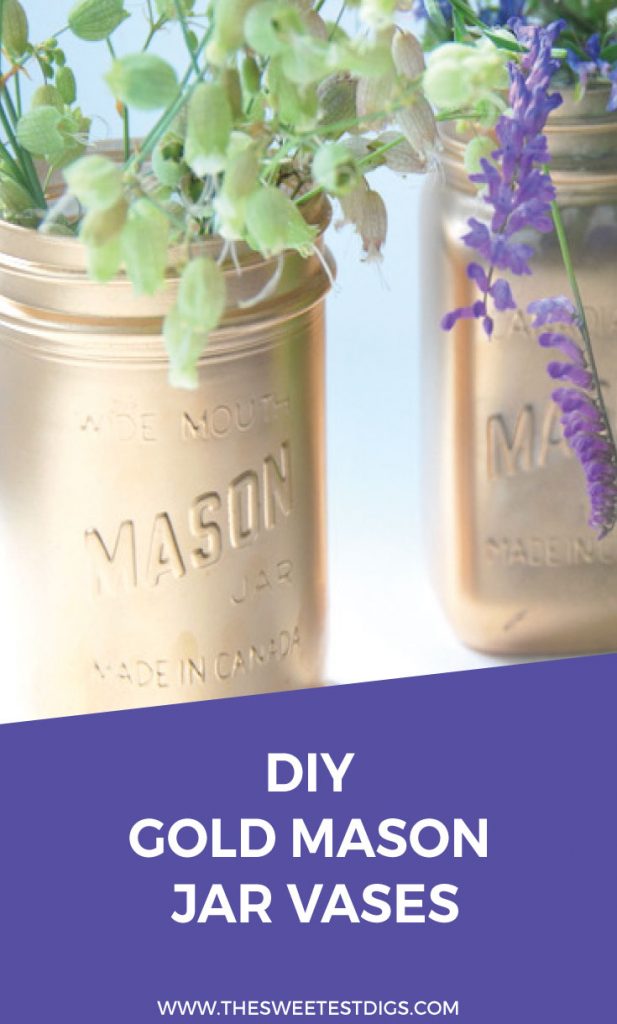 And these ones I filled with cookie makings. A perfect holiday gift.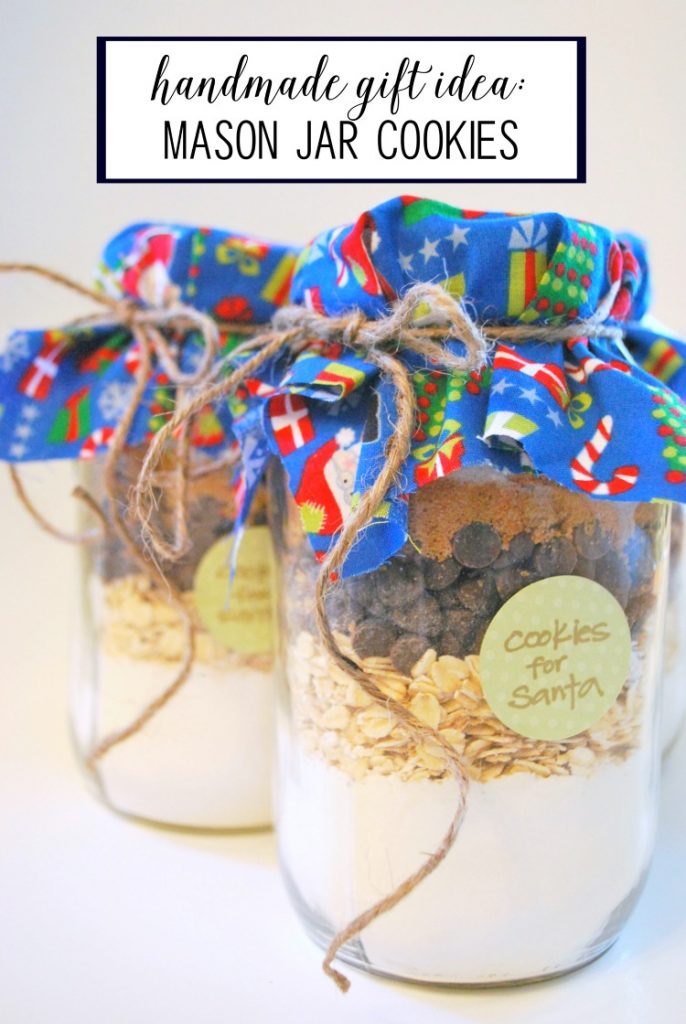 Or just head on over to The Project Gallery for all kinds of other tutorials and decorating ideas!