I have been scrapbooking, and then photobook-making, basically forever. I love pictures. I try to make sure my camera is out a lot of the time so I can capture things from big occasions to small "everyday life" stuff. I also totally love a good photoshoot. Putting some money into getting amazing family photos is definitely something that Dan and I incorporate into our budget, since we love the pictures so much and look back at them time and time again. So, when it comes time for gift giving at the holidays, I often think about how to incorporate those photos somehow. Here are my top 5 photo gift ideas.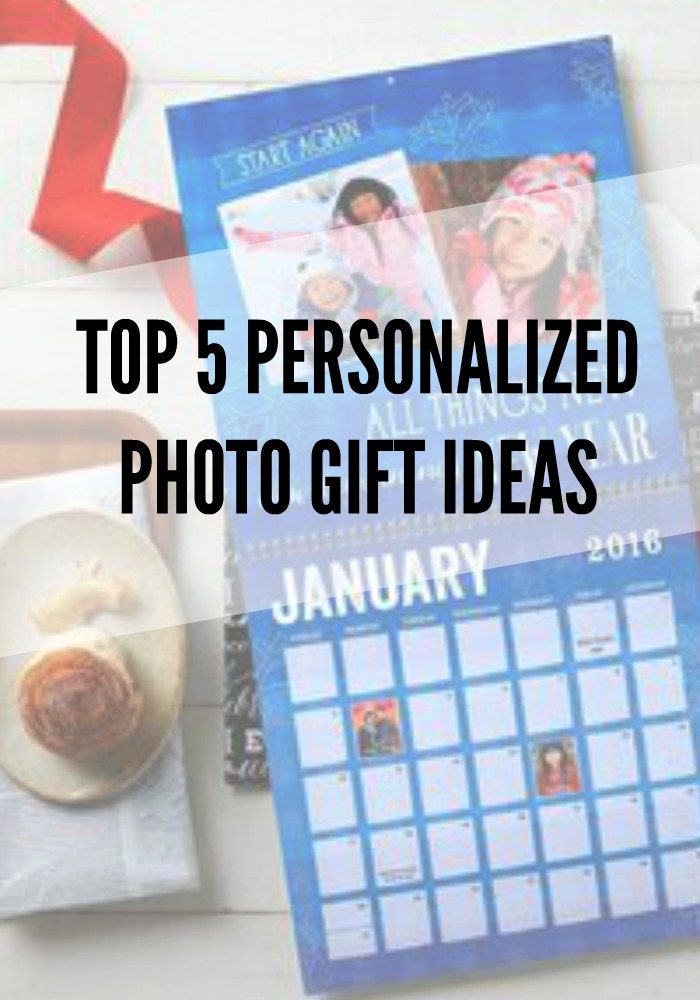 1 / Photobooks.
Duh, right? You guys know I'm crazy about photobooks (you can check out my pregnancy photobook here, and the "maya's first year" photobook here). I did something different a while ago for Maya though, which was to make her a "family portraits" photobook. Each page has photos of family members on it, with their names written below. She loves looking through and identifying everyone – a great way to learn family members names, especially if they are people you don't get to see in person very often. It's been a favourite item around our house!
2 / A plate or mug.
I like plates and mugs – cute and actually useful. We made a mother's day mug for my Mum for mother's day and she loves it. I thought for Christmas, Maya would be pretty stoked to have her very own special plate. I just used a cute Shutterfly polka dot template, added in my photos, and bam. Done-zo. I'm please with how it came out and although we haven't officially put it to use yet, the quality seems really pretty great. Oh and obviously it's dishwasher safe and all that.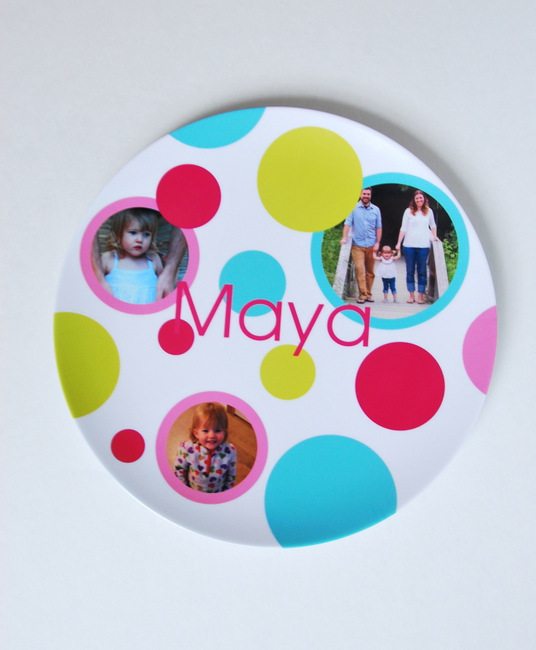 3 / A bag or lunch box.
I ordered a photo tote bag a few months ago for my girlfriend's little guy with a big ol' pic of his cute mug on the front. I filled it with books for a sweet little gift, which he now uses it as his library bag. Fun, hey? Another idea I have seen (but haven't tried yet) are these lunch boxes (again from Shutterfly). Once Maya starts school, this is DEFINITELY on my wish list. The robot one? I'm dying.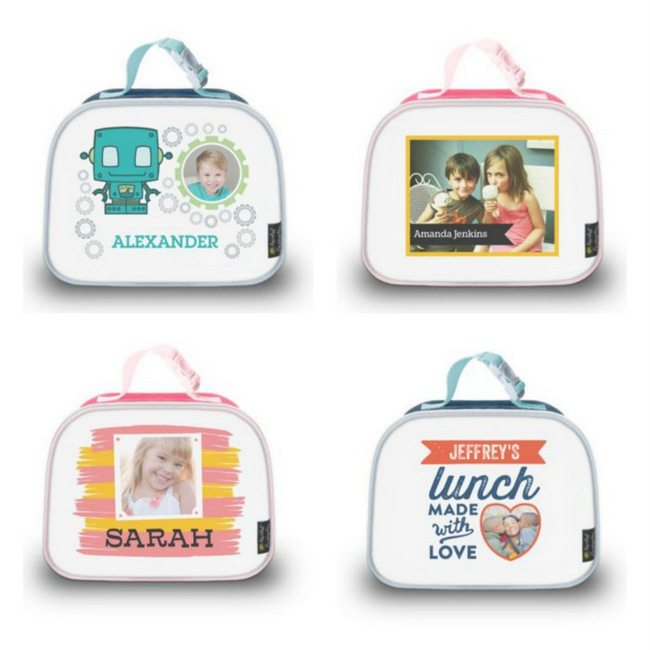 4 / A Christmas Ornament.
There are so many ways to make a christmas ornament with a photo. You can decoupage one onto a wooden ornament surface, stick a photo in a glass ball ornament, or have one made. I give Maya an ornament every year, just like my Mum has done for me, and so for this year's ornament I thought I'd put one together using some of our favourite photos from 2015. It was super easy to do this using the Shutterfly software and I love the delicate scalloped edge. One tip? Don't use a script style font for lots of letters – it comes out too small and is hard to read (on the back we wrote out her name – too long and small!).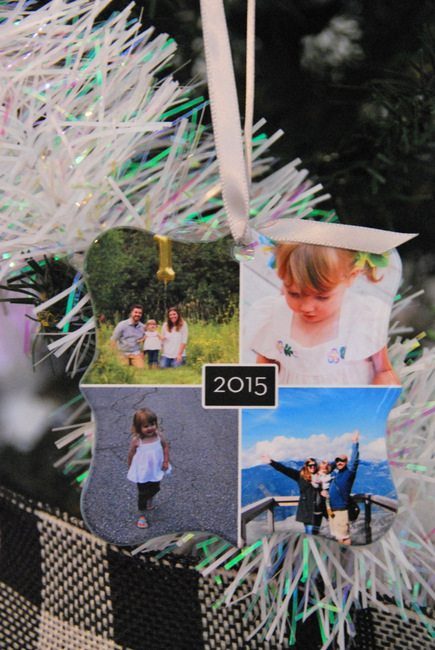 5 / Calendars.
My parents have been making a family calendar for christmas for my siblings and I for the past, I don't know, 10 years? Everyone looks forward to getting it and checking out the memories from this last year. Looking back on how basic they were in the beginning, to how flashy and well made they are now, is crazy. Even just being able to make great looking collages for each page is so easy now, compared to what it used to be. Such a good gift idea!
When I was making up these photo gifts on Shutterfly, I also whipped out our Christmas cards. I always have such a hard time picking out which template to go with. Last year I did these glam black striped cards, so this year I went a bit more feminine and rustic with this woodsy template on a scalloped card. They are DARLING.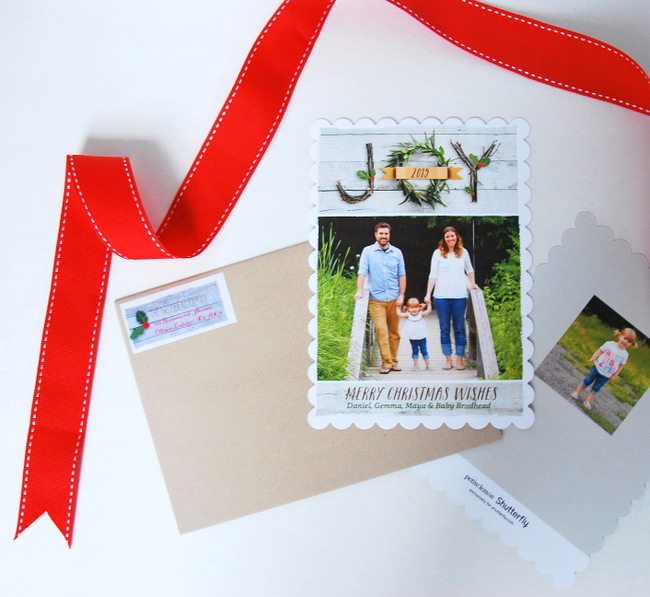 The recycled envelopes and return address mailing labels make them all coordinated (so fancy!) and also ridiculously easy. No having to write out our return address or hunt down the right size envelopes. Win!
Now to actually have to sit down and write them out…. We never get around to it until Christmas is actually here. So I guess you can call these New Years cards? Ha.
All of these items can be created and purchased through Shutterfly. I use them for EVERYTHING photos. The quality is good and they make it so easy to create really beautiful stuff! The other fab thing? Their rotating sales means that you basically never have to pay full price for anything – check out their "coupon page" to find out what the current deals are. What I like to do is figure out what I want, upload my photos and design it, save it within my account, and then wait until there is a sale and hit the trigger!
Do you guys ever do photo gifts? Anything super awesome you've made before, or received as a gift? Do you send out Christmas cards every year? 
**This post has been in collaboration with Shutterfly – but all opinions, as always, are my own. I only work with brands that I would be purchasing from anyway and I've been a huge Shutterfly fan for ages! **