Things have gotten festive over here, and I'm super pumped to be joining in on Lindsay from The White Buffalo Styling Co.'s Blogger Stylin' Home Tours this year (thanks for the invite, girl!!). If you are popping over here straight from Amanda Katherine, then welcome! PS. How ridiculously gorgeous is her home? And all the layered neutrals in her christmas decorating? LOVE.
I LOVE Christmas. Like, a lot. The magic, the lights, the time with friends and family, the amazing food, the fires, all of it. In terms of decorating, I often do a bunch of crafting or buying of a few new things to fit a certain "scheme" for that year and go pretty over the top. Honestly though, this year with being 30 weeks pregnant, still trying to finish up our reno, and Dan having just had a surgery on his foot, life has been a little too cray-to-the-zay. I still wanted to add a Christmas cheer to our pad, but stuck with only stuff I had on hand from last year and kept it pretty simple. Easy Christmas Decorating 101. There might be some good ideas in here to steal for your own digs if you want to keep your holiday decorating on the simple side this year.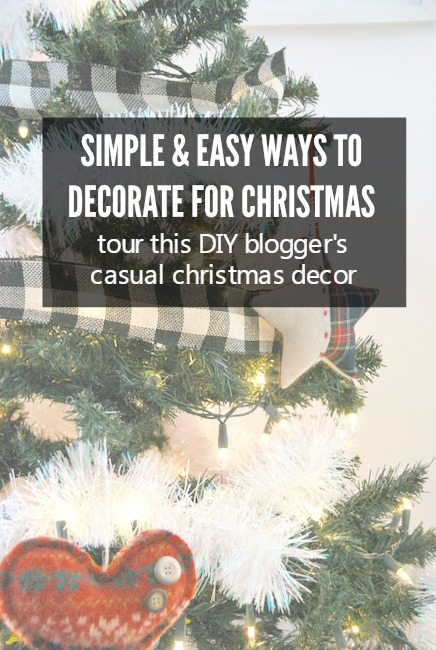 To greet us as we come home, I switched out my DIY fall leaf wreath for this wintery one. It was another dollar store DIY, which I'll give you the full scoop on really soon (promise!).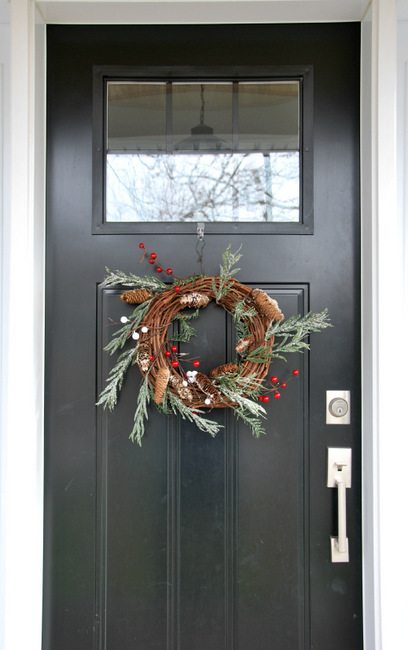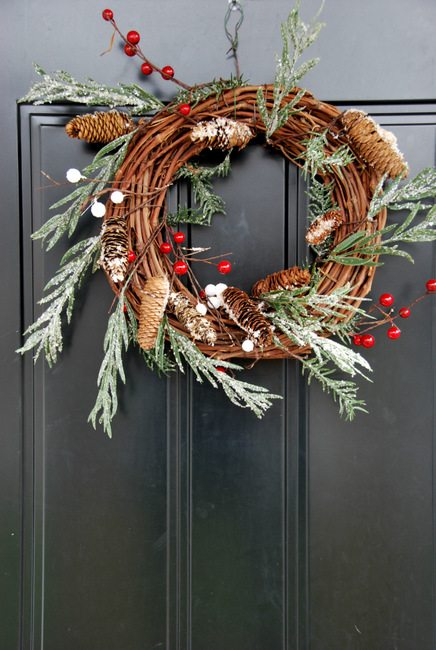 First up is the living room. I haven't ever had a fireplace before, so being able to hang stockings and do a simple garland at the top of it feels somehow super grown-up.
I didn't do much in the way of adding holiday stuff in the built-in's, but did make sure there were elements of white, black, and gold, which seemed to be where my "theme" ended up this year.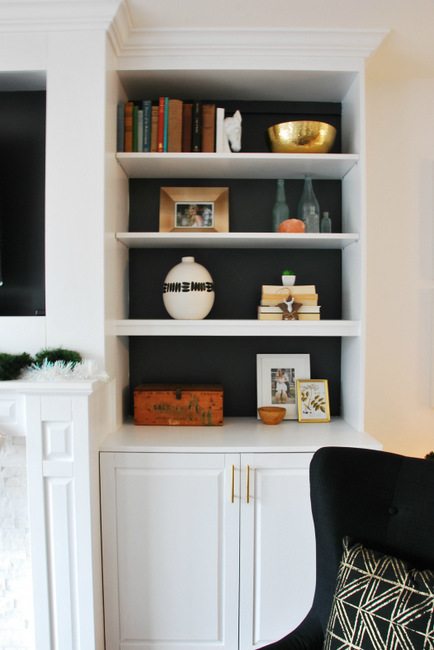 Oh, except for that little star deer head ornament we got in Helsinki recently. I added that guy in front of some books.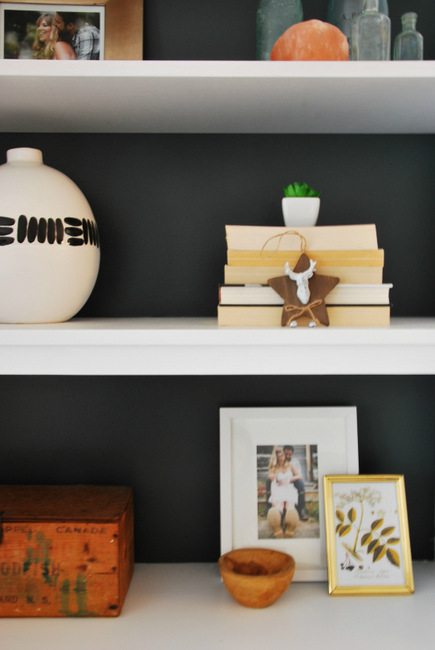 In our efforts to keep it simple this year, we aren't going to go get a big real tree and instead are making do with our small faux guy we've had for ages. Simple but sweet, and Maya gets excited to come down and turn the lights on it every morning.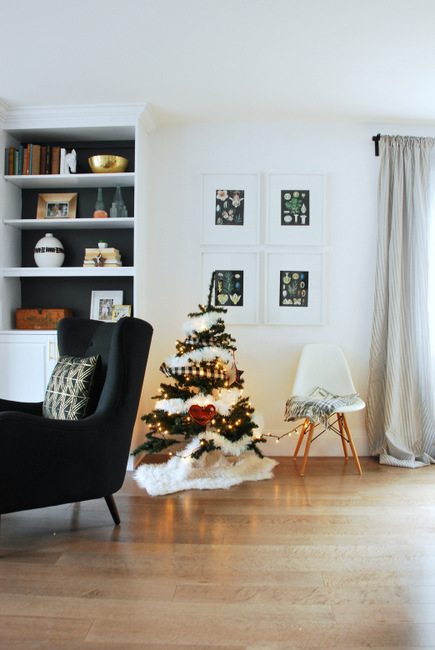 I totally feel like it's a Charlie Brown christmas tree, but I'm alright with that. Some white twinkly lights, white garland, and ribbon is basically all that adorns it right now. I have plans to make some ornaments with Maya over the month of December, so we will add those as we make them. We haven't bothered to pull out our box of actual ornaments this year as a) the tree is so small, and b) we figured we should keep it toddler friendly. Glass ornaments + an interested 2-year old = disaster.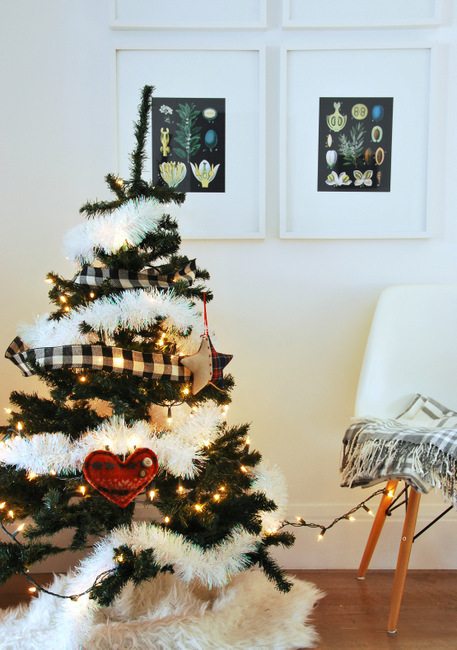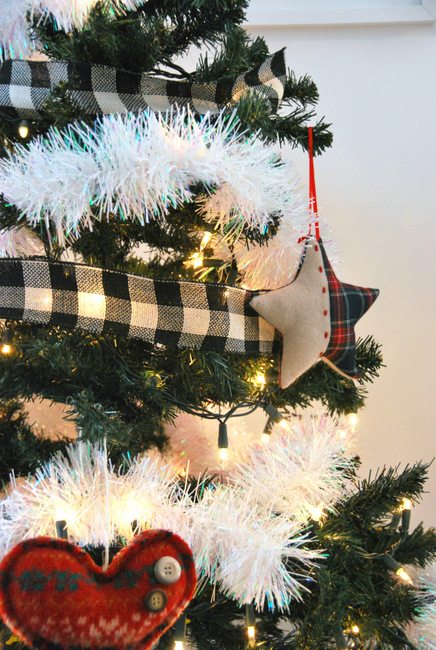 Over in the dining room area, a really simple centerpiece is where it's at for me this year.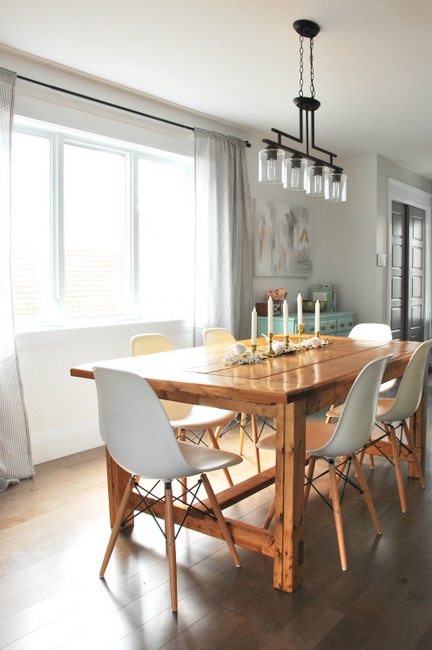 A few vintage brass candlesticks, tapered candles from IKEA, some white twiggy branches from the dollar store, and black and white ribbon woven through. Simple but still pretty and something we can actually still eat around every night at dinner.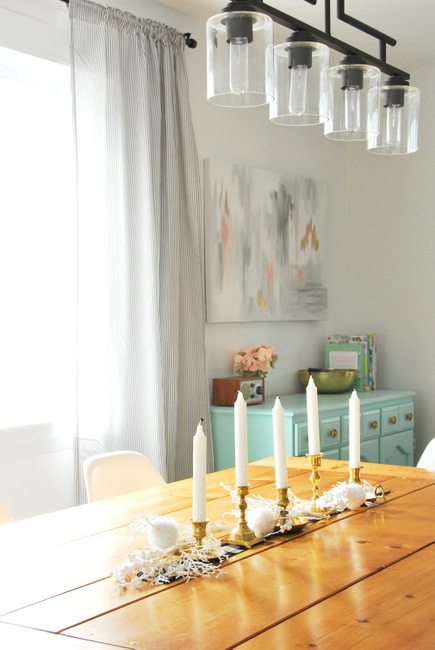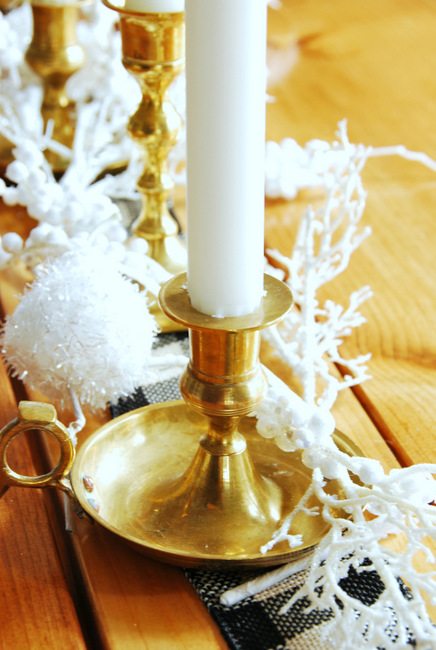 Across from the dining table, I switched out the painting that usually hangs there for a DIY scandi-style felt pennant I made last year.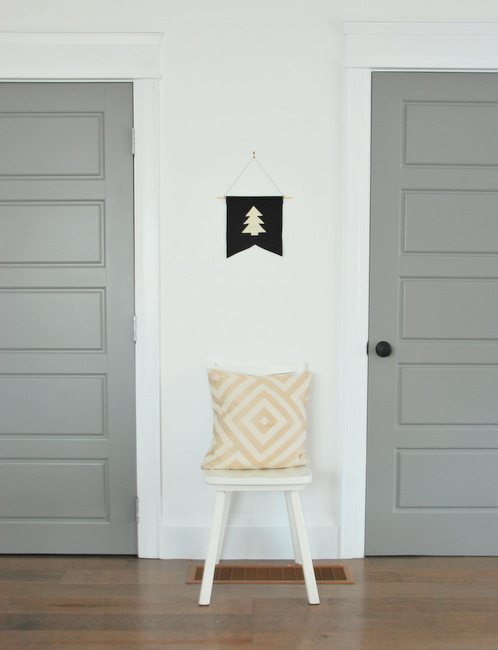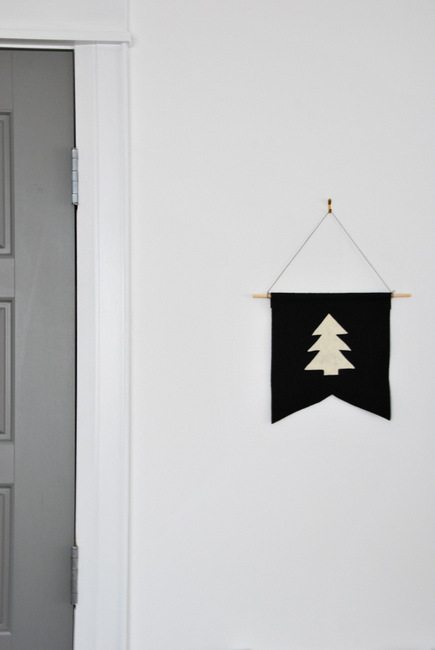 And in the buffet corner of the dining area I totally didn't do a thing… but the gold pulls, bowl, and vase still tie in with the rest of the scheme in a nice way.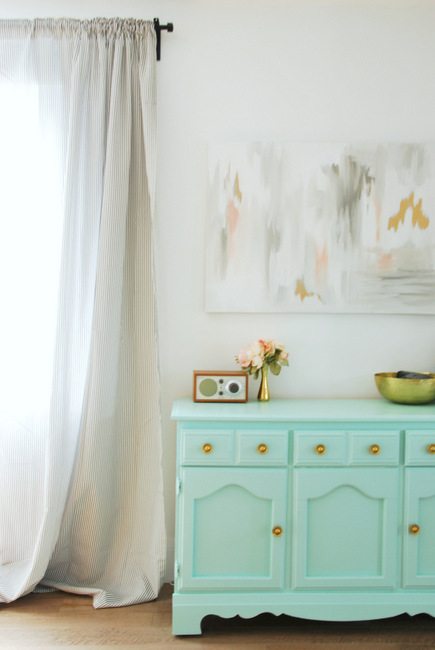 My top 3 things that can give your house that Christmas-y feel without blowing the bank or having to DIY a zillion things?
1 // White twinkle lights (both on christmas trees and elsewhere – I plan on adding some more up our banister)
2// Greenery (garlands, wreaths, trees, etc) – on mantles, along tables, up banisters, over doorways, everywhere!
3 // Scented candles (think vanilla, cinnamon, pumpkin, apple, etc) – I have one of these going all the time when we're home and everyone has been commenting on how nice the house smells!
Oh, and don't forget the christmas tunes. Introduce those four things into your home and I promise it's going to feel festive and cozy the minute you walk in.
Now head on over to Iron & Twine to continue on the home tours, where the lovely Michelle has created some bright and beautiful holiday looks. She nailed it with pops of red over a largely white and neutral space. So pretty. And make sure you follow along all week for the whole roster of Blogger Stylin' Home Tours christmas edition. Grab a cuppa coffee and get ready for some serious eye candy, you guys.
Have you guys done any holiday decorating yet? Do you have some go-to things you do each and every year? Favourite heirloom ornaments?