How to Stencil Curtains – Some of my fave blog gals got together for a winter edition of the 'Pinterest Challenge'. Also known as – stop pinning, start doing.

The gals behind this challenge? Sherry from Young House Love, Katie from Bower Power, Erin from The Great Outdoors, and Cassie from Hi Sugarplum.

I was itching to use my Moroccan-inspired stencil again (it's the trellis from Cutting Edge Stencils). So when I started seeing some stenciled curtains on pinterest, an idea took shape. Stenciling curtains… seems a little wacky, but definitely worth a shot.
How to Stencil Curtains:
I originally went out to get some inexpensive white fabric and planned on sewing my own curtains (or using iron-on hemming tape if I chickened out of the sewing part). But once I realized I would need 6+ yards of fabric and couldn't find a white fabric that was less than $5/yard, I thought I should have a quick look at IKEA. And wouldn't you know it, they of course had some great plain white beauties for a mere 30 bones (check out the Lenda curtains here).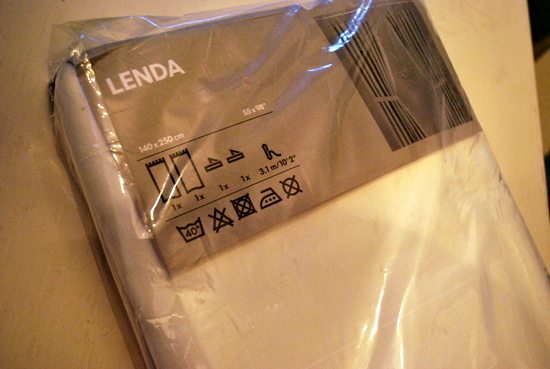 How to Stencil Curtains – the prep
So first up was to prep everything. As with most IKEA curtains I had to hem the bottom a bit (they come with iron-on hemming tape) and while I was at it, ironed the rest of the panels to make sure that there weren't any creases (which would make them hard to stencil!). I taped down a plastic painting sheet that I had kicking around to protect the floor underneath. I actually used two of these – one on top of the other –  just in case.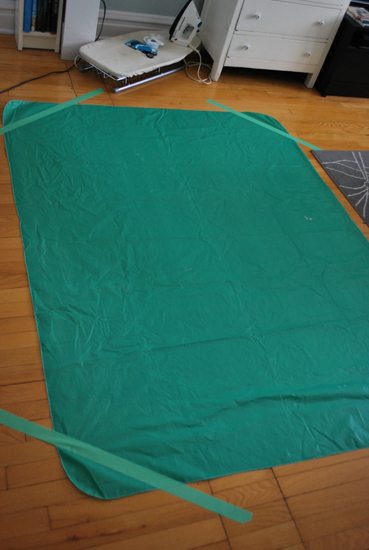 Then I taped down my panel. You want it to be pretty stuck in place so it doesn't move around as you paint. As you can see, I couldn't get *all* of the wrinkles out of the panel, but it was actually pretty flat.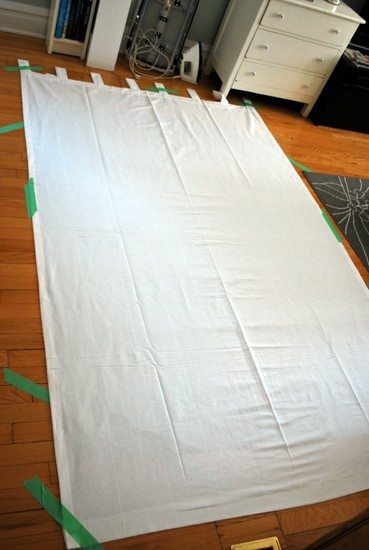 How to Stencil Curtains – paint and supplies
Then it's time to get out the paint supplies. I wanted the curtains to be pretty neutral so I went with a medium gray – I thought about doing a fun yellow or chartreuse, but thought that they would be a whole lot of pop of colour AND pattern in a relatively small room (and would therefore dictate the rest of the decor). You want to use a small high-density foam roller, acrylic paint, and some textile medium to soften the paint (you can get this from any craft store, like Michael's). I did a big blob of the paint and an almost-equally big blob of textile medium and mixed them together – luckily the medium is transparent so doesn't change the colour of the paint.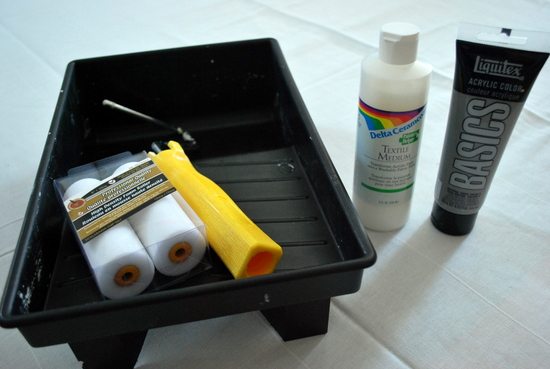 How to Stencil Curtains – Tape Your Stencil
Position and tape down your stencil…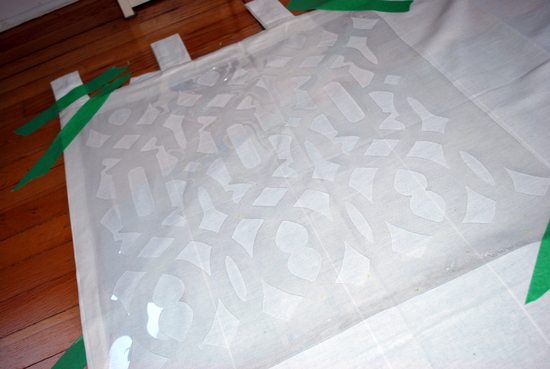 …and get painting! I made sure not to have TOO much paint on my roller because I didn't want it to seep through the stencil.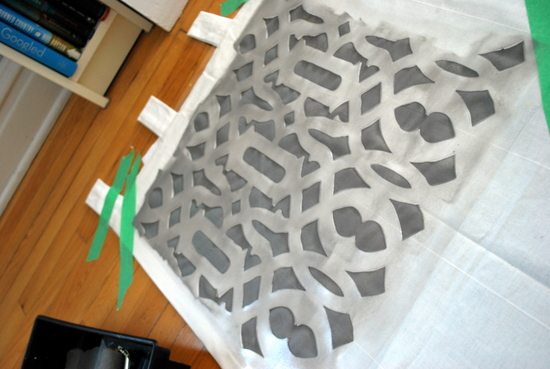 How to Stencil Curtains – move and tape again
Then you pick up the stencil, move it to the next spot, tape it down again, and paint. And repeat. Repeat. Repeat. Repeat. Let me tell you, it's exciting to see the pattern come through, but it takes a loooong time to do and I was definitely getting the "claw" (you know, when your hand cramps up and looks seriously deformed?).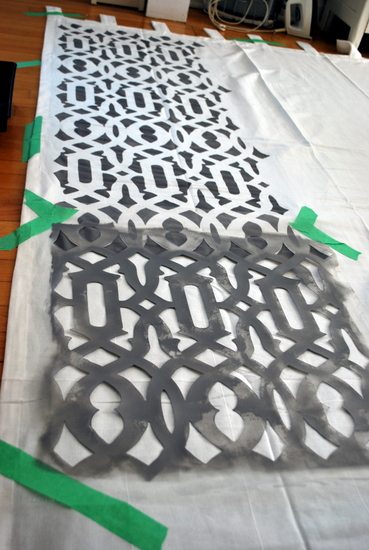 It was seeming all worth it when I saw the final product, and then I remembered I still had to do a second panel. Ugh.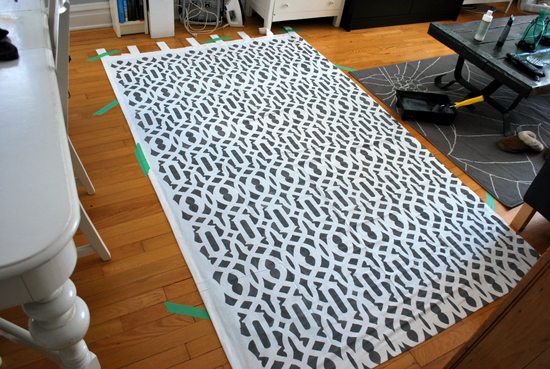 However, I was really happy with how they turned out. There aren't many areas with imperfections, and even where there are small leaks, they are hardly noticeable – especially from a distance.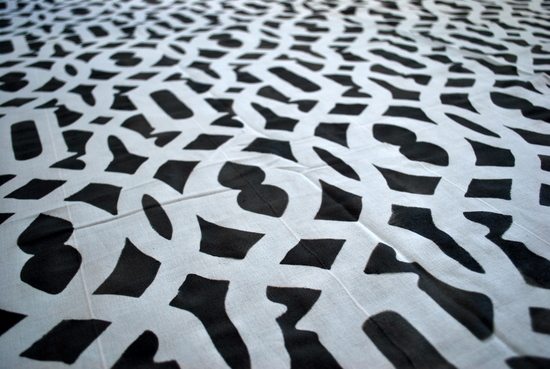 I let them dry for a good 24 hours before putting them up.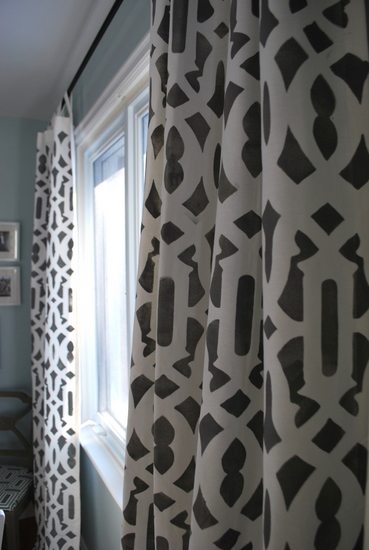 They definitely add some drama and height to the room, which is fab. The not-so-fab thing (for the hubs, anyway) is that this has sparked a bunch of ideas about things I want to do to the dining room. So many ideas swirling around in my head right now… I'll keep you posted!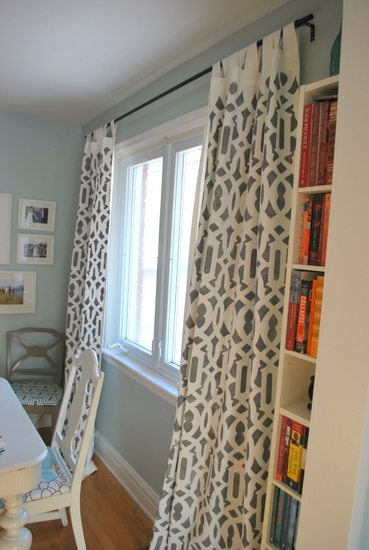 I was worried that they would turn out a bit crunchy, but the textile medium definitely does soften the paint quite a bit. They move well and look nice and soft. Having said that, you can definitely feel the painted part – it feels more rough – but it's really not bad. Plus, it's not like you're curling up with your curtains very often (right??).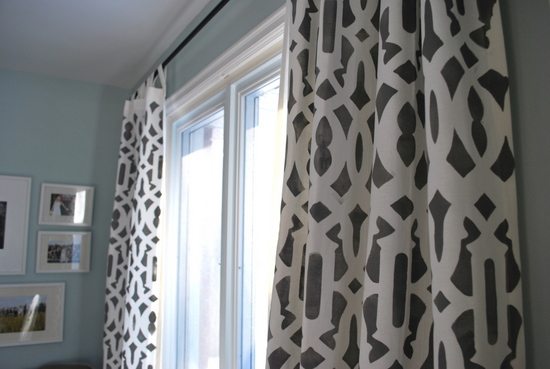 Total cost was $35 (for the curtains and textile medium – I already owned the rest). Not too shabby, compared to the pre-made curtains I had been looking at.
So there is my latest DIY, folks! What about you guys? Been doing any stenciling projects lately? Added any window treatments to your pad? Go check out the rest of the Pinterest Challenge entries over on Young House Love for some serious eye candy and inspiration.