As you know from this post about tiling our tub surround, we chose carrara marble for our new floor. I couldn't help it. I love the stuff. Veins of pretty gray on a white background make my heart go pitter patter. Marble is known to be a softer stone (so can get dings and stains more easily — why a lot of people choose not to go with marble as their kitchen countertops), but since the surface area of our bathroom floor is so small and it's just the hubs and I using it, we decided to go for it. The tile guys at Home Depot (that we now know on a first name basis!) really encouraged us to use it and said that as long as we seal it properly it should look fab for years to come.
This was the marble we went with.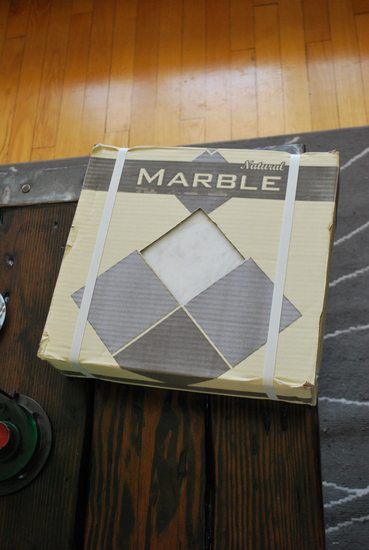 It was about $5.75 per tile (and each tile was 1 square foot) from Home Depot, and we over-bought by about 30%. There were three reasons for the over-buying: one is that you can expect some tiles to be damaged, two is that you may mess up a few pieces when you are cutting the tile, and three is because marble can vary – since the tiles are coming from different cuts of the stone, you want to be able to choose your favourite pieces as some may be fairly different in colour.
So the first thing I did was to open all the boxes and lay out the tiles in our living room. Luckily, the marble gods were good to me – other than four pieces which were much darker (lots of gray veins), the rest looked great and were exactly the colouring I was hoping for.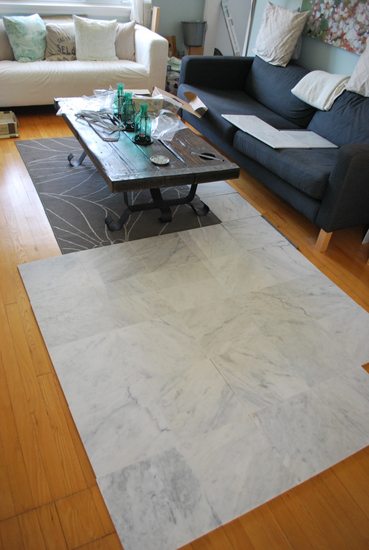 Then I laid them out in the bathroom to get an idea of how they would look and to decide on the brick pattern versus grid pattern debate. As I expected, I liked the brick pattern best (the same pattern we used for the subway tile around the tub). Each piece of marble was so varied, that when I laid them out in the regular grid it sort of looked like I was trying to match them up. Plus I felt like the grout lines would be somewhat less noticeable in the brick pattern.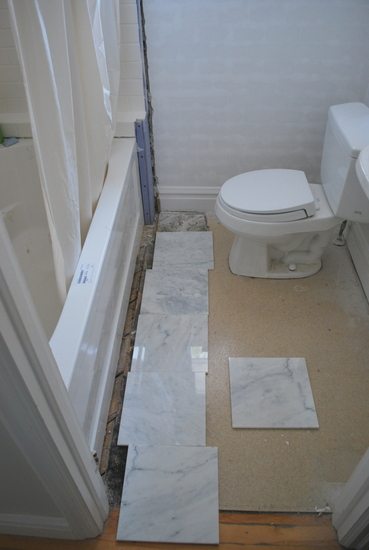 DIY Dan pulled up the rest of the old vinyl flooring. We had to pull out a ton of old staples that were sticking up. Whoever laid down that original floor were seriously over-zealous with the stapling.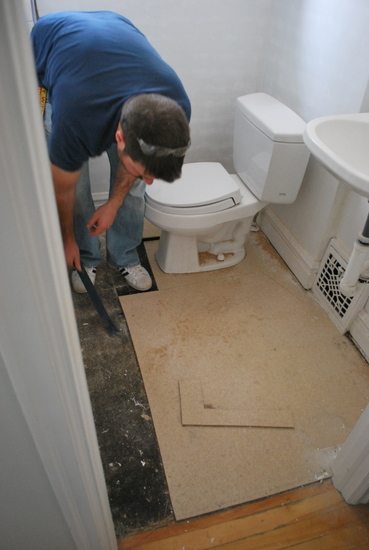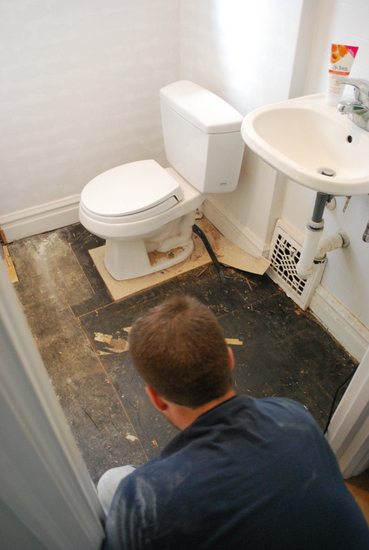 Then we moved out the toilet (no pictures of this since it was a two-person job). As you know, we only have one toilet in our part of the house (the second bathroom is in the basement that we rent out), so we had to be pretty strategic about timing. We were spending a night out at my parents' place, so we did the floor right before leaving. That way we could let it set for 24 hours and not be without toilet (that would be a long time of "holding it"!).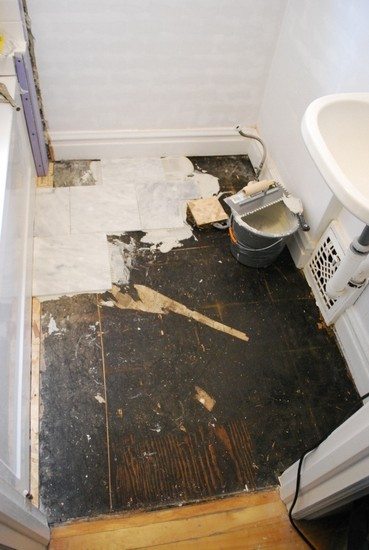 The tile went down really smoothly. It's basically the same process as we had just done on the shower – cut the tile, lay the adhesive with a special trowel (we used a different adhesive for the floor, but it's the same process), and then plop your tile down with the spacers in between.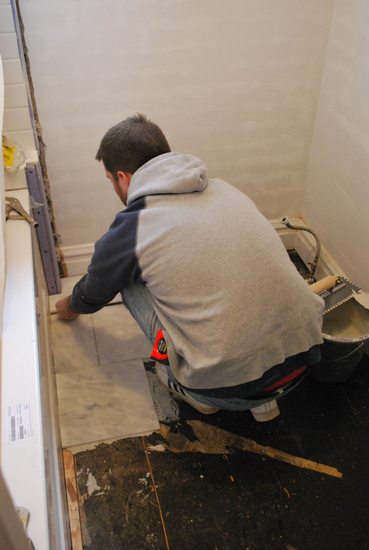 And again like the other tile, you get really messy with the tile-cutter. DIY Dan was looking a little ghostly.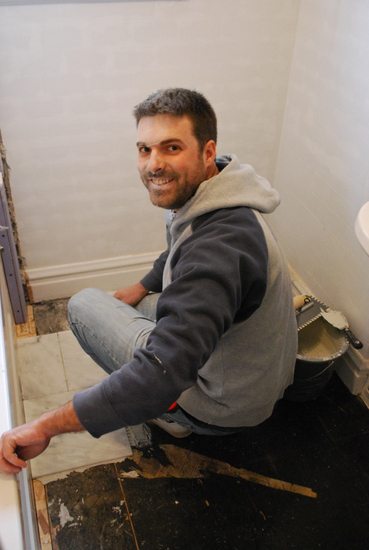 Once it was all down, we left for the night to let it all dry.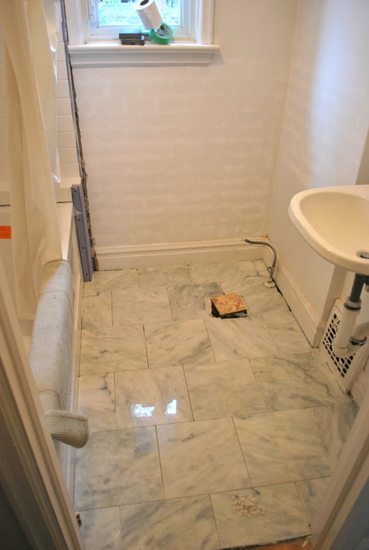 The next afternoon when we got home, we grouted right away. Again, the grout process is just the same as it was for the subway tile. Mix it according to the instructions, put it on with a rubber trowel getting it into the cracks, and wipe away with a sponge after a few minutes.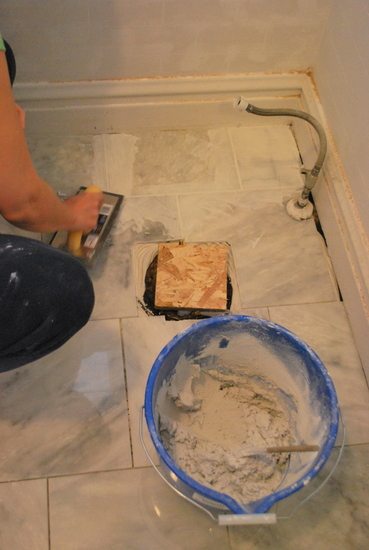 We used a sanded white grout meant for floor tile.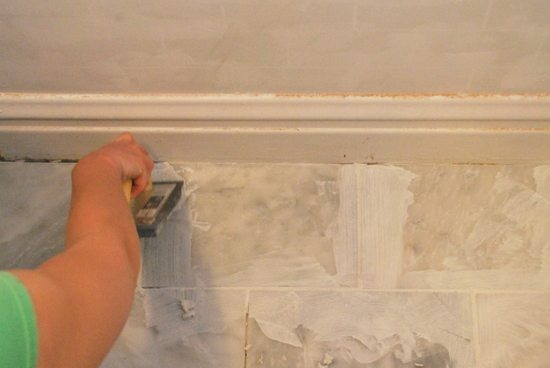 Not my finest look, but you get the idea.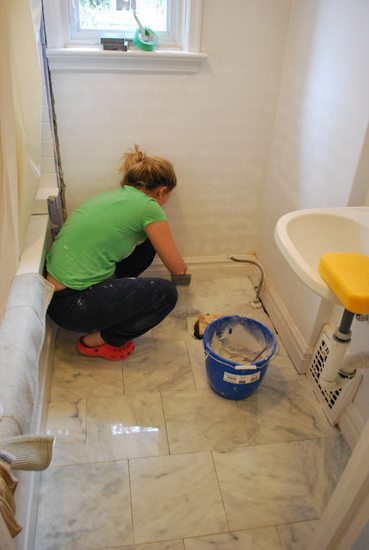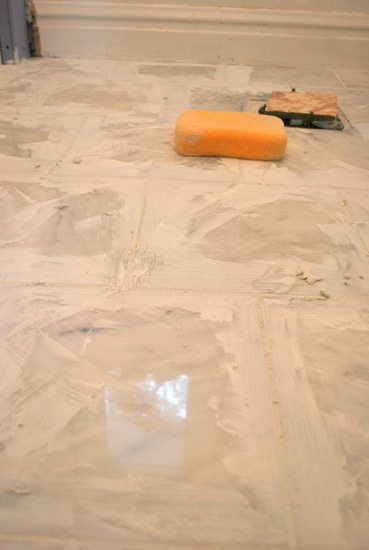 And here she was looking all spiffy and clean. We waited about an hour before putting the toilet back in. Speaking of which, taking toilets off and cleaning the old wax ring is gross. Has anybody done this before? Man, I was totally gagging and the hubs couldn't stop laughing at me. Ickity Ick.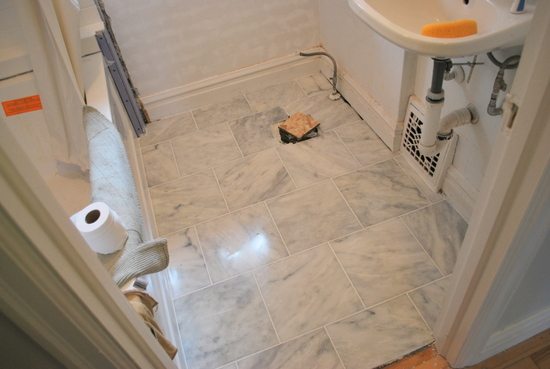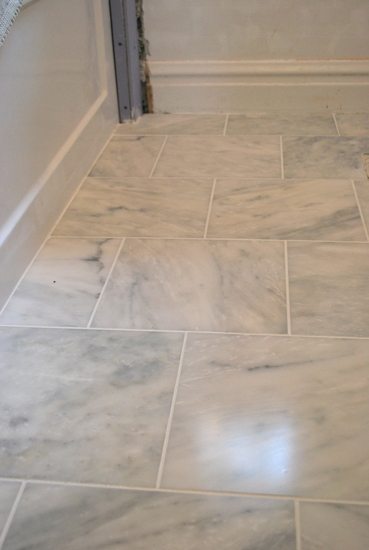 Lookin' pretty fine, huh? I'm smitten. We waffled over a marble knock-off tile because it was cheaper and more durable, but I'm soooo glad we went for the real deal. She is just so pretty (yes, I refer to my tile as a female). Oh and the over-buying we did? Luckily we only mis-calculated one cut (and so ruined only one tile), so we've got quite a bit to return. Good for the old budget!
We have yet to seal it, but are going to do that together with the shower surround sealing soon. We're slowly getting through our bathroom reno "to do" list. Here is what's left:
seal the marble
seal the shower surround
finish mudding the new drywall area and patch other parts of  walls
install new vanity
tile behind new vanity
install moldings (crown, around door, around window)
install ceiling vent
install new pendant light
hang new mirror
paint whole room (ceiling too!)
install fixtures – shower head, faucet, toilet roll holder, towel rod, hook
add transition strip between bathroom floor and hallway floor
Looks long, but quite a few are the finishing touches that hopefully won't take much time. It's coming together, folks!
Well, have a great long weekend everybody. Hoppy Easter!! (sorry… too cheesy?)