Progress on the nursery has been pretty steady going. We just have a few small details to get to that finish line!
I had hinted before that I wanted to do a gallery wall above the pink + gold dresser that I refinished. It was a great big blank piece of white wall – perfect for a mish mash of frames.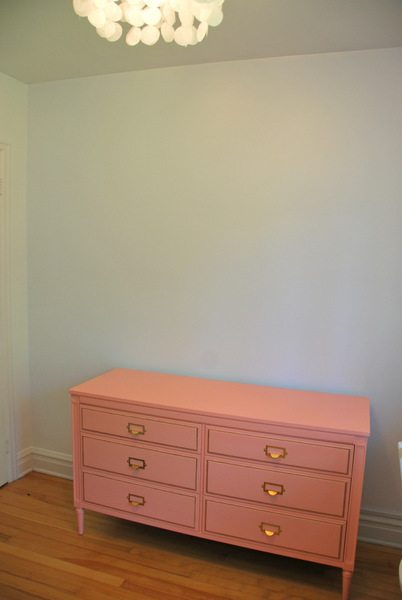 My first step in creating a gallery wall is to always take stock of my frame situation. In this case, I had some leftover white IKEA frames (the Ribba series) and had purchased a couple of silver frames from a garage sale for a buck a piece.
The silver frames got taken apart and given a coat of gold spray paint – the same stuff I used on the little lamp.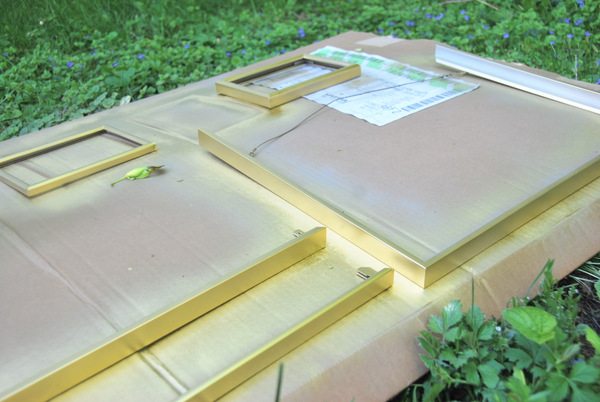 Then I cut some wrapping paper to the size of each of my frames, and laid them out on the floor. I played around with the arrangement until I came to a pattern I liked, and then transferred it up onto the wall. The one space in the bottom right corner that's empty was for a canvas (I just held up the canvas so I knew the spacing was right, instead of cutting a piece of paper for it). When it came time to hang, we just took off each sheet and hammered them in as we went – that way you get the placement just right.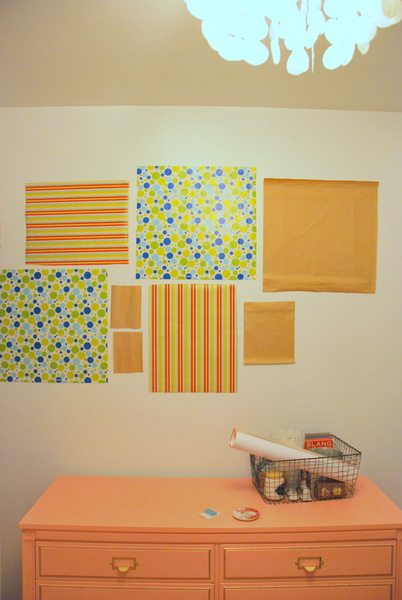 Then it was just a matter of filling the frames with artwork. This is where you can totally personalize a gallery wall – fill it with photos, a favourite piece of artwork, some DIY artwork, postcards, pretty paper, sheet music, whatever! There are so many artwork ideas out there – you really can't go wrong.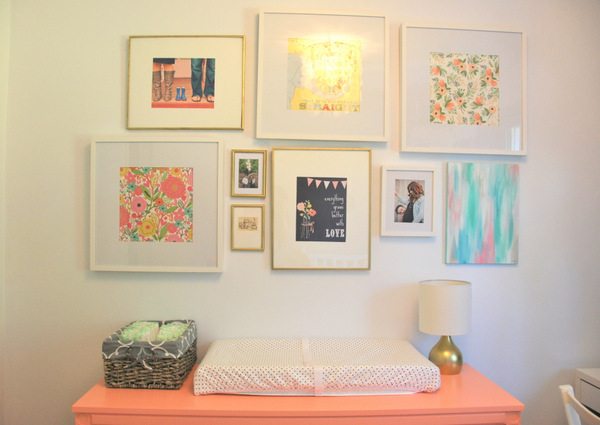 For our wall, I wanted a mixture of things. In the top middle frame I took a page out of a calendar I had bought ages ago and had been stashing in my "someday make this into art" box. I liked the yellow, the elephant, and the cute saying ("a smile is a curve that sets everything straight").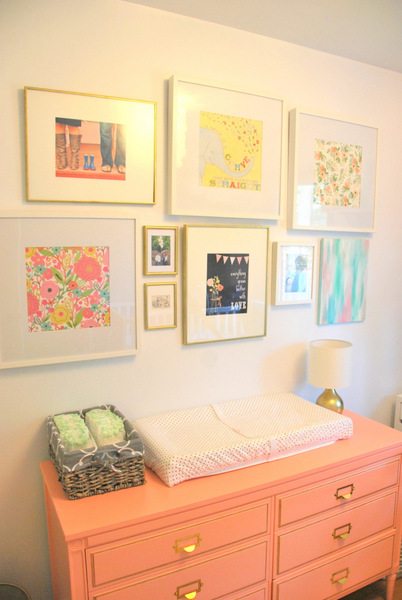 Then I grabbed some really pretty gift wrap paper for the two other square white frames. I had actually picked this stuff up at a paper shop in Chelsea Market when we were in New York City and brought it home… as carry-on on the plane – hello, crazy lady!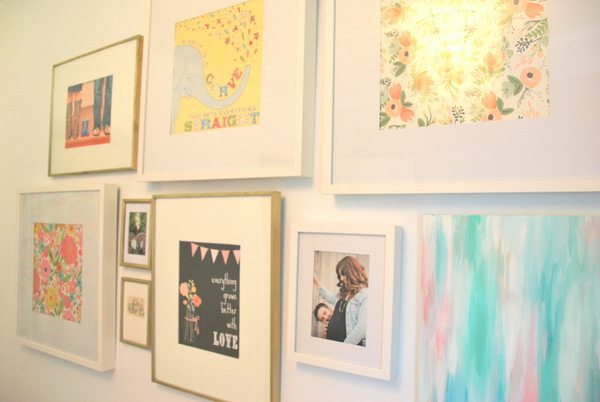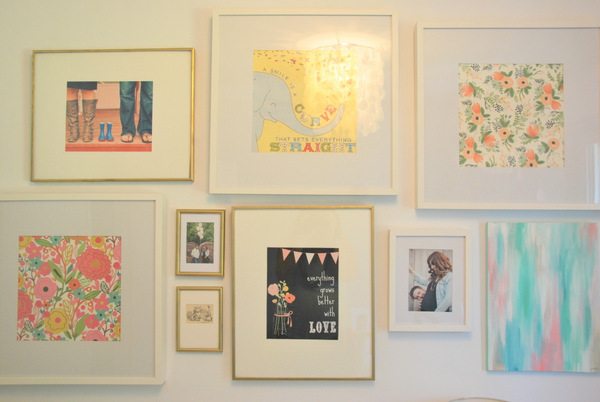 I popped a few of our recent maternity photos into three of the other frames.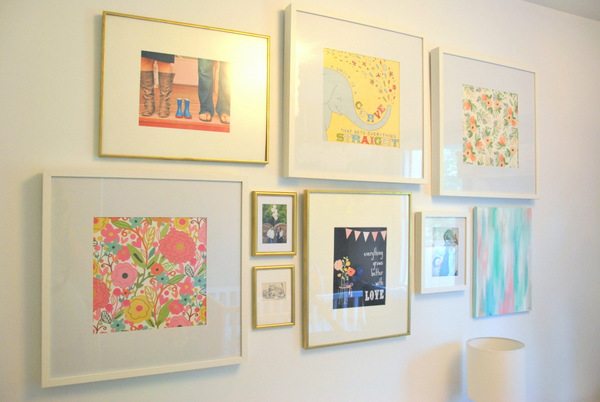 A winnie-the-pooh print from an old book made it into one of the small gold frames. This had been a gift from my Mum – I think she found them on a trip in England. Winnie the pooh is a bit of a family love, so it has some sentimental attachment for me. Next to it is the "everything grows better with love" chalkboard print from my own little etsy shop.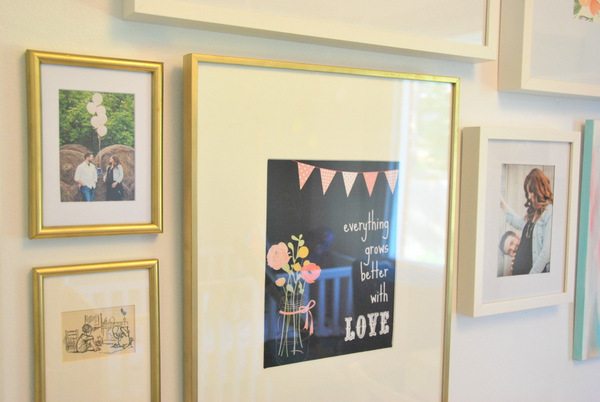 And lastly, a canvas I painted in the colours of the room made it in. I wanted something original up there, and signed the back of it with a little note to my sweet baby girl.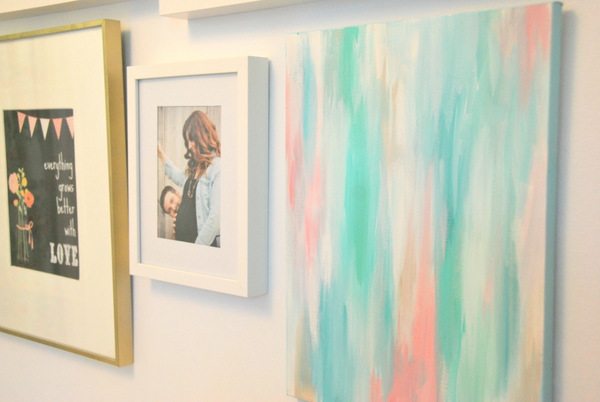 And that's it! A gallery wall always adds so much personality to a room, and I'm super happy with how this one came out. I think the key here was to mix up the frames (white + gold) and the style of artwork, but to keep the gallery fairly rectangular and with mostly large frames. Sometimes gallery walls with frames that are too small get a little too busy or things just get lost, you know what I mean?
In terms of the other stuff on the dresser, we have a change pad with cover (both from Babies R Us), the little gold lamp that we had spray painted, and a basket for diapers and wipes. Simple, but it works.   
Have you guys done a gallery wall lately? Into gold frames like I am? I used to be a purely black and white frame kind of gal, but gold has totally won me over lately. It's just so warm and pretty, you know? Have you used a dresser as a change table? Any tips about what you do and don't need on there?