As we finish up the nursery around here (two more weeks until my due date!), I also wanted to make a few switcharoo's to our living room.
Remember how I mentioned in my "before baby" post that I wanted to get the two small dressers on either side of the TV painted? They were two slightly different off-whites, and one was pretty badly banged up.
This one was very much a cream colour…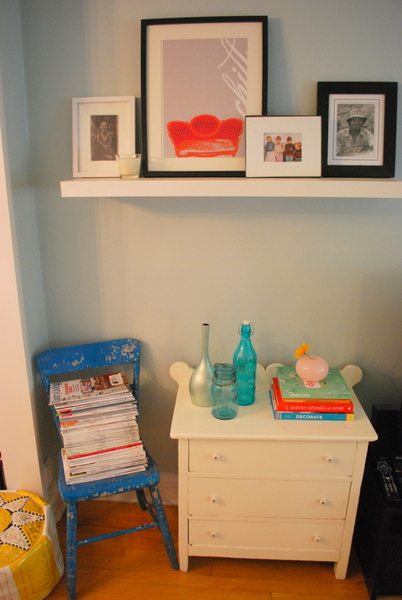 And this one had loads of chips and had been painted with a really bad paint that wasn't durable at all..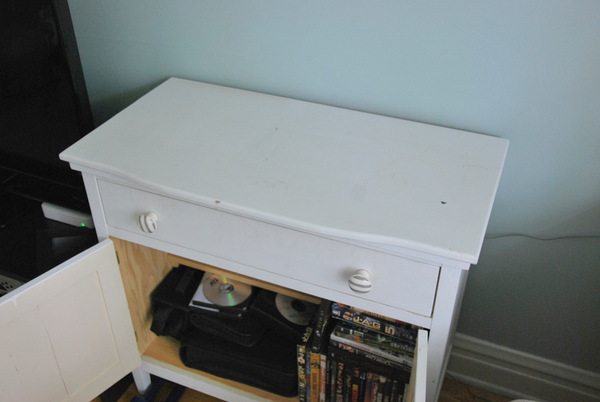 My super lovely mum wanted to give me a hand with getting things done around the house, so while I was working one day she came over and painted them! Seriously, how lucky am I? I'm also lucky that she is a re-finishing furniture pro and total perfectionist. She sanded down both of these pieces with my palm sander and gave them two coats of my fave Rustoleum medium gloss white paint (it's available off the shelves at Home Depot).
Once they were all dry, I brought them back in to the space and threw the knobs back on.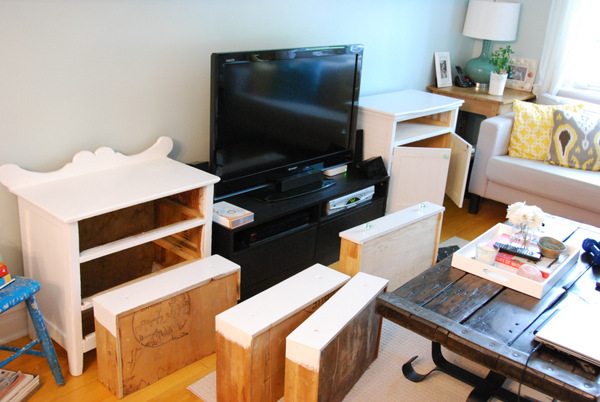 I'm always so pleased how a fresh coat of paint – even in a similar colour – can make a piece of furniture feel brand new.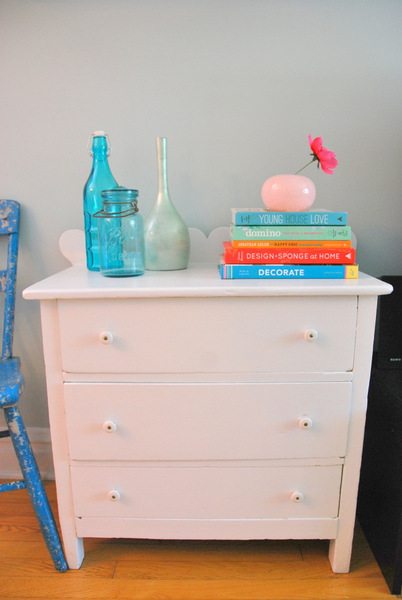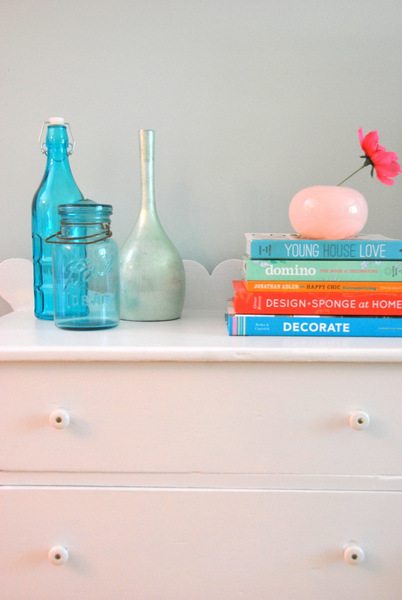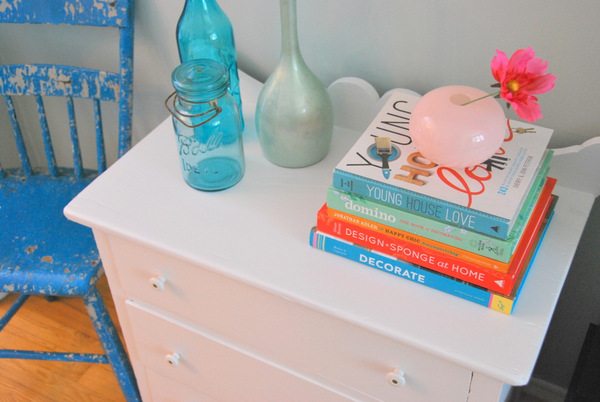 The one to the right of the TV needed a knob upgrade, so I grabbed these gorgeous glass minty ones. So pretty, right? They came from a small store where my parents live, but you can find similar ones from Anthropologie.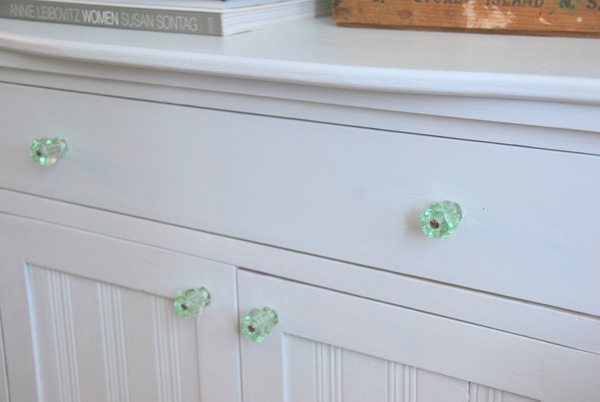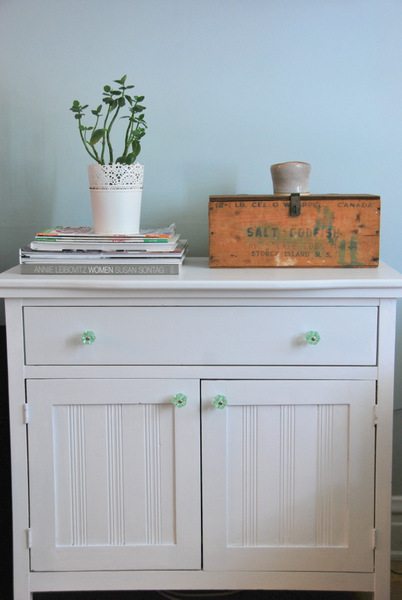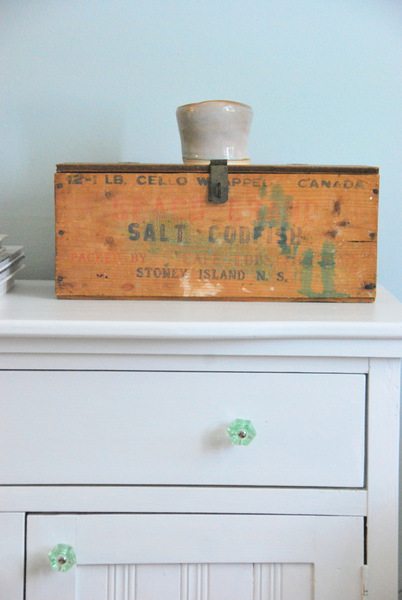 We also said goodbye to hubby's beloved Poang chair in the living room. Though it was super handy to have the chair, it was never my favourite and we knew we were going to need the floor space to let our little lady have tummy time and crawl around. Now we have this nice patch of free floor where we can play!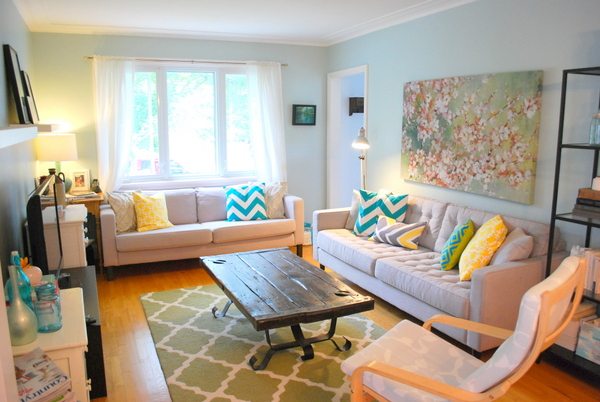 The last change was to switch out the rug. We planned on using the green trellis rug in the nursery (more on that later this week), and wanted something neutral, non-shedding, and super budget friendly in the living room. With the possibility of our house addition next year, we knew we didn't want to splurge now on a rug. So when I saw this bound taupe-y/grey area rug at Home Depot for $35, it quickly came home with us. With the $40 we got for our Poang chair off Kijiji, it was a break even move. My favourite!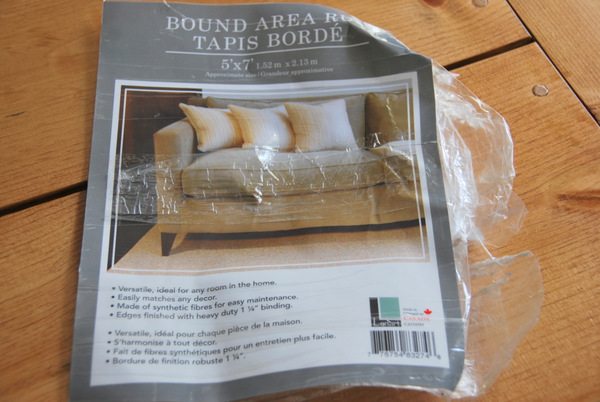 Yes it's a little small for the space (it should really fit under the front legs of the couch), but the colour and how easy it is to keep clean made it a total winner.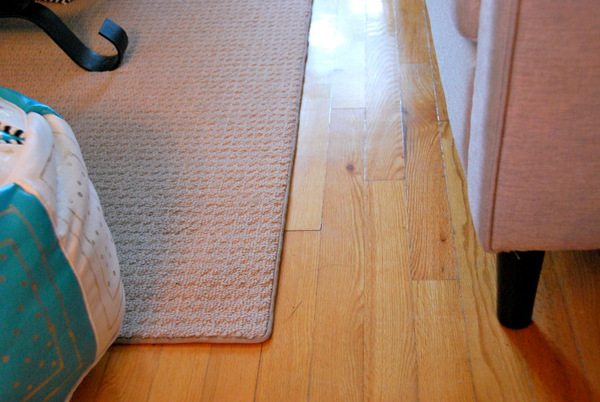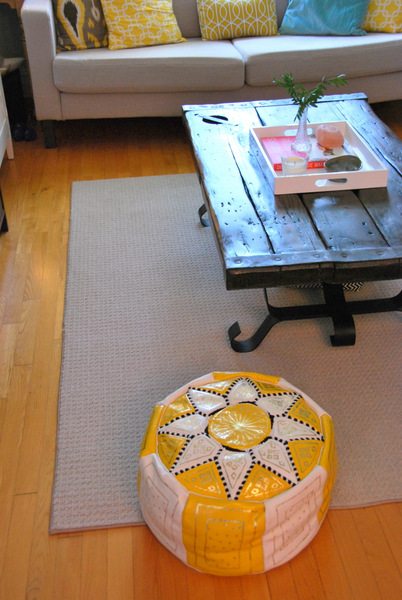 I didn't have time to edit all of the photos this weekend, so I'll post some before and afters of the living room later this week.
Hope you guys had a good weekend. Anything fun going on? Have you been switching things up in any parts of your house lately? Oh, and did you hear that Kate Middleton is in labour? I can't wait to find out if it's a boy or girl, and what they name him/her. Do you guys have any guesses?