Alright, we're in the last stretch of project nursery! Here are some of the little details – none of which really required a separate post – so I just sort of jammed them into one.
After I had painted the room a crisp white and installed my Chasing Paper polka dot wallpaper (love!), I knew I wanted to do a little something with the window frame. It was just kind of getting lost in the sea of white.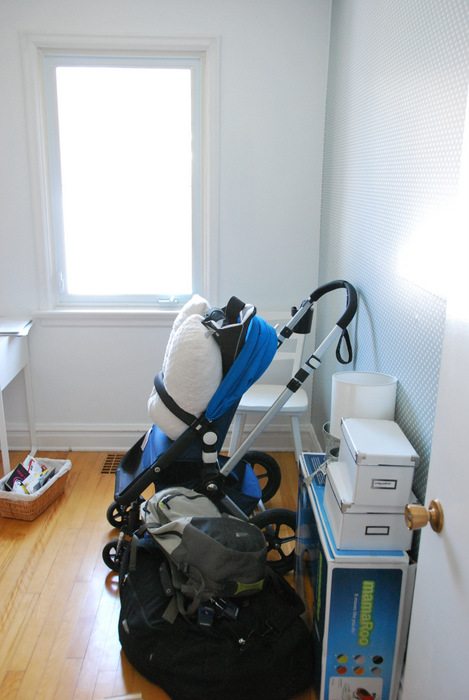 So I taped off the trim, broke out some grey paint I had leftover from other projects, and gave the frame two coats.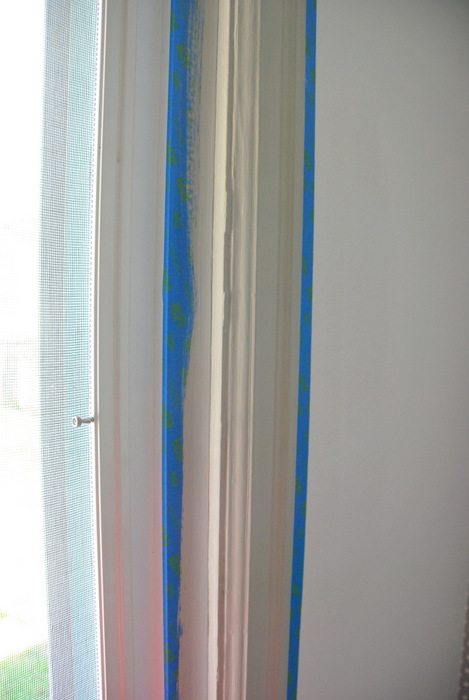 And all of a sudden, this window totally became a feature of the room. It seems bigger somehow, and definitely adds a little something dynamic to the space. Plus, tying into the grey and white wallpaper on the other wall helps it all look more cohesive, too.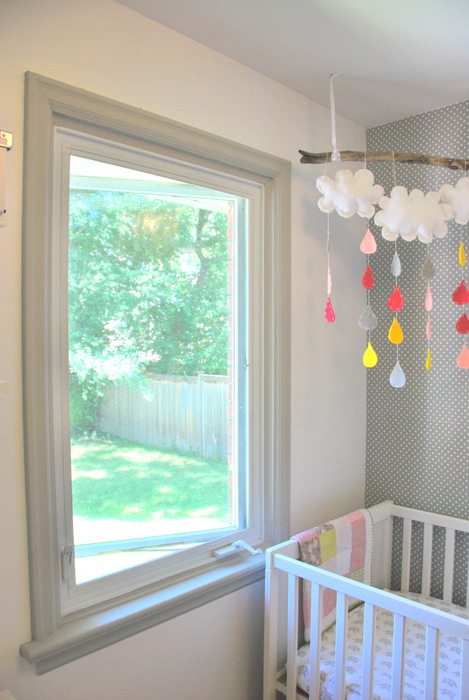 And you know I got pretty happy with the gold spray paint (like on this little lamp, and on some picture frames), but I didn't stop there. This silver garbage can was screaming for a little gold-i-fying.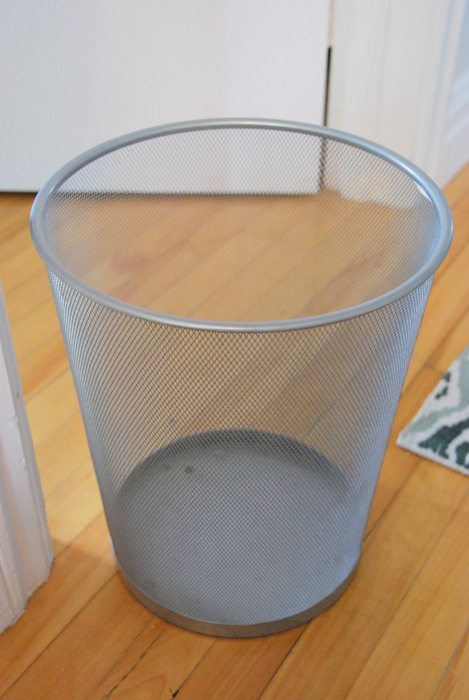 See? I had a little gold spray factory going on here. Sorry for the fumes, neighbours!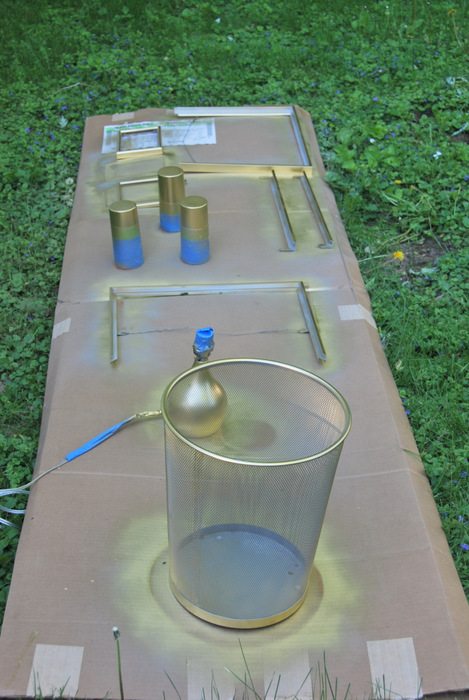 And the shelves that I wanted to put above the desk also got the gold treatment. The shelves and brackets were the same ones that had been in this room previously (back when it was an office/guest bedroom), so I just gave the brackets a shot of gold, and the shelves a coat of white paint (hubby cut them down to size and did the install – love that goofy guy). The brackets are from IKEA, and the shelves were just wood purchased from Home Depot.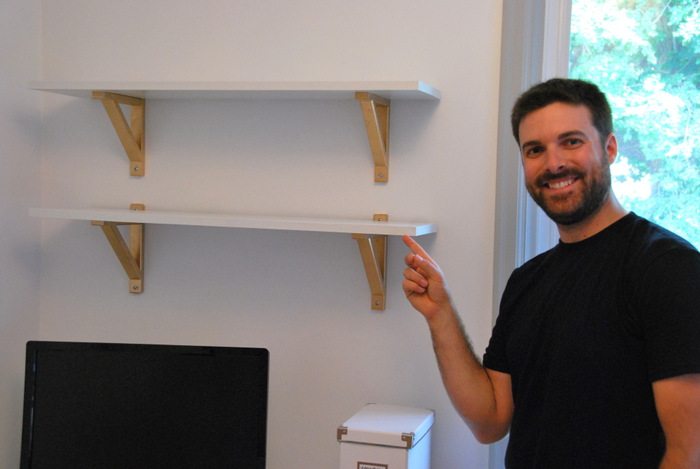 Because we're pretty tight on space in our pad, we needed to use these shelves for some office storage that we weren't able to re-locate elsewhere. Some magazine files and boxes from IKEA (all of which we already owned), did the trick. Plus I threw in a few little pieces of artwork, some vintage children's books, and my old music box.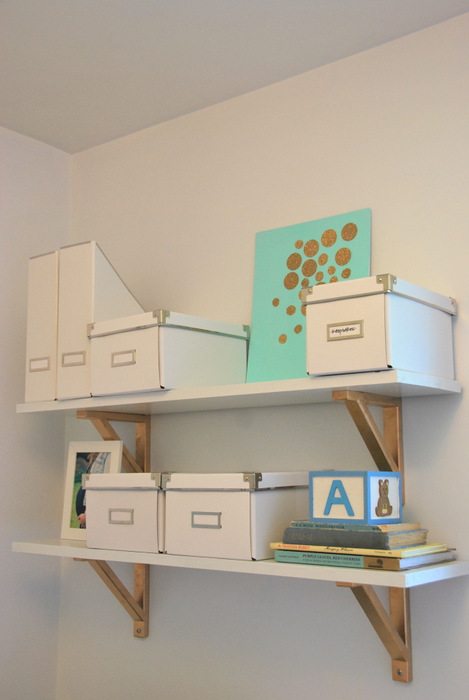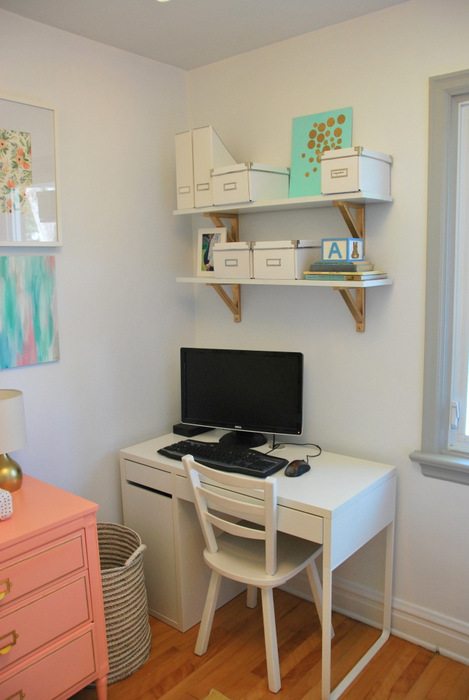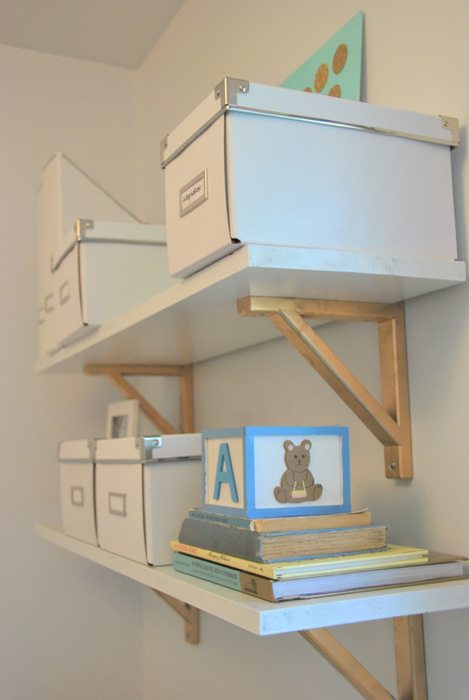 Oh and the rug. So back when I was planning the nursery, I had included our green trellis rug from the living room — you can check it out in my original moodboard here. Well, once we moved it over to the space (and after we had already bought the new neutral guy for the living room), we realized the dimensions just weren't quite right. It did fit the room (I hadn't totally flubbed on the measuring), but we didn't want it under the desk, and didn't like that it stretched almost the entire length of the room. See what I mean?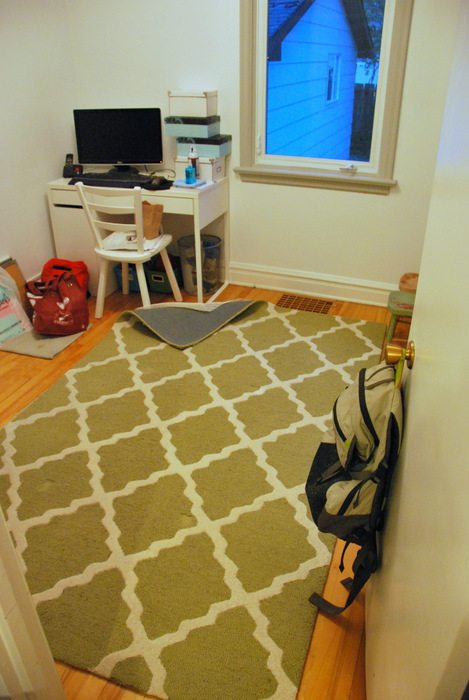 Soooo… when I spotted this yellow and white chevron guy at HomeSense for less than $30, I was sold. The dimensions worked, I liked the idea of injecting a little bit of sunny yellow, and it's super thin and easy to keep clean (it's a flatweave).
So that just about wraps up the nursery projects. Full before + after photos to come on Monday. Holla!
What's going on in your neck of the woods lately? Getting close to finishing up any room makeovers yourself? Doing any spray painting or window frame painting? Got any sweet plans for the weekend? I want to hear about 'em!