So almost three months ago we started the switch over from office/guest bedroom to nursery/office. One of those slow and steady makeovers, and I'm happy to report that a week before our baby girl is due we can call this one done-zo.
Let's take a little trip back at this room, shall we? Here it is in it's crazy turquoise glory, full of mis-matched leftover University furniture that we shoved in here when we first moved in. I think it stayed like this for the first 6 months or so of owning our pad.
Then we did a bit of a makeover – keeping the same general layout, but changing out the wall colour, DIY'ing a desk, creating a headboard, and better storage solutions.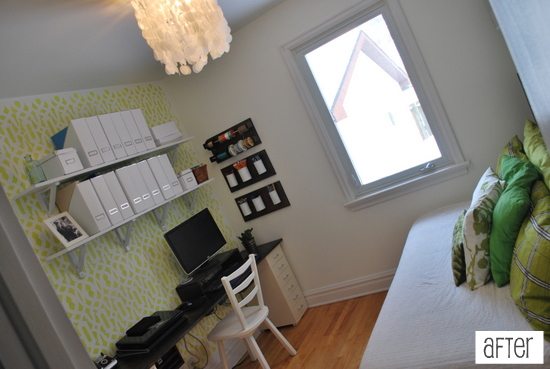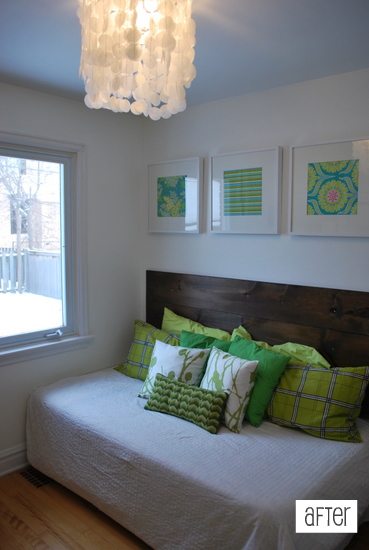 Then when it came time to change up the purpose of this room, I happily got to tackle it again. I think it might now be my favourite room in the house!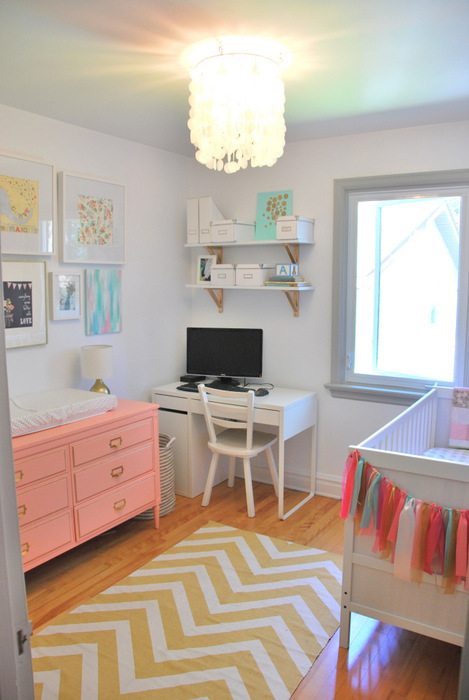 Project nursery: before + after
I'm really happy with the way the colour scheme came out. Lots of white to keep it feeling bright and airy, but strong hits of pink, yellow, mint (and a smattering of gold!) make it all kinds of playful. And the subtle grey in the wallpaper and window frame add a nice additional neutral layer. I wasn't too concerned about things matching exactly as I was putting the room together, and I think that eclectic vibe works well in here.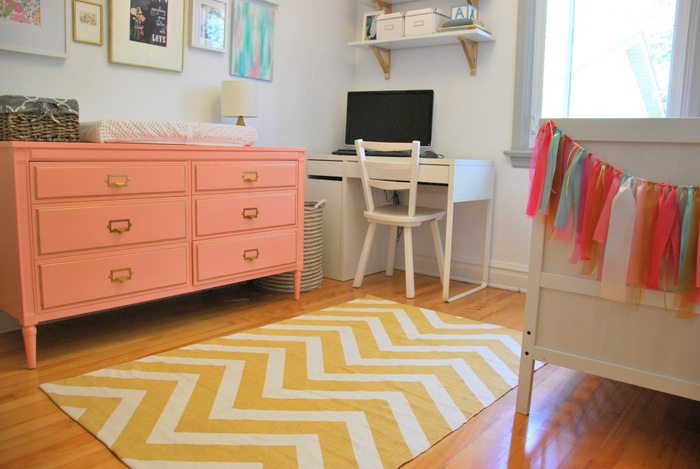 I'm also pleased with the layout. We struggled a bit with how best to configure the room, and in the end, this scheme really worked best. We were able to get a nice long dresser in to serve as a changing table and major storage area, but left enough room to squeeze in that little desk. Dan has already spent a fair bit of time sitting at the computer there and says that the space is just fine for him. The chair has just enough room to pull out, and we keep the screen on a bit of an angle so that it's user-friendly.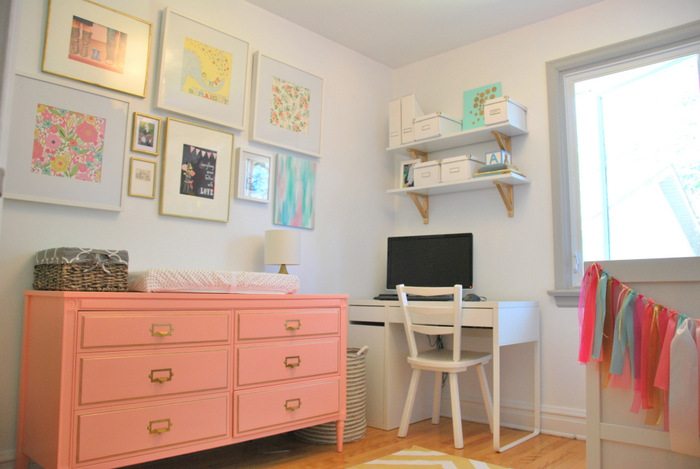 Removing the closet door and making the closet curtain definitely saved us a bunch of space, as it meant we didn't have to leave enough room to have a door swing open. Plus, it adds some nice pattern to the room and I actually find the curtain is super accessible – grabbing clothes and diapers from in there will be nice and easy!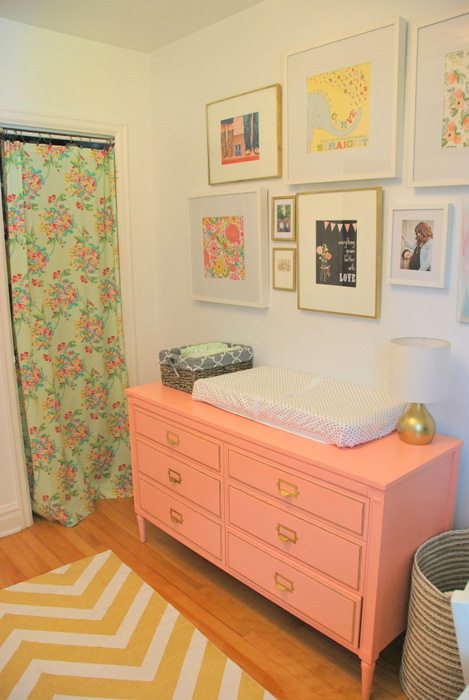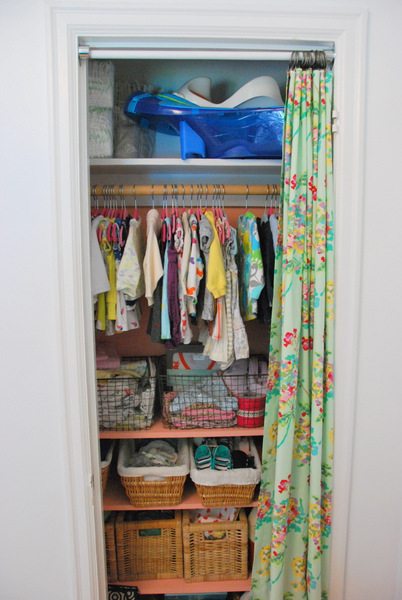 The artwork is a jumble of photos and personal pieces, which makes it extra special for us. I'm not sure how long the little gold lamp will last there once this gal gets to be big and kick-y, but we can always move it over to the desk if need be. The laundry basket and garbage bin both tuck in nicely on either side of the dresser, keeping things close by.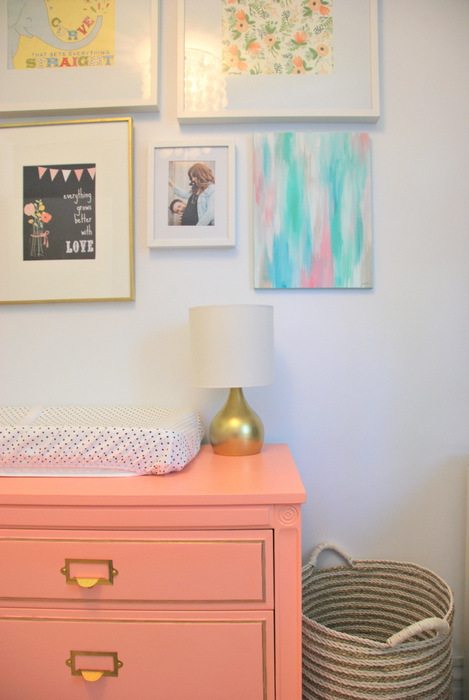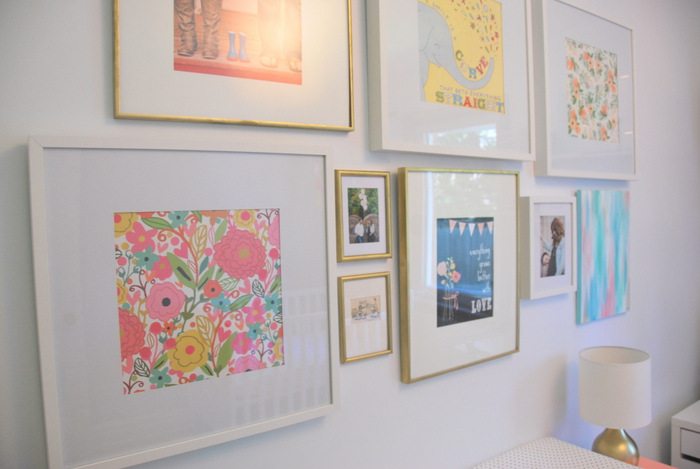 One thing we don't have in here that I know lots of people have in nurseries in a comfy chair of some kind – like a glider or rocker. Frankly, we just don't have the space. Since we live on one floor, if I need to sit in a chair at night, I'll just go out to the living room. It's about 8 steps away, so not a huge deal. You win some, you lose some, right?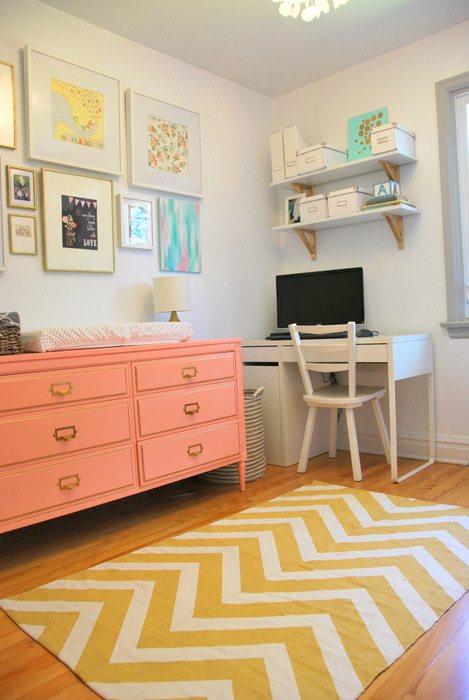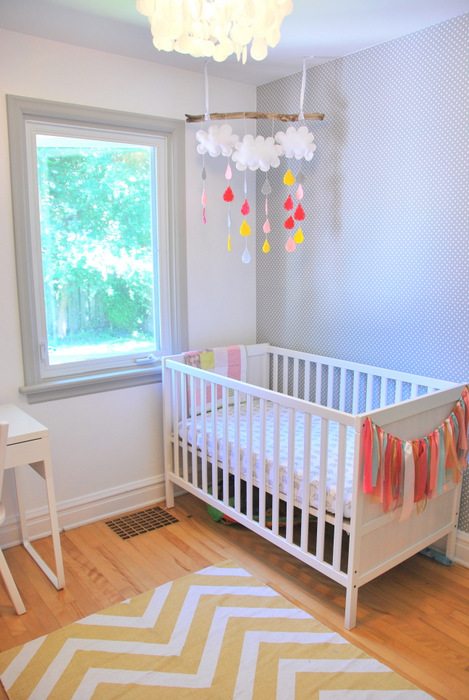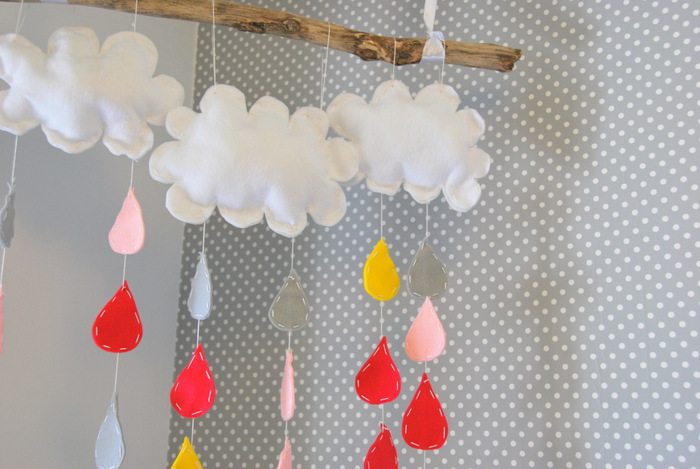 One other thing we have yet to install are the blackout blinds we have for the window. There wasn't really room for curtains, and although I tossed around the idea of doing a roman blind, frankly I just got a little lazy and bought a very discrete blackout blind from a big box store. Since the baby will be sleeping in a bassinet in our room for the first little while, it hasn't been high on the priority list… but we'll get on that one soon.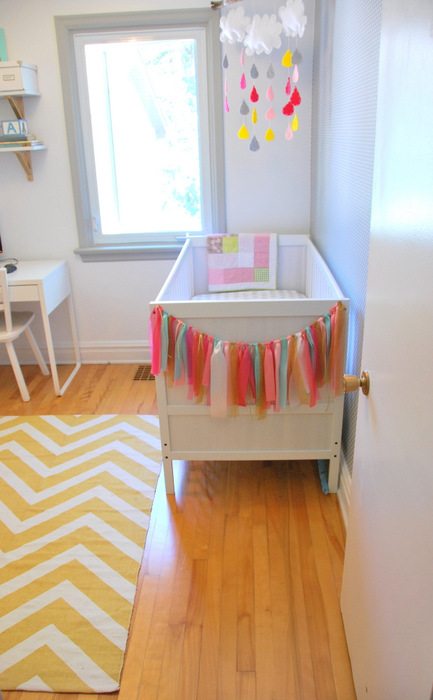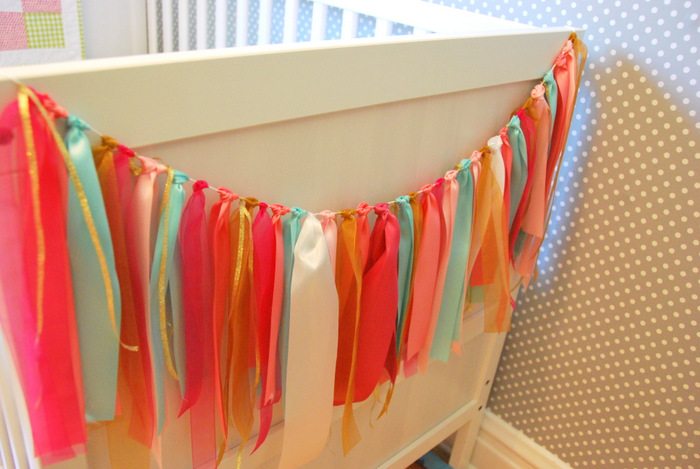 You can't do a before + after post without the side by side collages, right?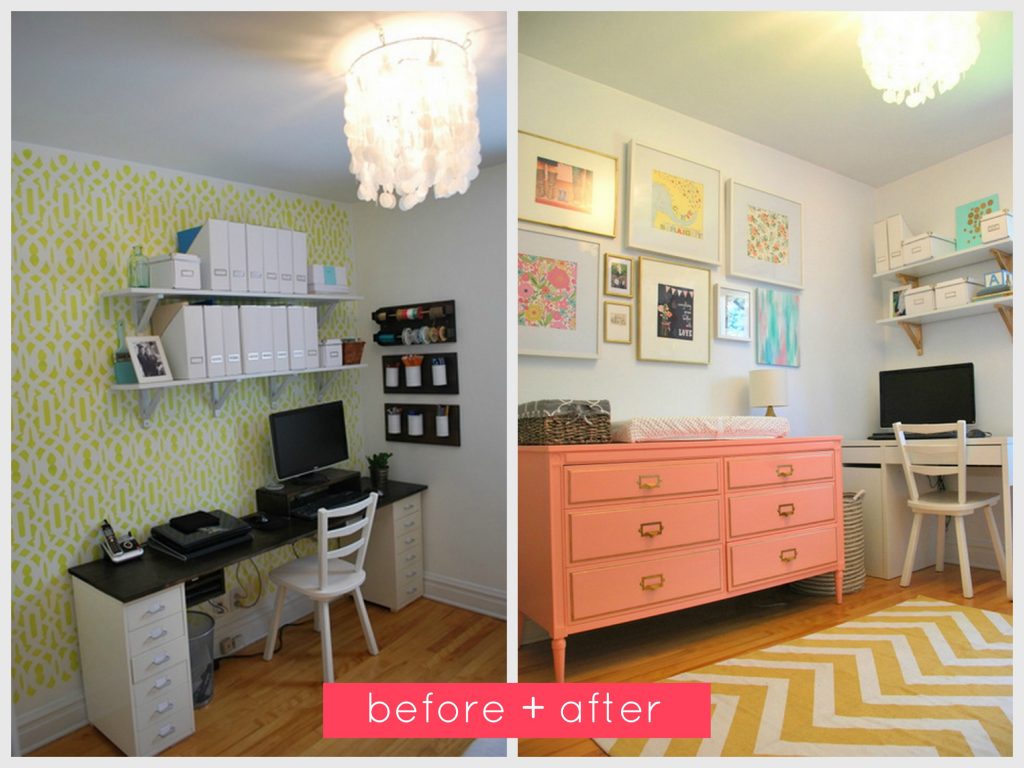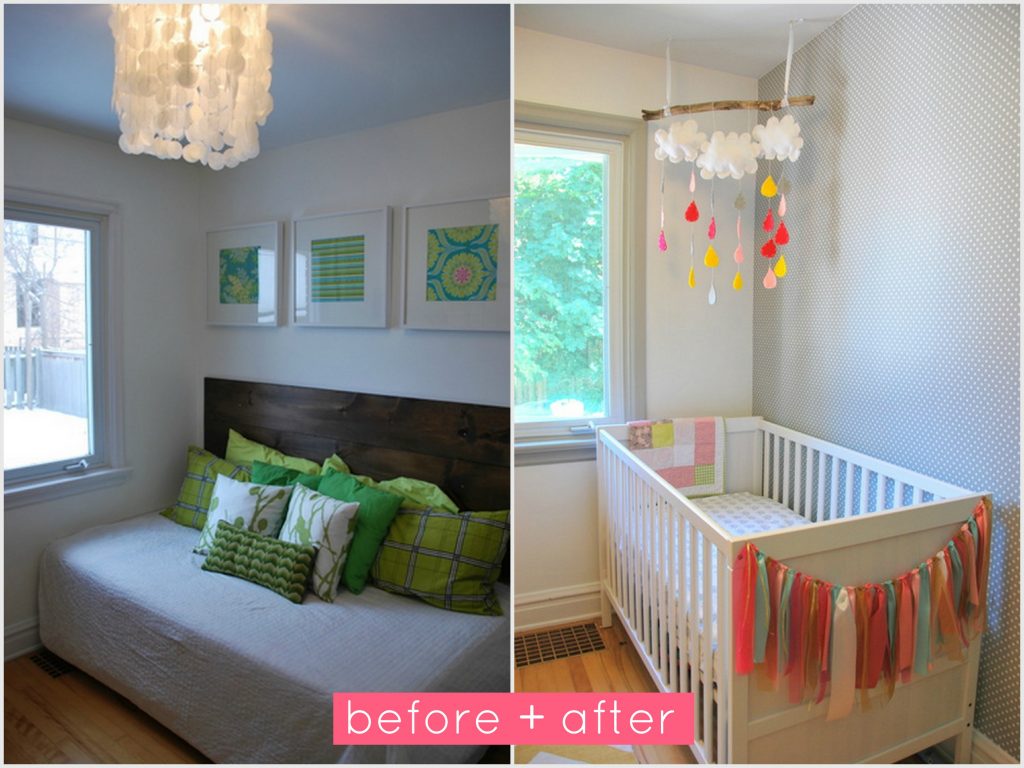 There is just so much cheeriness to this room now. I'm totally smitten.
The budget came in well under on this makeover. We had projected $1000, but with so many good deals (crib, desk, dresser!), using items and supplies we already owned, and DIY'ing our little hearts out, it meant we came in at $560.
Here is the budget breakdown:
paint (walls, closet, dresser, window trim): $0 (already owned from previous projects)
desk: $115
wallpaper: $0 (complimentary from Chasing Paper)
dresser: $80
crib: $175
spray paint (gold, 2 cans): $20
rug: $30
laundry basket: $20
frames, artwork, garbage bin, shelving, etc: $0 (already owned)
ribbon for garland: $30
crib sheet, change table pad and cover: $0 (received as gifts)
fabric for closet curtain, rod, hardware: $45
felt and embroidery thread for mobile: $10
artwork: $10 (for gift wrap paper and printing photos – rest were already owned)
baby velvet hangers: $25
TOTAL: $560
And just in case you missed any of the steps or projects along the way, here are the links to all of the nursery related posts:
Source List
paint colours: walls are in an off-the-shelf white from Sico brand, pink was a mistint from Home Depot
dresser: found used on Kijiji
desk: Micke from IKEA
wallpaper: Chasing Paper (link)
crib: Sundvik from IKEA
laundry basket: HomeSense
chevron rug: HomeSense
frames: white ones are Ribba from IKEA, gold ones were garage sale finds
crib sheet: Pottery Barn (link)
closet curtain fabric: Amy Butler Love Water Bouquet in Mint (link)
chalkboard print in gallery wall: audrey + gem etsy shop (link)
light fixture – DIY tutorial here
And that's it! Just in the nick of time to welcome this little girl to the world. Happy mama over here!
**This post has been linked up to East Coast Creative's Crafting with the Stars series!**