You may have noticed in the last nursery post, a glimpse at the new closet door we have in there. Well, a closet curtain actually. We started out with a door on the closet, but quickly realized that to maximize the space in there and get a nice long dresser along the far wall, we were going to have to lose the door (there wasn't enough room for it to swing in and out). I have always liked the look of closet curtains, and they are pretty great for closets you have to access a lot.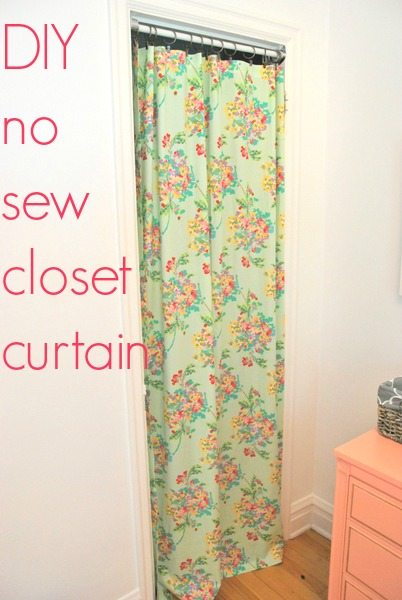 So while my handy hubs took the door off, I got to work on putting together a curtain panel. This Amy Butler fabric (called 'Love Water Bouquet') had been on my original moodboard, and when I received it from Fabric.com, I knew it was the right choice. It has a nice dose of minty green, with a little pink thrown in. And the florals are just so pretty. Amy Butler always knows how to do sweet fabric, in my opinion.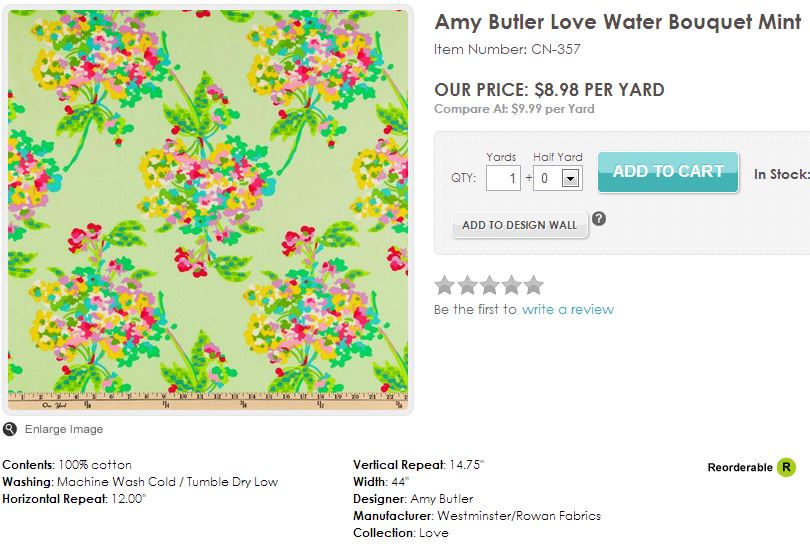 Making a no-sew curtain panel is super easy.
First you want to cut the fabric to size after it has been pre-washed. Cutting is totally a personal preference thing – I like the curtain to graze the floor, but not puddle much. I wanted there to be a nice amount of pleating in the fabric when it was closed, so I cut it at double the width of the closet. Be sure to leave a few inches extra on all four sides for hemming.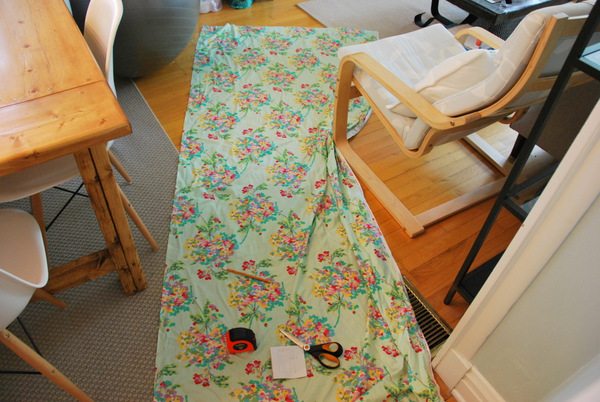 Now for the hemming part.
Step 1: One side at a time, fold and iron down the hem (usually about an inch thick).
Step 2: Put the heat 'n bond hemming tape in place, along the underside of the hem. You can grab hemming tape at just about any crafts/sewing store. I like to use the heavy duty stuff just to make sure it really holds up.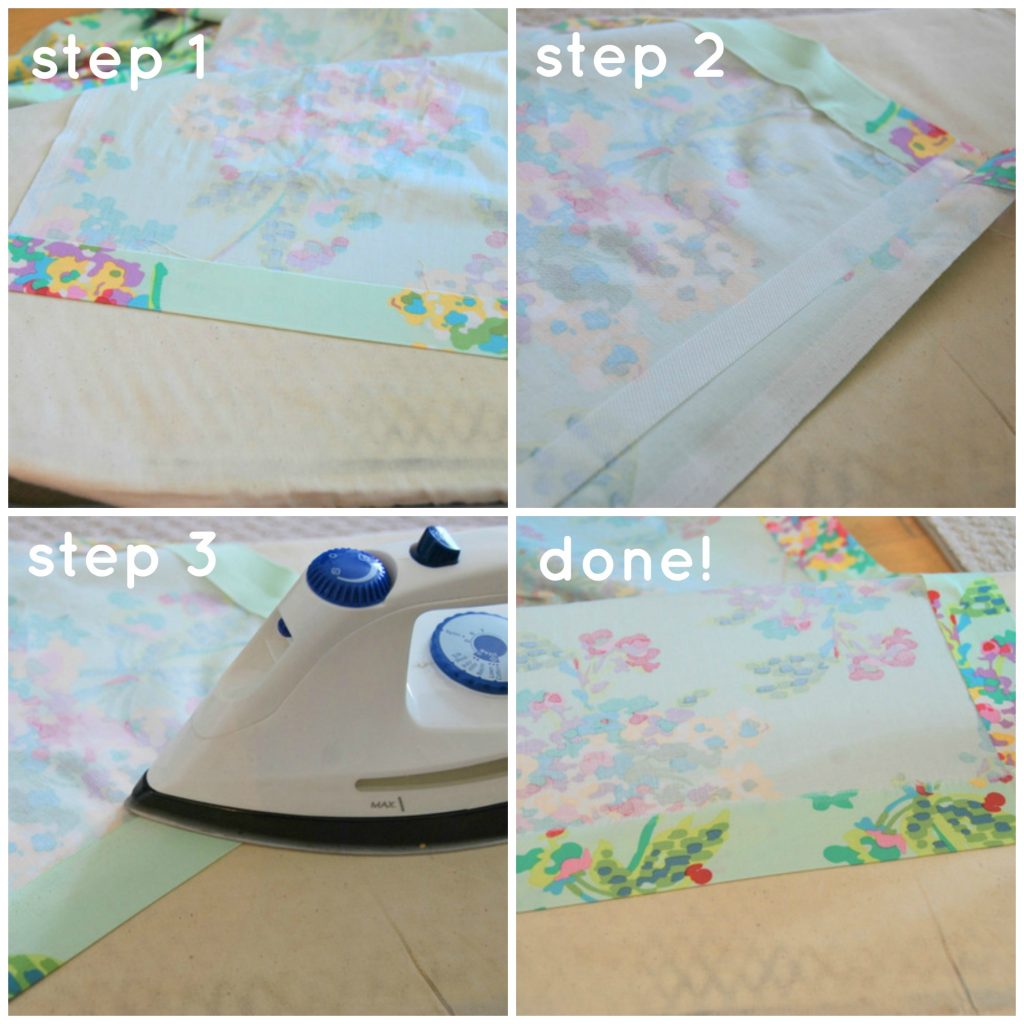 Step 3: Fold the hem over the tape and iron over the whole thing. You want to really give it a good ironing so that the tape has fused well with the fabric. It can be a bit slow-going, so it's good to do this in front of a TV show or something. My personal recommendation is Bachelorette. Ha! On that note, was anyone else was a little bummed that Juan Pablo didn't get a rose last night?
Back to the curtain. Once you have done all four sides, you're finished! Time to hang up the curtain.
We installed a piece of dowel (it was unfinished wood that I sprayed white) on the inside edges of the door frame with some brackets – all from the Home Depot. I wanted to use the clip-on curtain rings for a few reasons – one is that they slide super easily, so it's great for a curtain you need to open and close often, and secondly, I felt like they are a bit safer for the babe. If she pulls on the curtain, the curtain will just come out of the clips instead of the whole bar crashing down.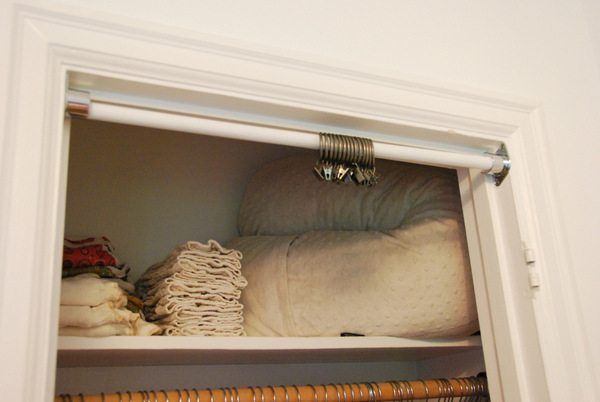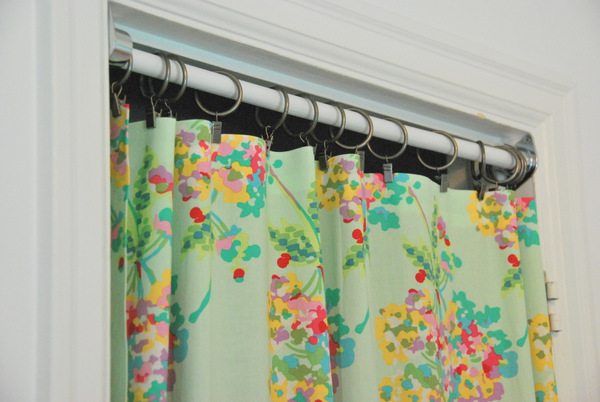 I'm definitely pleased with how it turned out. I like the injection of colour and pattern into the room, and it really functions well. Although I love all of the sweet clothes and other baby things in the closet, it's nice to get it all hidden!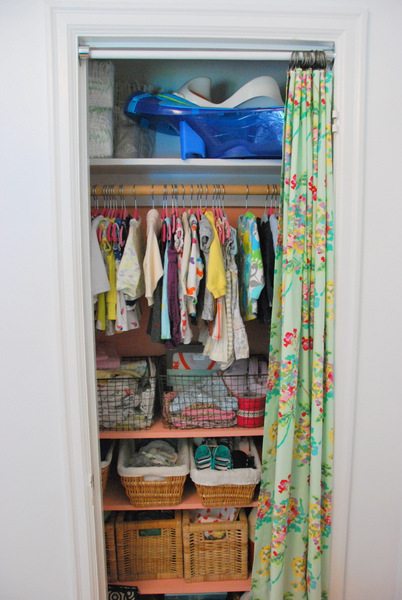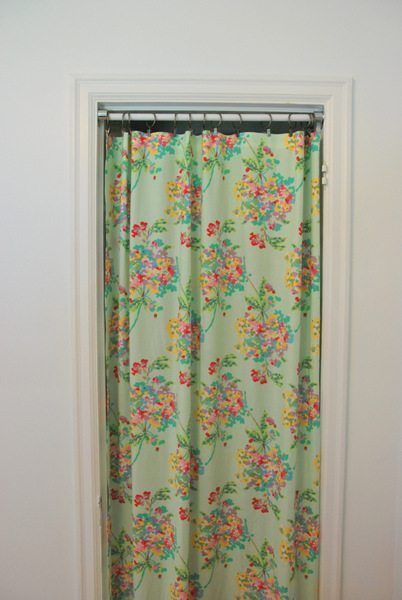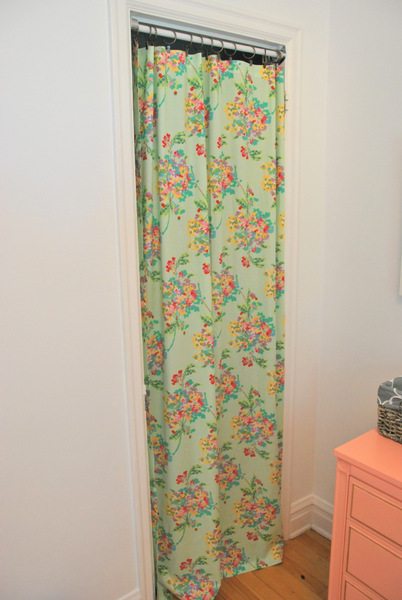 So we can check that one off the list. Holla! Time for a gallery wall, shelves, and mobile. Watch out nursery – you're gettin' finished.
Happy Canada Day, guys! Did you have a good long weekend? Hope so!  Done any no-sew curtains lately? Seriously, it's way less scary than breaking out the sewing machine (well, for the non-sewers in the house!)?