Alright guys, back to the nursery. After we picked out and setup our crib, I knew I wanted to do something crafty to dress it up a little. I could've done a bunting, but I have done quite a few of those before… and then I remembered seeing some seriously sweet ribbon garlands on Pinterest. Winner winner, chicken dinner.
I grabbed a bunch of ribbon in my room colours (pinks, turquoise, gold and white) from the craft store and got to work.
The Nursery: a DIY ribbon garland
Step 1: Cut your ribbon into strips. You don't need to have these be *exactly* the same length, but it's good to have them pretty close for a nice fring-y look.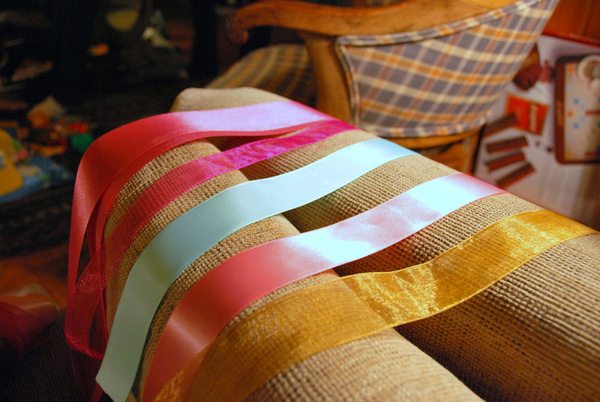 Step 2: Cut a long piece of string to attach all the ribbon to.
Step 3: Start attaching your ribbon to the string. What I did was a loop in my ribbon (at the middle point), put the loop behind the string, and then brought the long pieces back through again to form a knot around the string. Practice a few times and you'll get the hang of it pretty easily.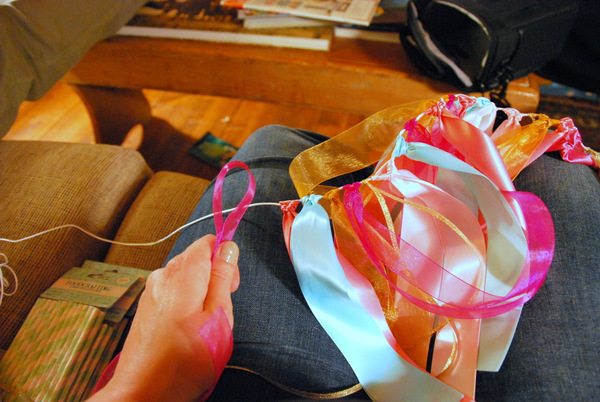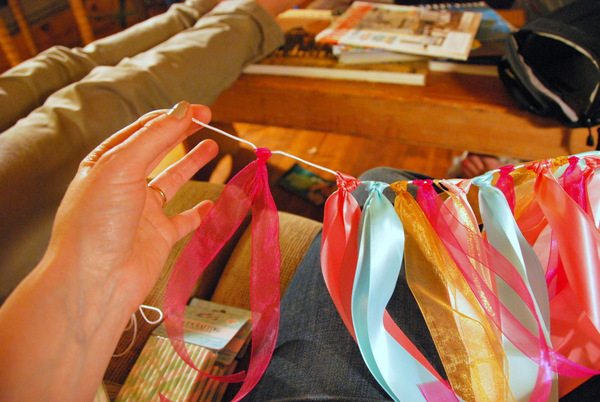 Then you just keep repeating and adding ribbon, switching out the colours as you go (and sliding them up to be close together). I wasn't too careful about what colour went next, as I wanted it to look a bit random. Oh, one tip was that I found some of the really thick ribbon was harder to loop and knot – so medium and small sized ribbon was definitely easier.
The whole thing took a bit longer than I had anticipated. Probably a few hours – which seemed long for a relatively short garland. But worth it! Here is the final product. Kinda whimsical and sweet, right?
It was super easy to tie to the crib – I tied it around the last post on either side and tucked in the string so there are no loose parts floating around.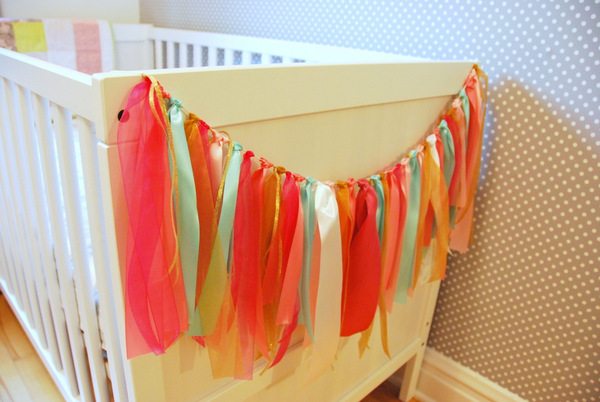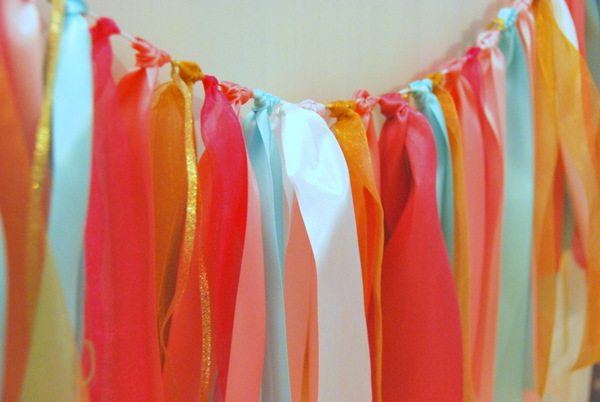 The colours are perfect in the room, and I think it just adds a little sweetness to the space.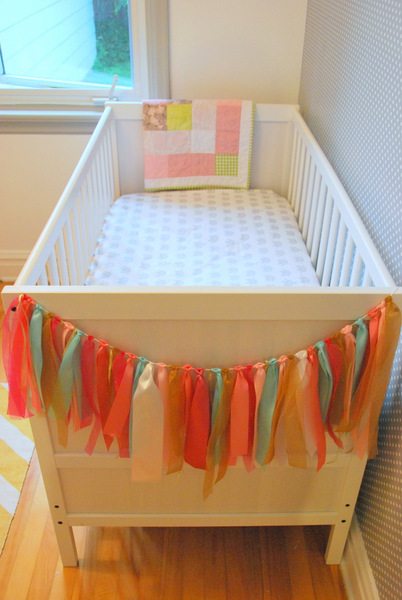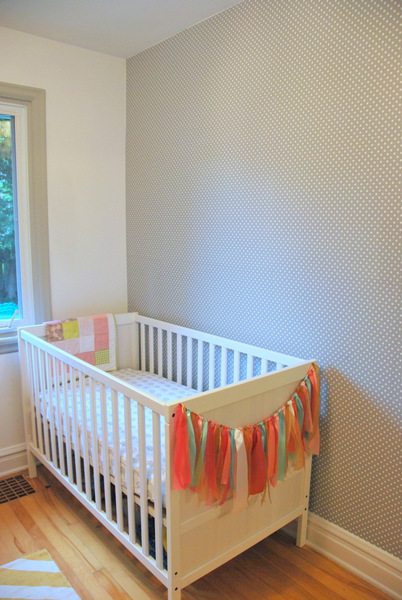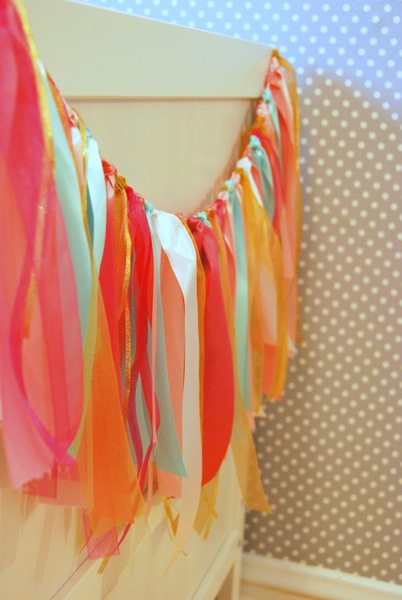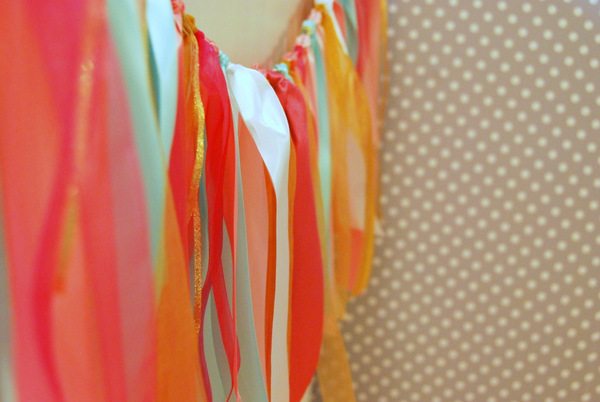 Oh and you may have noticed a few other new crib goodies. The first is this super lovely organic fitted sheet, which a girlfriend got me from Pottery Barn. Love those elephants.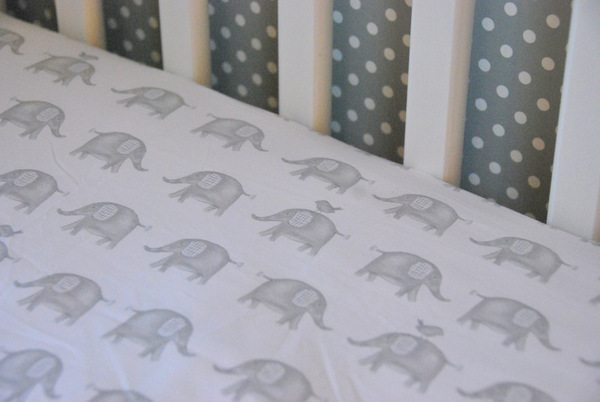 And the second is this beautiful quilt, handmade by my sister-in-law. She's the bomb and clearly a super-sewer (you can check out her pillow covers on her etsy shop here). I think the blanket is definitely going to be one of those treasured items that I'm sure our little gal will have forever.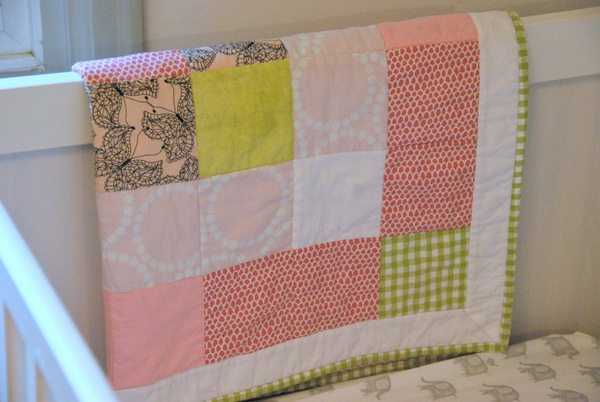 Lots more crafty projects on the go for this room (you might have spotted one above in the pic with me in it!). Tutorials and details coming!!
Have you guys made one of those ribbon garlands before? It would be perfect for a party decoration or could look really cute hanging on a wall above a dresser. The really nice thing about them is that you can customize the colours to match your space perfectly.