I had the most lovely time at my baby shower. It was relaxed, low key, and beautiful. Are any of you throwing a baby shower and looking for an idea or two? I LOVE celebrating soon-to-be-mummy's and their growing little babes – it's such a nice idea to gather all the women in your community together and shower that mama in love and support – BUT… I'm just not one for big group games where sometimes people get put on the spot (who might not want to be) or spending hours watching gift opening. Totally cool for some folks, just not my cuppa tea. So here are the low key baby shower games and activities we did at my special day.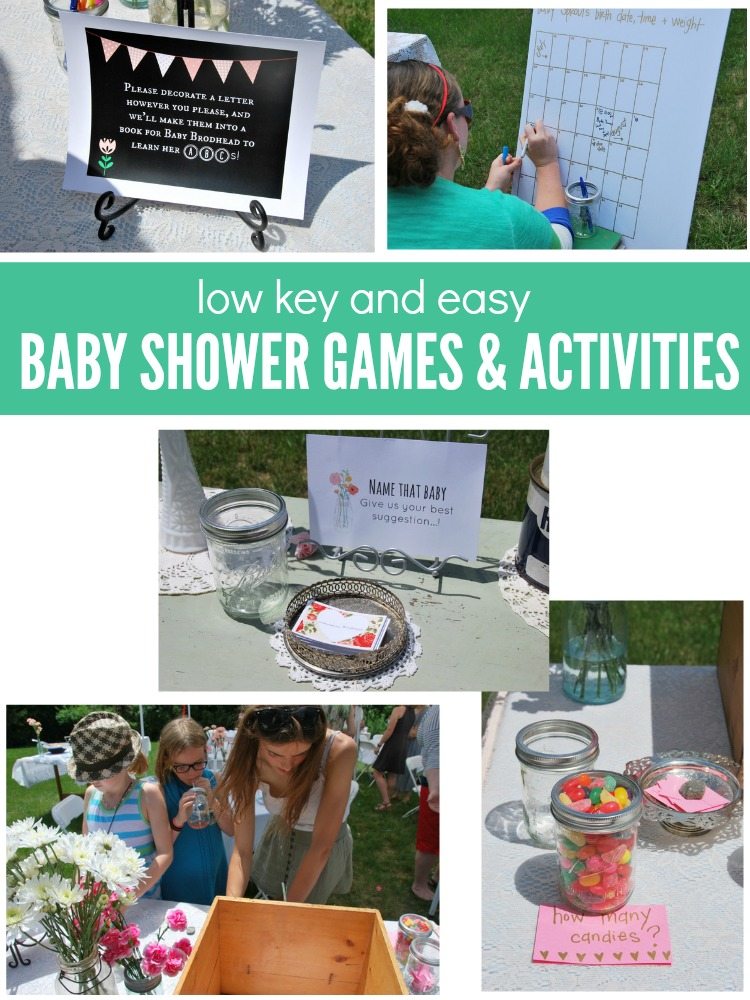 Low Key Baby Shower Games and Activities
1 // The Candy Game 
First up was a classic. There were going to be quite a few kiddos at my shower, so this was a no-brainer. We grabbed a few packages of candies at the dollar store, counted them out, and filled up a mason jar. Everyone put their guess in and at the end of the shower we went through the guesses to announce the winner, who got to take home the candy!
My niece Lucie was only 6 off (there were 166 candies in there and she guessed 160).. smart girl! The other smart move? Putting in 8 guesses to up your chances of winning. Nicely played, miss L.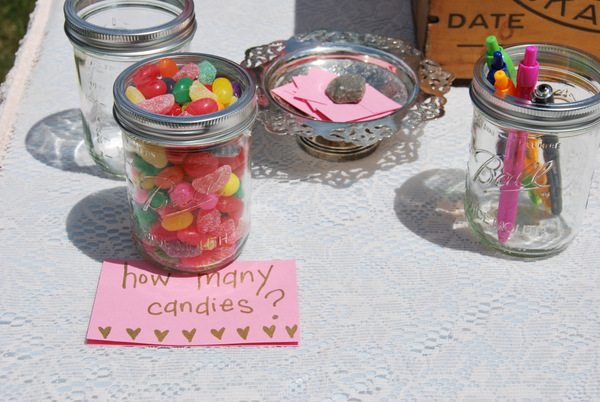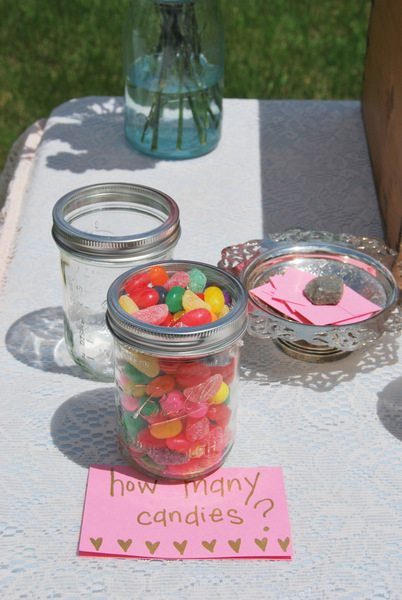 2 // Alphabet Book – Low Key Baby Shower Games and Activities
This next one was something I had seen on Pinterest. I wanted something crafty, and this totally fit the bill. Everyone is asked to do 1 page of an alphabet book. I printed out 26 sheets with each letter of the alphabet in the top left corner and a sign that read: "Please decorate a letter however you please, and we'll make them into a book for Baby Brodhead to learn her A-B-C's" (I created the sign using PicMonkey).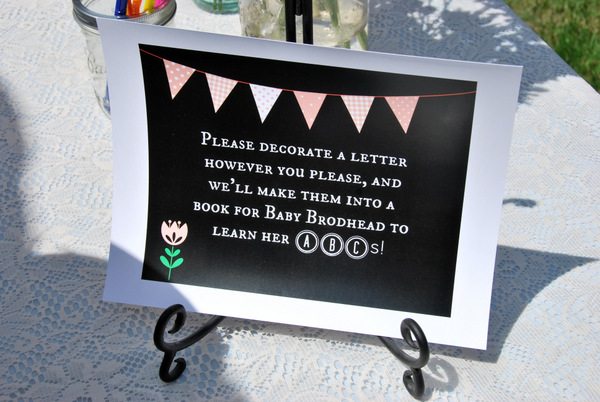 I got it started by drawing an apple on the A sheet, and everyone else followed suit (and signed the pages they did).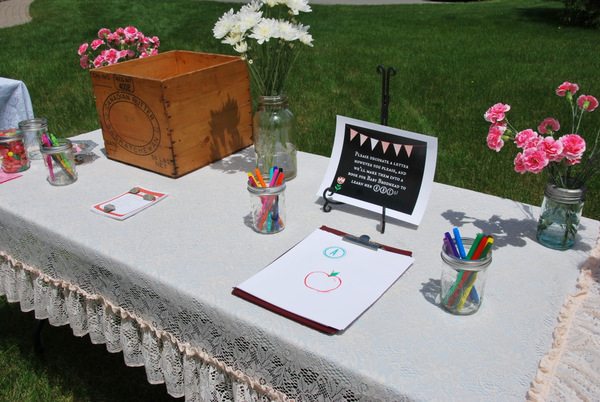 People seemed to have a lot of fun with this one (especially the kids!), and I ended up with a hilarious and touching set of 26 pictures. I plan on binding them and using it as a learning tool for our little girl. It is such a fun keepsake from the day!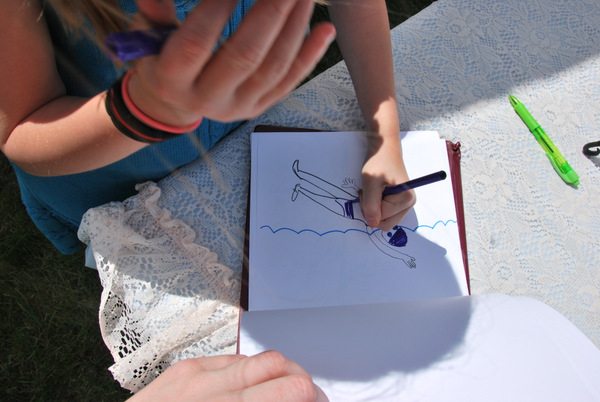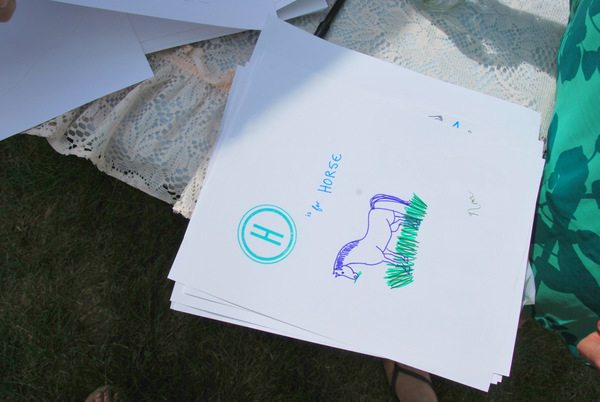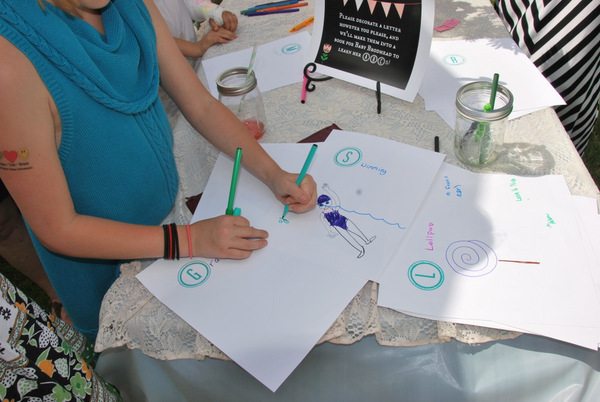 I especially loved this one – "cousins" and they all drew themselves. So sweet, right?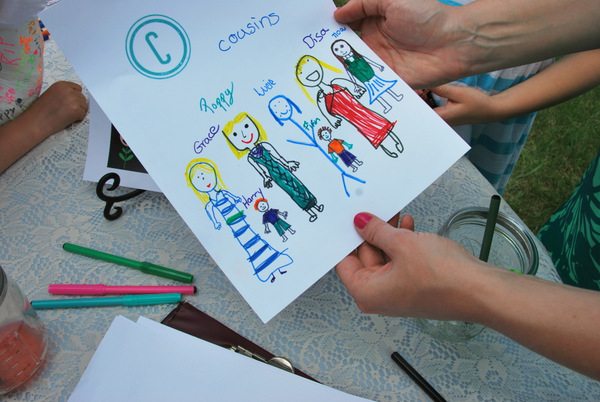 3 // Wishes for Baby – Low Key Baby Shower Games and Activities
Instead of a traditional guest book, I made these "wishes for baby" cards. I created them using PicMonkey and then printed and cut to size. Everyone filled one out and then dropped them in a box for me to read later. Some were so funny, others so sweet, and all of them totally made me tear up. Hello, hormonal mama! I'm going to bind these into a little book for our baby girl to hang on to.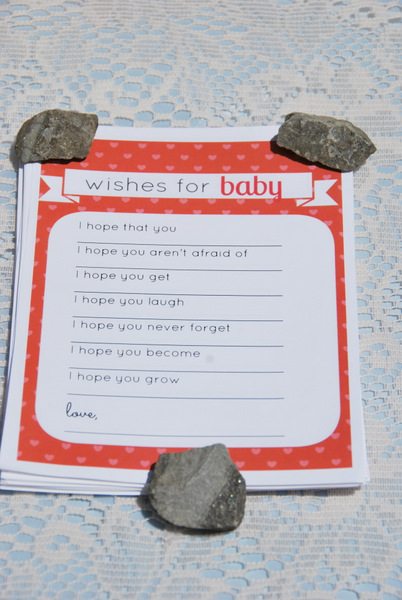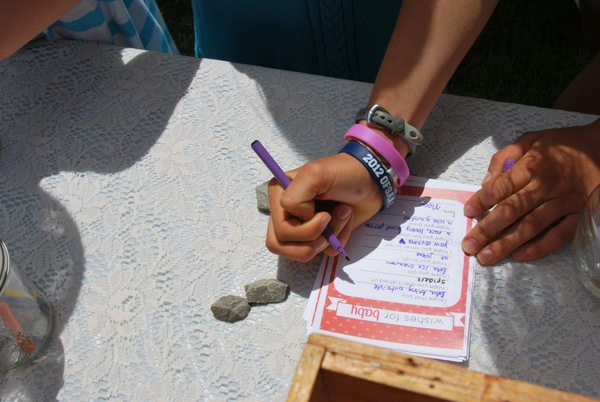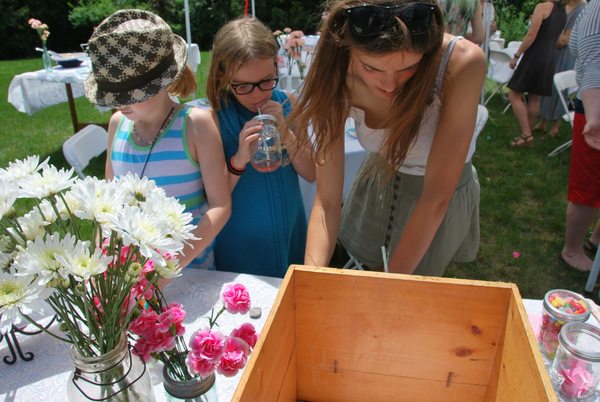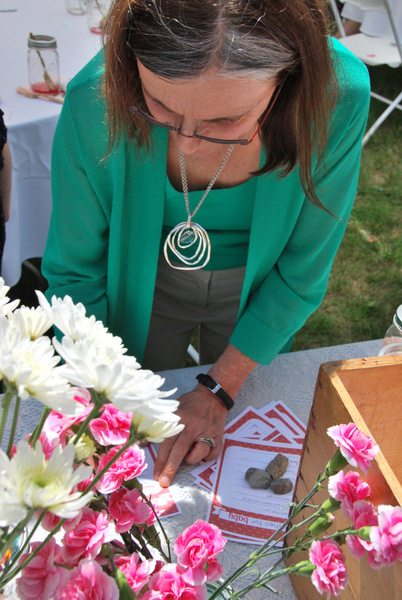 4 // Make a Guess  – Low Key Baby Shower Games and Activities
What would a baby shower be without the "make a guess" game? I drew this calendar up on a piece of foam board from the dollar store, and everyone wrote in their birth date/time/weight guesses. Those who chose past August 6th (my due date)…. I think I love you a little less. Kidding. Sort of.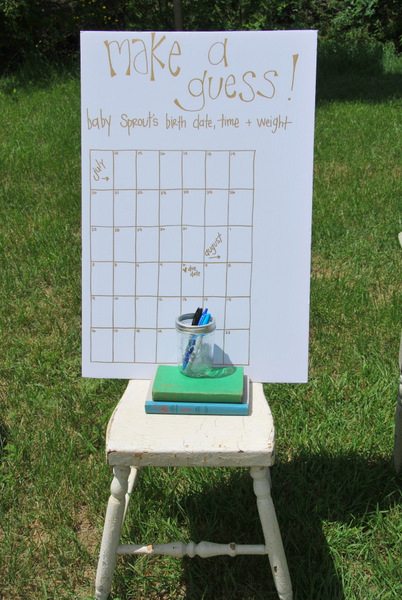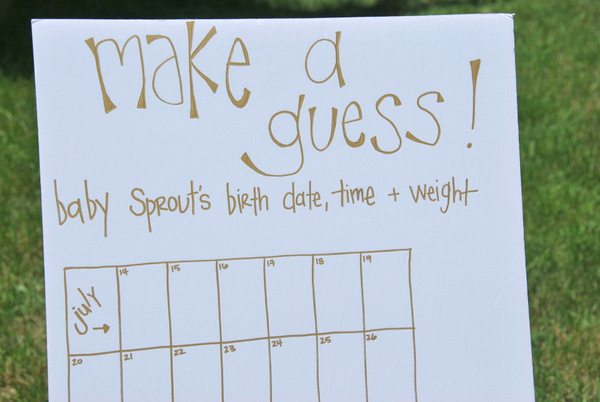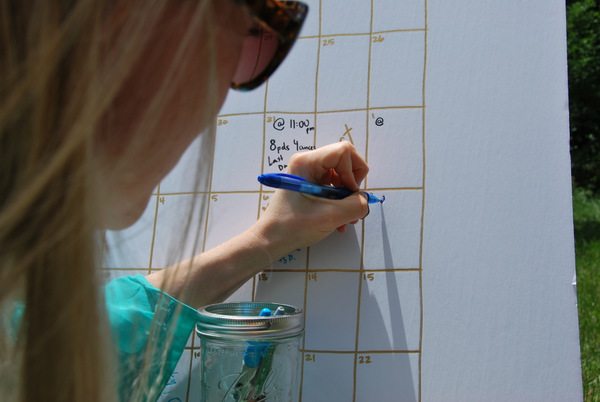 5 // Group Gift Opening – Low Key Baby Shower Games and Activities
Now onto the whole present thing. I really didn't want to spend a super long time opening gifts while everyone else passively sat around watching, so we got everyone into the action for this part.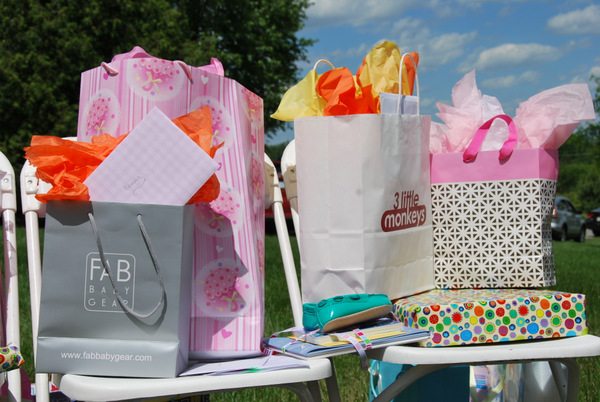 Here was the scoop: We put the chairs into a big circle and a gift on each one. Everyone sat in a chair that had a present that wasn't the one that they brought. Then on the count of three, everyone tore open the gifts. We went around the circle and everyone had a turn to show what the gift was and who it was from.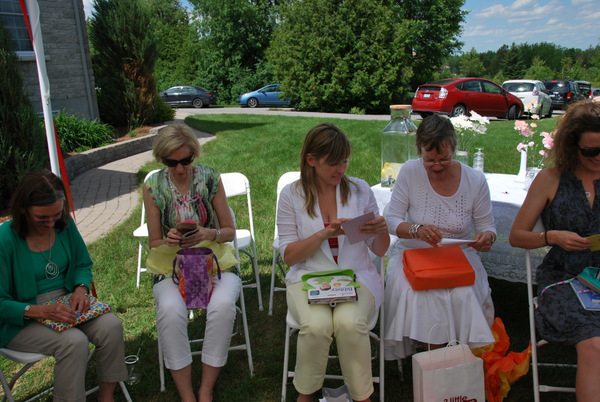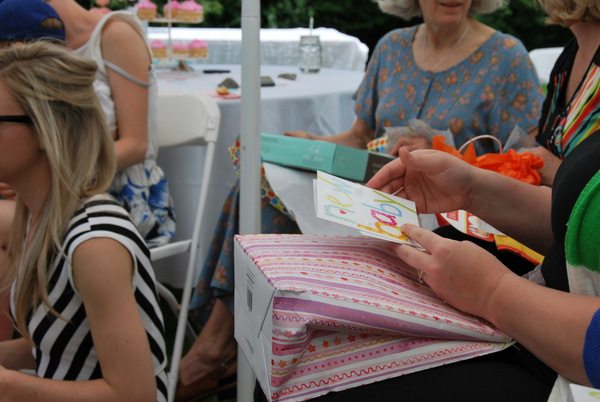 It was so nice – everyone was involved, people gave really good descriptions (like a show-and-tell) of the gift they opened, there was still lots of coo'ing over all the cute stuff and ladies speaking up about what a great gift certain things were…. AND the whole thing took about half an hour! So much better than the usual 2 hour gift opening saga. Oh, and I just got to sit back and watch, getting super excited about all of the beautiful and useful things people had brought (no pressure on me)!!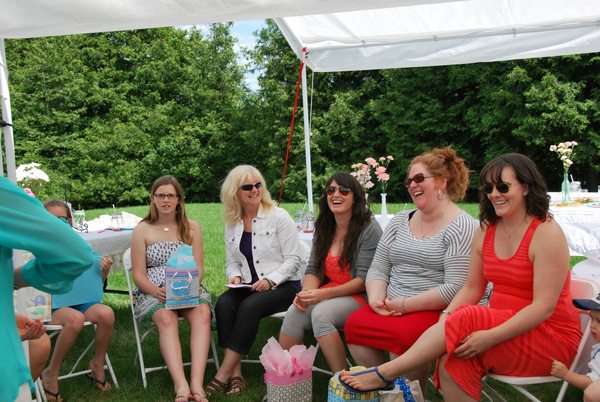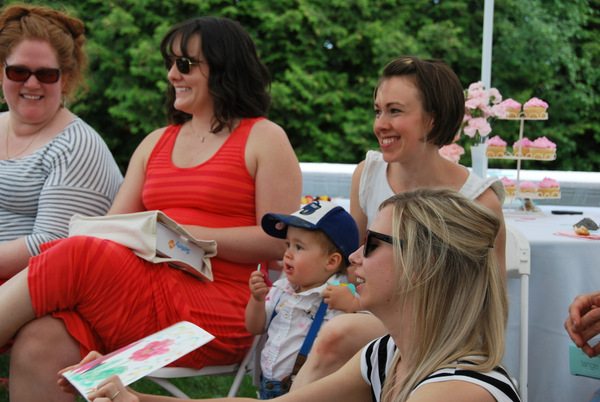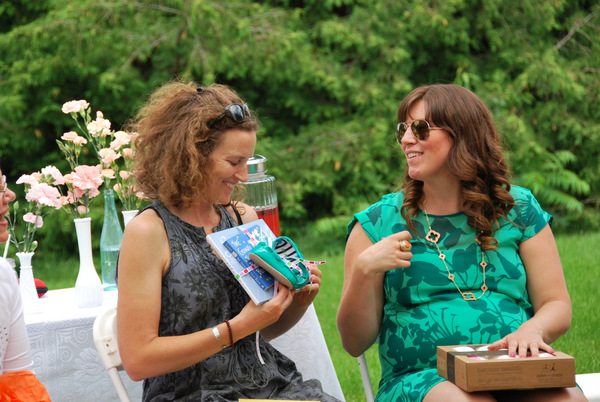 6 // Name that Baby – Low Key Baby Shower Games and Activities
Last up – a "name that baby" activity. I put up a little sign asking everyone to give us their best name suggestion, and then had little cards that read ________ Brodhead (the baby's last name).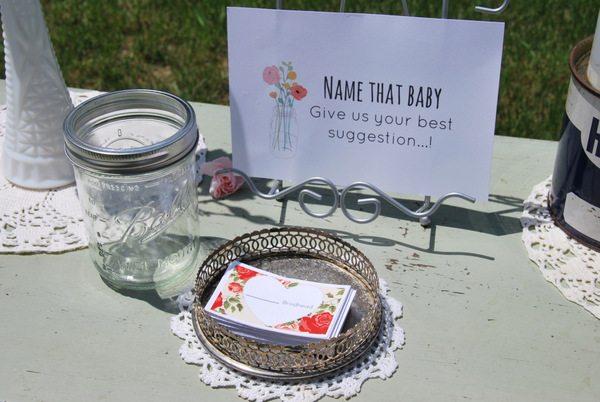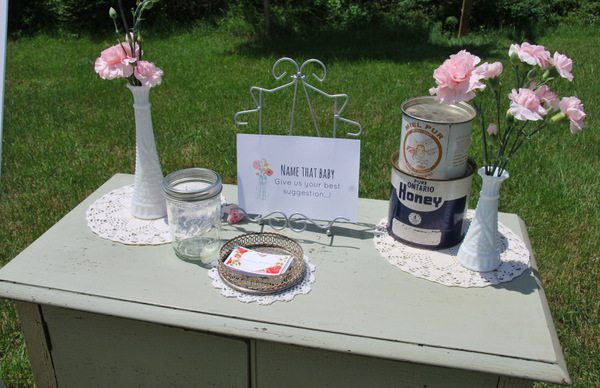 We read through them all later that evening and it was really pretty interesting! Some hilarious ones, but then quite a few really thoughtful guesses. Like family names, some names that I know I have mentioned liking over the last bunch of years (people have good memories!), and some random ones that lots of people guessed/suggested (I think there were 4 "Lily"s in there… funny eh?!).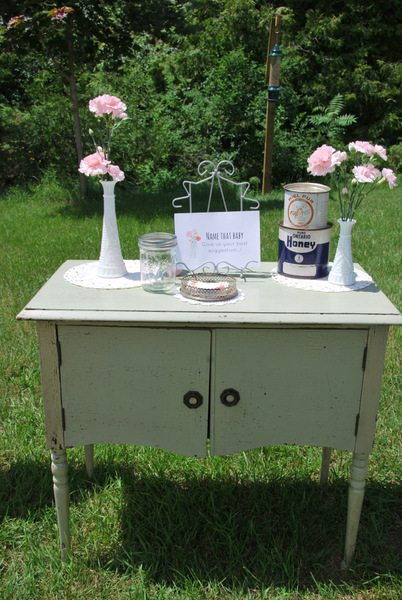 And that was it. Enough little activities to keep people entertained (between eating and chatting!), but nothing too over the top. Oh, and lots of fun little momentos for us to keep. All in all, such a spectacular day!
What about you guys? Have any good game/activity ideas? Anything you've done at baby or bridal showers (or any kind of party, really!) that has been super successful?