I mentioned on Monday that we were on a bit of a roll with the nursery – maybe it's because I'm officially now into my third trimester (28 weeks!) and feeling a major urge to get the house ready? I'm kind of a "nester" by nature, but I think it has started to kick into overdrive a little bit. Over the weekend I was waking up at 5am because all I could think about is what we need to get done. And it's so silly, because we live in this comfortable little house and don't have any major stresses. Yes we still need to get and setup a few keys things (carseat, crib, etc) but really, we could bring baby home tomorrow and all would be just fine. Reminder Gemma: you can chill out.
Anyway, back to that nursery.
Since it's a small room and is doing double duty with the office, we knew that smart storage was going to be so important. Luckily, the room does have a little closet. It used to hold Dan's suits and Navy outfits (being in the military = a ridiculous amount of clothes), and some of my more formal dresses. When we did project basement storage a few months ago, all of those items got moved downstairs into a new armoire.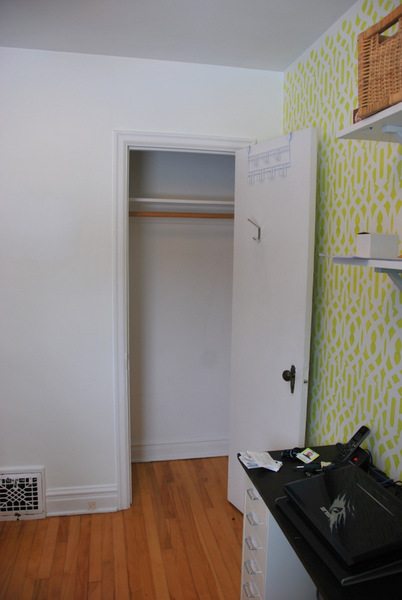 I knew I wanted to paint the closet a fun colour – a nice surprise from the bright white room. I had purchased a can of "oops" (ie. mistint) paint from the Home Depot a while ago in a perfect pink for a mere $9. The colour is a bit deeper than a pastel pink, and has a nice hint of coral.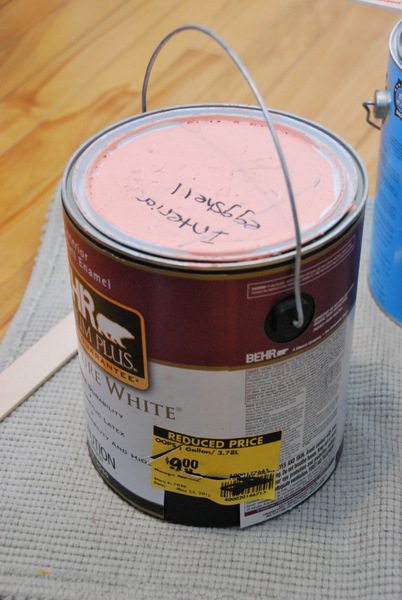 Two coats later, and here's how she was looking. Fun, right?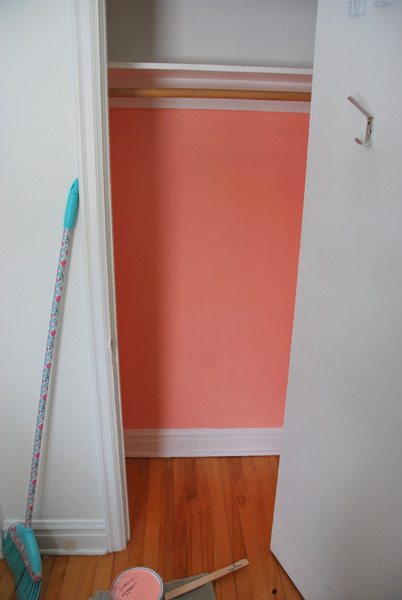 We didn't want to spend too much dough on any fancy closet systems, but did want to do something custom and built-in. Handy hubby put his thinking cap on and planned out some shelves for the bottom half of the closet where we could line up a bunch of baskets. This would help maximize the amount of storage space, but also leave some room for bulkier things (packs of diapers, etc) on the upper shelf and along the ground.
We had the wood already, but buying basic boards from any big hardware store doesn't run you much moola. Dan the man cut the wood to size using his circular saw, and cut the 2×1 wood strapping that the shelves sit on using his mitre saw (but you can use a circular saw for this step also). The strapping was either a) screwed into a stud or b) screwed into the drywall using good quality drywall anchors. Shelves were then nailed onto the wood strapping so they don't move. He had to use some drywall anchors as there were not enough studs in the right spot to screw on the strapping.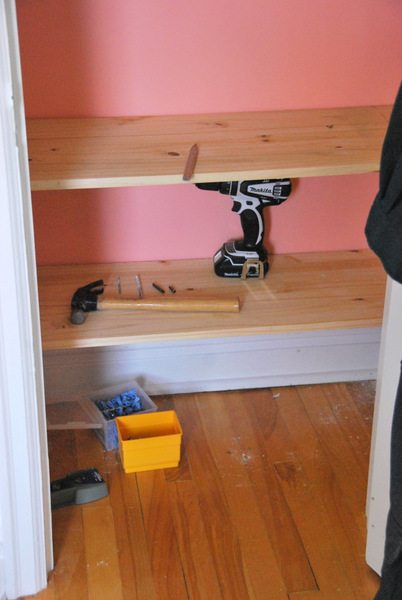 Once those shelves were installed I did a quick two coats of the same pink paint on them to keep the whole look cohesive. I haven't put a coat of polyeurothane on them yet, but I'm thinking I'll slap at least one on to make sure the paint doesn't chip. It's just wall paint, so may not stand up to constantly pulling the baskets in and out.
This is how things are looking at this point. It's packed full of stuff right now as we finish up the rest of the room. Still need to get a dresser in place, so a lot of those folded clothes and things in baskets will be moving over the dresser. And all the stuff on the top are "things to use in the nursery" that just don't have a home quite yet.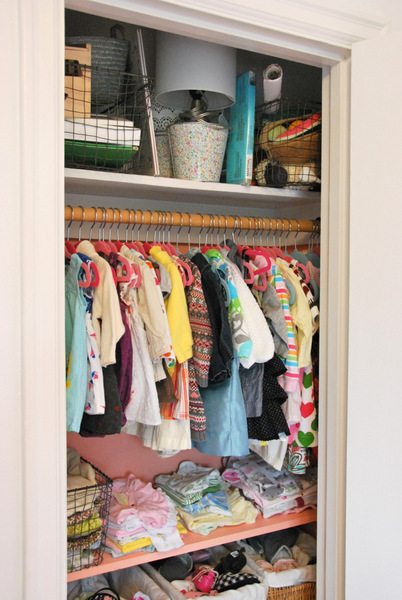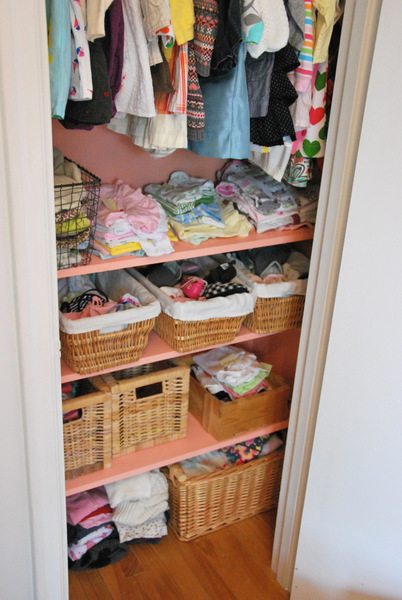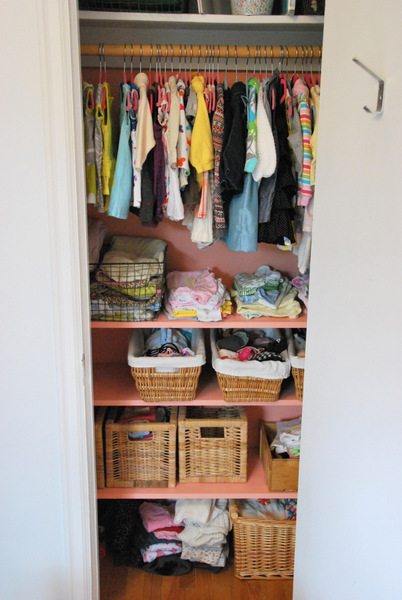 PS. Did you see all of those sweet little clothes? I have been SO lucky with a few friends who each had two baby girls, are done having kiddos, and are now dropping off their stuff as they grow out of it. Going in there and gazing at the outfits has become my new favourite evening activity. Baby girl is going to have so many outfits! Oh, and mama ain't the only one with snazzy velvet hangers – these baby versions also came from HomeSense.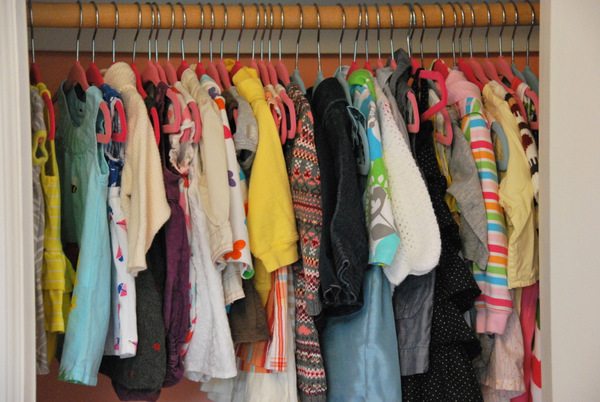 One closet-related thing we still have on the to-do list (other than organizing it) is to remove the door and hang a curtain to cover it. This is going to buy us a bunch of extra space along the wall for the dresser, as we won't need to leave room to open and close a door.
Here is where we stand on the nursery to-do list:
-paint room + closet
-install Chasing Paper wallpaper on feature wall
-put together new desk and organize office supplies
-get new office chair (maybe one that could double as 'nursing' chair?)
-closet: paint, build shelves, organize with baskets, remove door and hang curtain
-find used dresser and paint it coral (add gold hardware) + put change pad on top
-buy and put together crib
-move in rug
-make and install roman blind
-build and install book shelves on wall
-install shelves above desk
-hang artwork
-add accessories
-add storage for toys and laundry
Slow and steady wins the race! What about you guys? Painted the insides of any closets a super fun colour? Got any great storage tips you want to pass on? Anything else exciting going on? I'm all ears.