One of the biggest shifts we have made over the past few years in our own home is being more conscious of our overall waste and ways to reduce plastic use.
Even if you aren't ready to become a zero waste household, you can make a huge impact by reducing the plastic use and overall waste in your home with some key tips.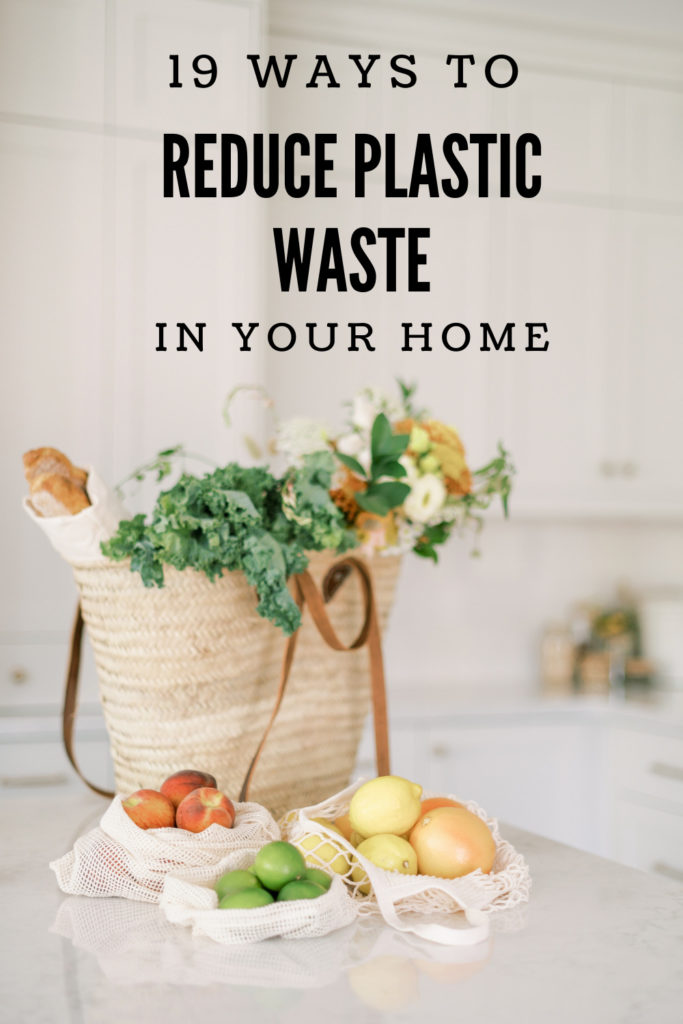 19 Ways to Reduce Plastic Use in your Home:
#1 – Carry a reusable bag
No more plastic bags! That should be an easy switch. I love these cloth bags and always have one tucked into my purse for anytime I do a shopping trip. This is an easy way to quickly reduce plastic use in your home.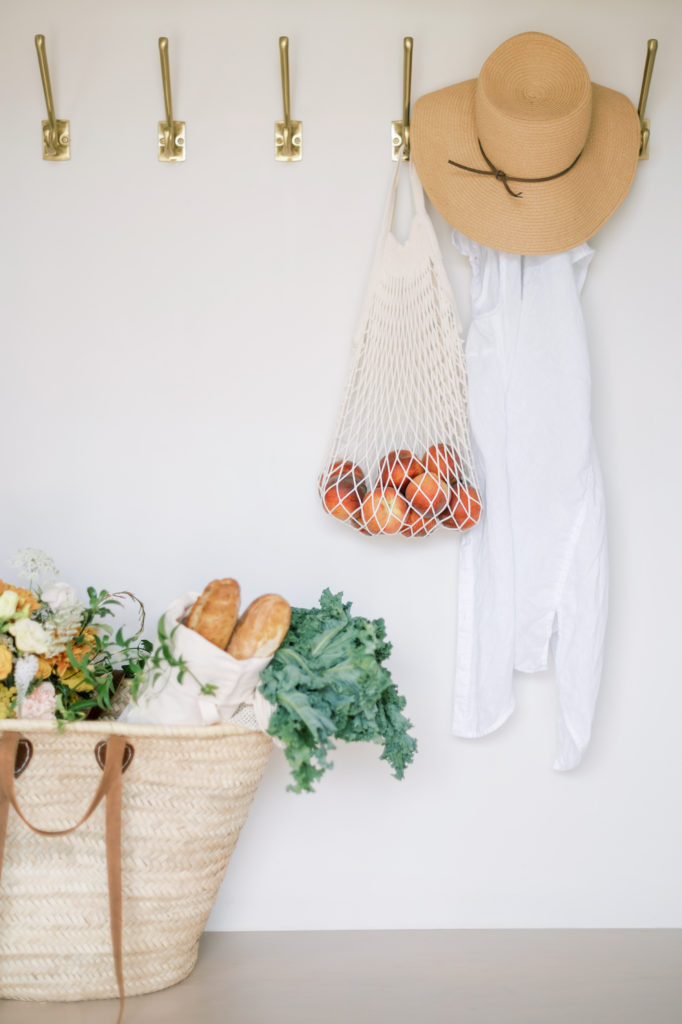 #2 – Use reusable produce bags
Think about those plastic bags you use at the grocery store for your fruit and vegetables. If you use 5 or 6 per trip, every week, 52 weeks a year, for your lifetime… umm, that's a LOT of bags. By grabbing some of reusable mesh bags like these, you can re-use them every grocery trip. You just empty your produce out into your fridge when home, give them a quick rinse, and that's it! We have had ours for over a year now, and haven't needed to replace them.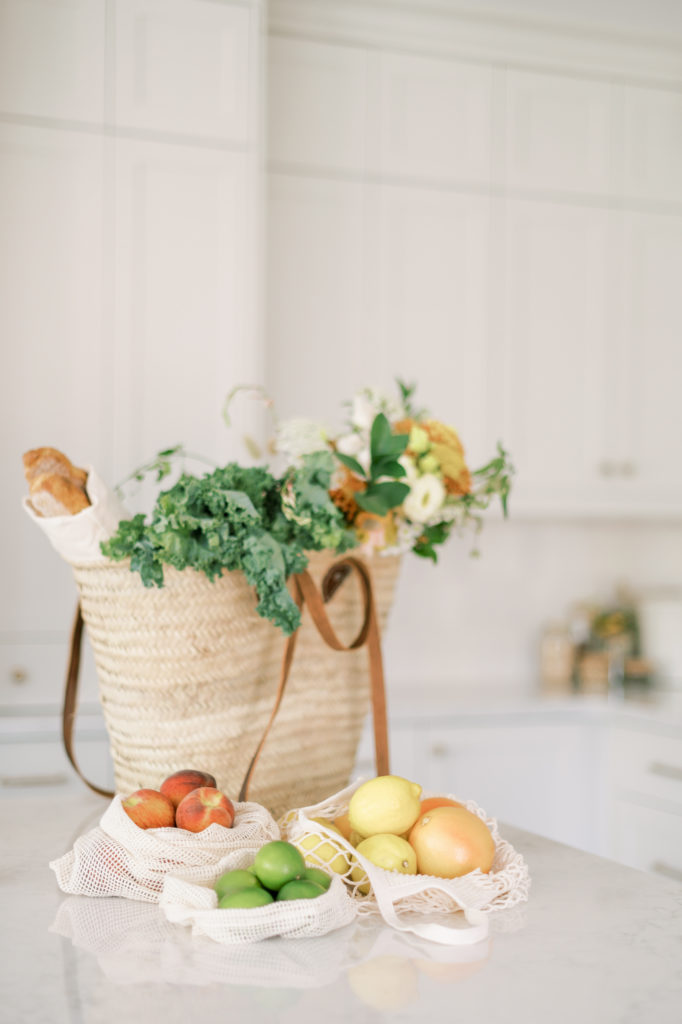 #3 – No more takeout containers
Grabbing food or drinks on the go is one of the biggest culprit of horrible plastic (and paper) products that you just dispose of right away. Put a reusable coffee mug, utensils, and a bowl in your car so that you always have some on hand when you on the go.
#4 – Buy in bulk
We noticed that a lot of our waste came from food packaging. We shifted to buying in bulk (from places like Bulk Barn) and brought our own cloth bags with us. We re-use the same cloth bags every trip (I even keep the little tag on them with the item number and name — for example "almonds" with the SKU). Once home, I de-cant everything into glass jars in our pantry. Then as we run out of stuff, I just grab the cloth bags specifically for that item when I go to the store. It's like a built-in grocery list!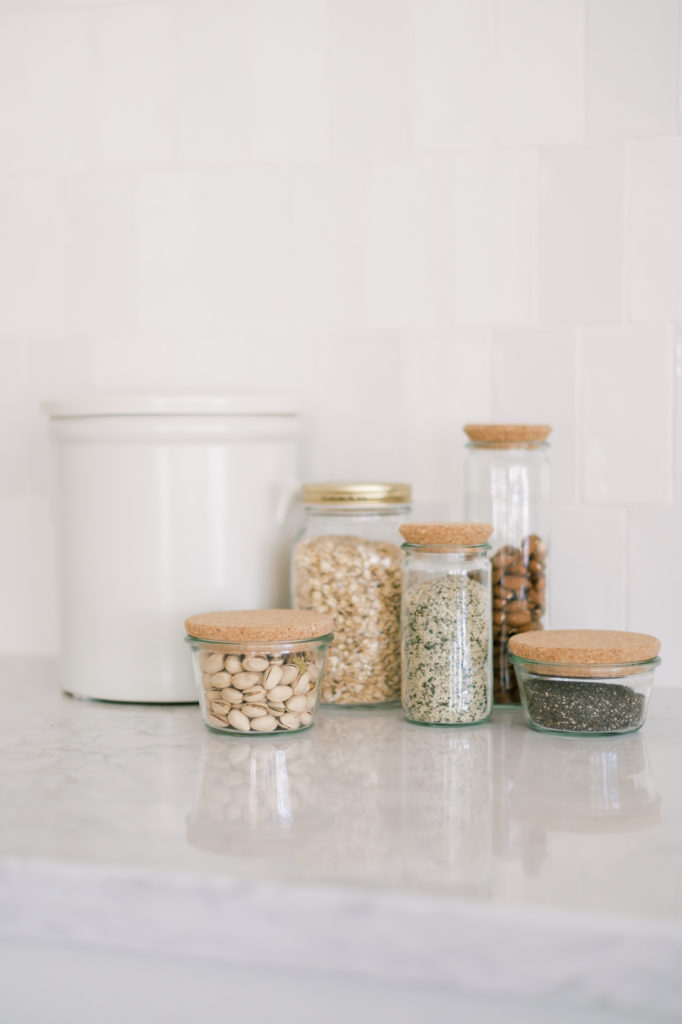 #5 – Buy in boxes
If you have to buy certain foods pre-packed, aim to choose ones that come in boxes instead of plastic. Cardboard is more easily recycled. Think: pasta noodles, milk, etc.
#6 – Switch to stainless straws
We drink a lot of smoothies in our house and they are so nice to drink with a straw. But instead of using plastic, we bought a package of stainless steel straws. They feel great, can go in the dishwasher, and mean zero waste.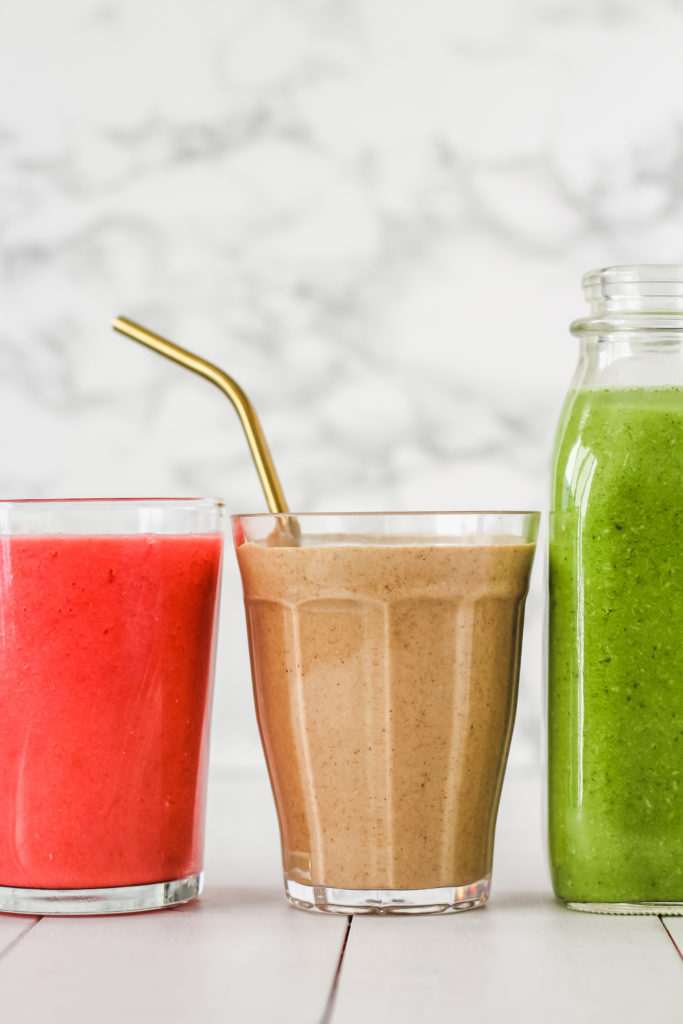 #7 – Make your own hygiene + cleaning products
One of the things I LOVE doing is making our own soaps, hair products, face serum, and cleaning products. It means I don't have to buy new stuff in new containers all of the time – simply refill the glass containers I'm already using. Plus, everything I am making is toxin-free, healthy for my family to use, and cheaper.
I have compiled a bunch of my recipes here.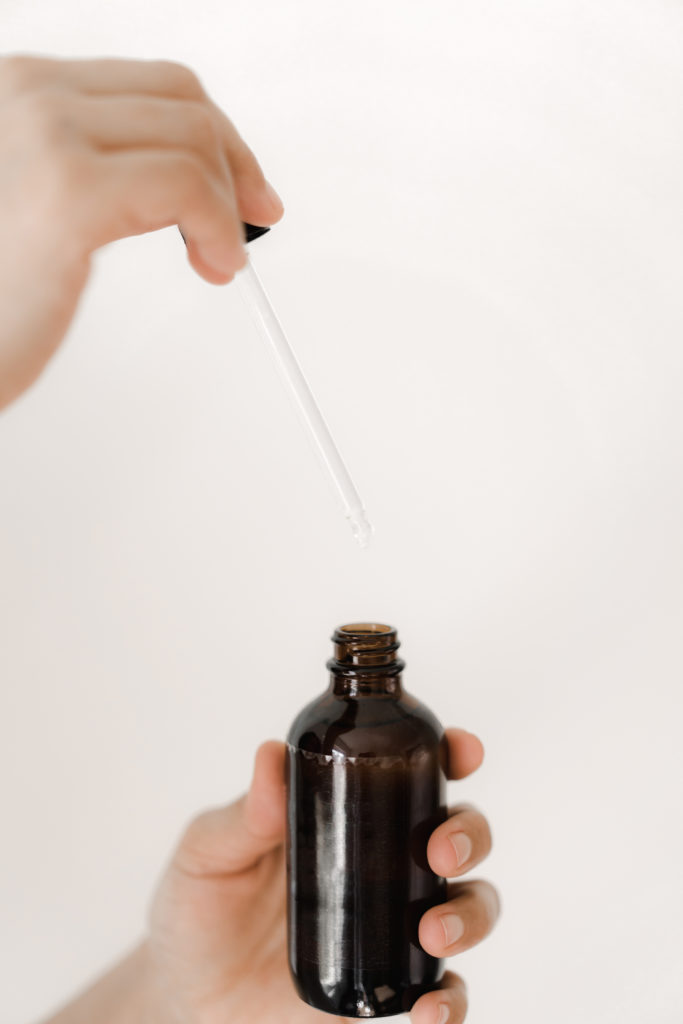 #8 – Switch to shampoo bars
One option with shampoo and conditioner is to go to a store where they offer refillable options, but if you don't want to go that route then shampoo bars are a great option too. No plastic bottles and they wash your hair just as well!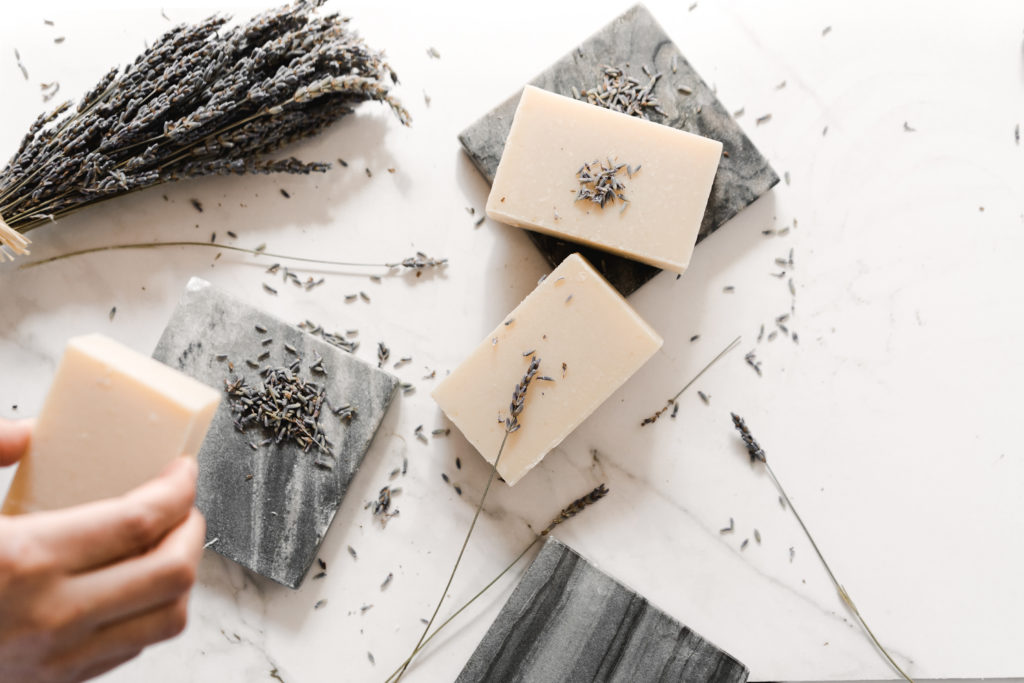 #9 – Buy matches instead of lighters
You know those disposable plastic lighters? Think about how many of those are sitting in our landfills. Regular matches are a much better choice, environmentally.
#10 – No more disposable razors
Stop buying disposable razors and instead get a razor with replaceable blades.
#11 – Switch to Bamboo Toothbrushes
Ever think about all of those plastic toothbrushes you throw out every few months? By using bamboo ones instead, you are using a biodegradable material instead of plastic (which never breaks down!).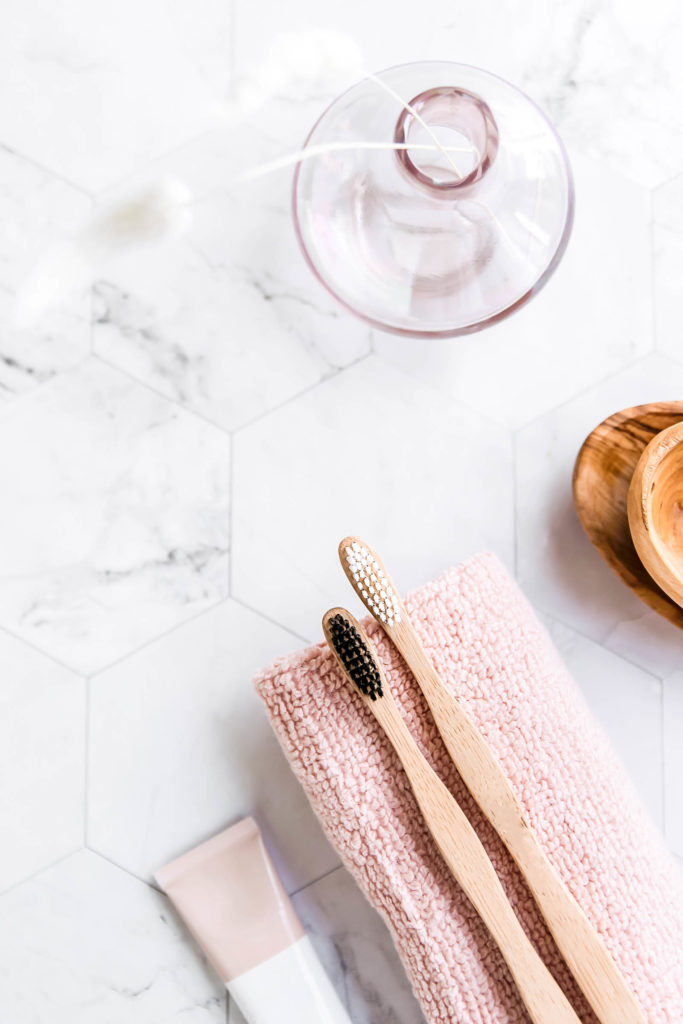 #12 – Compost your food
Aim to keep your food waste out of the landfill. Think of all that rotted food just sitting in big plastic garbage bags in our landfills, when it could be simply going back into the earth through a compost system.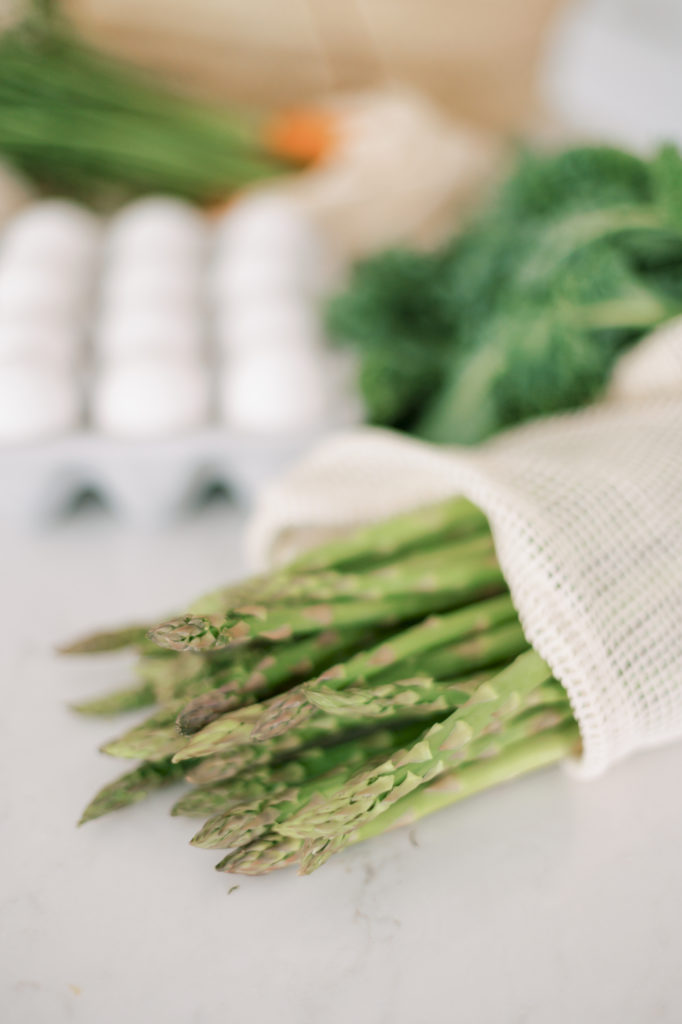 #13 – Use natural cleaning cloths + scrubbers
Stop buying the plastic scrubbers and synthetic sponges that you just have to throw out after using them. Instead, natural fiber brushes are awesome for cleaning and are biodegradable. Skoy cloths are made from cotton and cellulose and work just like a cloth, absorb like a sponge, and replaces paper towel. Again, completely biodegradable.

#14 – Ditch the saran wrap
Getting rid of saran wrap was one of the first steps I took to going as plastic-free as possible. I started using beeswax wraps and never looked back. They last for about a year (and are biodegradable) and keep your food way fresher. I'm always amazed at how long an avocado will stay fresh and green when I wrap it in one of these. Use them to wrap up any food you've cut into, cheese, leftovers, etc. Simply rinse with warm soapy water and re-use.
#15 – Zero waste floss
Have you ever thought about all of those little plastic containers for floss that you go through? There are companies now offering zero waste floss where the packaging has been more thoughtfully chosen, and where the floss itself is biodegradable.
#16 – Give up gum
Did you know almost all chewing gum is made of plastic? Yep… when you're chewing gum, you're chewing on plastic. Gum is not biodegradable, not digestible, and basically ends up being a pretty huge environmental issue. Next to cigarette butts, gum is apparently the second highest littering item in the world.
#17 – Litterless lunches
We pack lunches every day for our kids. But how can you pack a lunch that produces zero waste? I know how easy it is to get the pre-packaged snacks for lunches, but it really doesn't take much time to instead use reusable containers for everything in your kids lunches. Go with something like a planetbox, which makes it easy to pack a varied lunch and put the whole thing in the dishwasher every evening!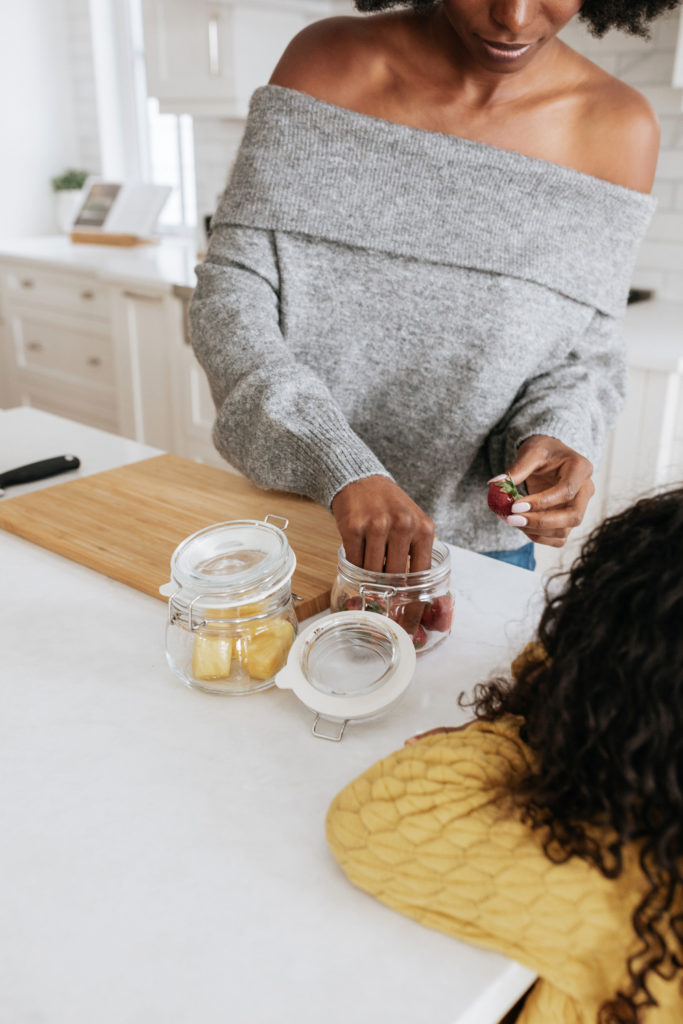 #18 – Buy bread in paper bags
When you can, buy fresh bread in paper bags instead of the plastic bags they usually come in. Fresh bread is usually way yummier, anyway!
#19 – Get a reusable waterbottle
OK this is the easiest one ever. I feel like bottled water needs to be banned. Did you realize that a lot of bottled water is just packed city water, anyway? Get yourself some really cute waterbottle. I love the stainless steel ones from Swell.
What can you start doing TODAY to reduce plastic use in your own home? Start watching your waste and you'll be amazed and what a difference you can make!
More Ways to Reduce Plastic Use
Pin for Later!