Dan and I didn't have a long engagement – just under 4 months – since we had a pretty clear idea of the wedding we wanted and it didn't take too much organizing to plan (it was held at Dan's family cottage in upstate New York so there wasn't major venue and catering bookings to do). We wanted to get word out about our wedding date quickly once we had nailed it down, so sent out a pretty basic save the date via email, followed up with a postcard style invite.
Us two, engagement day in St James Park in London…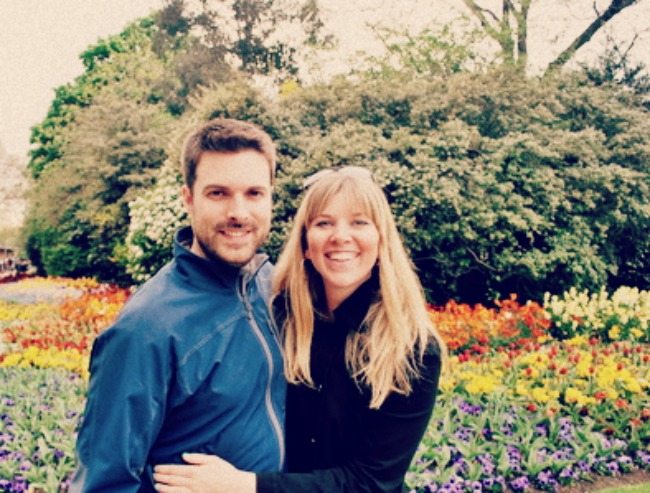 Having missed out on the fancy save the dates and invites train, now that I see these beauties from Shutterfly… I have to admit, I'm a little jealous. They are all kinds of pretty.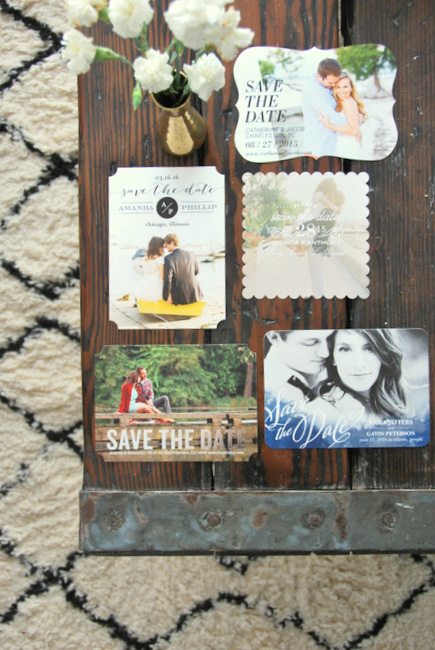 Don't you loved the one with scalloped edges? And the one with the couple in the yellow boat is all kinds of sweet. I love the fact that they all include photos, making them super personal. If you've had an engagement photoshoot you could use one of those, but I also find selfies that have been edited with filters can look just as cute too. Stefanie over at Brooklyn Limestone snapped a quick family selfie for her cards a few months ago (they are adorbs!) and included a few tips here.
As you guys have seen before, I order all of my photobooks and Christmas cards from Shutterfly and have always been super happy with their designs, quality, and shipping times. I'm so smitten with that scallop edge card… I think I'm going to need to find one like that for Maya's next birthday party or our Christmas card or something!
Designs from left to right:
1- 5×7 ticket trim card with cursive lettering
2- 5×7 card with bracket trim
3- Rounded edge card
4- Foil design with ticket trim card
5- Scalloped trim 5×5 card
Are you guys planning a wedding, or know of someone who is? Go check out the designs at Shutterfly and keep your eyes peeled for their rotating deals and sales! For those of you who are already married, did you guys do save the dates? Or have any selfie tips? I'm the worst at them… so please, I'm all ears! 
Post has been sponsored by partner, Shutterfly