Smoothies: you know them and love them. We have them on the daily around here! No matter how you make smoothies, they're a great way to get all those vitamins packed into a wonderful little drink, you can use them to slip veggies into the kids' diets, and, well, they're delicious as all get out! Nothing like a snack that tastes good, looks good, AND makes you feel good, too. But today we're talking about smoothie bowls, which are just that…smoothies in a bowl. I'm sharing my easy and healthy strawberry smoothie bowl recipe.
If you're asking "Why put your smoothie in a bowl instead of just drinking it?", let me gush for a second.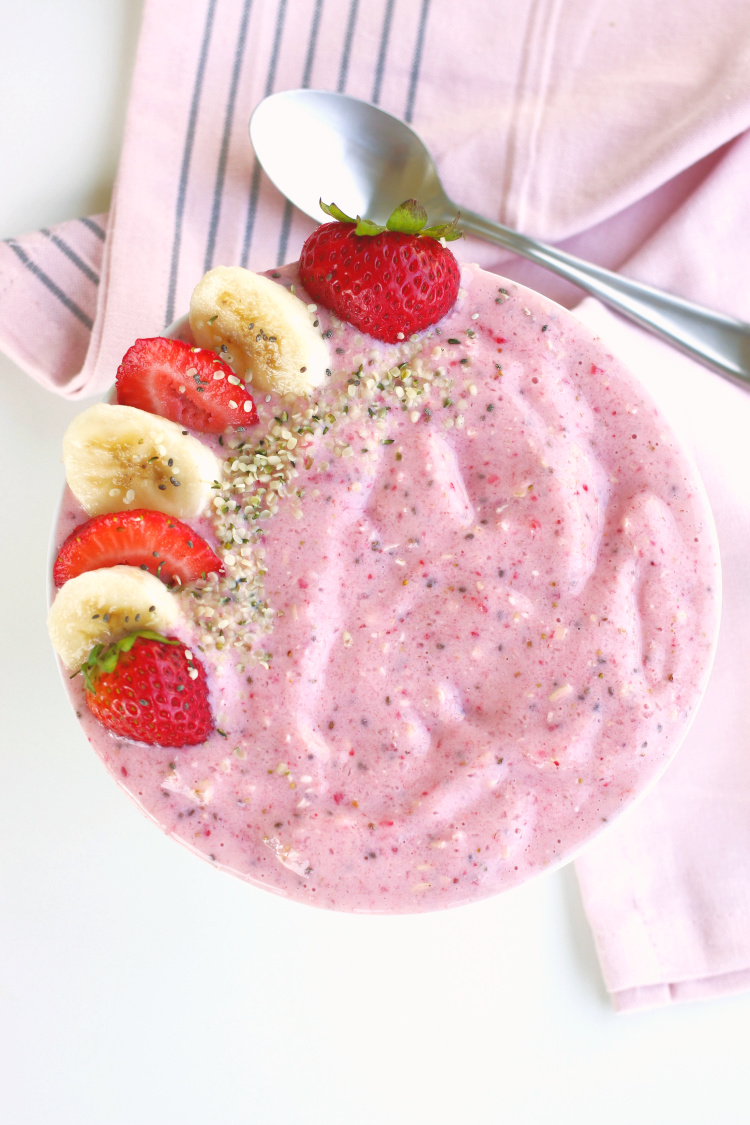 #1 – You can turn the smoothie bowl into a meal.
Regular smoothies, to me, are snacks or even drinks alongside a main dish, but smoothie bowls stand by themselves. They're satisfying, and they actually fill you up…no feeling hungry later, and no complaints from the kids about needing more. I find that smoothie bowls are best for breakfast, but I think they'd make good brunch or lunch options, too! Many people I've talked to use them to recharge after a few hours at the gym, as well.
#2 – Smoothie bowls provide more topping options.
Since you have more of an area to "garnish" your smoothie, you can add more whole fruit, nuts, etc to the top. There's tons of choices! And those toppings add to the "full" feeling you'll get eating a smoothie bowl. It's why they make the one of the best healthy meals.
#3 – They're EASY and quick to put together.
You're tired in the morning, and sometimes, standing over the stove isn't an option, but you also don't want to put that awful processed food in yourself or your family…so smoothie bowls are a huge win there.
Easy, clean, healthy, delicious, satisfying. That's a smoothie bowl.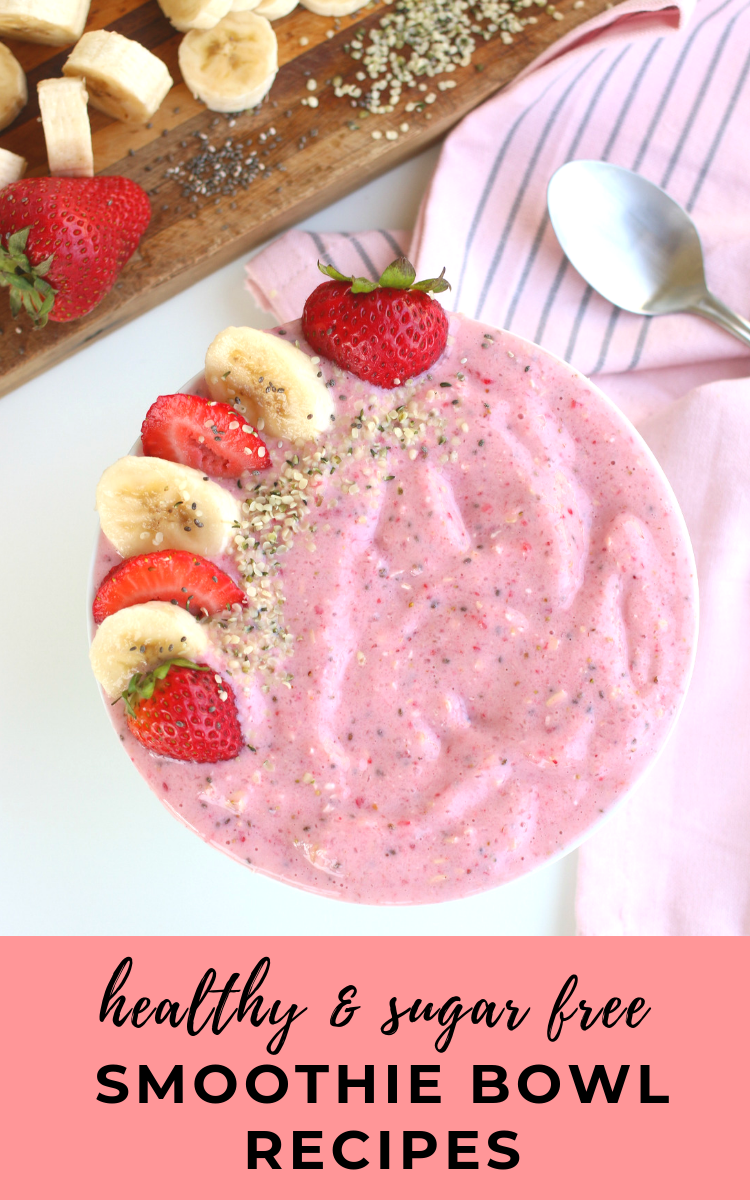 So how do you make one?
Here's our recipe for our strawberry smoothie bowl and other combo options…
Easy, Healthy Strawberry Smoothie Bowl Recipe
Prep time: 10 minutes or under.
This recipe is a bit unusual. Basically, you can put ANYTHING in a smoothie bowl as long as you would also put it in or on a normal smoothie. If you like flavors ranging from banana and strawberry to cucumber and peanut butter, you can make a smoothie bowl base with them, so a lot of this recipe is open-ended.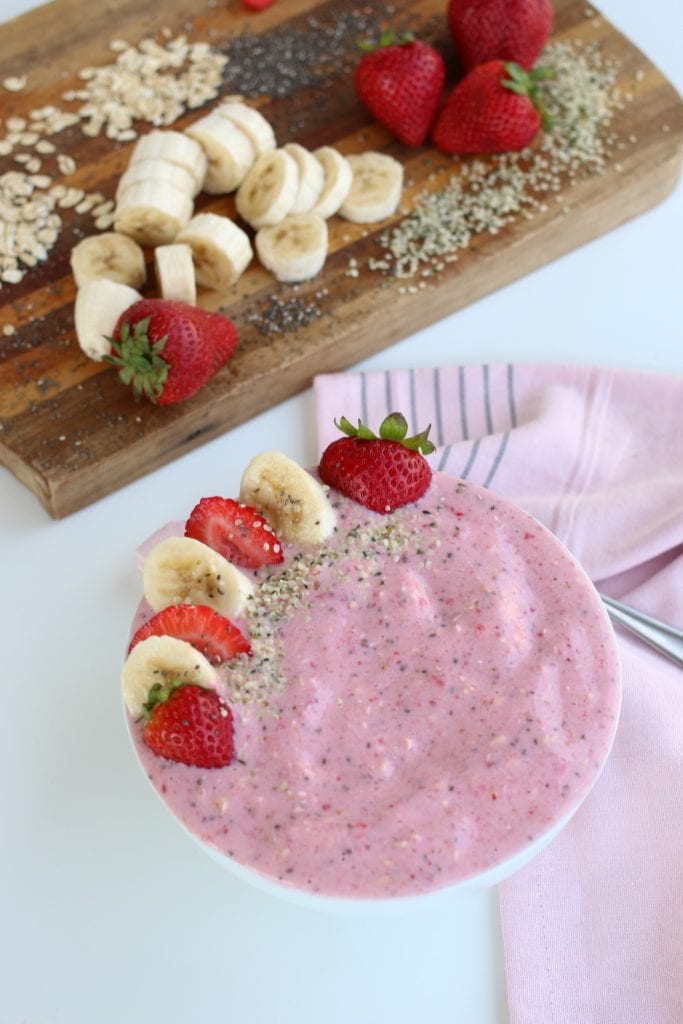 Ingredients
Multiple varieties of fresh or frozen fruit and/or vegetables, 1 cup each

½ cup of almond milk (I like using unsweetened, as we try to be as sugar-free as possible in our household)

Your chosen toppings
A really vague list, I know, but basically, pretend you're making a regular smoothie and adding toppings to it.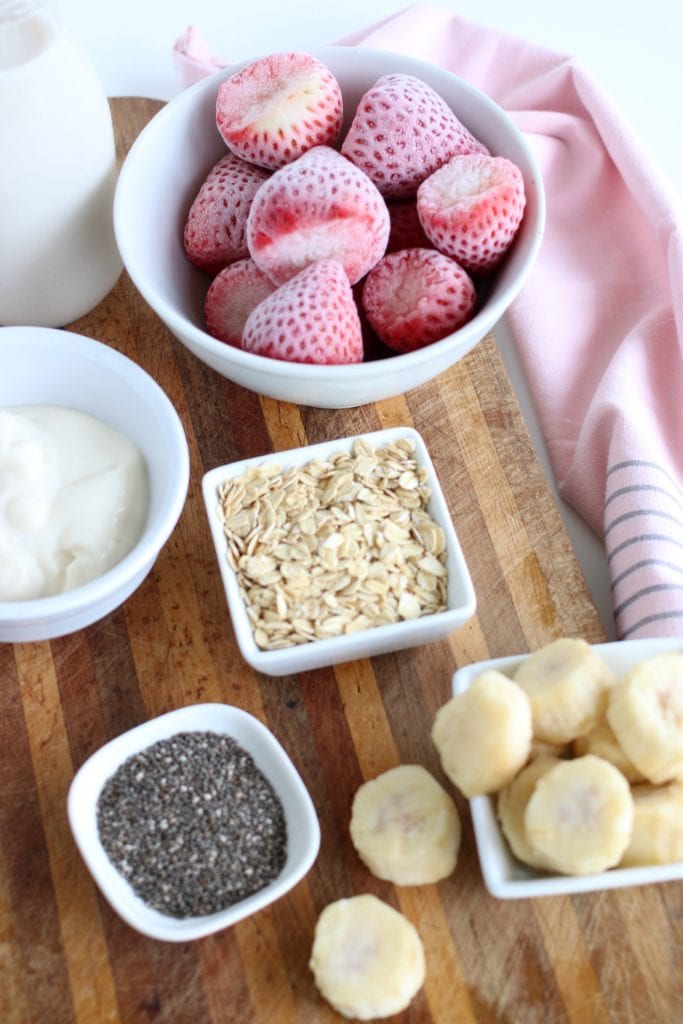 Suggestions for smoothie ingredient combos (using 1 cup unless otherwise noted):
Strawberries + a whole banana (that's what I used for this smoothie bowl)

Peaches + mangos + a whole banana

Strawberries + mango + coconut

Blackberries + blueberries + a whole banana

Baby spinach (2 cups) + mangos + a whole banana

Blueberries + strawberries + kale + a whole banana
Suggestions for toppings:
Chia, hemp, pumpkin, sunflower, or flax seeds (this is a great way to add fibre and protein)

Peanut butter or nut butter

Sliced fruit (I love bananas and strawberries, personally!)

Granola

Chopped walnuts, almonds, or pecans

Shredded coconut

Agave or honey (if you need a little sweetener)

Cocoa nibs or chocolate chips (these bowls can basically be a dessert!)

Cinnamon
Utensils Needed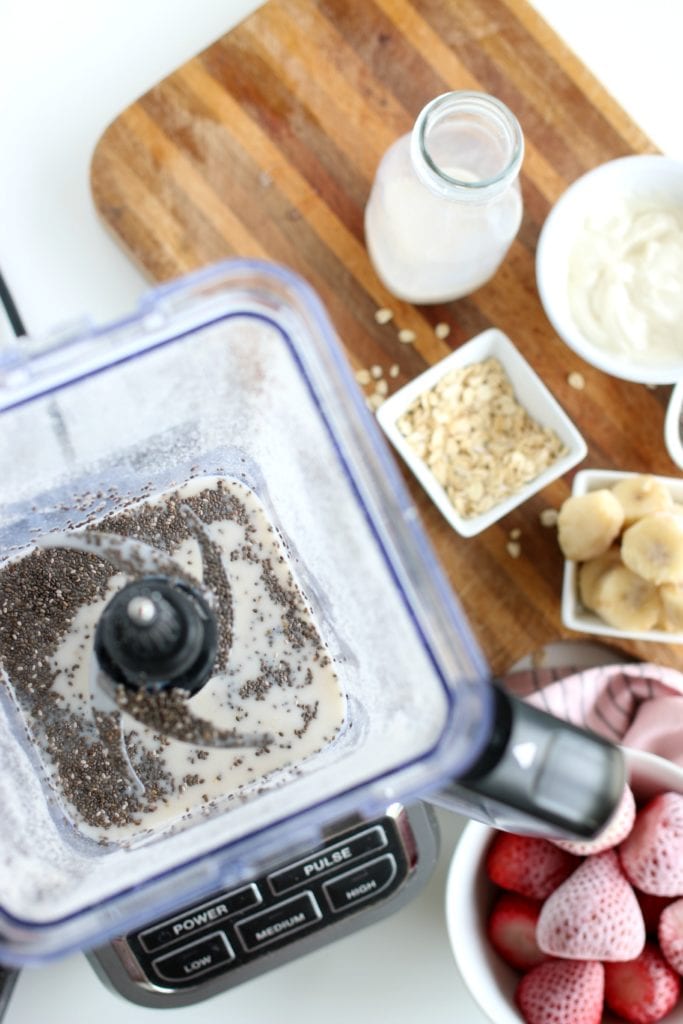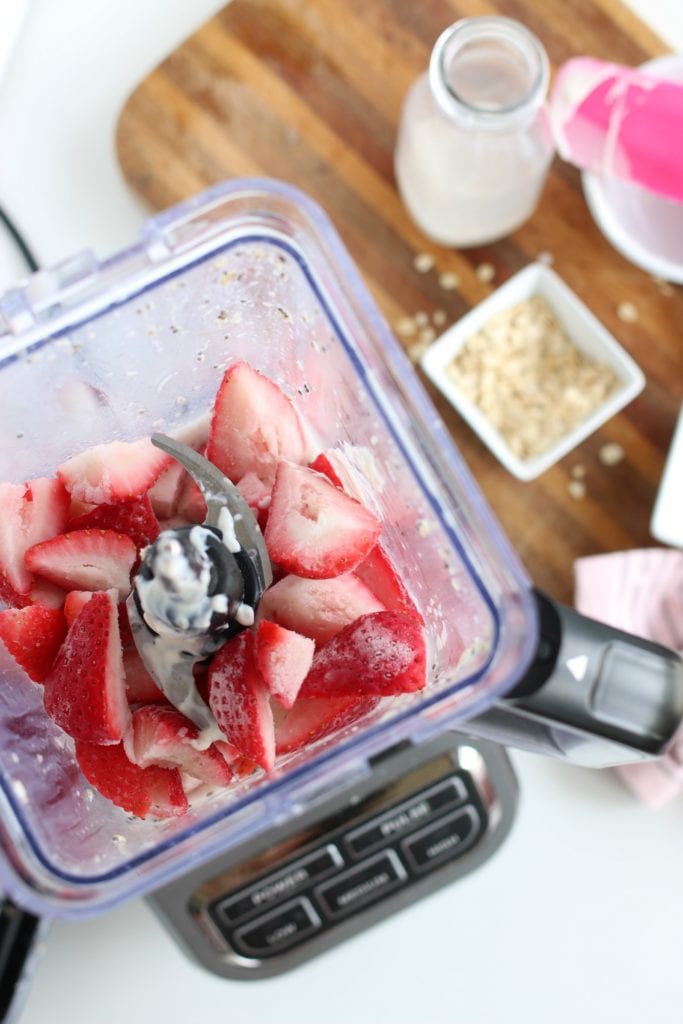 Instructions
Blend your base fruit/vegetables with your milk until it reaches a consistency you enjoy. I like my smoothie bowls extra-thick so it's easy to eat with a spoon. You can also add some of your seeds in at that point, if you prefer that they are blended in. Sometimes that can be a great way to sneak in those healthy chia or hemp seeds.

Pour into a bowl.

Add your toppings!

You could totally use these smoothie bowls instead of dessert. What a great way to make a healthier choice!
If you want a meal that can give you and your family a wonderful dose of:
fruits + veg,

proteins,

vitamin C,

and antioxidants…
…then smoothie bowls are your answer. Your body will thank you.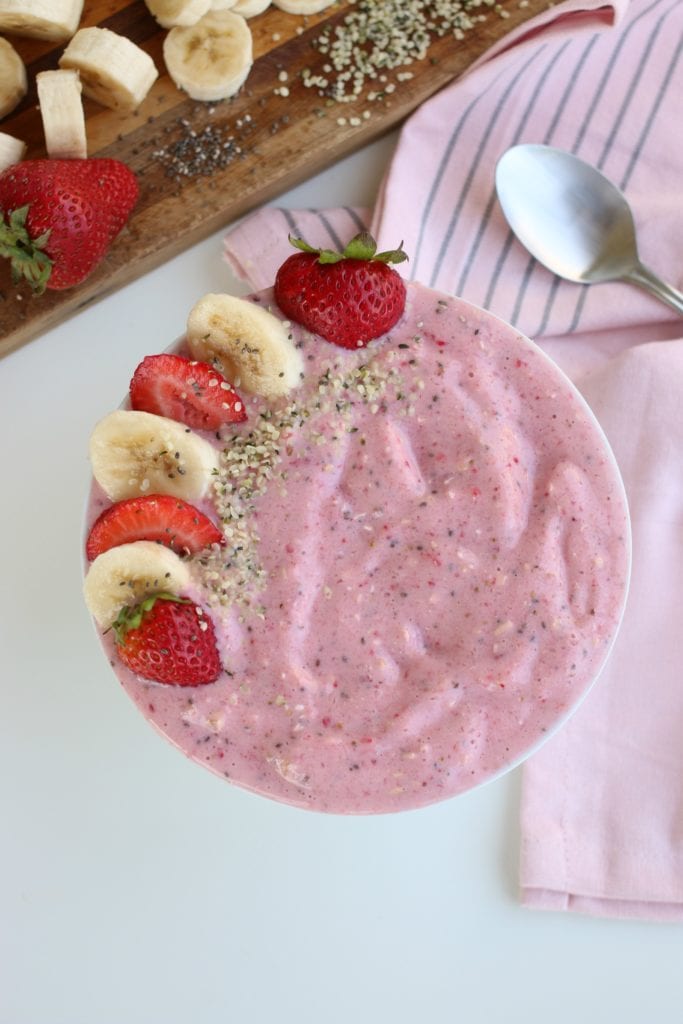 I'd enjoy hearing about what kinds of smoothie bowls you've made. What fruits or veggies did you use? Did you add anything special to your bowl for an extra "punch"? And how are you using them–for a snack, for a meal, to get the kids to eat their greens? Leave a reply down below!
Want more DIY recipes?
So these aren't necessarily food, but like this smoothie bowl, they have incredibly simple, natural ingredients. Treat your body well and kick out all those dangerous and unpronounceable chemicals from your life with the following…