Since we moved back into our house in January, we have so enjoyed slow weekend mornings. After busy weeks, we are just never in a rush to go anywhere. I have never loved cooking or being in the kitchen, but I have to admit that I really dig being in our new kitchen. It's bright, not cramped, and the space just makes me happy. As a consequence, I have actually liked putting meals together lately.
Case in point was last weekend. A classic Sunday breakfast with an easy french toast recipe. It's an absolute fave of mine. Since we stick to healthy breakfasts from Monday to Friday (fruit + veggie smoothies), it's nice to have a treat on the weekends.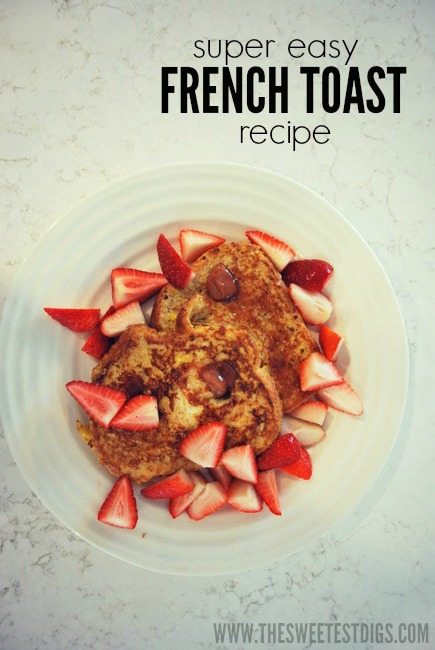 My easy-peasy version of french toast included:
-thick, pre-sliced bread
-free range eggs
-milk
-maple syrup
-berries
-cinnamon
–Cinnamon & Brown Sugar Spreadables (this stuff from Gay Lea is the jackpot.. cinnamon + brown sugar + butter? COME ON.)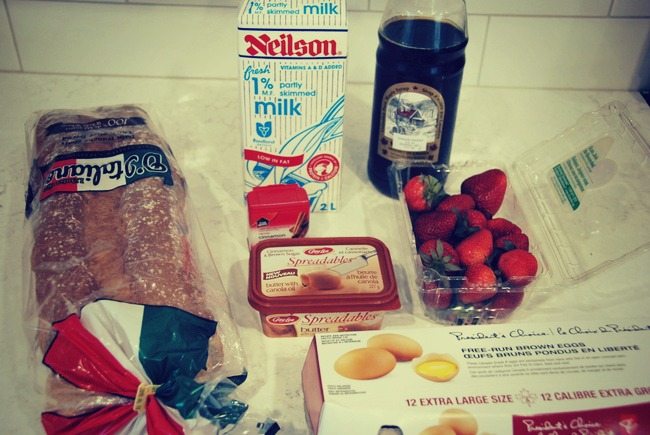 Here is a no-makeup, messy hair, in my PJs Sunday morning shot. Don't worry –  I know what you're going to say… it's going to break the internet, right? Total competition for Kim Kardashian and that booty of hers. Ha. #keepingitreal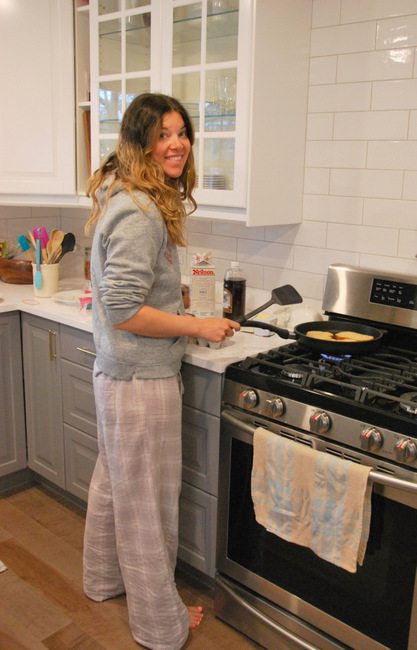 French toast is pretty basic: Mix some eggs and milk and cinnamon together in a bowl, dip bread in, and then fry in a pan with some good ol' butta. For me, the longer the french toast soaks in the milk + egg + cinnamon mixture, the better.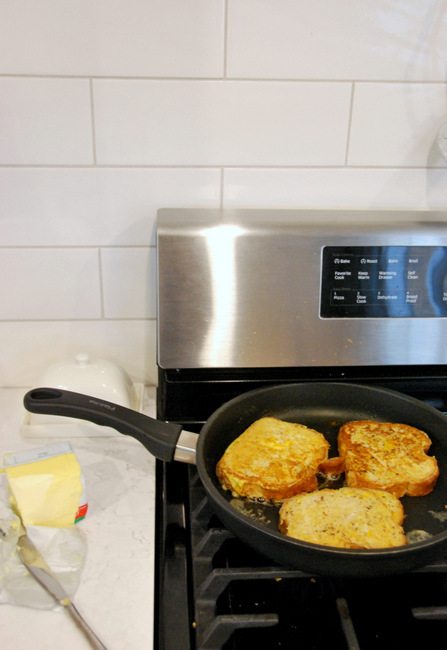 A couple dollops of the cinnamon and brown sugar butter on top (OMG! it melts into the toast and is ridiculously delish!), layer with strawberries, and drizzle maple syrup and you've got yourself one fabulous weekend breakfast. Nothing fancy or cordon bleu going on here… but still so, so good.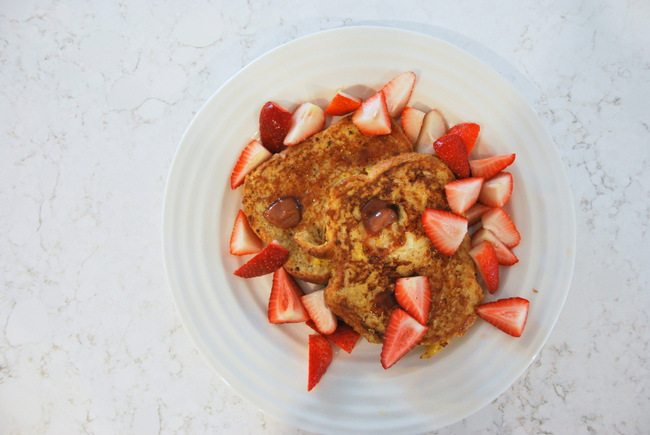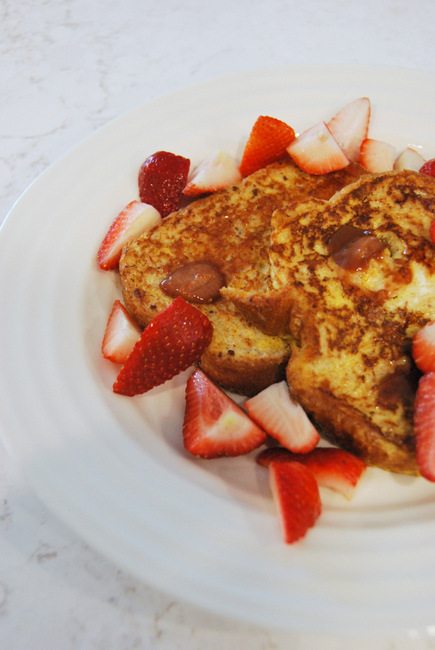 Maya totally dug the french toast (first time she has had it, I think). She was asking for "More? More?" for a good long while afterwards. I think this has just become our staple Sunday breakfast.
To celebrate all of the delicious ways you can infuse Gay Lea's Cinnamon & Brown Sugar Spreadables into fun recipes, they are giving away an amazing brunch kit consisting of: a Cuisinart Professional Rotary Waffle Maker, a Cuisinart Conical Burr Coffee Grinder and a Staub En France Cast Iron 10" Frypan! Total approximate value: $340. Amazing, right? They will also be giving away 1 year of free Gay Lea product (12 coupons for free Gay Lea product) to one reader from each Gay Lea ambassador blog. Enter here!
Do you guys enjoy slow, quiet mornings on the weekends? After breakfast, Dan and I savour our cups of coffee in the living room, while Maya plods around pulling out her favourite books and toys. We don't feel the pressure of the to-do list, or rushing off to activities, we just sit and read or play and enjoy each other and our home. Such a nice way to start the day. What do your Saturday and Sunday mornings look like?
Disclosure: I am part of the Gay Lea Ambassador Campaign with Influence Canada and I receive special perks as part of my affiliation with this group. The opinions on this blog are my own. Check out the Gay Lea website for more recipes and product info!