Ready for a super cute, boho style wall hanging? This tassel wall hanging is made of yarn and is super easy to pull off (plus totally budget friendly!).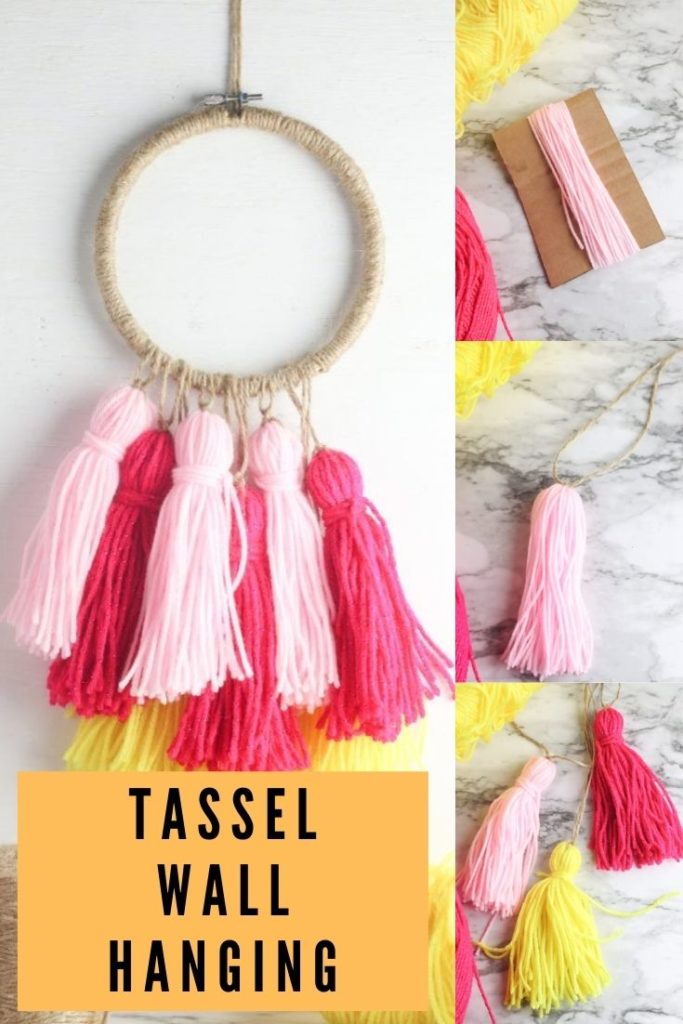 Tassels can be so much fun! From a cute way to decorate your keychain to a fun party decoration, there are so many amazing ways to use tassels. But these fun decorations don't have to just be for a special occasion! With this cute embroidery hoop tassel wall hanging, you can add an adorable decoration to your home that will inspire a celebration any day of the week.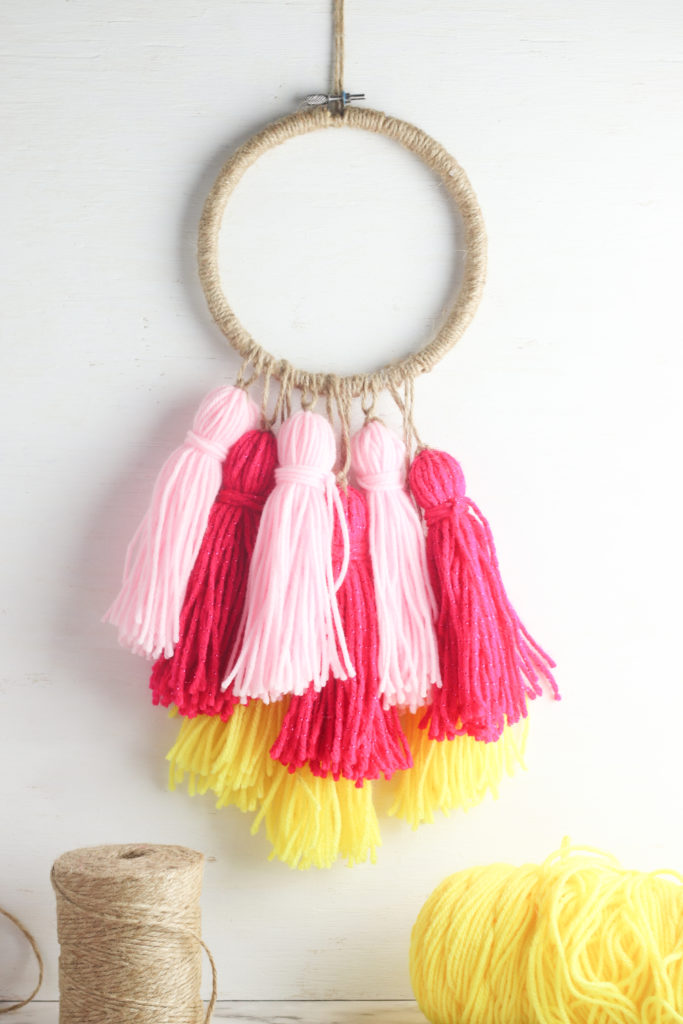 Supplies You'll Need:
One of the things I love about this easy craft is that you probably already have everything you need to put it together at home – especially if you're a sewer or knitter! To make your own tassel wall hanging, you'll need:
Yarn – in colours of your choice!

Cardboard

Scissors

Hot glue gun
How to Make Yarn Tassel Wall Hanging:
While this craft is very easy to make, it does take a little bit of time to put together. The most time-consuming portion of this wall hanging craft is making the tassels.
Step 1: Make Tassels
To make your tassels, start by cutting a piece of sturdy cardboard (I used a section of a cardboard shipping box) into a 3-inch by 6-inch rectangle. Make the tassels by wrapping the yarn around the cardboard rectangle 40 times.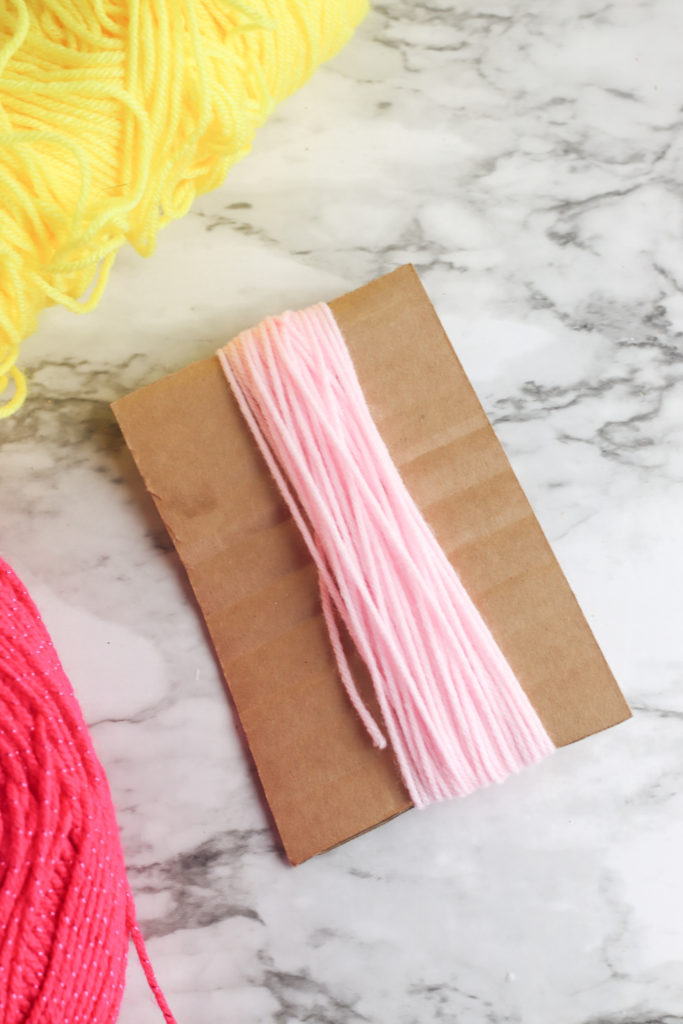 When you've reached the desired size for your tassels, tie a long piece of twine to the top of your tassel and remove it from the cardboard.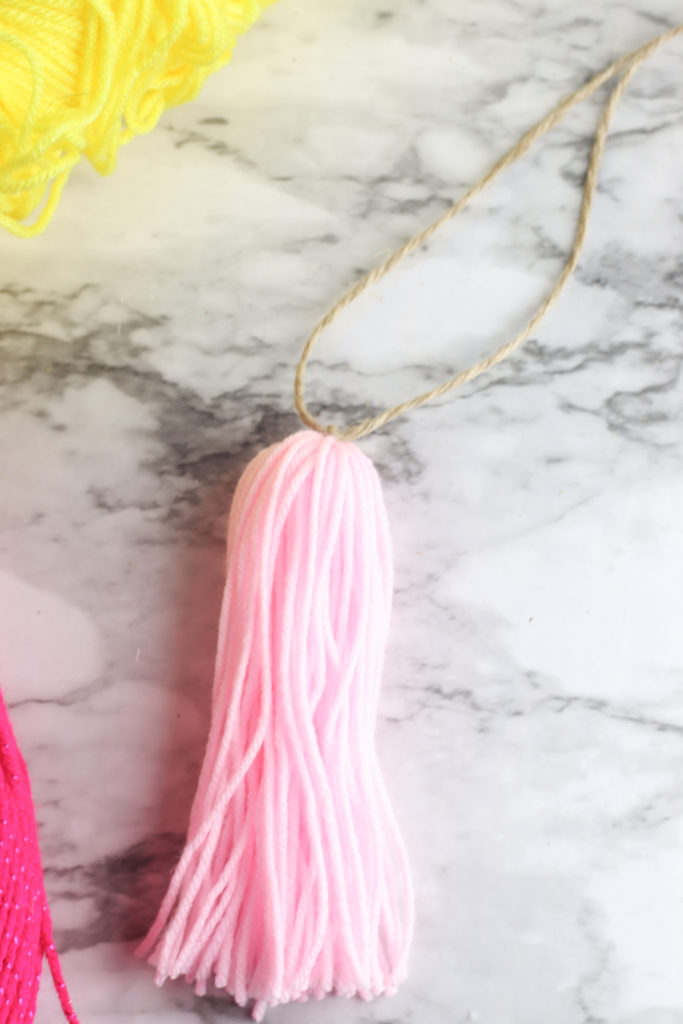 Then, wrap a piece of yarn around one inch from the top of your tassel to bunch it together. Wrap the yarn around the tassel five or six times, then tie a knot in the back to secure it in place. Continue this process until all your tassels have been made.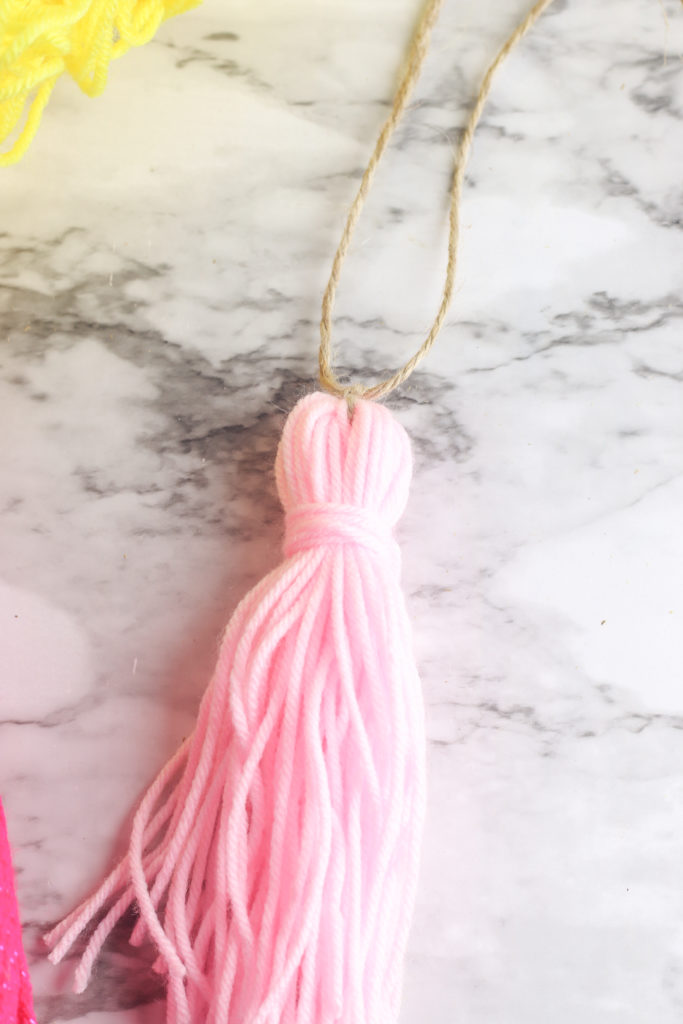 Step 2: Attach Tassels to Embroidery Hoop
Now that you have all your adorable tassels put together, it's time to attach them to the embroidery hoop. Start by laying all the tassels in the order you want them to hang.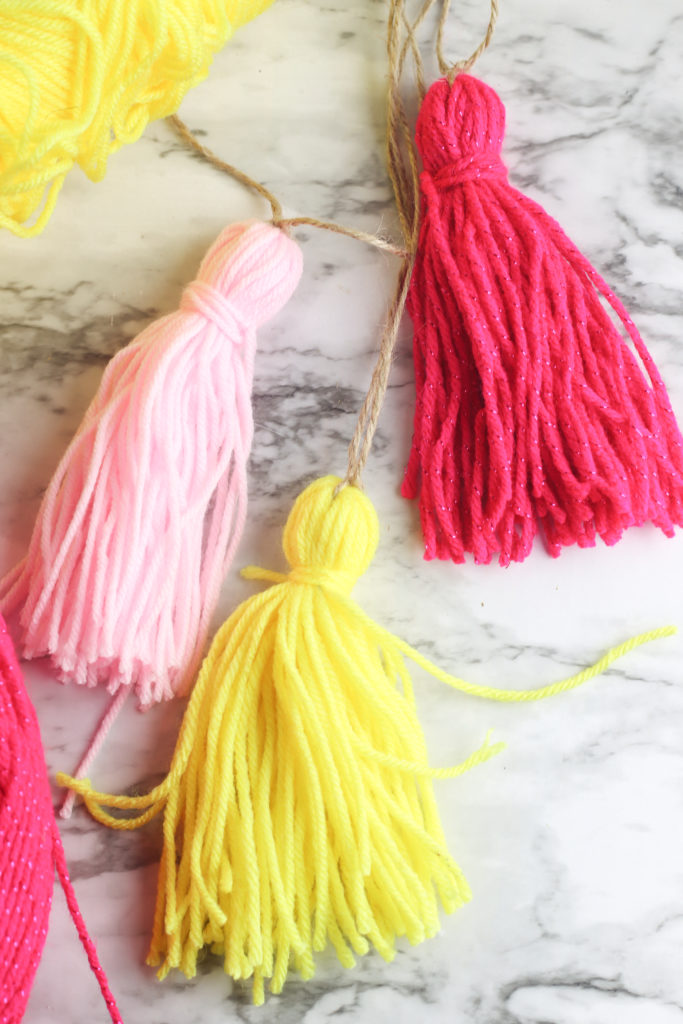 Then, start with the middle tassel to ensure your tassels are hung evenly. Attach it to the hoop by adding a drop of glue to the back of the hoop and wrapping the twine around the hoop twice. Cut off any excess twine you have.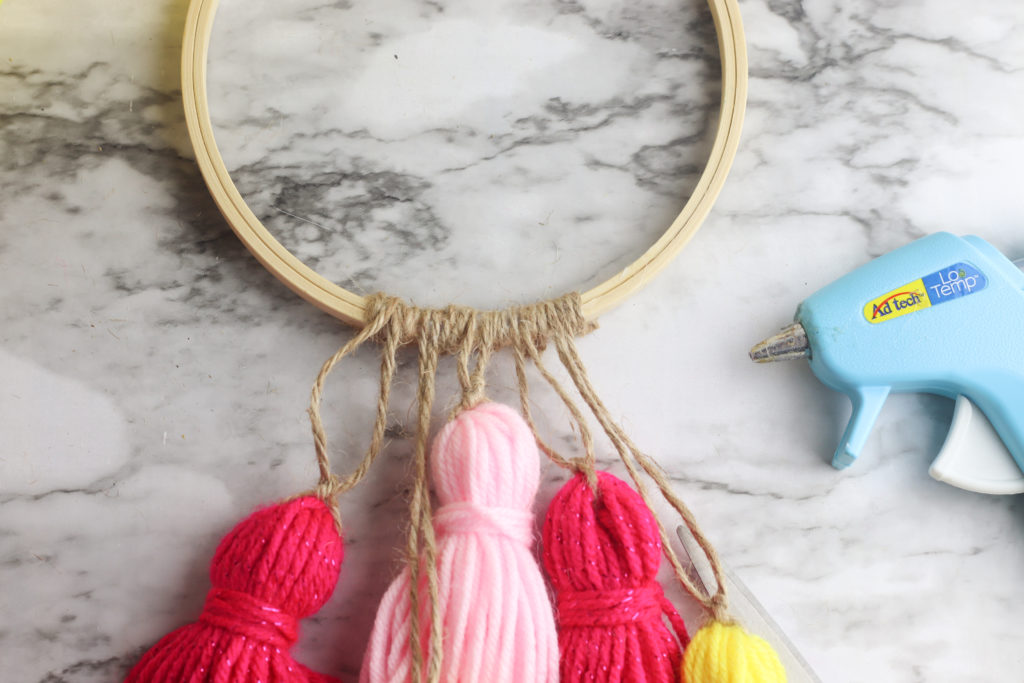 Continue adding the tassels working from the middle outward, varying the length of each color so that three layers are formed with the tassels.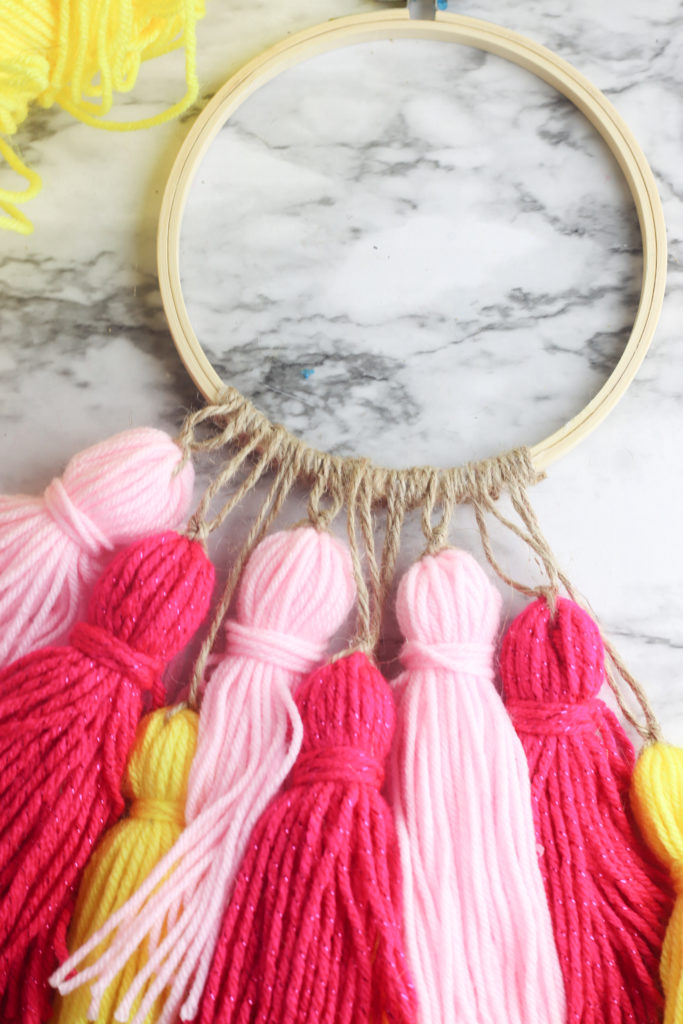 Step 3: Wrap Embroidery Hoop
When all the tassels have been hung from the hoop, gather up a long piece of twine and wrap the entire hoop with twine, adding glue to the hoop to secure it in place as you wrap. Finish by tying a loop to the top of the hoop to hang the wall hanging.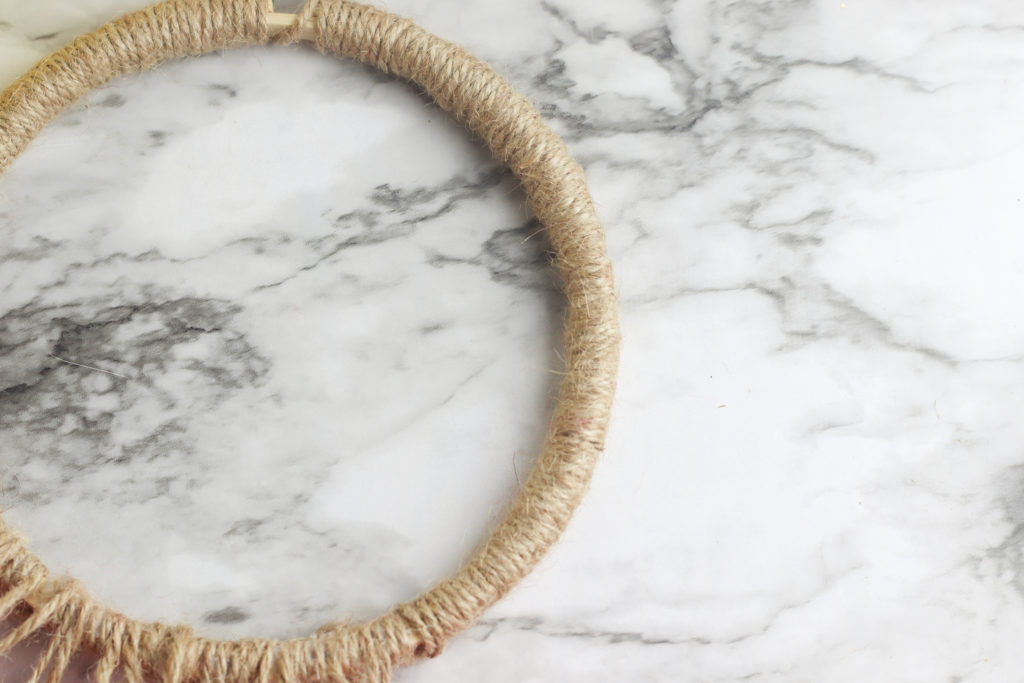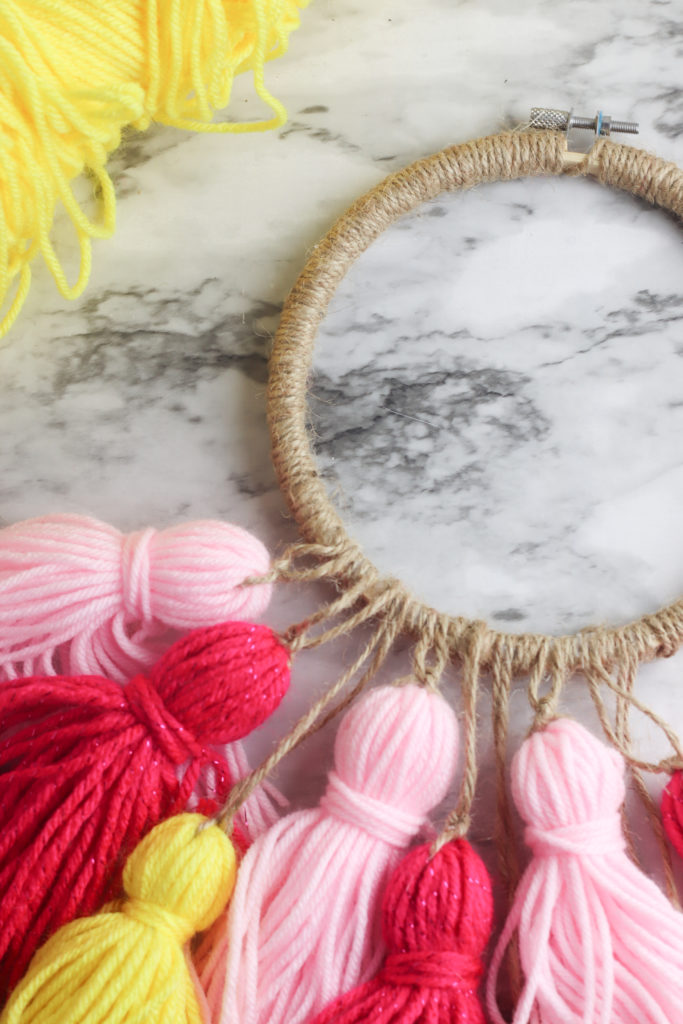 Done!
Tie a loop of twin on top of the hoop for hanging, and you're done! How cute is this?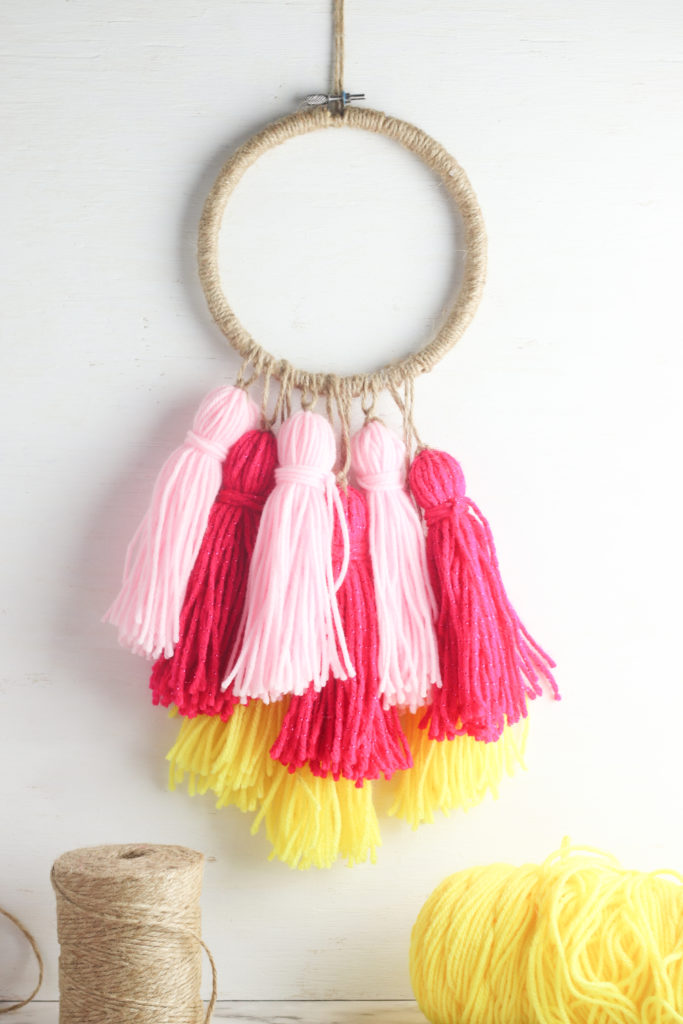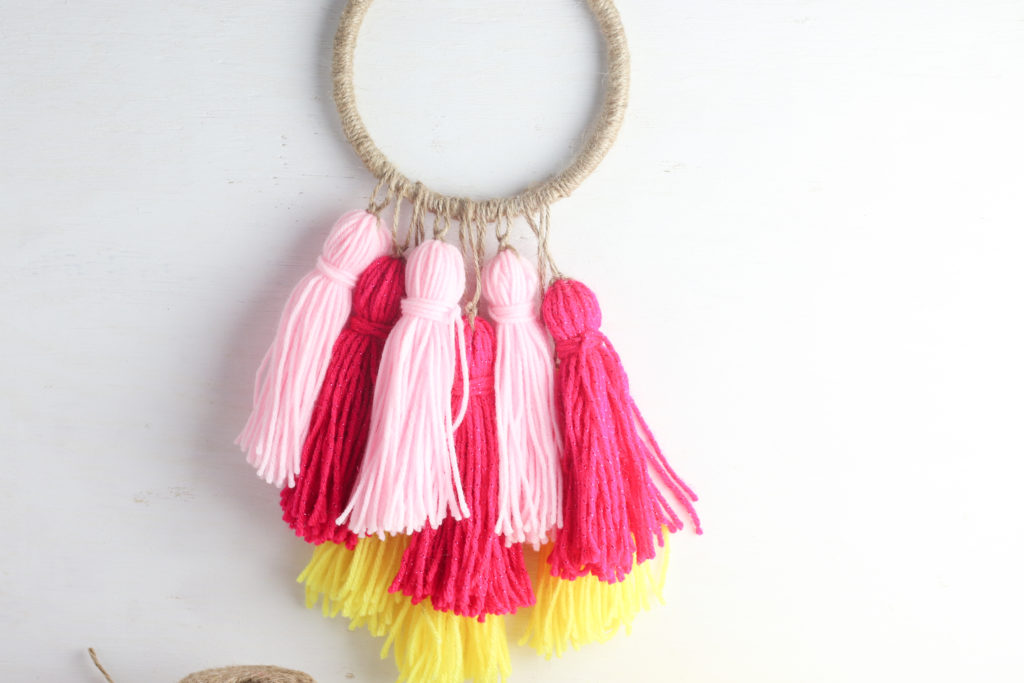 You might also like: