Want to do a fun craft with the kids that encourages them to think about the things they are grateful for? This one hits the spot! Make this thanksgiving banner DIY project with free printable (scroll down for that free download!).
This year, let your family list the things they're thankful for with this fun printable Thanksgiving banner.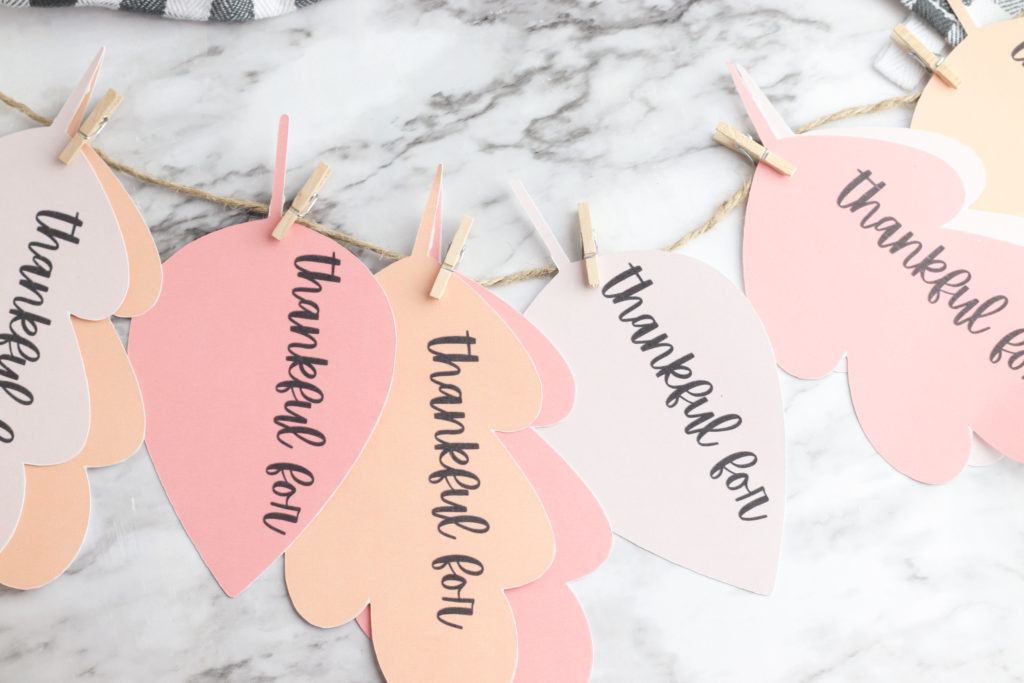 Supplies for Making Your Thanksgiving Banner
Making this sweet Thanksgiving banner is so simple, everyone in the family can get involved! You only need a few craft supplies to make this cute craft:
Printable thankful leaves. Start by downloading my free printable leaf templates (scroll down for it!). The download includes leaves that say "thankful for" along the top and blank leaves so you can add your own phrase.
Cardstock. Make sure your banner holds up throughout the holiday by printing the leaves on heavy cardstock.
Jute twine or ribbon. Hang your thankful leaves from a piece of twine or ribbon to display them for everyone to read.
Mini clothespins. Attach your leaves to the twine using mini clothespins. These little clips are perfect for displaying your leaves during dinner. And your guests can take theirs with them when they leave simply by unclipping the leaf from the twine.

Making Your Thanksgiving Banner
Putting your banner together is so simple. In fact, it only takes a few steps to make this Thanksgiving craft! Start by downloading the printable PDF and printing it out on cardstock. Then, use scissors to cut out the leaves.
Pass out the leaves and let your family members fill out what they're thankful for on their leaf. Once the leaves are filled out, clip them to a piece of ribbon or twine using the mini clothespins.
After hanging all the leaves, display your banner in your home to add some Thanksgiving cheer to any room.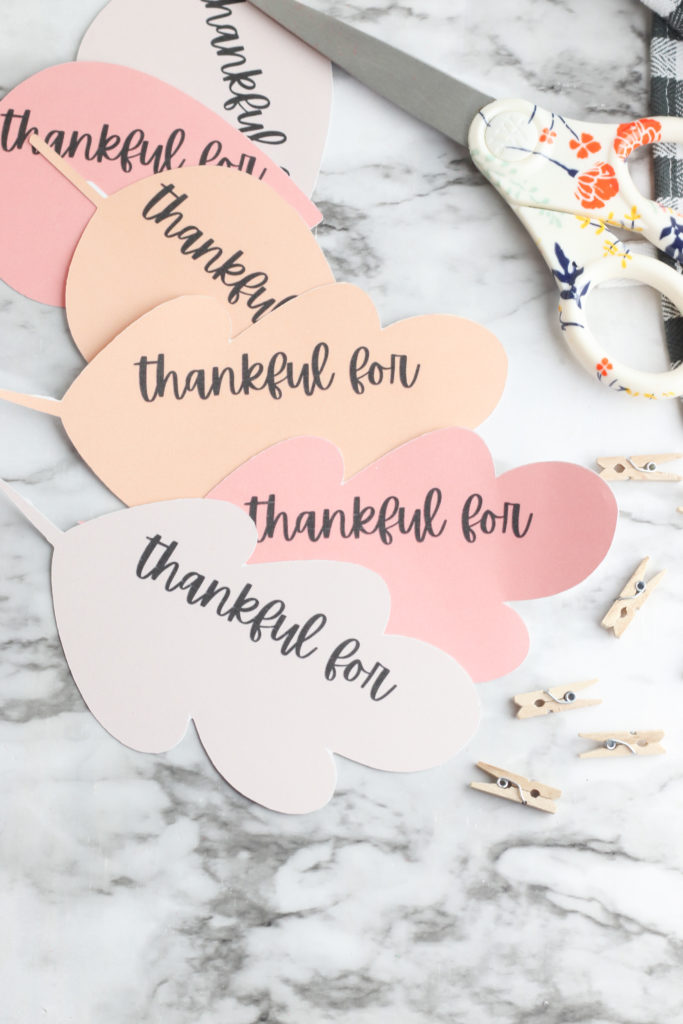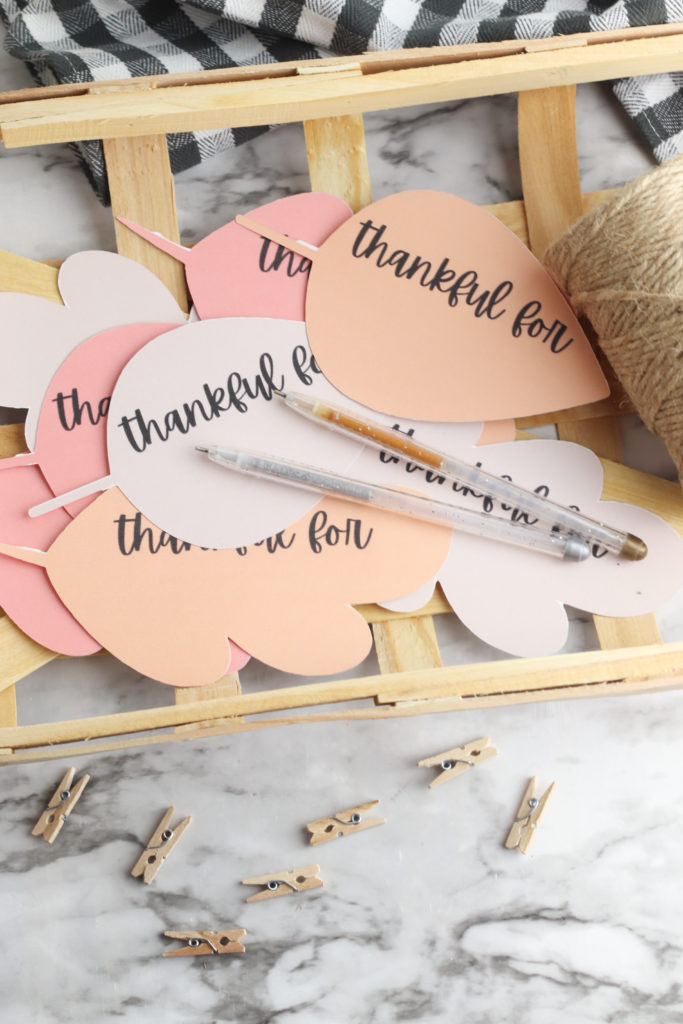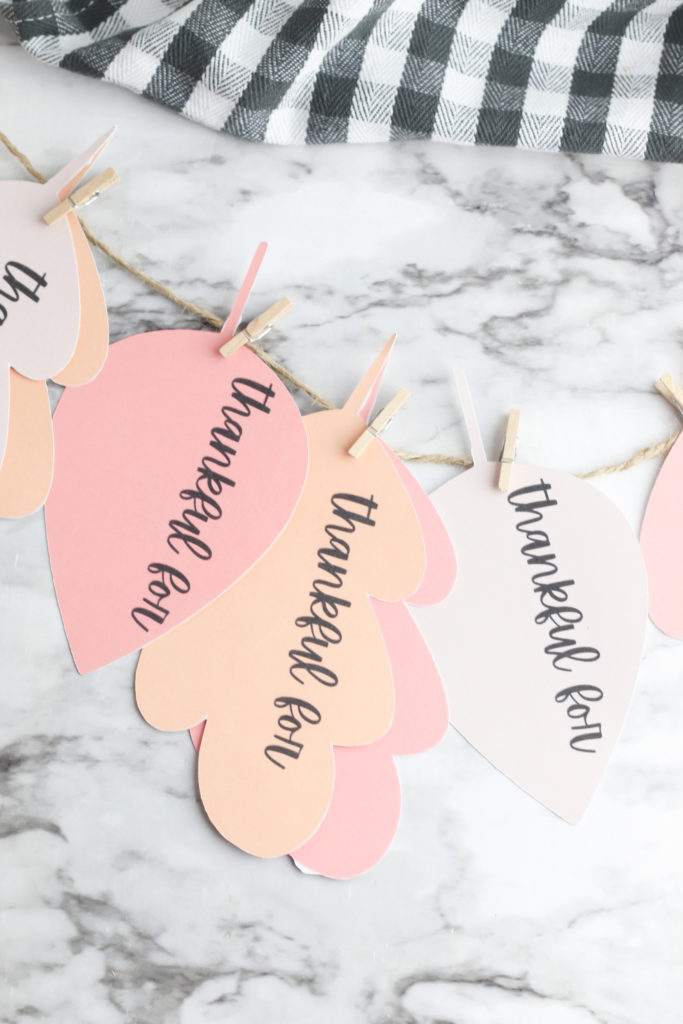 How to Use the Printable Thanksgiving Banner
There are so many wonderful ways you can use this fun banner this Thanksgiving! Whether you decorate your home with the things your family is thankful for or you use the banner as a conversation starter at Thanksgiving dinner, you can make this fun craft your own.
Here are some ideas for using your printable banner:
Place the cut-out leaves and a few pens in a basket near the entrance of your home on Thanksgiving. When your guests arrive, ask them to take a leaf and fill out the things they're thankful for this year. After all the leaves have been filled out, hang them on the twine so everyone can see.
Print out the leaves for your kids to fill out. Give your kids the chance to list what they're thankful for by letting them fill out their own leaves. Hang the leaves on the mantel so everyone can see what the family is thankful for this year.

Free Printable Here
Click here to download the printable (PDF).
Print in colour on white cardstock. There are options with the "thankful for" font and others that are blank if you prefer to hand-write them!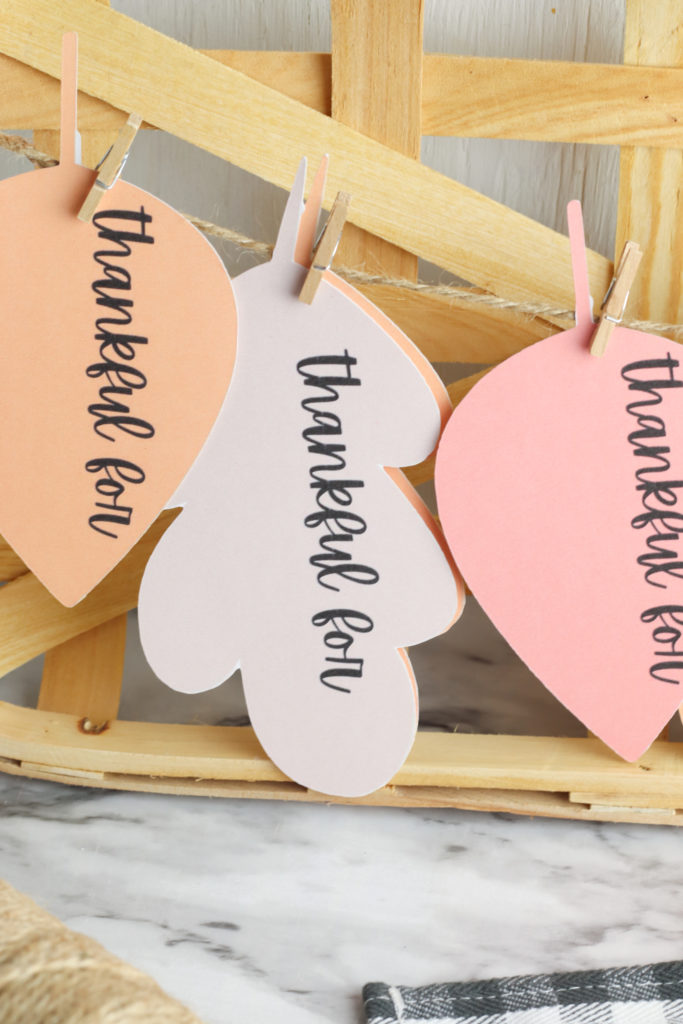 Want more Thanksgiving ideas?
20 Thanksgiving Crafts for Kids
Minimalist + Neutral Thanksgiving Decor