So remember this post back in May when I threw around some options for paint colours for our front door? And how I was trying to make it work with our uber-ugly brown screen door? The screen door that didn't match with our house numbers, mailboxes, or shutters?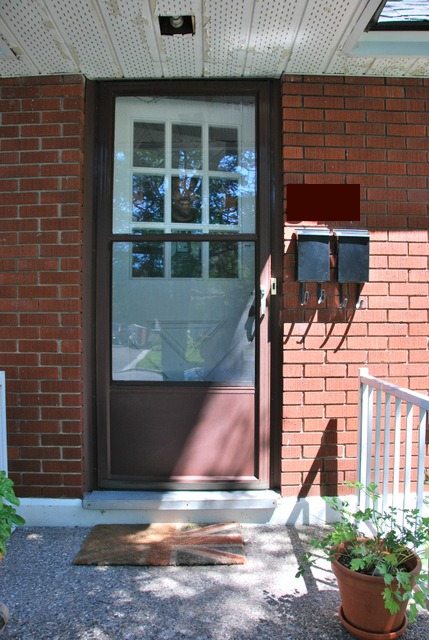 Painting A Screen Door
Well, I couldn't make a decision about the front door colour because I just felt like nothing would look good with that screen door. We didn't want to take it down as we leave our front door open fairly often, and it provides an extra layer of insulation in the winter. And we didn't want to replace it with a new one, since when we do our reno/second story addition, we are going to replace the whole front door area and will get all new doors at that point.
So what's a DIY, budget girl to do? I took a bit of a risk and decided to try and paint it….with the lazy girl approach to painting – I didn't want to take the door down and then have to re-install it, so I just taped it off in place and went for it. No priming or sanding or anything.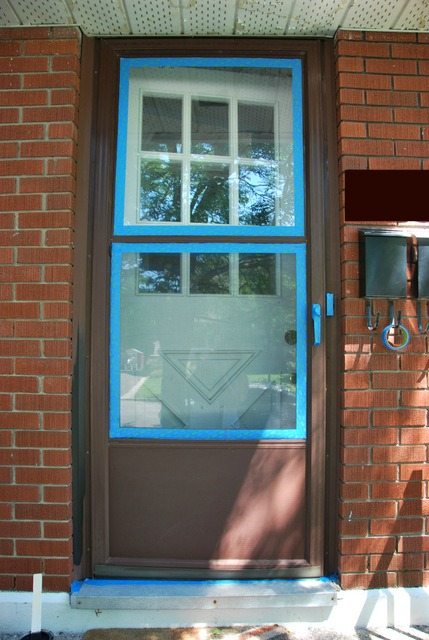 I grabbed some of this matte black tremclad rust paint from the Home Depot.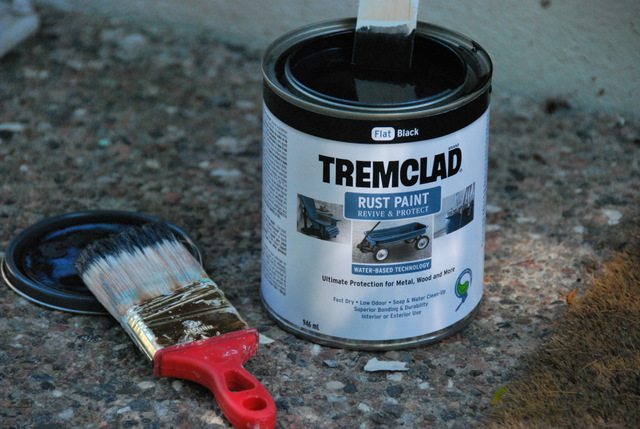 It's the same paint that I used on our shutters and it holds up well in the outdoors. I wiped the door down with soap and water, patted it dry, and started brushing on the paint with trepidation. I'm not sure why I was so nervous. I envisioned the paint not sticking well to the metal, getting drips, or coverage being poor. Well, after just a few minutes I realized that things were looking pretty darn good.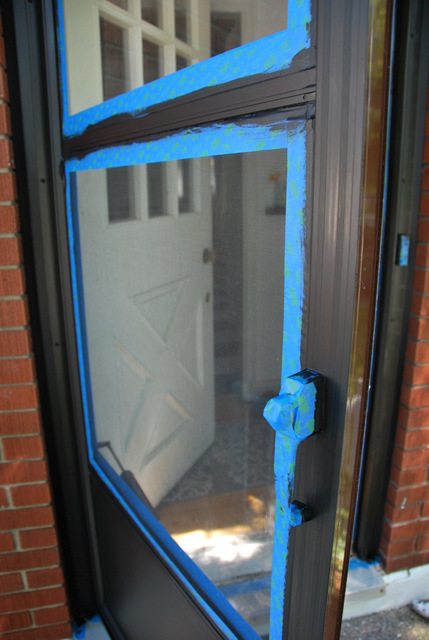 Oh, and if you're wondering if I did this project recently with the baby in tow… nope! This was a days-before-delivering project. I think I was 39 weeks + 5 days pregnant? Hello, belly!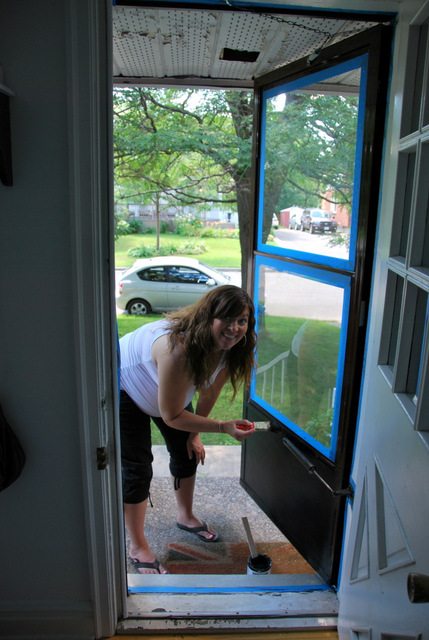 It took about an hour to do the first coat, and then about half an hour to do the second (I let the door dry for about 4 hours in between coats). I didn't paint the mesh screen part, but you really can't tell that it's brown next to the rest of the black door.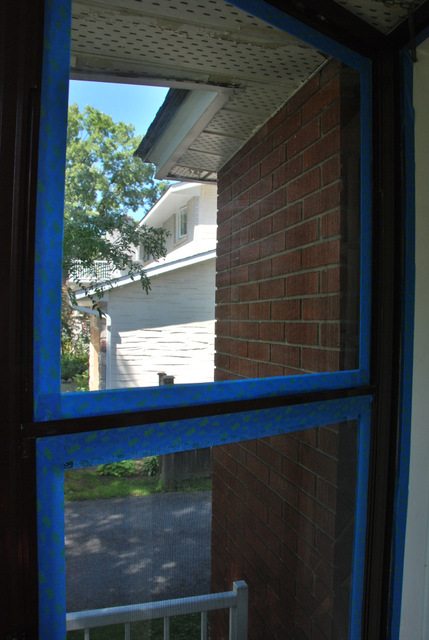 Peeling off the tape was a cinch, and the lines came out really crisply.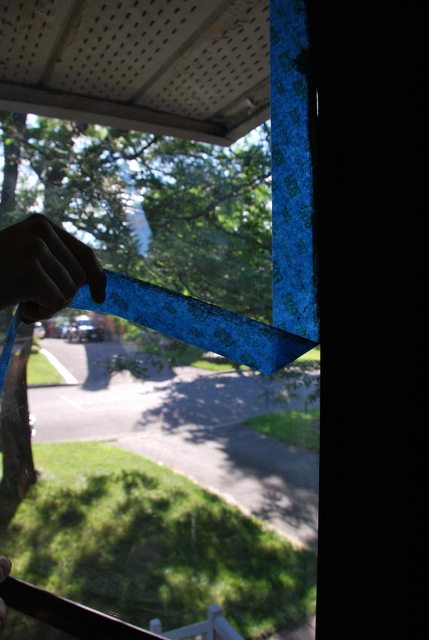 The result? Love, love, love. I feel like it makes a huge difference to the curb appeal of our place.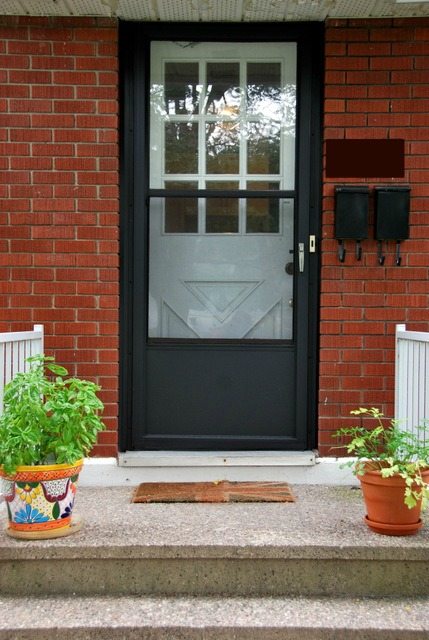 And since I did this project about 7 weeks ago, I can happily report that the door still looks good as new. The paint has great coverage and there are no chips or peeling parts to be seen.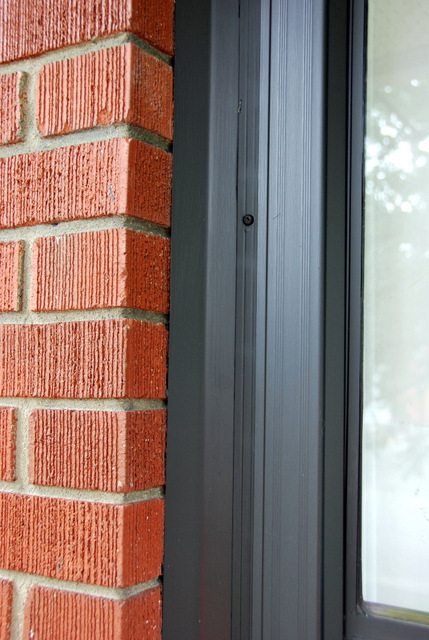 The door looks so much better from the inside too. It cleans up the space and plays off nicely with the black light fixture we have in the entry-way.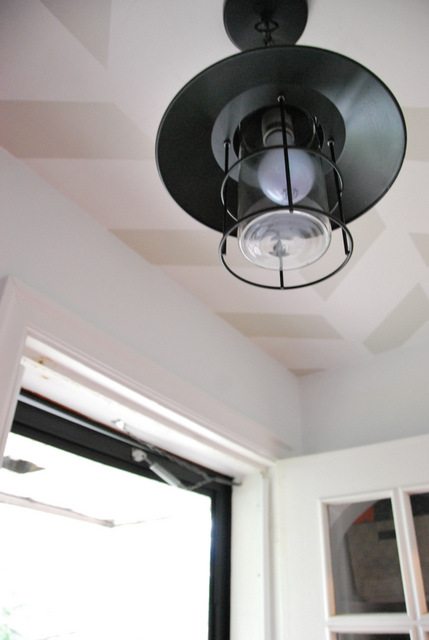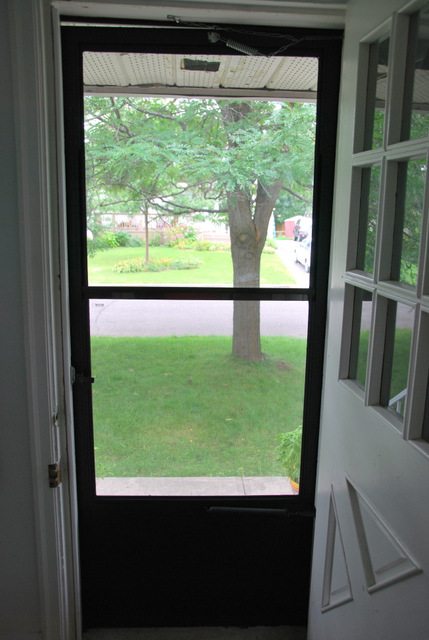 And now I feel like I have total freedom in terms of front door colour – pretty much everything going with black, white, and brick!! sa-weet!
Please don't pay any attention to the garden and rest of the curb appeal, m'kay? We totally ignored the outside of the house this summer. Oh and that weird zig zag line in the brick? It's due to some issues we are having with our foundation (that we will fix when we do the second storey).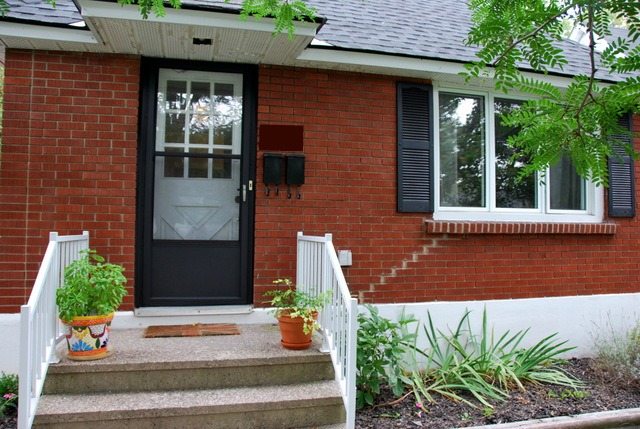 Now onto that front door… so many options!
Have you guys tried painting a screen door? What about your front door? Have a favourite colour? I'm totally kicking myself for not having done this sooner!