One of my favourite tricks for adding some interest and function to an empty corner of a room is to throw in a small chair. Nothing bulky and dominating, but a slim chair that can provide some extra seating, a place to throw down magazines or clothes (if it's in your bedroom), and best of all, a place to add a little colour and pattern to the room. It's pretty easy to hunt down chairs that have wooden bases and an upholstered seat – they are a staple at thrift shops, flea markets, and garage sales.
I found this guy online and paid about $10. The wooden chair itself was in great condition and I liked the back detail and the wider than usual seat (good for wide behinds!).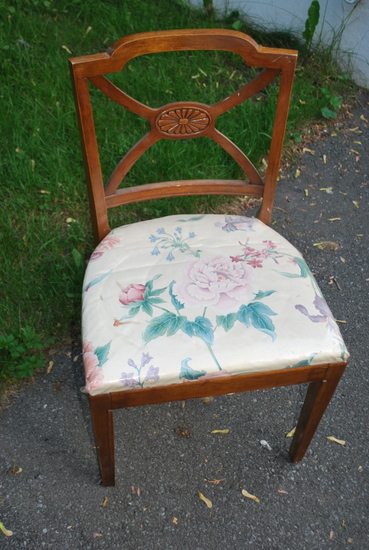 You may remember a similar chair (I originally bought a set of three), which I made over in taupe and geometrics here.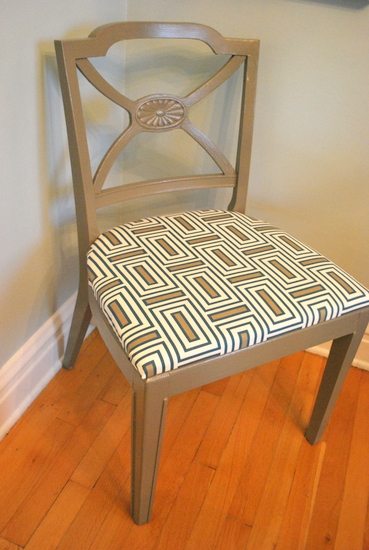 First step was to remove the seat – this is usually pretty easy and just consists of unscrewing a few screws in the bottom of the seat. No power tools required! Next up was to give the chair a good sanding (using medium grit sandpaper) and then a wipe down with a cloth. You want to remove any old residue and get the surface a bit scratched up and ready to absorb the paint.
It was still warm out when I was doing this project, so I decided to spray it. You could just as easily paint it with a brush though, if you have a can of paint lying around you'd like to use. For good durability, I used a high gloss paint. After maaaaany coats (remember the "thin and even" mantra to good spray painting technique), the chair was ready to go. I let it cure for another 48 hours before bringing it in the house.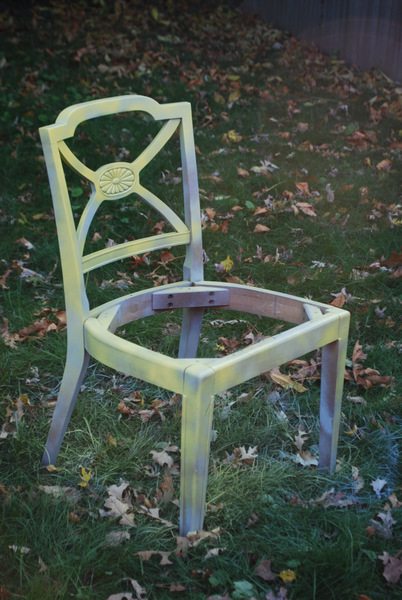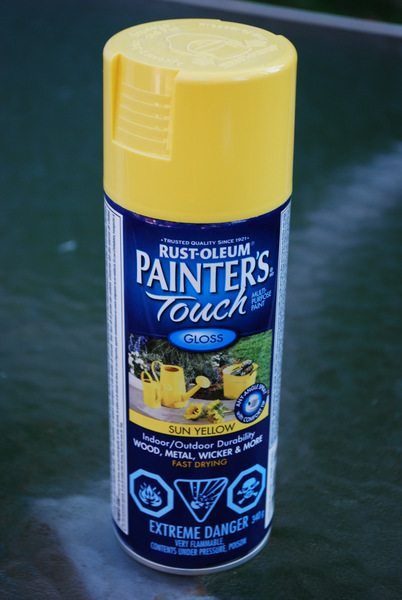 Next up was to tackle the upholstery. Often I just re-upholster right on top of what is already there, but the underpad of this chair felt a little weird and lumpy, so I decided to rip the whole thing apart. It was some sort of foam and hay-like combination (weird, right?), so I threw that out and used new foam.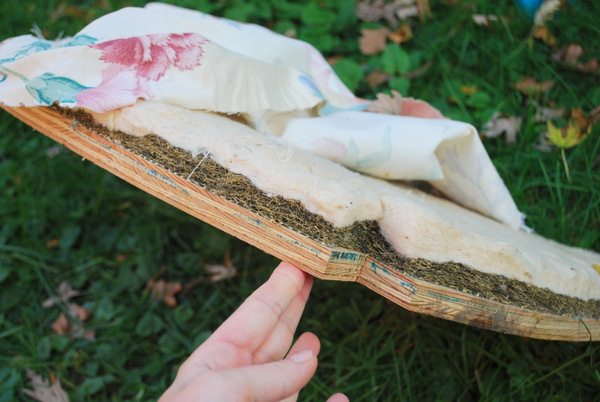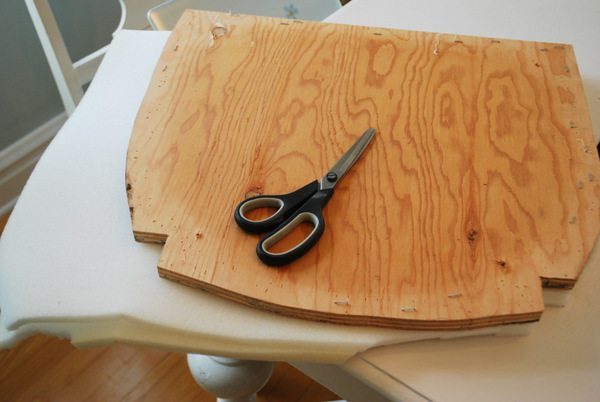 I cut my foam to the exact same size as the seat and used a bit of spray adhesive to attach them together.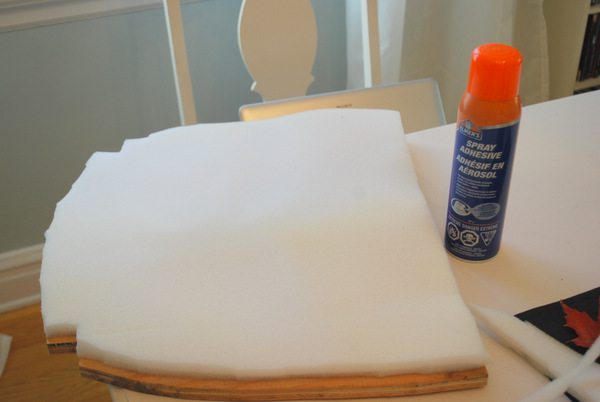 Then I grabbed some grey and white striped fabric I had leftover from another project and my staple gun. I laid out the fabric and cut it to size – about 2 to 3 inches wider than the seat. Then it's just a matter of pulling the fabric around the seat and stapling it down. Be sure to check the fabric on the front before you start stapling, just to make sure you have lined up the pattern properly – in the pic below, I clearly hadn't lined my up yet! Those stripes are looking pretty off centre.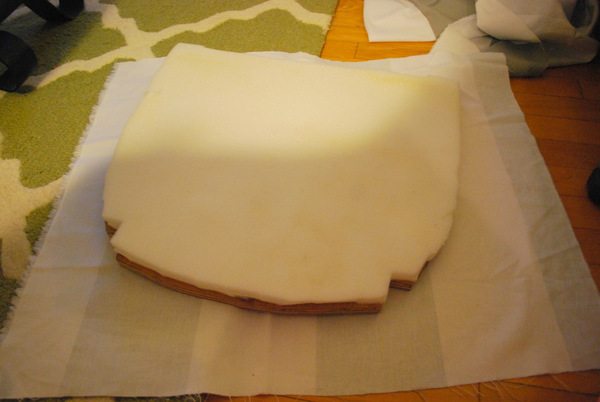 Corners can be a bit tricky and just require practice – I am no expert! My method is to fold and tuck the corners in, and then pull very tightly when I staple. I tend to be a bit over-zealous with the staples, but better to be too generous than too stingy, and have your fabric be loose.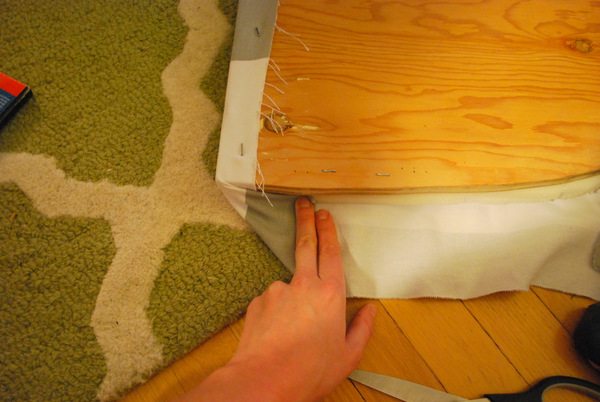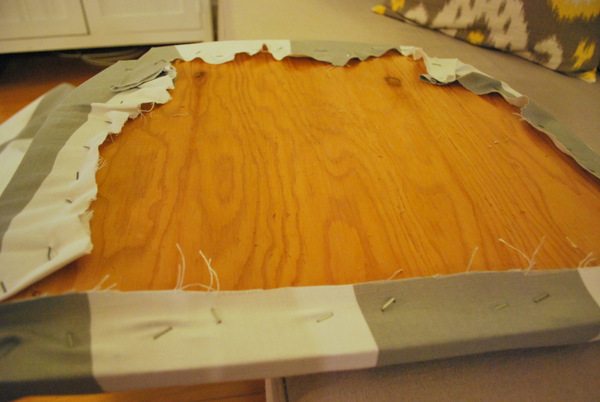 Then just re-attach the seat back onto your chair, and it's like a whole new piece of furniture. This is one of those super easy projects with such great impact! Plus, you can have so much fun with colours and patterns, since it's a small accent piece in the room.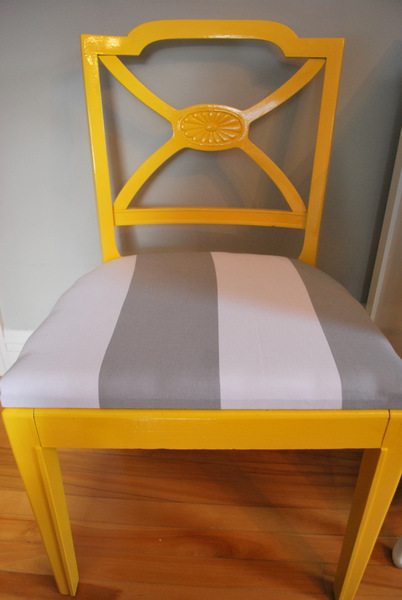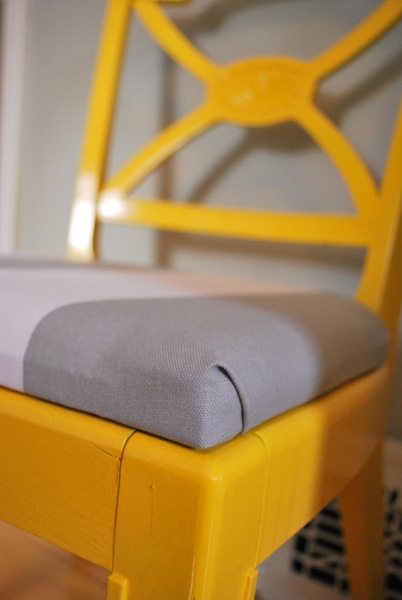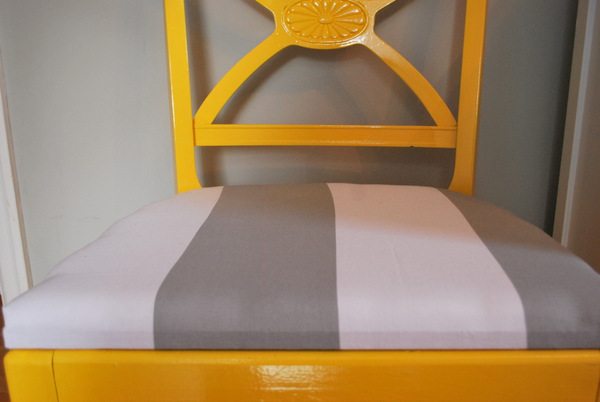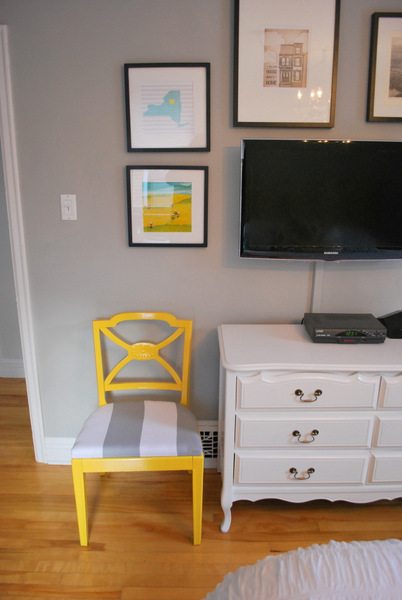 The pop of yellow in our grey bedroom is fun, and ties in the yellow upholstered headboard on the other side of the room.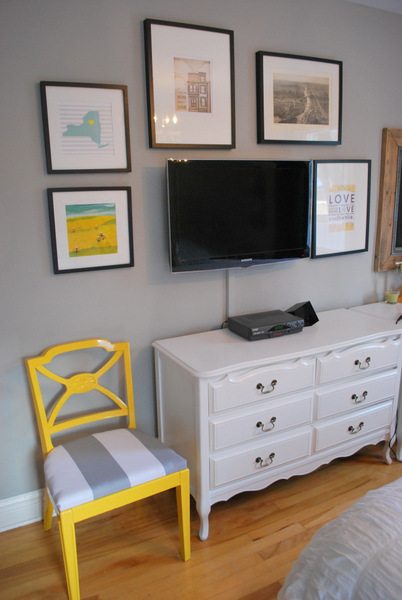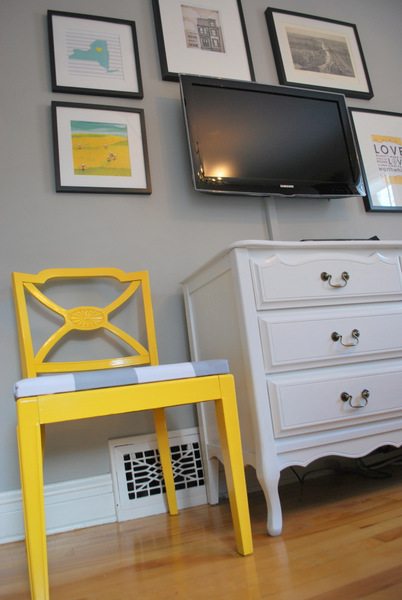 Easy-peasy, lemon squeezy. So now why did that project take me like 6 months? Way to procrastinate, Gemma.
What about you guys? Done any upholstery lately? Tackled a chair makeover? Into the yellow and grey combo?