You guys have heard of Ana White, right? She's the lady-builder and mom from Alaska who isn't afraid of a power tool. I have a total girl crush on her and have been wanting to try out one of her building projects for a lonnnggg time.With a few free weekends over the fall, and my lovely Dad saying yes to mentoring me in his workshop, I built a table. Yeah, you read that right. A table. And not just a little one, but a big farmhouse harvest table.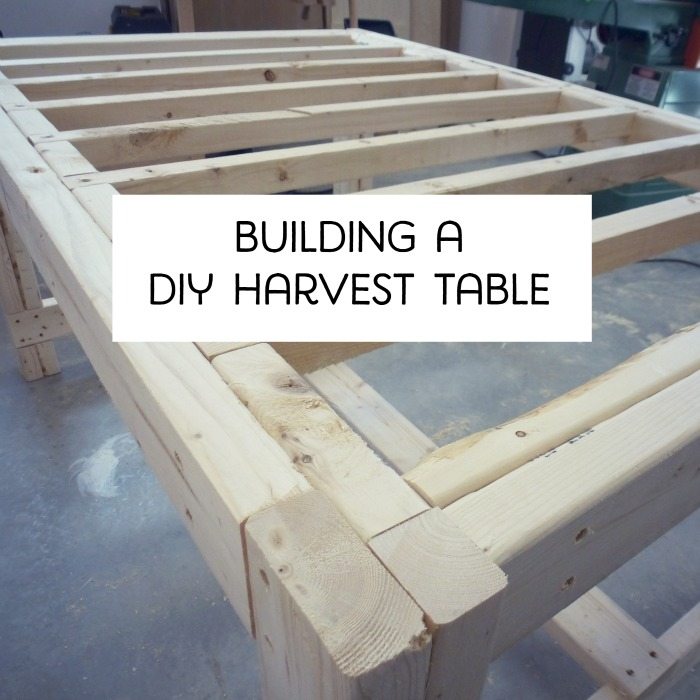 DIY harvest table
Let's start at the beginning, shall we? I spotted these plans on Ana's site, and when I saw the photo below from Country Living I was sold. Rustic, simple, and clean lined. My dream table.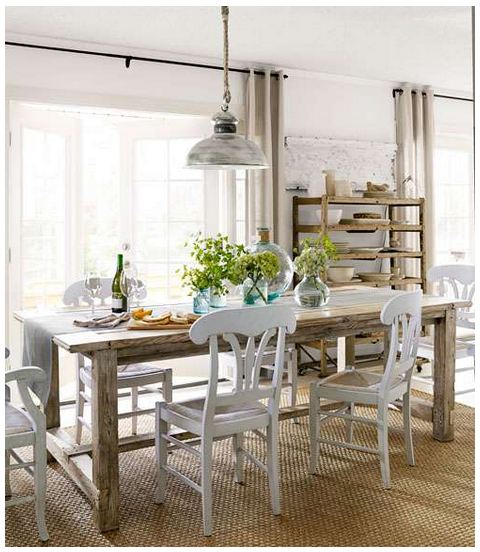 image from Country Living Magazine/photo by Lucas Allen
First up was a bunch of strategizing with my Daddio about what wood to get, how many of each board, etc. Since my table had to be slightly narrower and longer than Ana's in order to fit our dining room, we had to alter the dimensions and cut list a bit. The math hurt my brain slightly, but I got it figured out and thankfully Dad did a check-over before we went to the hardware store.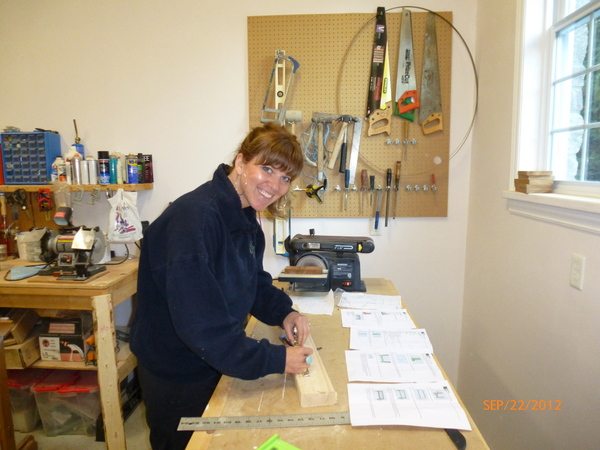 We ended up getting regular construction grade spruce for the legs and base of the table, and some pine for the top (pine was slightly more expensive than the spruce). This wood really wasn't anything fancy – it's the same stuff contractors use for framing and really basic projects. I know both of my parents were thinking "what the heck is Gemma thinking?!" at about this point. I told them to think "industrial chic"… but I don't think they got it. Total cost for the wood was less than $100 – pretty great!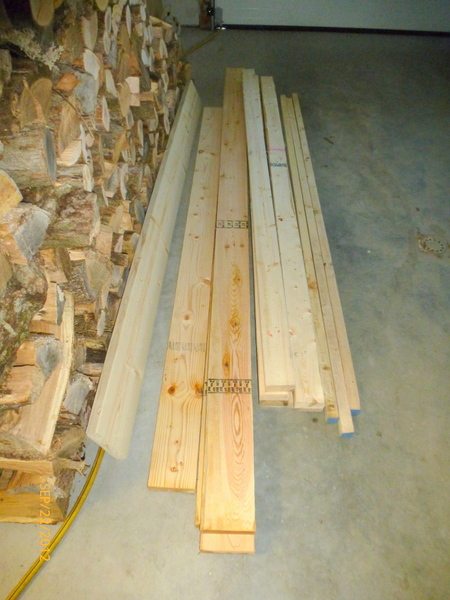 Here are the comprehensive plans off of Ana's site. They are so detailed and have everything laid out step by step. There are plenty of pictures and words to help you figure it out. I'm not going to repeat all of the building specs here, as you can get all the info you need from the plans themselves. You do need to have some heavy duty tools  to build this table – again, have a look at the detailed instructions in Ana's plans.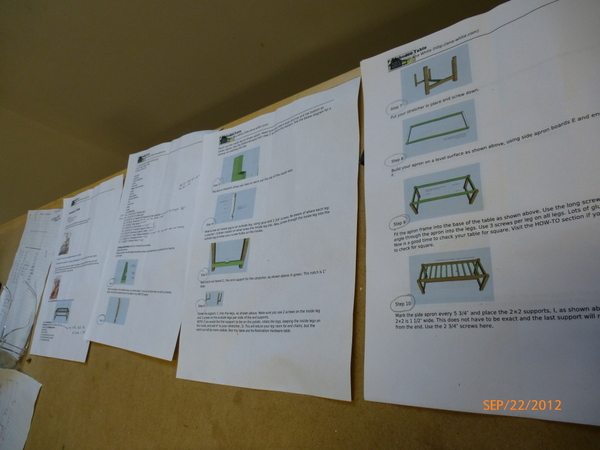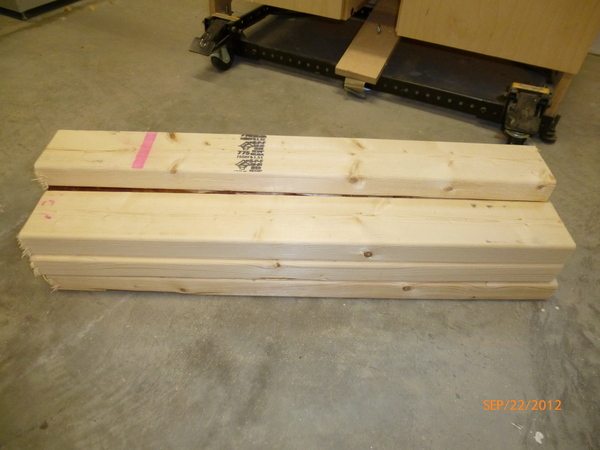 I totally got into the power tools. And let me tell you… it was fun. My mum was having a heart attack, my Dad thought it was no biggie and was off doing his own thing in the workshop, and I was happy as a clam.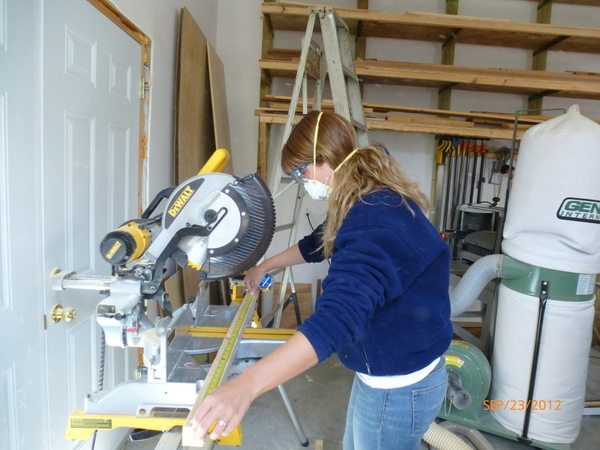 Don't forget to always use the right safety gear. I wore some glasses to protect my eyes from flying bits of sawdust and a protective mask to keep me from breathing in the particles (check out the 3M website for more safety gear: 3M TEKK Protection).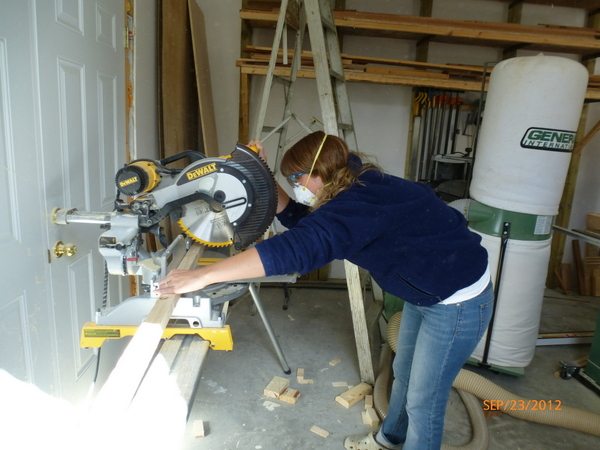 Feeling pretty proud of myself. (P.S. I need to remember to not wear such dorky clothes when I'm being photographed. Ignore the crocs, old jeans, and oversized  fleece, mkay?).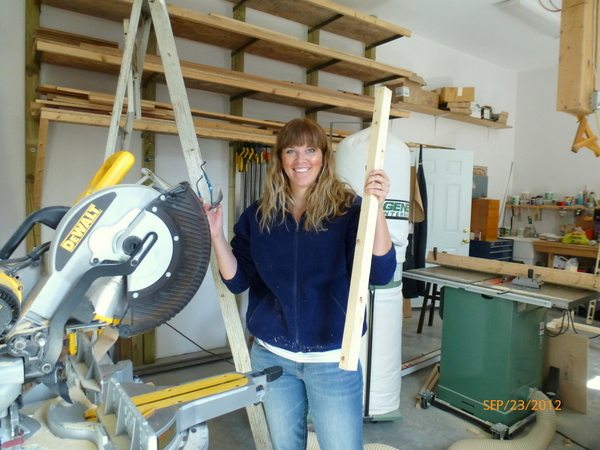 Getting the base built was fairly rough and tumble. We cut the pieces to size, notched out some areas, and then glued and hammered 'em together.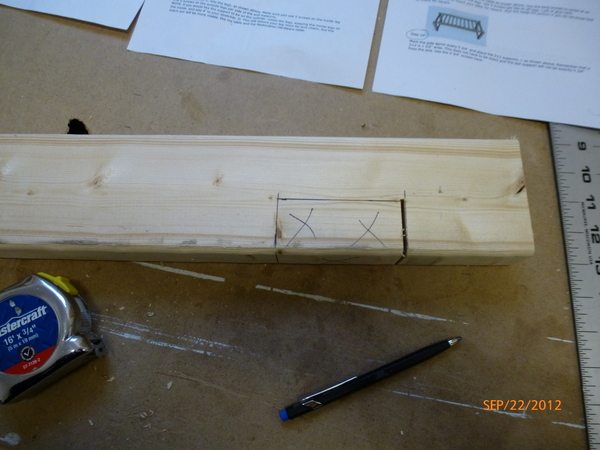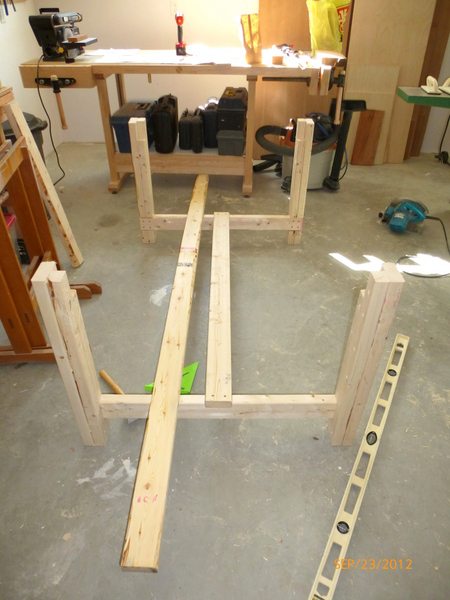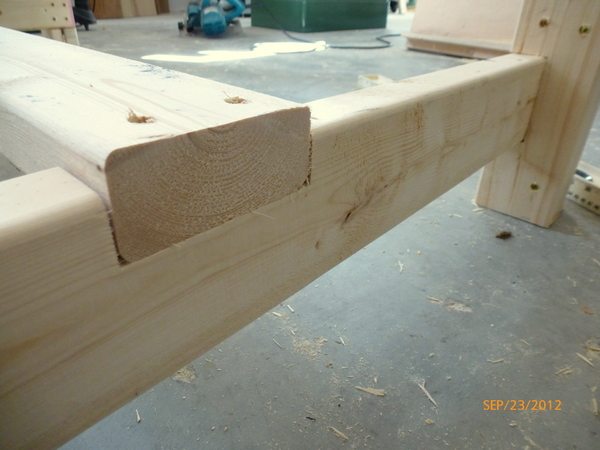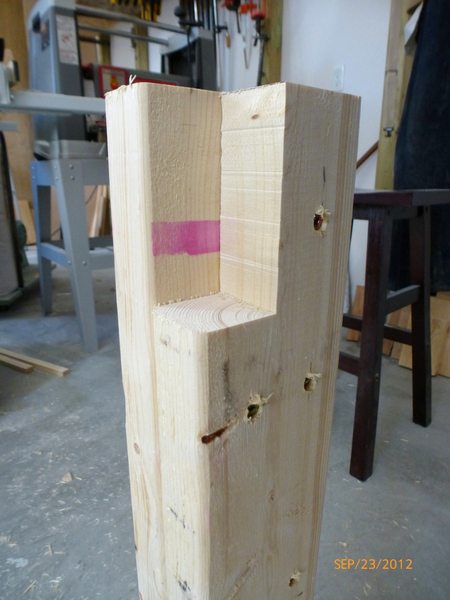 Once we had the base built, it was time to start the "apron". We did this slightly differently from the plans, where we just put the pieces right into the legs, rather than building the apron separately first. Oh, and here's my Dad!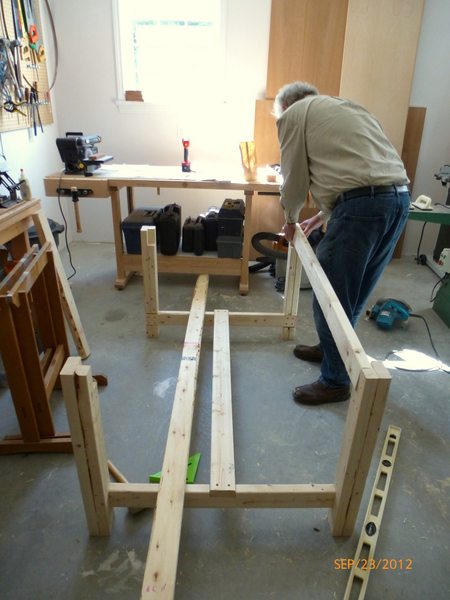 Then we added the supports all the way along the apron. This acts as the under-layer to the main table top.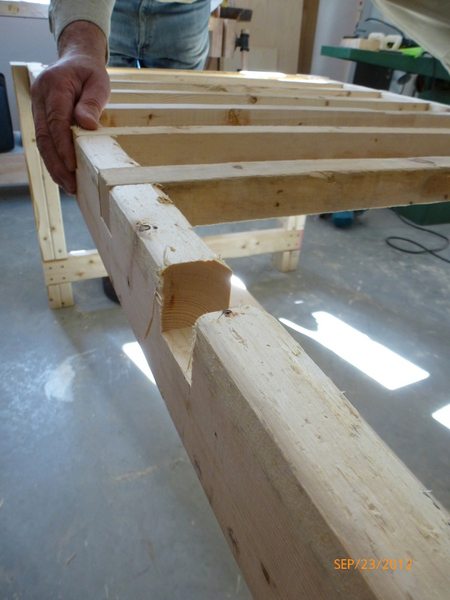 There were a lot of pieces, but once we got them all into place it really started to look like a table.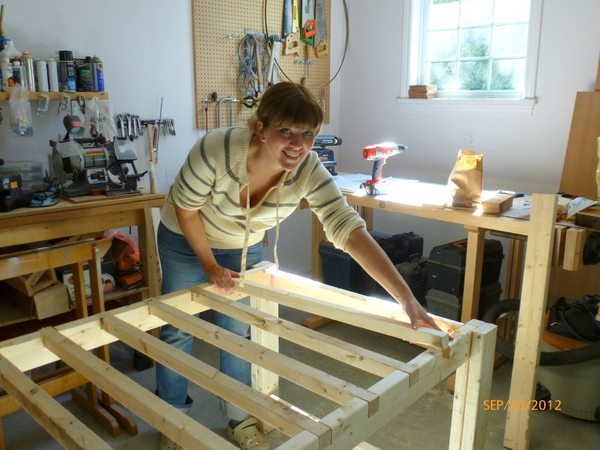 At this point we had added in all of the support, including the overhang supports (see the double pieces of wood on the edges?).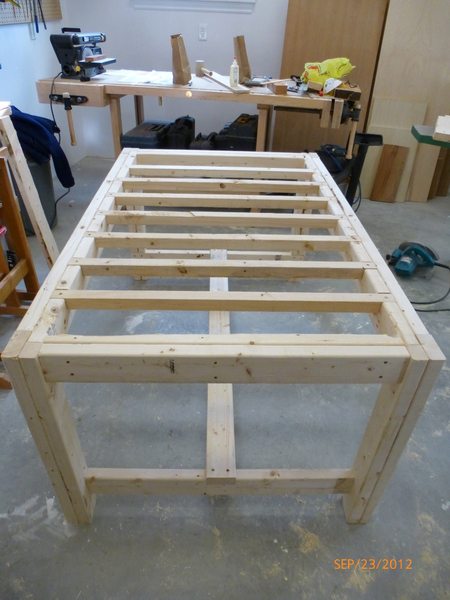 Then it was time to put the pine boards on top! Totally like the icing on the cake. Again, we did a bit of strategizing to get the boards to be a symmetrical pattern. You wouldn't want to start slapping on boards and then realize that you have to have a 1/2 board on the edge. Ours didn't fit the boards exactly, so we did a more narrow piece down the center.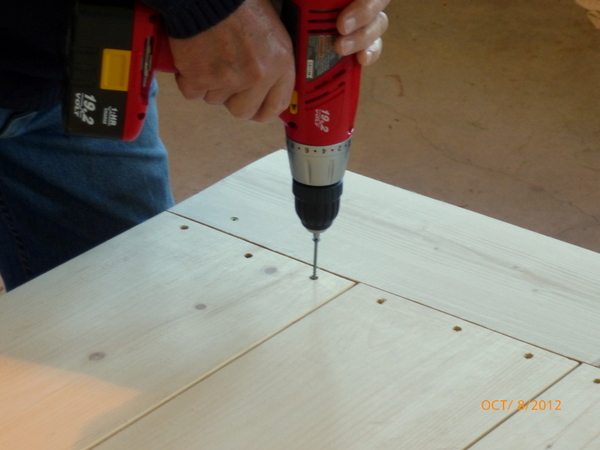 And here she is! My parents had come around and thought the table was nice, but were still sitting on the fence a bit. Not me. I was totally in love. This post doesn't give all the nitty gritty details about the how-to, so be sure to check out Ana's plans for all the deets.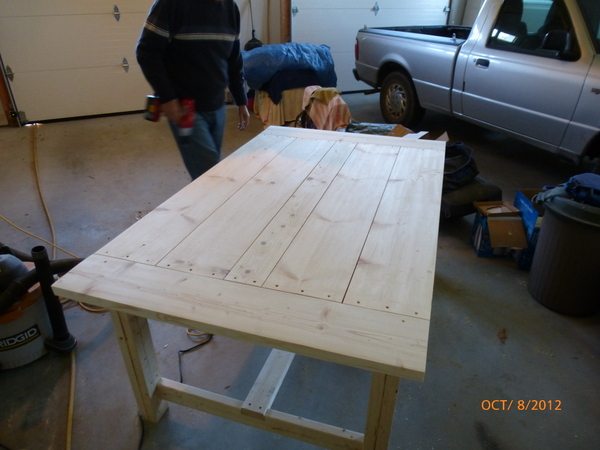 Up next? Sanding, staining, finishing. Click on over to these posts to see how we finished the table (spoiler: it turned out pretty darn great!):
>> Sanding & staining our DIY harvest table
>> The final "after" of our DIY harvest table
Have you guys built anything recently? Picked up a power tool for the first time? Ever tried any of Ana White's project plans?
Disclaimer: Some products from 3M were received free of charge for this project.