I love the holidays. Christmas, Easter, Thanksgiving, Hallowe'en, whatever. I love 'em all. I also adore holiday decorating. When I was a kid, I used to scheme about our Christmas lights for weeks (maybe months?) before the season was upon us, and I'm happy to report that our house won "best neighbourhood lights" at least 3 years in a row. We were like the Griswold's of our 'hood. I can't believe the stuff I used to make my Daddio do… love you, Dad!
I wanted to get our pad looking somewhat festive for Halloween, but with everything going on right now (is anyone else having the busiest fall ever? I feel like I haven't caught my breath in weeks!), I needed it to be quick and easy. Oh, and as per usual in these parts, budget-friendly. So with all of those things in mind, I decided to tackle our dining room table with some natural elements and dollarama finds.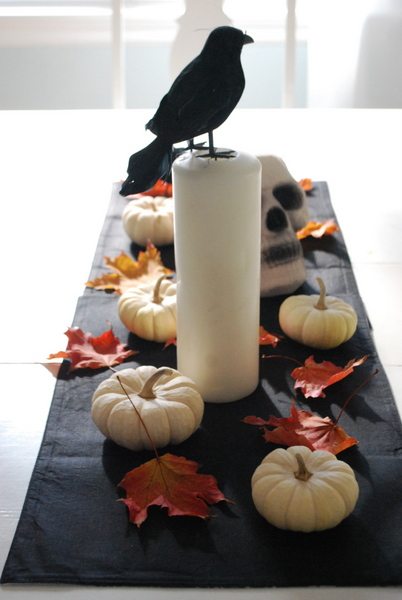 I took two of our placements that happened to have a black underside and put them on the table face down to get things started. Then I grabbed some of those small white pumpkins (I get them every year – they're so darling!), and some beautiful reddy-orange leaves from my stroll around the neighbourhood.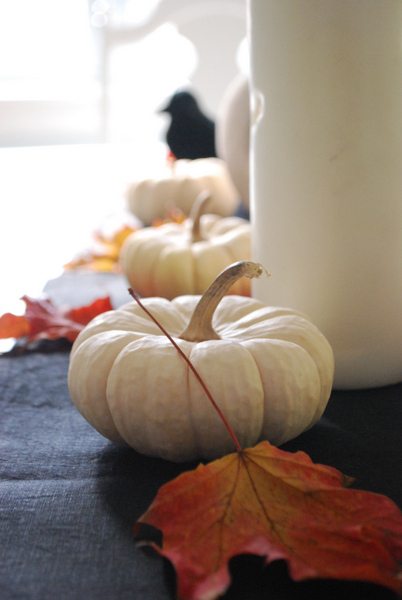 I took a trip to the dollar store to add a bit of ghoul factor, and came home with this skull and a couple of black ravens. For less than $5, how can you go wrong? Hubby was totally digging the spooky skull.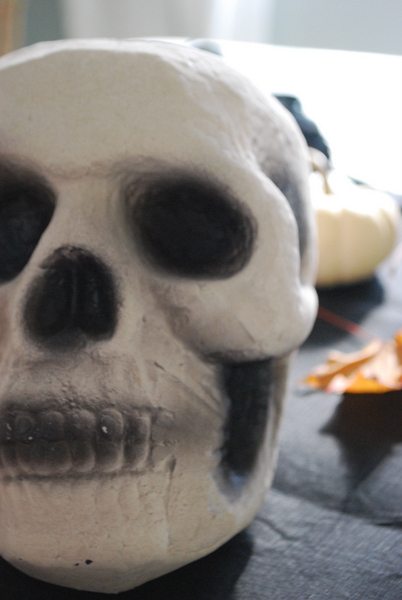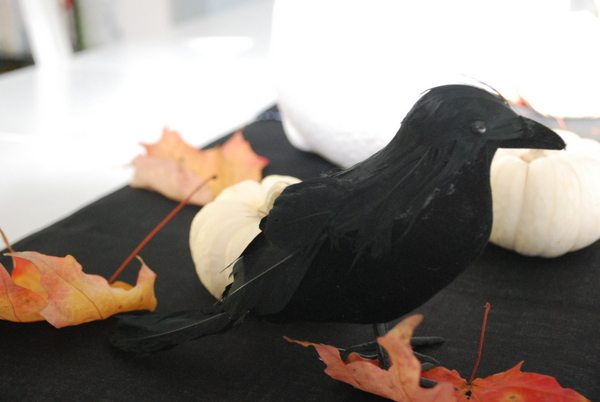 The tall pillar candle was just something I had hoarded away in our candles drawer, and it added some much-needed height. It would have been better to have 3 of these guys, but like I said, this was a budget-use-what-you-have kind of operation.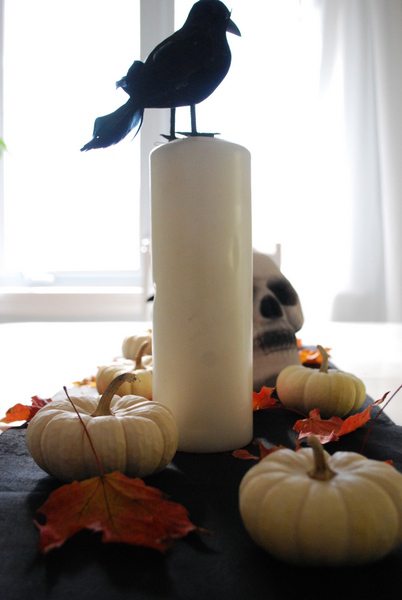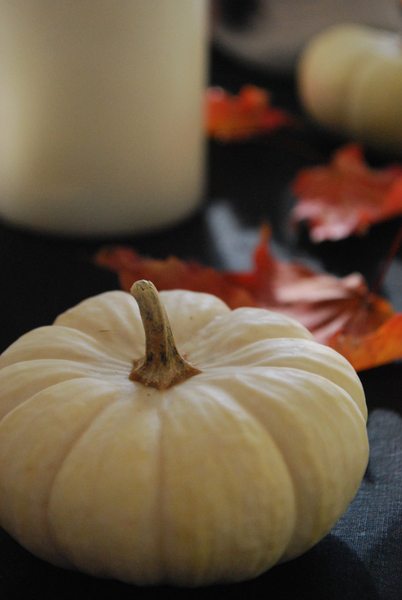 And that's it! It took all of 5 minutes to put together once I had the supplies. It's fun to glance over and see that skull looking back.. spooky!
Pin for Later!
What about you guys? Decorating for autumn or hallowe'en lately? Heading to any good parties, or out trick or treating with your kiddos? Any stellar costumes in the works? A few years ago, Dan and I went as a bee and bee-keeper, which was pretty successful. I wonder where that DIY yellow tutu went…