So on Friday you saw how we installed some new shutters on our little house, and I mentioned (among other tasks) that re-shingling our roof was on the to-do list.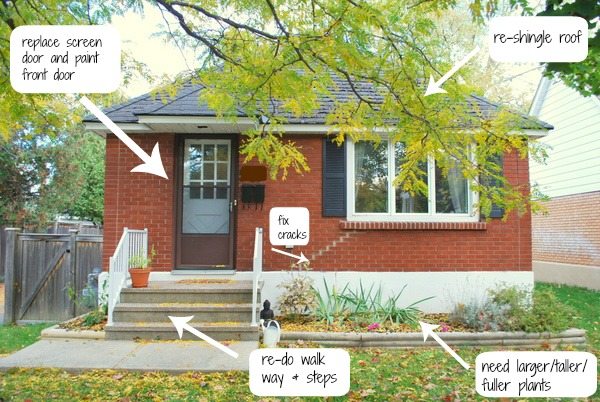 You can't see super clearly in the photo above how bad the shingles on the front part of our house had gotten. They were all peeling away and some had even flown off last spring with some gusty storms. Our garage, which is free-standing, was in the same condition and needed some serious re-shingling. See below how the shingles are peeling? Luckily though, it was just the front section of our roof and garage that needed re-doing. The two sides and back of the house were totally fine (you can also see a glimpse of the side of the house in the photo below).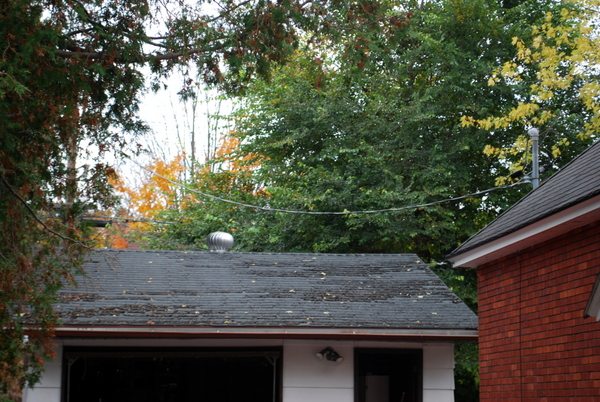 I'll let you in on a little secret that I haven't actually talked about on the blog yet. We're hoping that in a couple of years we'll be able to put a second story onto our house. We live in a neighbourhood that is super trendy and luckily the market in our area can take a bigger house. We're actually probably the smallest house on our street. This past spring, our neighbours put a second story on their house, and it looks fabulous. Needless to say, there is a lot of planning and penny pinching that has to happen before we can go down that path, and a fix of our foundation (I'll save that for another day!). What we are trying to do in the meantime though, is not invest too much money into things that would need to be torn down and re-done come second storey time. The garage roof was one of those things — we're hoping to knock it down and build a new one alongside the house (attached), giving us a way bigger backyard and additional building space above the garage. All that to say, that we decided to hold off on replacing the garage roof and just focused on the front part of our house. We're not getting any leaks, so hopefully it will hold up for another year or two.
Since it was only one side of roof that we were tackling, and because you know we like to save money wherever we can, instead of getting big roofing companies to come in and do the whole thing, we hired our contractor/builder/plumber/jack of all trades friend (the same guy who helped us with our bathrooom reno). He has a reasonable hourly wage, had all of the equipment we needed for the job, and is super skilled (he has built his own houses from the ground up!).
The whole thing happened in a day. Here is DIY Dan bringing shingles up. His job was to get the shingles out, cut to size if necessary, and haul up onto the roof.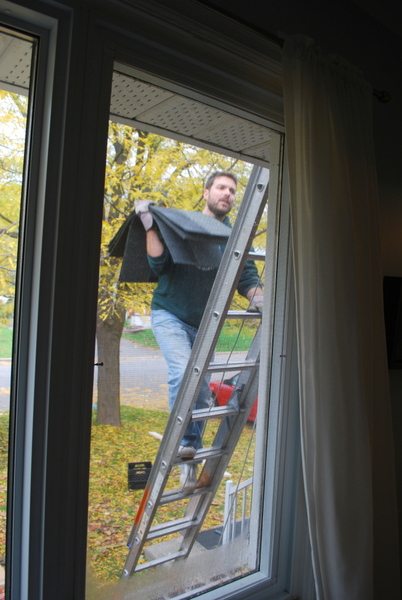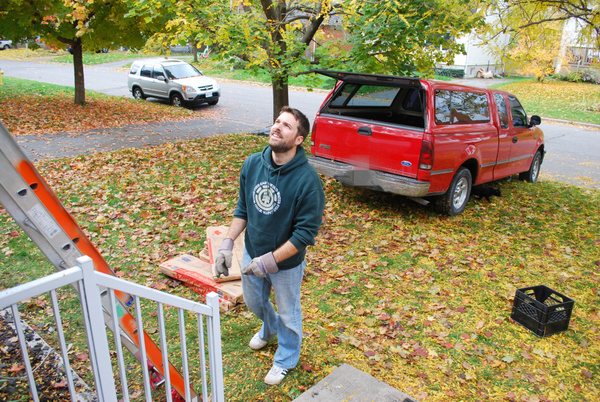 Then it was our pal's job (thank you, Daryl!), to hammer in the shingles one-by-one. This team effort meant the job was so speedy.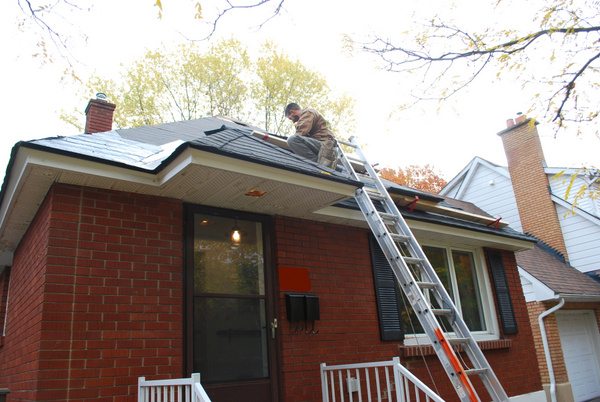 Luckily the under-pad from the previous roofing job was still in pretty good shape, so the boys just had to lay down a new piece of black base sheet on top (this stuff) and then shingle. We used lifetime shingles in charcoal from Home Depot (these guys).
After about 5.5 hours, it was looking good as new!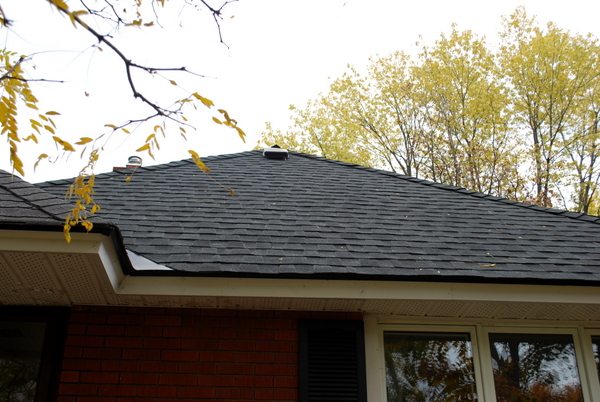 The shingles aren't exactly the same as the ones on the sides, but are only slightly different variations of charcoal. You can only tell if you're looking really closely.
Budget breakdown?
$220 in labour
$300 in supplies (shingles, under-lay, nails, etc) –> this may be off by a few bucks since we still have a return to do
$16 in rentals (for that big ladder)
TOTAL: $536
Not bad for a whole new roof front. It definitely would have been a lot more if we had gone with a roofing company, so we're feeling pretty grateful to know someone in the industry who we can hire on his own.
What about you guys? Had to do any roofing on your place before? It's not really one of those fun things to spend time or money on, but if you have ever watched any episodes of Mike Holmes, you'll know that all of the fun decorating stuff doesn't mean anything if you don't have the structural part of your house looked after!  Oh and has anyone done any huge renovations (like added a second story) onto their place? Any tips and advice are so welcome!