Okay, was that pun just way too cheesy? I said to Dan last night that I was trying to come up with a title for this post and couldn't stop thinking "just shut up, shut up" a la Black Eyed Peas, but that it didn't really make sense. So this one was what popped into his head. Serious giggles, some singing/dancing to Black Eyed Peas, and more bad puns ensued.
Alright, let's get down to business. This is our wee house early this spring. Please ignore the black (and later red-ish) squares over our house number. There is SO much we want to do to amp up our curb appeal, and we have sort of neglected it to date, other than planting a few things. We always get so busy in the summers with cottages and travel, that we aren't often home to get outside things done. One easy upgrade that I have been wanting to do for a long time was install some shutters.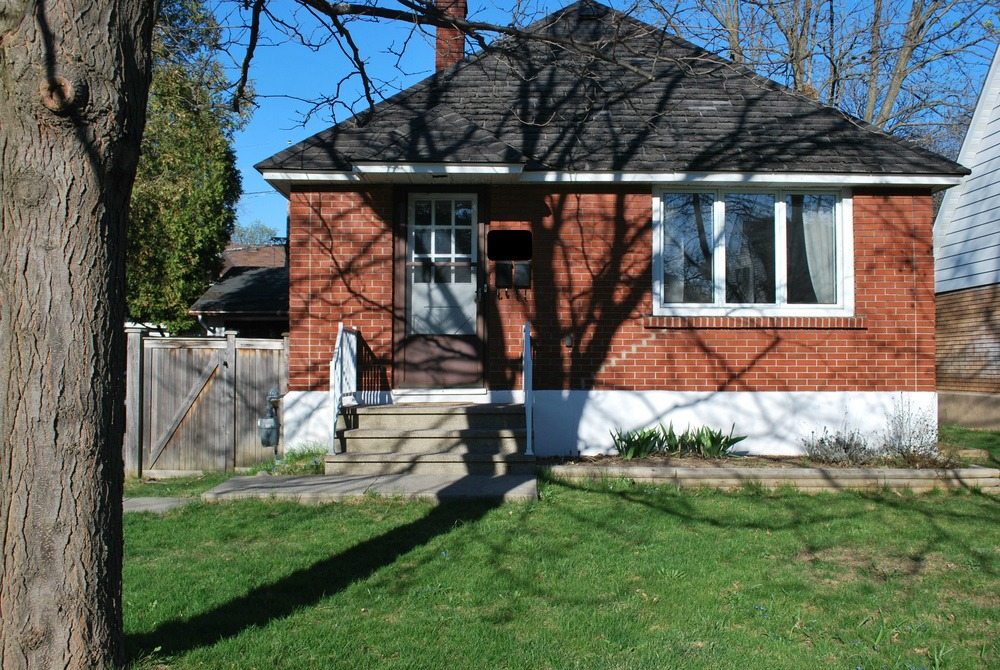 So when I saw these guys at Home Depot for $50, I scooped them up. They are a hard plastic, instead of the expensive custom wood ones, but look really good from afar and are paintable in any colour you choose.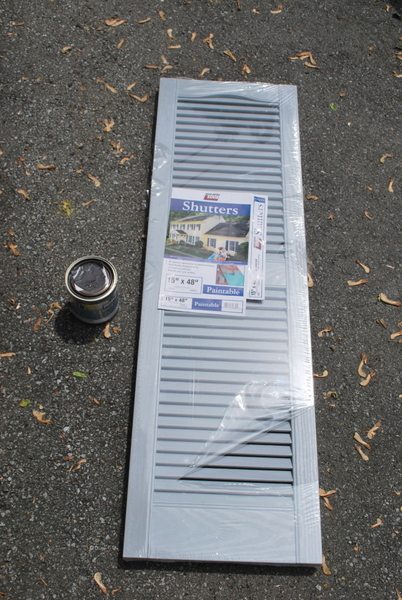 We held them up to make sure they were the right size, and then promptly left them in the back of our garage for the past 2 months. Whoops. Told you we weren't good at getting outdoor projects in the summer.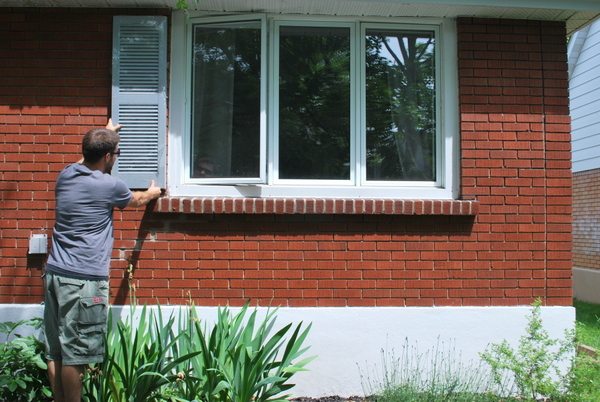 So I finally pulled them out and gave them a couple coats of black paint. I originally was going to use a can and paintbrush, but when I realized there were so many nooks and crannies in the shutters, spray paint seemed like the much more sane option. I used a high-quality outdoor/all-weather matte black spray paint and applied it in numerous thin coats. Definitely didn't want any drippage on my pretty shutters.
Then it was time to install. These things are actually super simple. You hold them in place, drill holes in all 4 corners and 2 in the middle on either side, and then tap the plugs in. Here is the play-by-play.
Drill, using a hammer drill and masonry bit: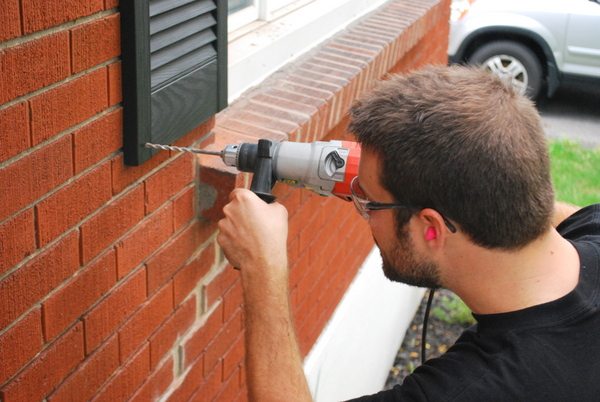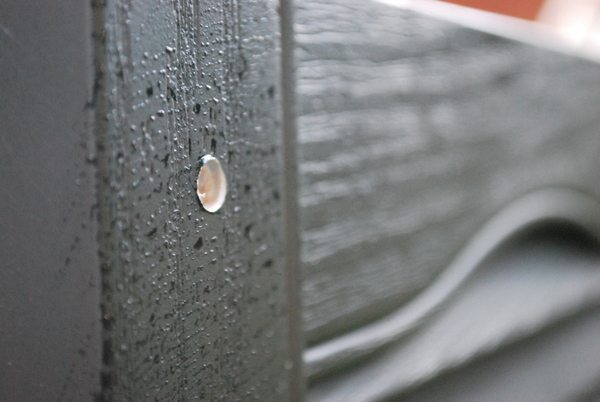 Tap, tap, tap: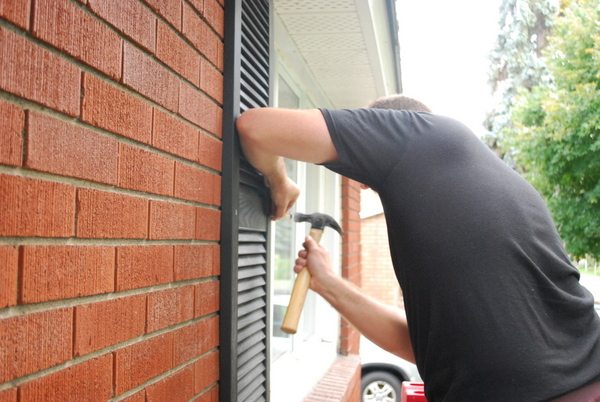 Done! Be warned that the drilling is super loud. Definitely not something you want to do at 6am on a Sunday morning. Neighbours might get a little cranky.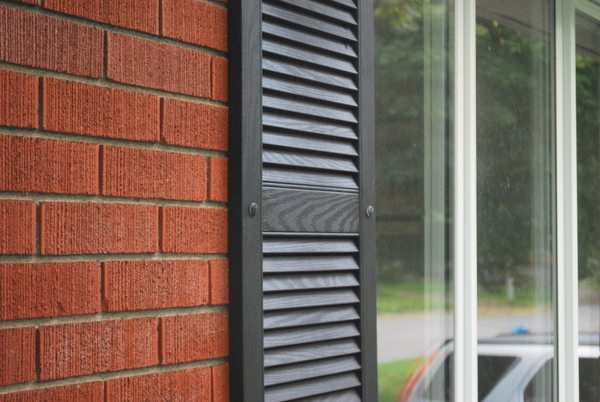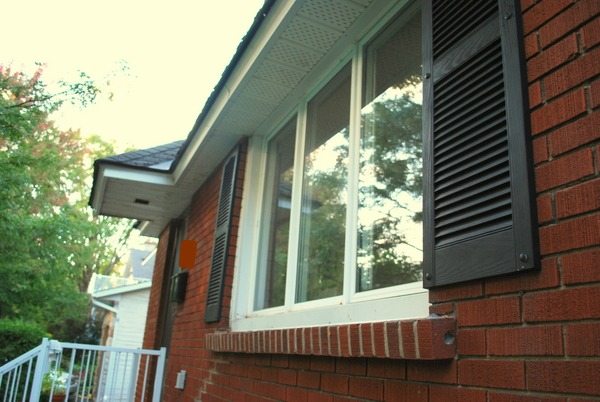 Here is the after shot. The shutters definitely add a lot more depth and character to our little pad. I'm bummed we didn't actually finish this project in the summer so that the house wouldn't look quite so shleppy in the after photo. We clearly need to do a bit of raking and the plants in front are looking pretty sad. But the shutters are so much better, huh?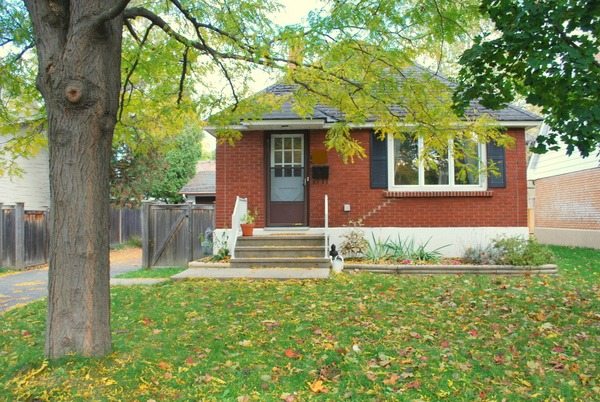 And of course, there is SO much we still need to do out here. Sigh. That ugly brown screen door next to our new black shutters totally makes me cringe.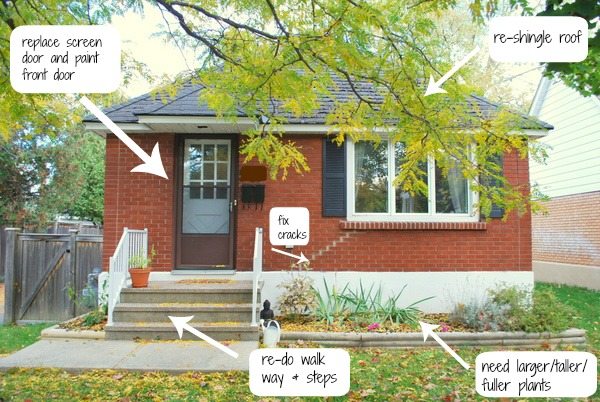 Most are cosmetic, except for the whole roof re-shingling thing. It's actually on the schedule for this weekend. Will let you know how it goes!
Have a good weekend, everyone! Got anything fun planned? Probably won't be as exciting as our roof work (ha!)! And last week's giveaway winner was announced – go check back to see if it was you!