Alright guys, it's time for nursery planning. Obviously I have been scheming about this room since we found out we were pregnant (well if I'm being honest, I was dreaming about it before then too!). Check out this post for a bunch of my inspiration nurseries. There are so many sweet ones out there!
Since our pad is pretty little (reminder: we have 2 bedrooms on our main floor — we rent out our basement which has the 3rd bedroom) – we're converting our current office-come-guest-bedroom into the nursery. Well actually, it's going to be an office-come-nursery. There isn't anywhere to move all of our office paraphenalia, so we need to keep some of it in there.
Here is a look at what the room currently looks like. We've got the single bed, the long desk, and all of our files.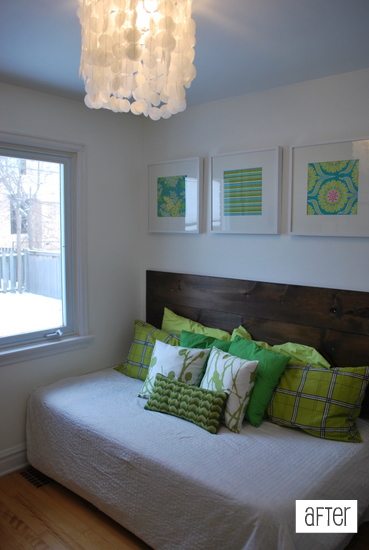 We have moved most of those files down into the basement when we created our new and improved storage space (see that here), so in terms of office stuff that needs to stay, it's the desktop (that one big screen), some computer components, and a drawer or two for supplies (you know, post-its, stapler, hole punch, etc). We are going to store our laptops out in the living room from now on and get rid of the phone that's in there.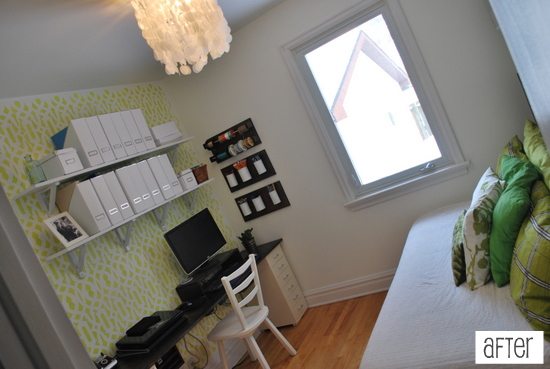 Time to move everything out and start over. I love starting with a fresh space! I have decided on a scheme for this little gal's room — pink, minty green, a little grey, and a hint of gold. Oh and lots of white to keep it bright and airy. Here is a moodboard to give you an idea of what I'm thinking.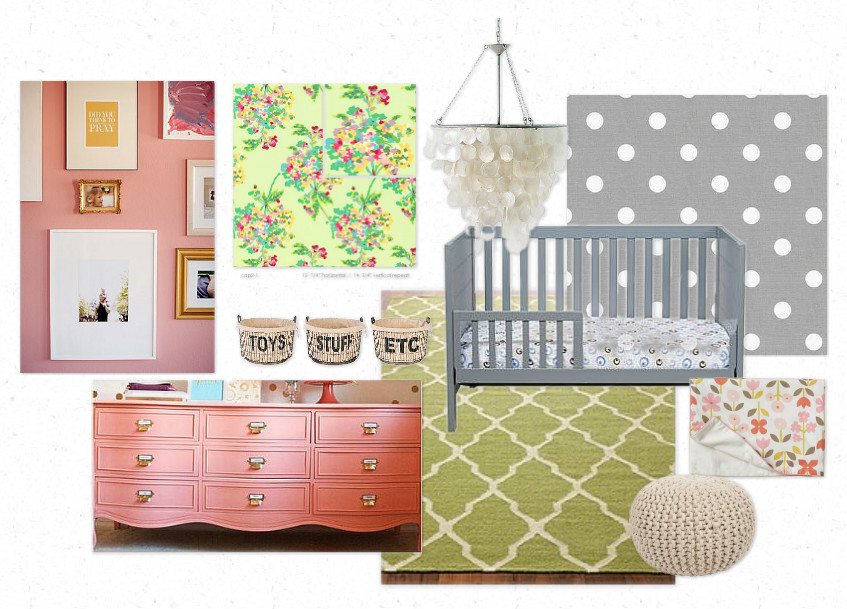 See that grey and white polka dot in the upper corner? It's a fabulous removable wallpaper from new company – Chasing Paper. Yep, removable wallpaper. As in, no paste or complicated application to deal with. Wouldn't it make a gorgeous accent wall?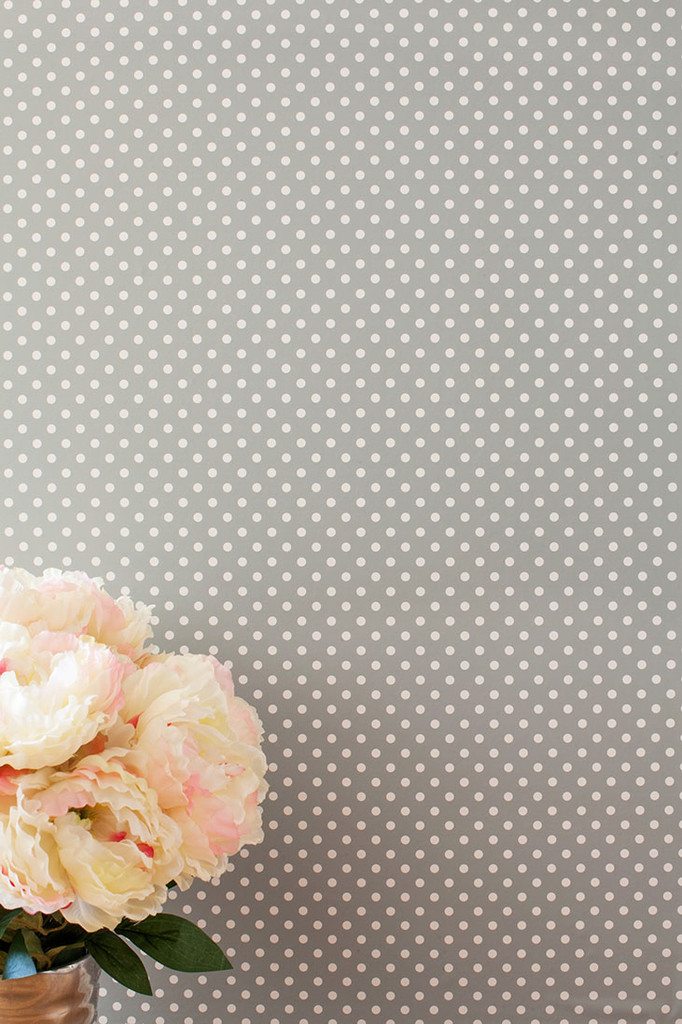 As for where we'll keep those few office supplies, we have picked out a budget-friendly IKEA desk – the Micke desk for $99. What we like is that it hides the computer components in that one cabinet, has a thin drawer for supplies, and doesn't look heavy or dark. Plus, the dimensions are perfect for our little room — this guy will slip in beside the window, giving us more space along the wall where the desk currently is for a dresser.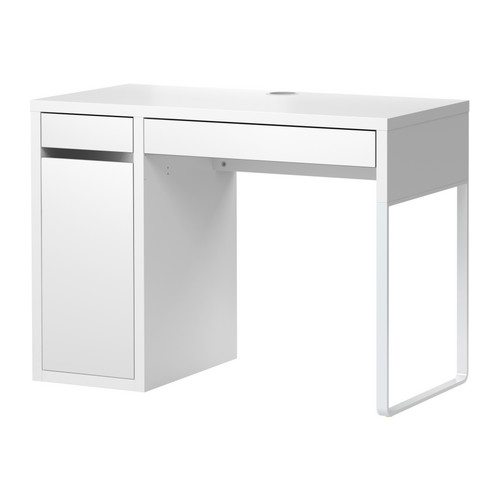 Speaking of dressers, I'm hoping to snag a used one off Kijiji or Craigslist and give it a coat of pink paint. With some gold hardware. Kinda like this guy that I spotted here.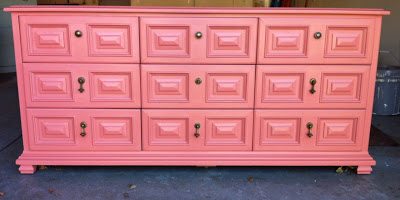 Oh and did you notice the green trellis rug in the moodboard? I've grown a little tired of it in our living room and it's really cushy (perfect for baby!), so we're thinking of moving it into the nursery and throwing down something more neutral and durable in the living room. It'll be one of those move-it-in-and-see-how-it-looks situations.
And of course there will be a lot of fabric in the room – a roman blind, a curtain panel instead of closet door (to save space in the room), a crib skirt, etc. Here are some of the fabrics I'm totally crushing on.
This Amy Butler fabric – Love Water Bouquet in Mint: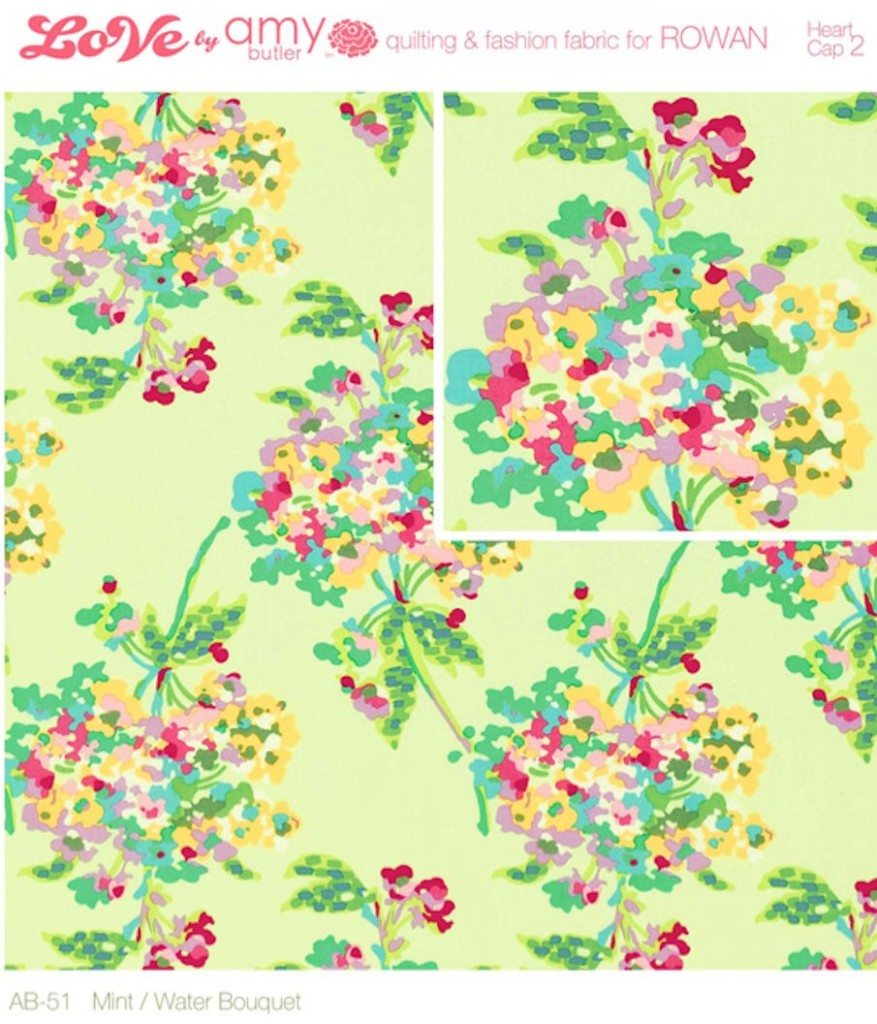 And this Amy Butler beauty – Love SandleWood Tangerine: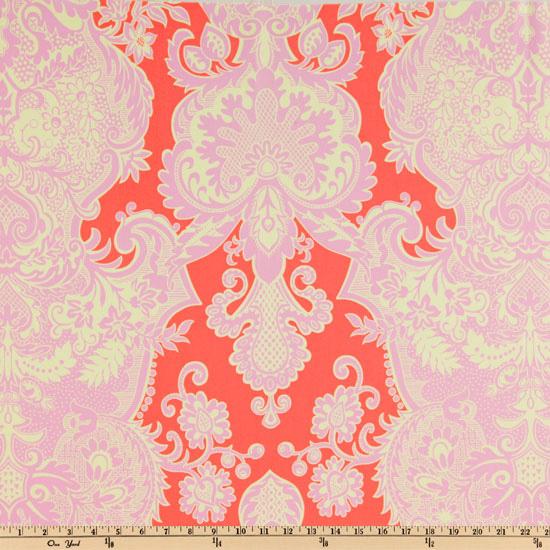 And how gorgeous is the Sakura Blossom from Tonic Living?!: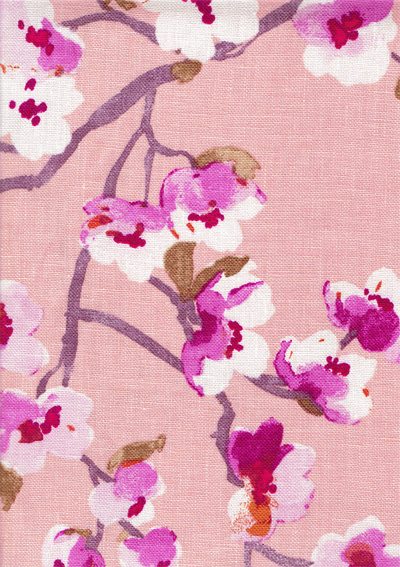 We have slowly been starting on the room over the last little while. We sold the bed, took all the art down, patched the walls, and have started to disassemble the old desk.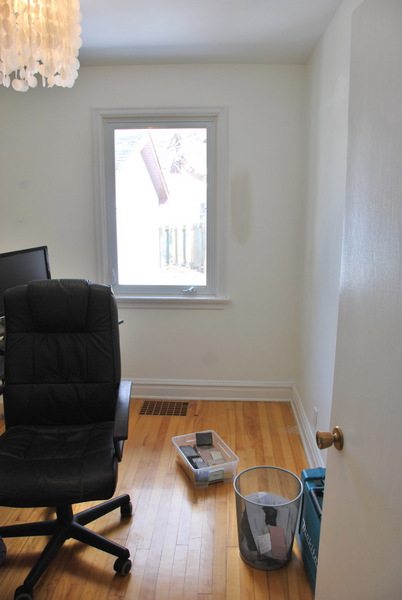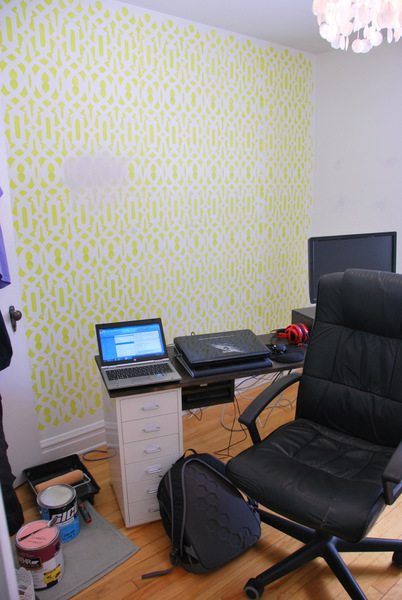 Oh and did you notice those patches of paint on the wall? Well I was trying to decide between going with a crisp white versus a light grey on the walls (both of which we already had leftover from other projects). The crisp white is the winner – it will allow the rest of the colours to pop and help keep the room feeling really bright and fresh.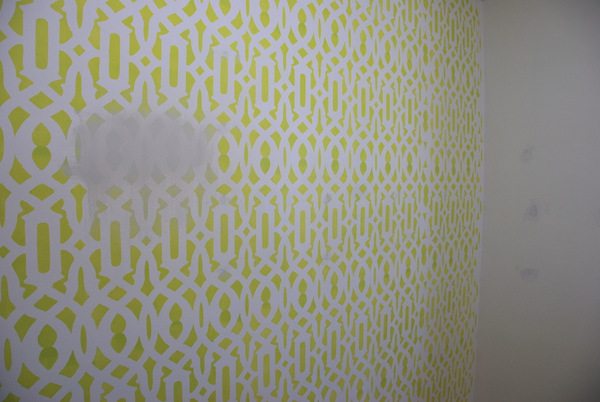 So here is the to-do list:
-paint room + closet
-install Chasing Paper wallpaper on feature wall
-put together new desk and organize office supplies
-get new office chair (maybe one that could double as 'nursing' chair?)
-closet: paint, build shelves, organize with baskets, remove door and hang curtain
-find used dresser and paint it coral (add gold hardware) + put change pad on top
-buy and put together crib
-move in rug
-make and install roman blind
-build and install book shelves on wall
-install shelves above desk
-hang artwork
-add accessories
-add storage for toys and laundry
I'm ridiculously excited about this room. I don't want to jinx it, but I'm not going to be surprised if it becomes my favourite space in the house. Stay tuned as we tackle it project by project!
What about you guys? Any favourite nurseries or kids rooms that you've seen? Got any tips from doing kids rooms yourselves? Any must-have items? I'm all ears!