Have a toddler in the house?
I thought I'd round up some of our most-favourite toddler-aged toys in case you're looking for some ideas for the holiday season.
These are all either things that we already use and love, or stuff that I have purchased and hidden away for Maya for this Christmas. The ultimate list of toddler gift ideas!
*Affiliate links have been used. Please see our policies page for more info.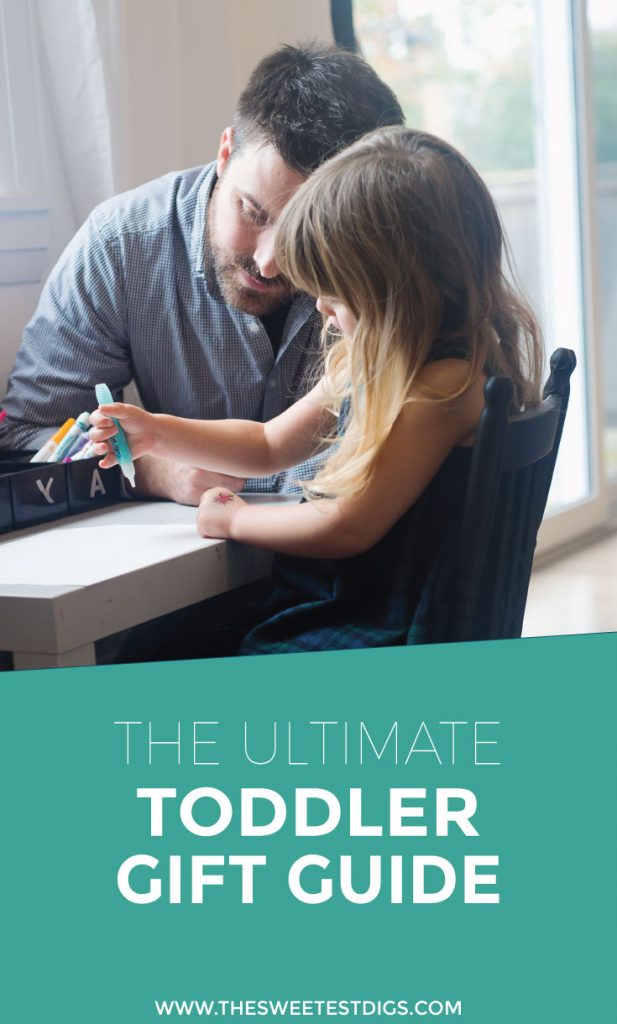 Doctor Kit
Playing doctor is a pretty regular event in our household. This Doctor kit by Hape is awesome.
We got it for Maya last year and it is still a favourite toy that she pulls out on the regular. I love it because it's actually really cute and isn't a junkie plastic set (the components are either wood or a strong plastic, and the bag is canvas).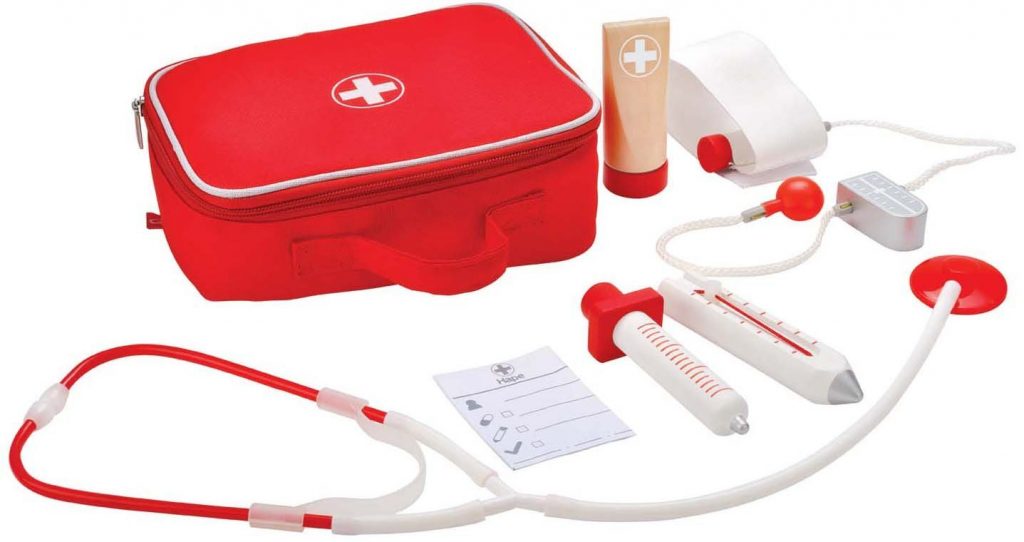 Science Kits
My Dad is a geologist and my Mum is a geochemist, so I feel like it's my duty to get the experiments and labs started early around here.
One option is to put together science kits DIY style. For example, making a "volcano kit" would be pretty easy (just google the supplies you'd need!), or just a general "lab kit" which would have things like baking soda, vinegar, cornstarch and other stuff to make goo and various potions.  It totally doesn't have to cost much money! Plus, then you get in on the fun of doing the experiments with your kiddo.
I'm planning on putting one of these together for Maya for Christmas. Then we can do endless experiments on the weekends – fun!
If you don't want to go the DIY route, there are ready-made kits out there too (here are a bunch).
Play Kitchen & Accessories
A toy kitchen is a classic. We have a Hape kitchen that I doctored up with gray, black, and white paint to match our own kitchen. Both Maya and James love playing with it. Plus, it's a great distraction when I'm trying to get dinner on the table!
I have added quite a few different food accessories to the kitchen over the last few years and have some all-time faves:
(FYI – the two things that we've bought that don't get played with as much are the IKEA felt food and these food cans – even though I think they are *adordable*!)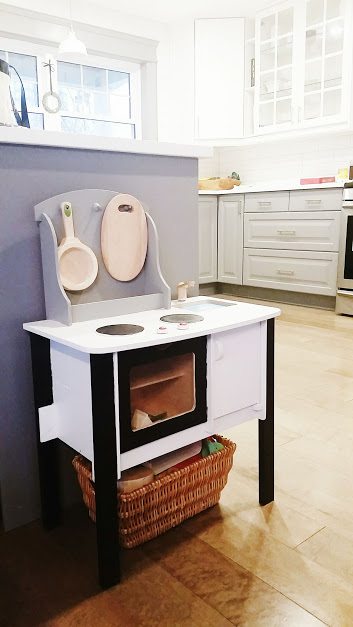 Teckno Newborn
I don't have many battery-operated toys in the house (trying to keep my sanity, folks!!!) but I broke my rule this year and am giving Maya one of these Tekno newborns.
I get approached by a lot of companies at Christmas time to include products in my gift guides, and this was one of the few I actually accepted this year. I think these little kittens and puppies are just really sweet. They are teeny tiny (fit in the palm of your hand) and do all kinds of fun things like respond to commands, sit, stand, jump into your hand, sing, and more. They retail for $24.99.
Maya likes animals and being a care-taker, so I'm thinking this can be like "her pet" — I'm pretty excited to see her open it on Christmas morning.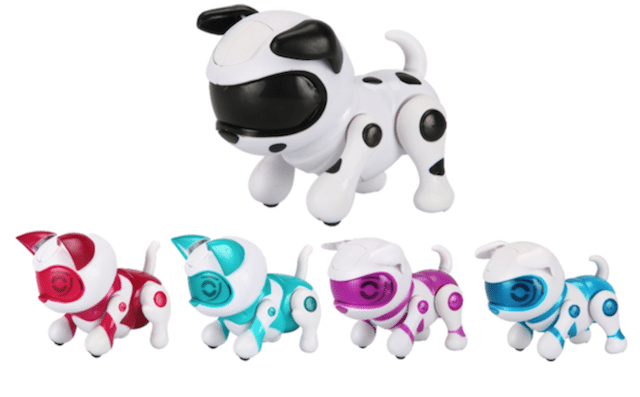 Want to win one of these little guys? I've got one to give away (Open to Canadians only)!
[giveaway id=20426]
Play Stroller & Accessories
Another one of our favourite things around here is our doll stroller. Maya regularly gets a doll or stuffed animal all set to go, packs up a bag, and wheels her "baby" around "the shops". It's pretty hilarious. We also have a melissa & doug doll diaper bag. Both total wins.
Personalized Gifts
Anything personalized with a kids name or picture can be all kinds of exciting. It makes it feel like it was made JUST FOR THEM.
We have ordered photobooks, kids plates, ornaments, and so much more from Shutterfly and I'm back at it again. This year I ordered a few personalized gifts for kids that I can't wait to get in the mail.
Maya is definitely entering a bit of a "princess phase" and loves Frozen. Although I partly want to rebel and only get her trucks and science kits, I also don't want to ignore the fact that this is just what she's into right now. So, I customized a Shutterfly puzzle that has Anna and Elsa from Frozen, right alongside a big picture of Maya. I have a feeling she's going to DIE when she sees it.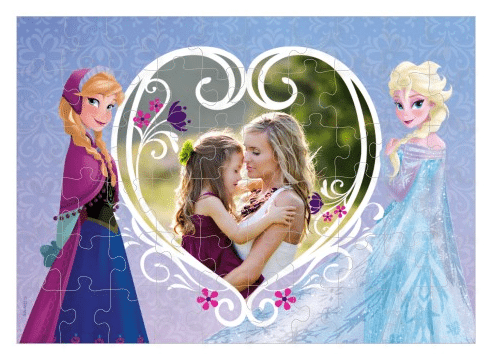 I also made a custom deck of cards for a secret santa gift for our nephew, and this memory card game for some other close friends of ours.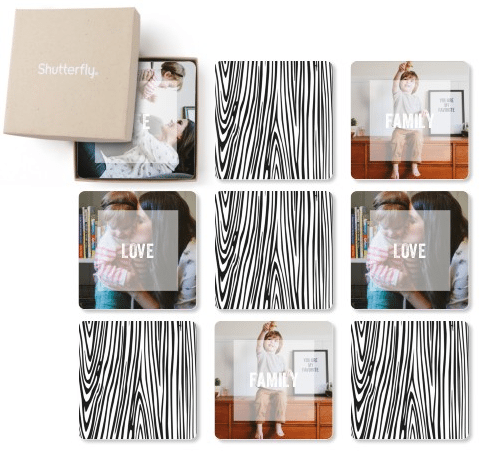 There are so many great options. Head on over to Shutterfly to check them out (plus they have some sweet sales going on right now!!!)
Craft Supplies
Maya has gotten really into colouring and crafts. Putting together a kit of craft supplies can be an awesome gift. You can just head online or the dollar store to grab a bunch of things like paper, kid scissors, glitter glue, pom poms, googly eyes, etc!
One of my favourite things was a trick from my girlfriend – you load up a large cutlery style tray with craft supplies to easily pull out for them to use! Tuck it away in the closet when not in use, and just re-fill with new craft supplies when it's getting empty. We use ours every day.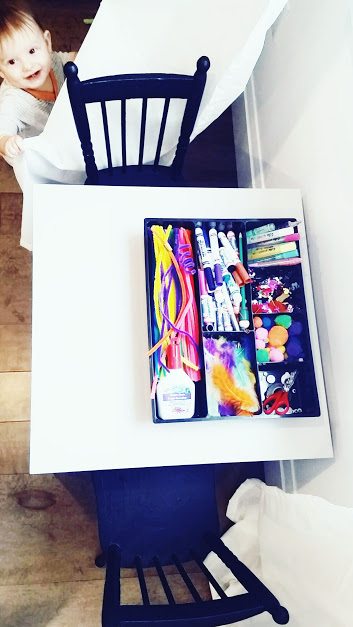 Dress Up Box
Our dress-up box is another HUGE hit around here. It's basically the Saturday and Sunday morning activity of choice (while mummy and daddy drink coffees on the couch!).
My Dad made a wooden box for us (very similar to this one) that I painted and stained.
Then it's just a matter of collecting things for it. I have built up a collection over the last year or so – either hand me down stuff, or things I came across at a thrift store, or on a major sale somewhere. You don't need to shell out tons of money to create an amazing dress up box. Just get creative!
Books
And last but not least are books. A timeless gift that I feel like both kids and parents always appreciate.
Building a great library is so awesome. A few of the books we're reading on major rotation right now with Maya are Dragons Love Tacos, The Book with No Pictures, and Llama Llama Red Pyjama.
I've ordered a bunch more for her to open up on Christmas morning! Kinda nice for Mum and Dad to have a bit more variety at bedtime, too.
What about you guys? Any favourite go-to toddler gifts? Drop 'em in the comments below!
And don't forget to go enter the giveaway to win a Teckno Newborn!