I feel like this pregnancy is whizzing by! Weekly bump shots? Hmm, it's been more like a pic every 3 weeks if I'm lucky enough to remember. Designing and decorating the nursery? I have a design plan in my head, but NOTHING has happened in that room yet. Writing in my weekly pregnancy journal? Whoopsies. It's not that I'm any less excited about this pregnancy than I was with Maya, but man there just is not enough time in the day, particularly when there is a spunky toddler running around!
One thing I have thought about, though? How to dress for this pregnancy without breaking the bank. Maya was an August baby, which meant I was heavily pregnant in the warmer months and could get by just a few maternity tank tops, flowy dresses, etc. This time around, the baby is coming mid-winter. I'm pretty happy that I won't have to be 9 months pregnant and sweltering in the humid weather (I definitely felt like I missed that whole summer when Maya was born), but I do need a few extra clothing items this time around. I really didn't want to have to go out and blow a bunch of money on maternity clothes though, because although they can be cute, you really wear them for such a short period of time. I would much prefer to save that money to go on a bit of a shopping spree AFTER baby has come and I want to feel good with some new outfits. So, here are my top 5 essentials for a winter pregnancy wardrobe on a budget.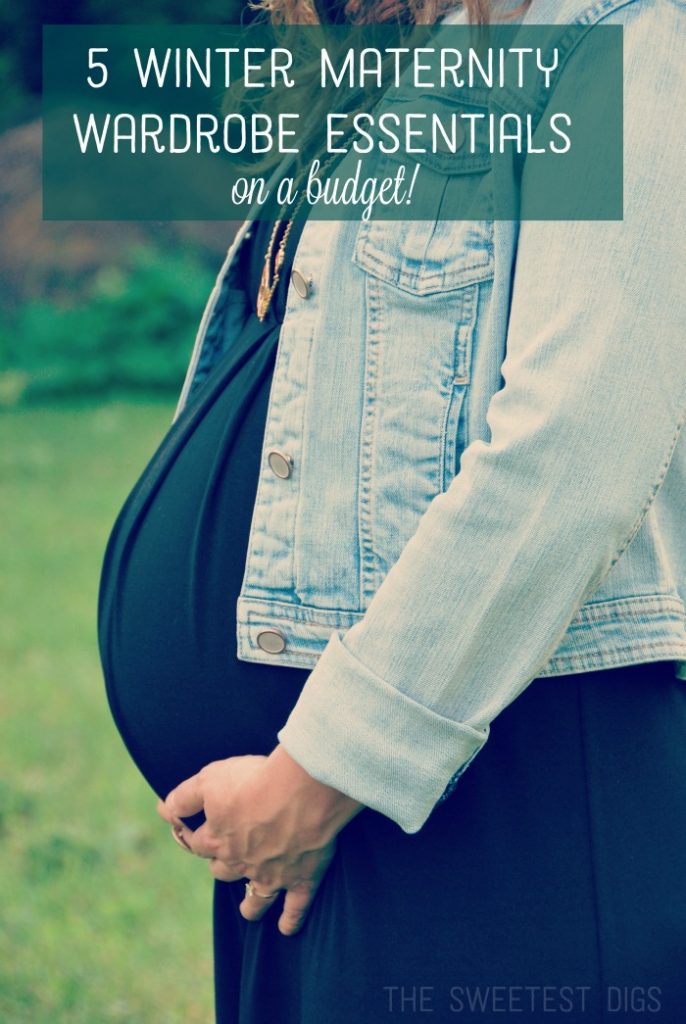 1 // Skinny jeans. Leggings are fabulous and all (and I'll admit, who doesn't love the comfort factor?) but a really great pair of skinny jeans is where it's at in my opinion. They are warmer, can be dressed up and down, and frankly, your ass will look better in them. If you have bangin' legs and bum then rock those leggings, but I know I feel a little self conscious about my upper thighs, particularly when pregnant. I bought this one pair of distressed denim skinny jeans from H&M that have been my go-to throughout the pregnancy so far and this one pair of skinny black pants. Between the denim and black, I'm totally set for just about any outfit and style. The reason why I say to go with the skinny style is because a) they are easy to tuck into boots in the cooler months, and b) when your tummy is getting large, your legs naturally look leaner and you want to show those bad boys off! Even if you think skinny jeans don't usually suit you, I promise they will be flattering when you're pregnant! In the warmer months I would be partial to some boyfriend style jeans, but they aren't as practical in the winter.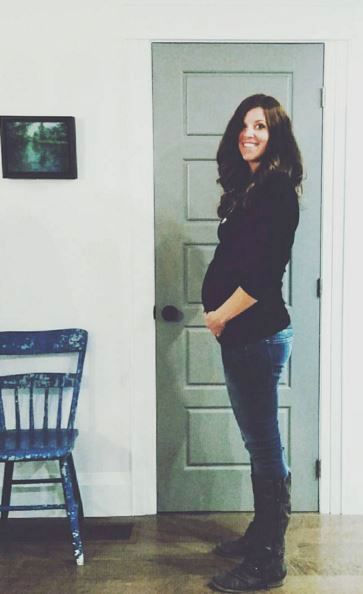 2 // Short & Long Sleeved Tops in neutrals. Here is what I have found with dressing the bump in winter. I haven't gone out and bought maternity sweaters AT ALL, instead I have been living in a few key neutral shirts and layering cardigans and blazers on top. I have about 5 really great 3/4 length or long sleeve tops in black, greys, and one blue, and a few tee-shirts in black, grey, and white. Then depending on the weather, I just add one of my non-maternity cardigans or sweaters on top if I need to. When it was still a little warmer, I would layer on a blazer or my leather bomber instead of a cardigan and be good to go (neither of those being maternity — I just wouldn't do up the buttons!).

3 // Cute boots. Having a few different boot styles is going to be how you can change up your look. Stick with flats or barely there heeled boots – you want to be comfortable, you guys!! You are carrying around a human, after all. I have tall gray boots, short brown leather ankle boots, some knock-off Ugg boots, and a pair of Sorel boots for when there is a bunch of snow on the ground. All give my outfit a different look, so they are great to switch up. And obviously boots aren't maternity specific, so adding some to your collection isn't going to last only those 9 months.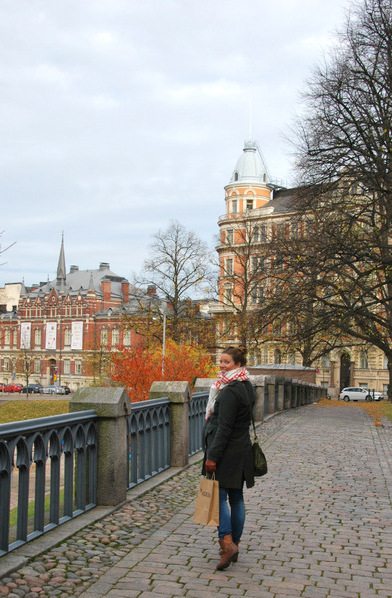 4 // Jacket Extender. Ahh, winter coats. If you live somewhere cold, you really need to be able to do up your winter jacket and stay warm. I really didn't want to have to purchase a maternity jacket, knowing that I would be wearing it for only one season (possibly two if I were to use it for baby-wearing next winter) – so expensive! BUT I didn't really just want to borrow one of Dan's jackets or get something ultra cheap at the thrift store either. Plus, I love my super cozy North Face black winter coat that I wear every year. The solution? I came across these jacket extenders that allow you to make your existing jacket fit while you're pregnant, and can be used for baby-wearing too. Win!
I looked at a few different options, and was impressed with the 'Make my belly fit' brand. The product looked great, price point was definitely reasonable at $68, and I love that they are Canadian (out of Montreal) and a small start-up by a Dad who had lost his winter coat to his pregnant wife. I ended up getting in touch with them and they were kind enough to send me an insert to test out.
The only tricky thing is making the zipper work with your current jacket. Basically you just need to look at your zipper and send them a few pieces of info (they walk you through the details of what to look for), when you place your order. My coat was super straight forward and they knew exactly which product to send.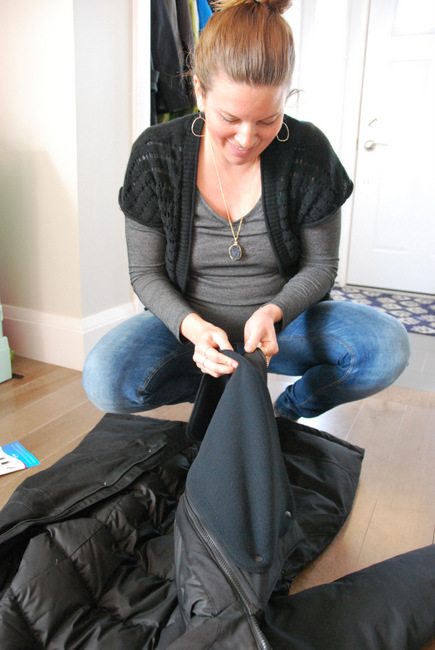 Inserting it into the jacket was ultra simple and you can get a warmth layer to add on for when it's extra chilly out (I recommend this! It's cozy and lovely and only an extra $18…).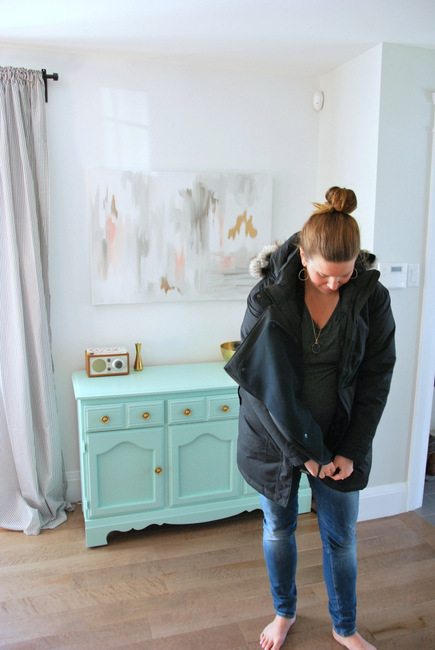 Obviously I haven't put it through the trials of a full winter yet, but I can say that it feel great in my coat and I love that it's so adjustable for me as I get bigger (!!), and then in order to put the jacket on top of us both when I'm baby-wearing. So for less than $100 you can have a great maternity and baby-wearing jacket, and then even sell the insert used when you're done with it (those things sell like hot cakes at mom-to-mom sales!).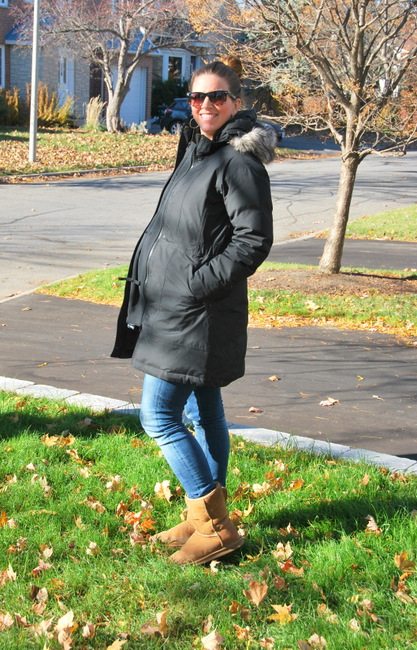 Also, if you happen to watch Dragon's Den Canada you might have actually seen 'Make my belly fit' on there the other week. They did so well with their pitch and got the investment. I have a feeling they are about to explode on the marketplace. Congrats, guys!
5 // Accessories. This is where you can add diversity to your outfits so you don't look like you're living only in neutral colours your whole pregnancy. Plus, accessories clearly are not maternity specific so these can be things you had before getting pregnant, or something nice you can treat yourself to (you deserve it, lady!). Add a pretty infinity scarf, layer on some gold necklaces, throw a hat on to complete the look, whatever. I feel like if you have a lot of fun accessories to choose from, it means that you don't feel the urge as much to want to buy new maternity clothes. I keep track of my faves on my "shop etsy" page here.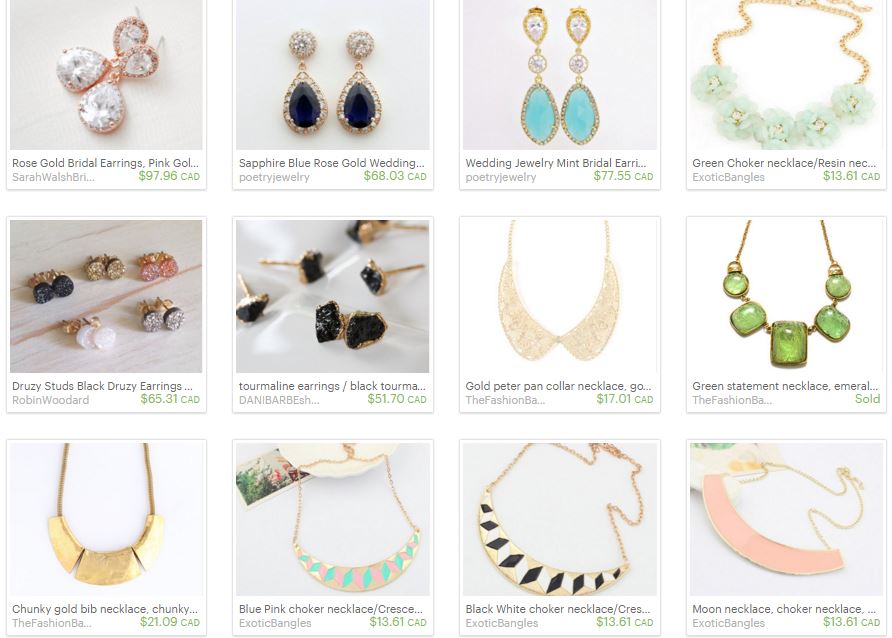 Want more inspiration? Come follow me over on Pinterest. I have a fashion + hair board… which has all kinds of pretty stuff. I love to look at outfits like this and figure out how I can make it work on a budget.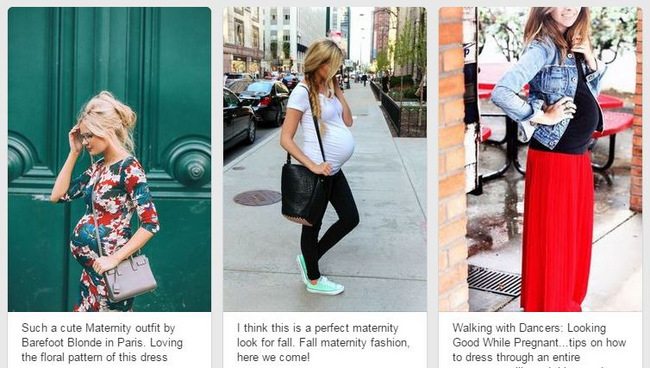 Any of you gals pregnant? Have some go-to items in your maternity wardrobe? Anything essential that I missed? 
Disclosure: I received the Make my Belly Fit product free of charge, however was not paid in any way to write this post. All opinions are my own.