I don't know about you guys, but I am definitely starting to think about the holidays. I am itching to get out our decorations, make new ones, get baking, and have a running list on my phone of gift ideas. Anytime I hear Dan or anyone say something like "Oh, I need a new ___" , I quietly take out my phone and make a note. Or if I'm inspired by a handmade gift idea, I'll jot that down. Doing that for a few months before the season starts up means that I have this great list of ideas to pull from.
Y'all know I adore supporting the maker community and buying beautiful, one of a kind items. If you have ever been to the Toronto One of a Kind (OOAK) Show, you'll know that it's jammed with all kinds of amazing stuff made by Canadians. I have been going to the show since I was a kid. I even have a few friends in it this year who I know are going to rock it.
You can actually buy a lot of the maker's items online, as they have started an online marketplace. I have rounded up my favourite 20 items here. You can shop my picks here. There should be SOMETHING here for everyone on your list.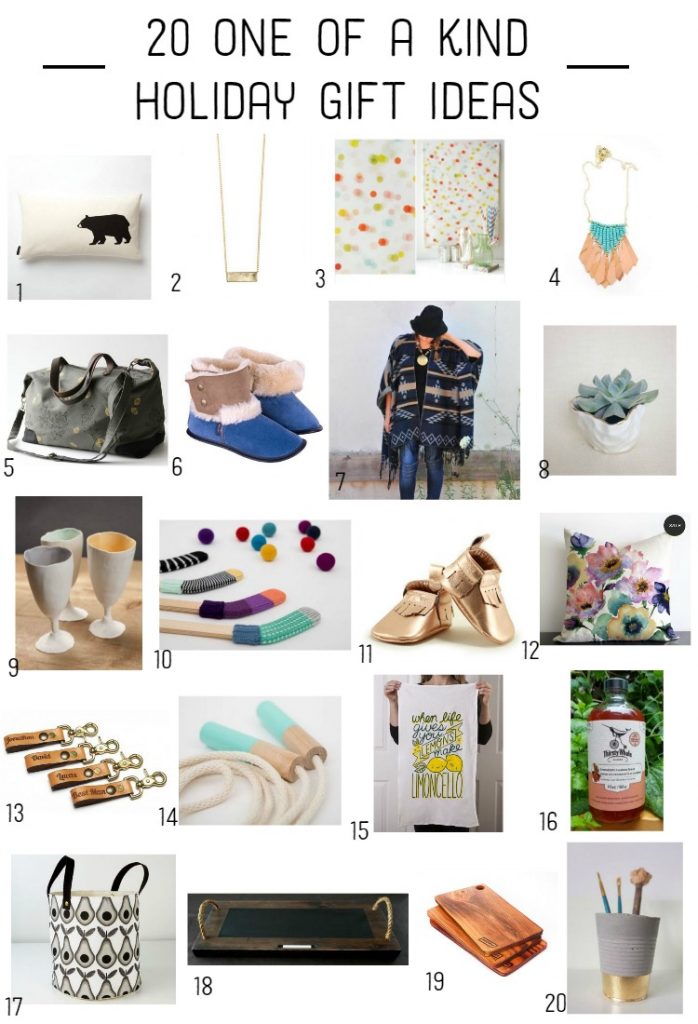 1 // Such a cute black and white bear pillow. I think this would be amazing in our little guy's nursery (that I still have to start… yikes) !
2 // What girl doesn't love getting a gorgeous necklace? This simple gold bar one is a stunner.
3 // Confetti is the new cupcake. These tea towels would bring a little "happy" into any kitchen.
4 // Love the tribal vibe of this turquoise and gold beauty.
5 // I adore these canvas weekender bags. The gold acorn motif is pretty cute while still looking "rugged", don't you think?
6 // Umm fleece-y suede booties in an amazing colour? Come to mama.
7 // I'm OBSESSED with this poncho. It totally dresses up any jeans and tee-shirt and I love the whole boho feel.
8 // These delicate white and gold planters are darling. Put a succulent in that bad boy and it makes a super special gift for anyone on your list.
9 // Aren't these champagne glasses amazing? I haven't ever seen anything quite like them. I love the matte texture and colours peeking through from the inside. Oh and they are dishwasher safe. So awesome.
10 // Got a kiddo who wants to play hockey inside the house? Get one of these handmade sticks that come with a knit cover and felt ball. Those are some clever parents right there.
11 // Gold moccasin style booties for babies. It just doesn't get much cuter.
12 // Want to add some pretty to your couch/chair/bed? These watercolour pillows are all kinds of lovely.
13 // I bought Dan a customized leather keychain like this last year that he loves. Such a good stocking stuffer!
14 // A skipping rope that is also on-trend with the dipped paint and wood look? Speaking my language.
15 // A good reminder for the kitchen. Plus, limoncello… so much yummier than lemonade.
16 // We have been loving buying specialty tonics like this one lately. Sure they make great cocktails, but this pregnant mama loves them with some fizzy water on ice. Such a treat.
17 // Pears are the new it fruit, you guys. Trust me. And these baskets are not only cute, but super handy to have around the house.
18 // Pair this chalkboard tray with some delish cheeses and a bottle of wine, and you have one amazing gift idea.
19 // Who doesn't love a beautiful cutting board?
20 // The combination of concrete and gold foil had me at hello. For reals.
Such good stuff, right?
And now for the really great part? OOAK has been so sweet and offered up a $100 gift card to a lucky reader! All you need to do is enter the contest below. You have one week to come back every day for the daily entry – contest closes on Tuesday Nov 24th at midnight EST. Contest is open worldwide, but each artisan on OOAK has their own shipping policies about where they ship to, so please keep that in mind.
$100 GIVEAWAY to OOAK marketplace!

Good luck you guys! And let me know what you're buying and making this year. I always love to hear what you're up to for the holidays!
*Disclaimer: This post has been in partnership with the OOAK Online Shop. I LOVE working with brands like this one that I respect and adore, so thanks for supporting them!