This is a seriously cute DIY, you guys. I had seen tutorials out there for these little clay ring dishes – from stamped to marbled to painted, and so decided to give it a try. And they turned out so sweetly, I HAD to share them with you.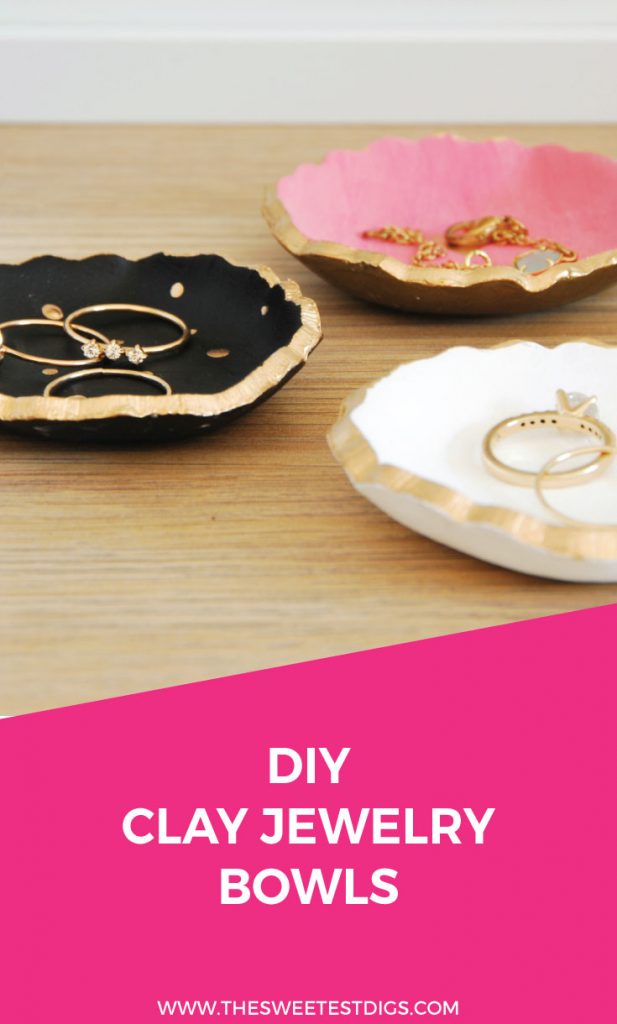 DIY Air Dry Clay Jewelry Bowls Supplies you'll need:
The DIY >>
My girlfriend Caroline and I got together for a crafty afternoon (is there anything better than a girls DIY day?!) and whipped out a bunch of these sweet dishes.
We used 1 package of air dry clay for our bowls (that stuff goes a long way!).
Remove the clay from the package, roll it out with a rolling pin, and cut out the shape using a cookie cutter or bowl.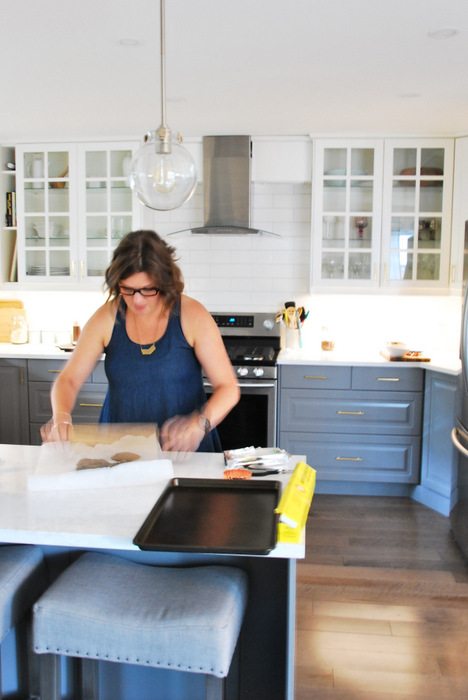 We used a round scalloped cookie cutter, which made a really sweet shape. Once cut, curl up the edges ever so slightly with your fingers, so that it takes on a bowl shape.
Then you just need to let those puppies dry. We put ours on some parchment paper and set them aside for several days before we painted.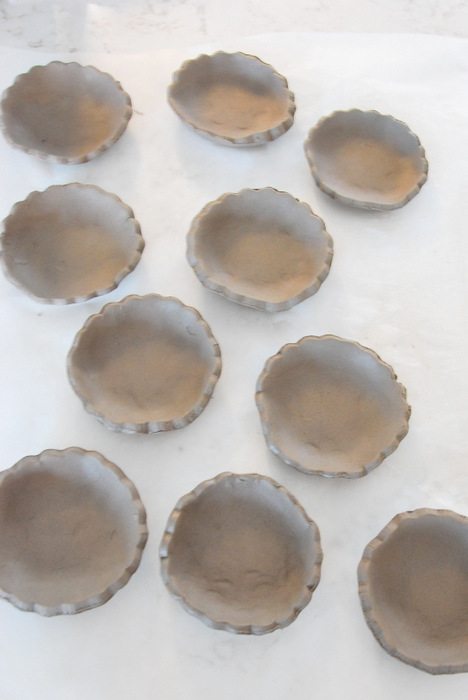 Once totally dry, then it's the fun part – you can decorate and paint these little gems however you please.
We used various colors of acrylic paint on our dishes, and let those base colors dry before applying the liquid leaf gold foil paint.
We did a few different looks – some plain ones with gold rim, some with gold polka dots, and some with a tiny gold heart in the center.
Quick Tip >> for the polka dots, use the opposite top edge of your paint brush for a perfect dot.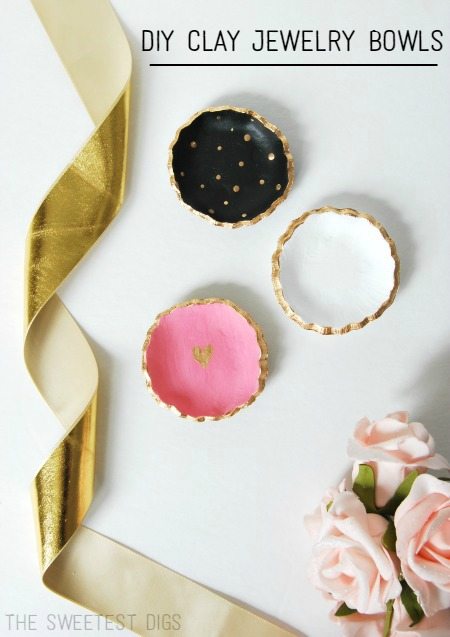 To help seal them, we put 1 coat of gloss modge podge over the whole bowl. That has helped make them a little less fragile and prone to scuffs.
So cute, right? They are *perfect* on your nightstand as a spot to put your rings and earrings.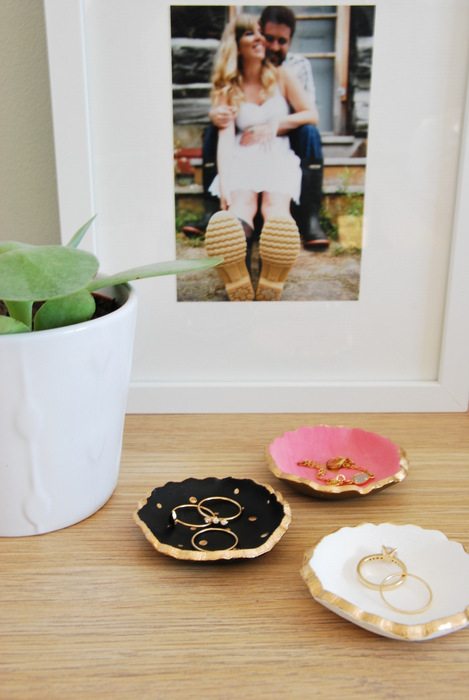 And they make the sweetest handmade gift. Pair one or a set of these with a little piece of jewelry. Or make a bunch as favors for a baby or bridal shower. How cute would that be?!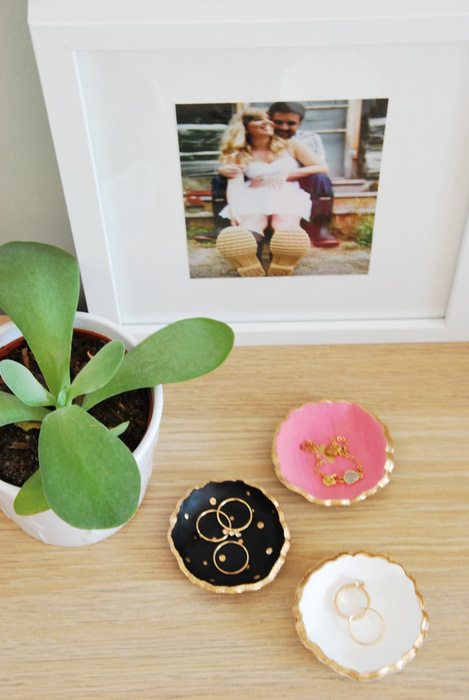 Want more DIY Christmas gift ideas? My blogging gals got together to do this roundup. There is some ridiculously good inspiration in here, you guys. I'm always amazed at what these ladies get up to!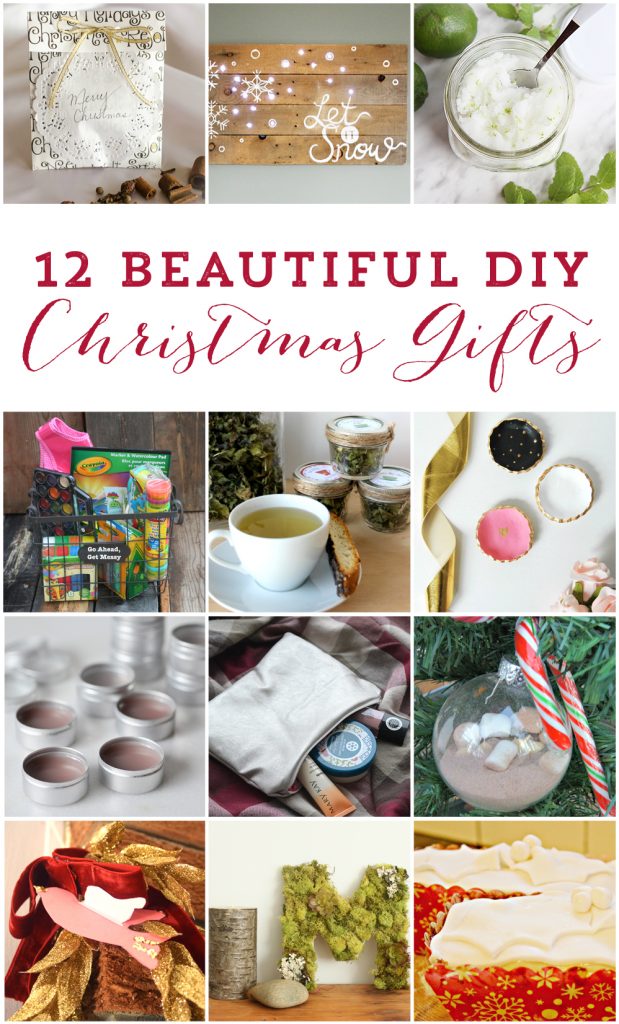 From the top, they are:
Do you guys have a favourite DIY gift that you've made? Done a version of these jewelry dishes before? I wanna hear about them!