Okay so you saw the vintage window turned seating chart that I DIY'd for my girl Courtney's wedding, but I left you hanging on the rest of the details of the beautiful day. The venue was Ottawa's Mill Street Brewery – an old stone building right on the water – and we filled it with vintage wedding decor.
We used a mixture of things – vintage blue mason jars, old hardcover books, jute string, white flowers (peonies!!) love!, succulents, white linens, log pieces, exposed stone, and wood elements.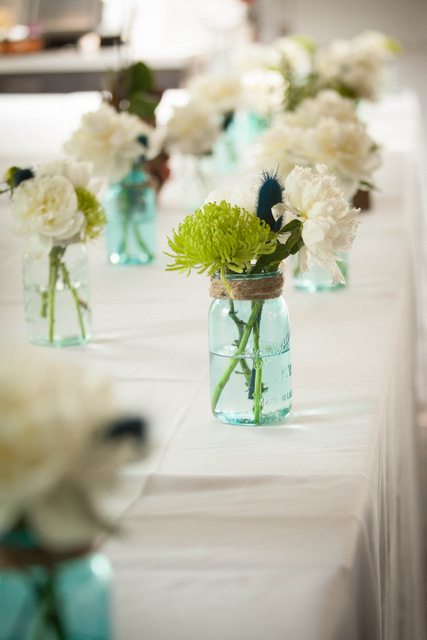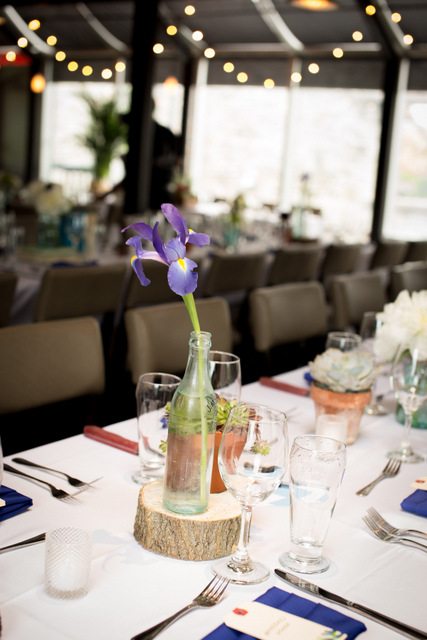 It all came together really beautifully. The venue also had some chalkboards affixed to the wall, so I broke out some chalk and wrote a few little sayings. Tip for this? Design something on the computer and then print it out so that you can copy it and not have to rely just on your own handwriting style.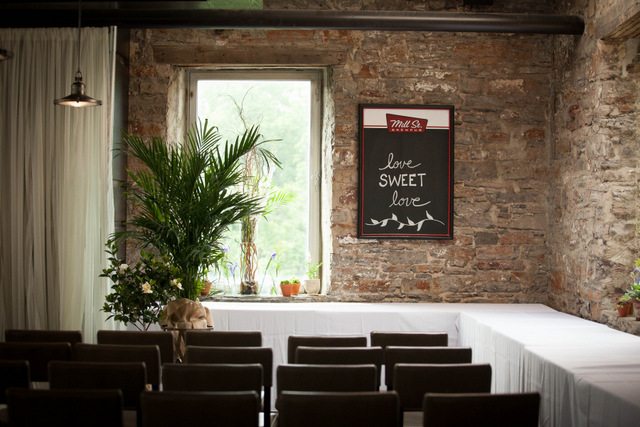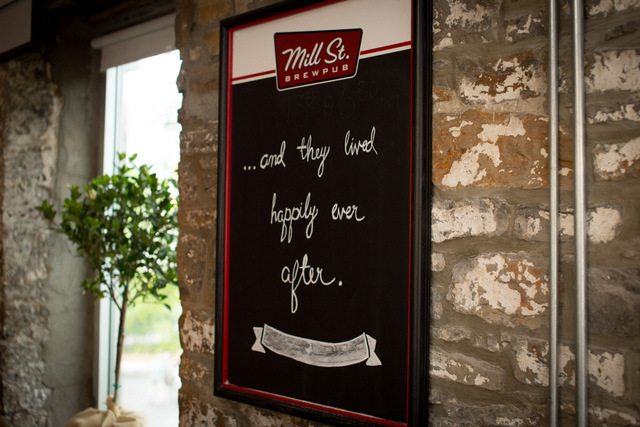 After seeing it used in this wedding, Courtney hired a linen company to come and do this pipe and drape to create a nice backdrop for the ceremony. The fabric was gauzy and super romantic. With the large plants on either side, it created a really natural vibe.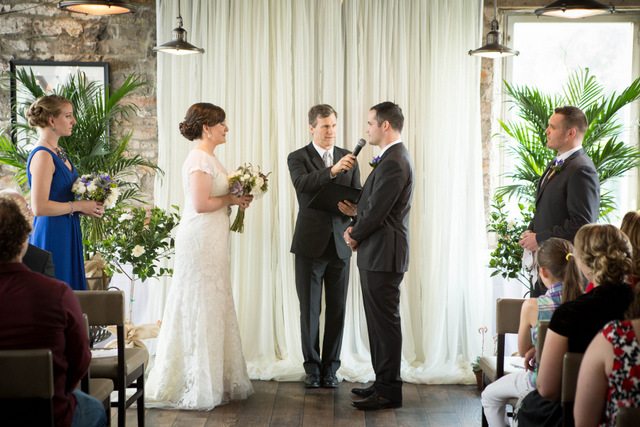 My girlfriend Caroline and I were on site the morning of to pull things together, along with Courtney's uncle who had provided all of the gorgeous flowers and plants (there were so many, and they were so beautiful… total heaven!). Together we all prepped the vases, name cards, linens, etc, but couldn't really set it all up since the ceremony and reception were taking place in the same room and all of the table settings had to be kept off to the side. During the cocktail hour, the staff put the tables into place and Caroline and I whipped off our shoes and ran around that room styling our little butts off. As you can imagine, there might have been a bit of a nervous sweat happening, but we pulled it off.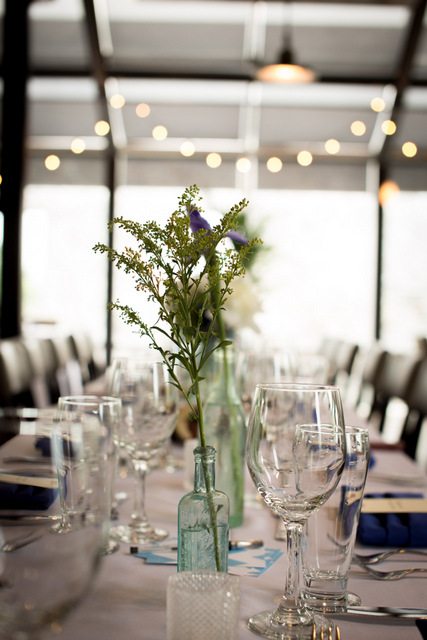 We placed log slices along each table and then haphazardly placed the vases, pots, and books on top and beside them.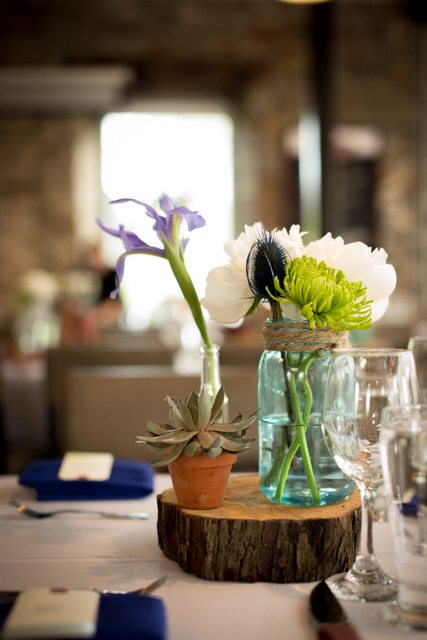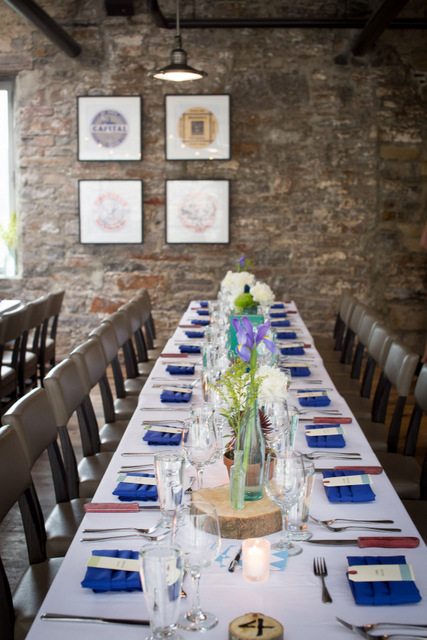 Place cards sat right on top of the napkins. They were luggage tags with the names on them, and then had different coloured washi tape along the bottom so that the waiters could identify who had what meal (fish, veggie, chicken, etc). Clever way of identifying that without putting a weird mark on the cards or something.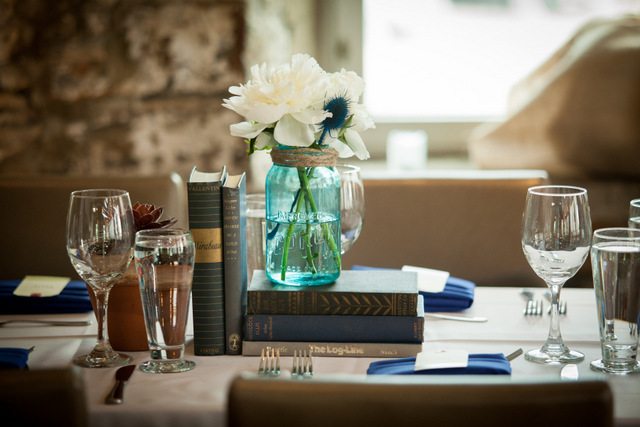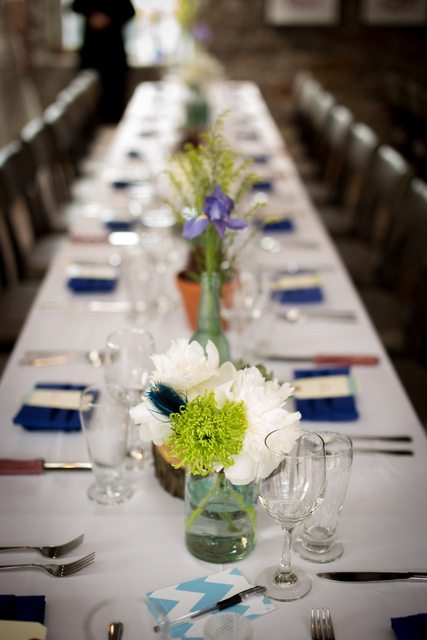 I did mention Courtney's uncle and his ridiculously gorgeous flowers, right? Seriously though.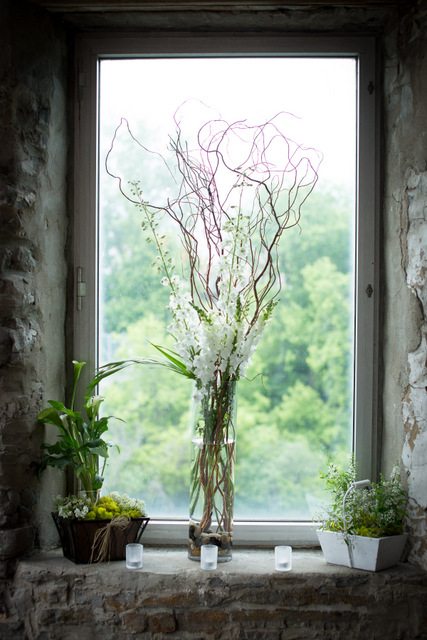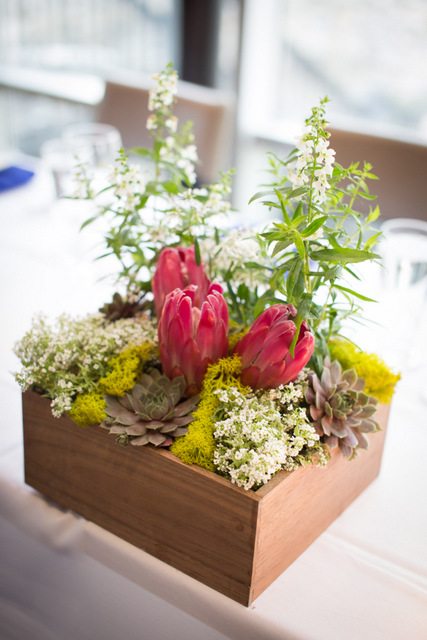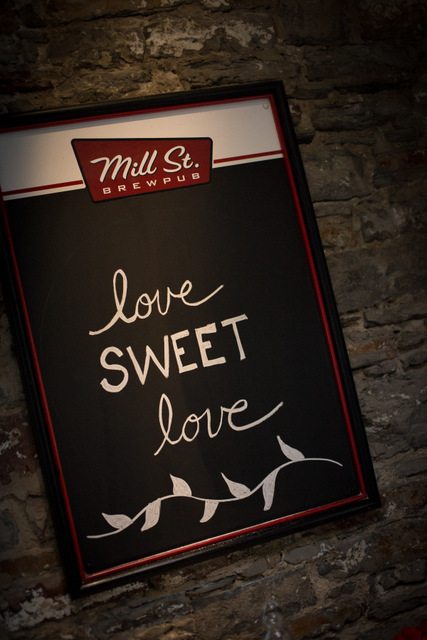 The dessert table was full of goodies from the talented Andrea of the Short & Sweet Kitchen (another pal of ours!). Isn't the ombre cake sweet? And let me tell you, those cupcakes were to.die.for.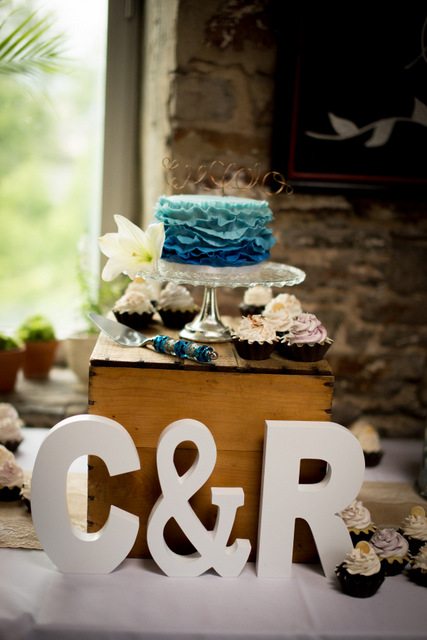 The key to a dessert table is to give it some height. Use cool old boxes flipped upside down like we did here and a mixture of cake stands. The white letters are from Chapters.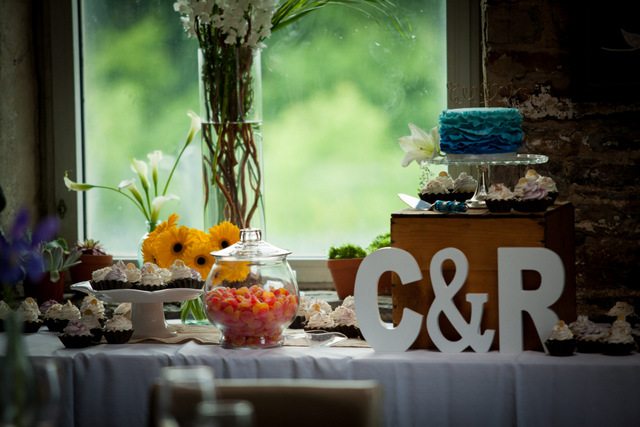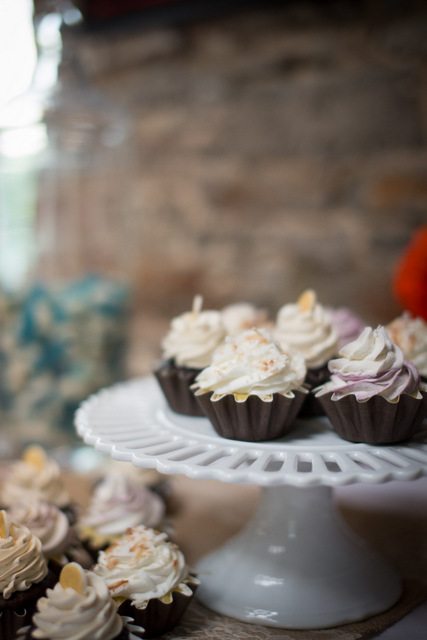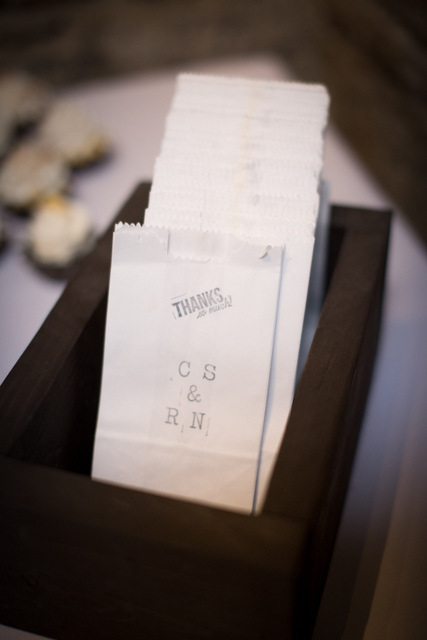 And now for some people pictures. Here are the girls, just after we had buttoned Courtney's dress up. Doesn't she look gorge?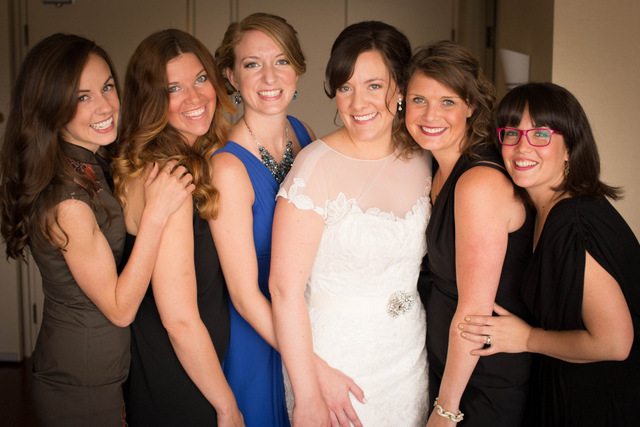 And the more accurate photo….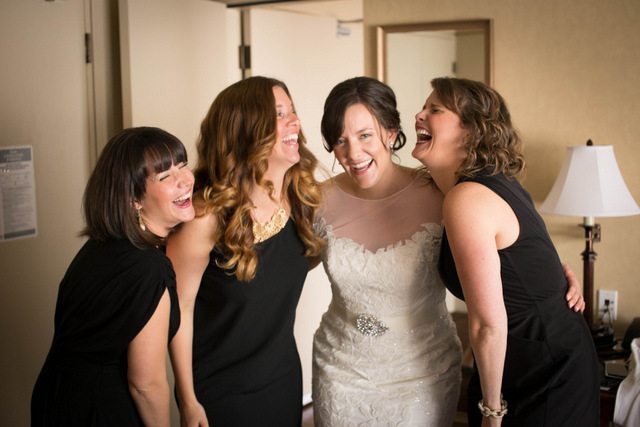 A few of Courtney and Richard. He's a pretty dapper dude, huh?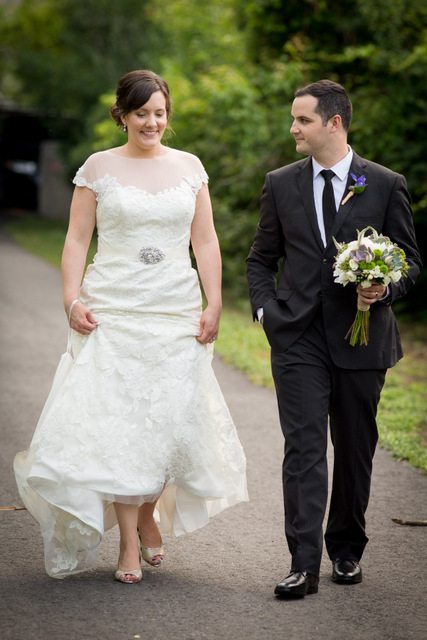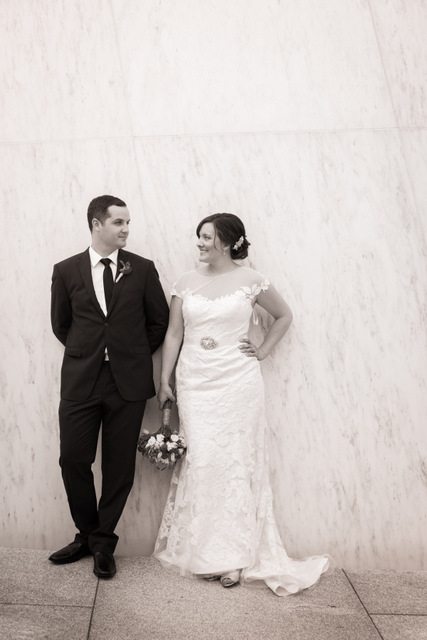 It was a beautiful day, with a beautiful couple. Love you two!
All of these stunning photographs are care of Bonnie at Findley Foto.
Many pieces displayed in this wedding were care of my little rental company, Pieces of Love Vintage Rentals. If you're planning a wedding in the Ottawa area, feel free to get in touch!
Did you guys go to any weddings this season? Or maybe you're planning your own? I don't know about you, but I can happily browse Pinterest for wedding decor ideas for an obscene amount of time. I wish we could do our own wedding all over again just so I could do different themes every time!