Things have been moving and grooving over at the house lately. Well, maybe the grooving is mostly on my part – I can't help but break out into a happy dance every time something gets checked off the list.  The latest? Framing is done, house wrapping done, roof done, most windows in, concrete poured for garage floor, electrical pretty well done, HVAC and plumbing half-way done. With all of that going on, we have been making various decisions pretty much daily. As much as I'm wanting to dream about kitchen and bathroom finishes and paint colours, my head has been occupied with exterior finishes, door choices, where outlets should go, and bath tubs. Today let's chat exterior finishes: James Hardie, stone, and Azek decking.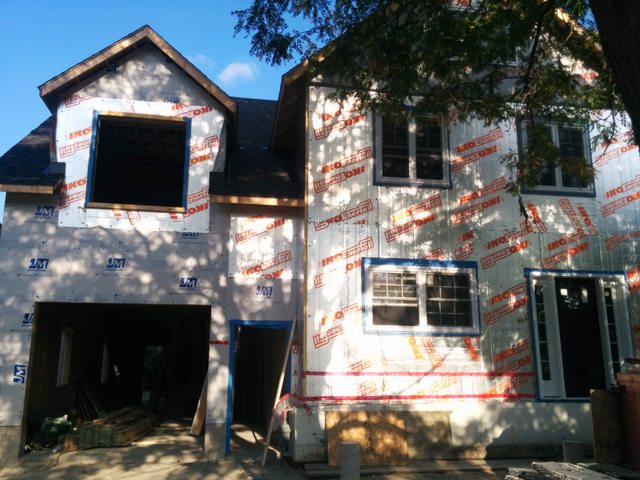 (Photo snapped two days ago at the house)
For the siding of the house, we knew we wanted to go with James Hardie Board, which is a fiber cement siding. It has the same look as wood siding, but is extremely durable and long lasting. No maintenance a few years down the line after some rough winters – this stuff will really last. They have a nice line of colours to choose from and you can choose different placements (like vertical, horizontal, shake style, etc).
We could have gone a variety of ways in terms of colour, but I am regularly drawn to darker homes with a lot of white accent. There are a few houses in our neighbourhood that I'm obsessed with…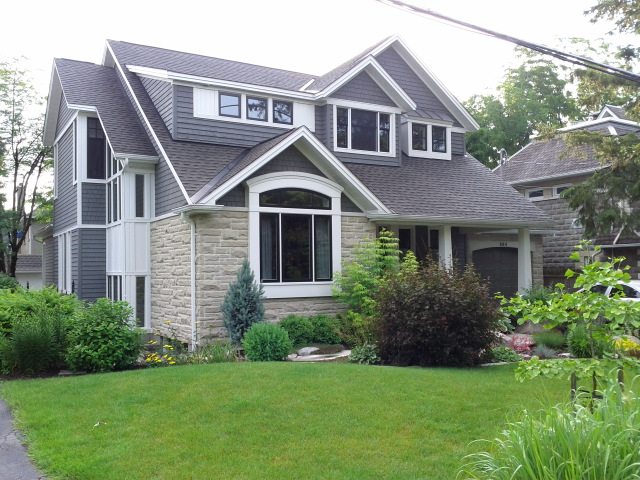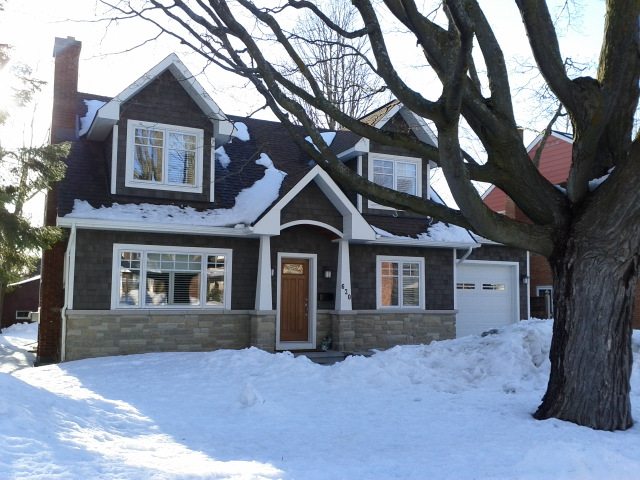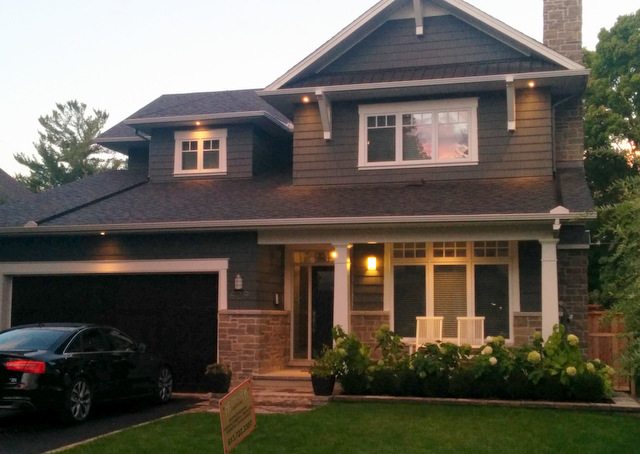 I also remembered something Sarah Richardson said on one of her shows ages ago that stuck with me – when you live in a climate with lots of snow, why go with a light coloured house that will not stand out for half the year? Why not go with something that offers a lot of contrast to that white blanket we live under from Nov-March? So, with that in mind, I narrowed in on 'Iron Gray' from the James Hardie line. Here are a few examples of houses in that colour – both from the James Hardie Facebook page.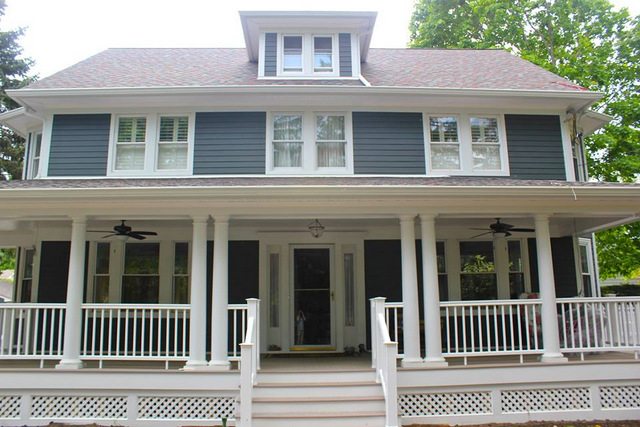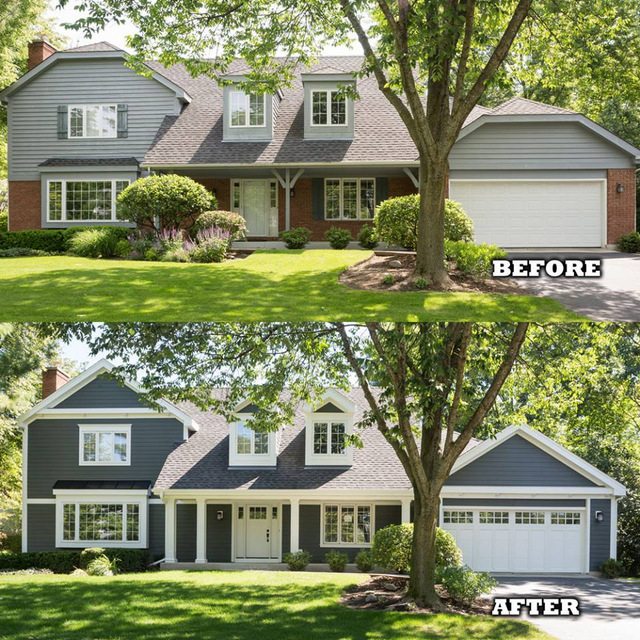 We are going to have the Hardie Board installed horizontally on the whole house. I would have loved to do some shakes up in the gables at the front of the house, but the cost to do that was just too high. Gotta stay on budget!
All of the trim – so around each window, along each seam, etc will be in white. This, along with a white garage door, will bring some lightness to the house.
To add a bit of contrast to the exterior, we are also doing some stone along the "skirt" of the house (ie. the bottom 1/4 of the front of the house). This is a nice way to add a bit of stone, without it costing an arm and a leg. We need less than 200 square feet, so it's not really a huge expense. We chose Traditional Grey by Arriscraft, which is a light grey stone that looks a lot like limestone to me.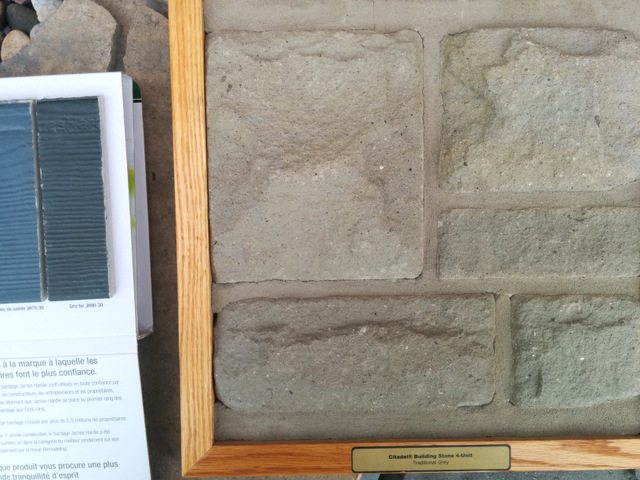 As for the porch, I want to use some tapered white columns and white railing and posts. Again, keeping it light and bright. For the actual steps and porch floor, we are thinking of going with a engineered decking material. Probably the 'Azek' decking – which my parents used it at their cottage and it seems like a great product. We like the idea that it won't require maintenance and is super durable (scratch and stain resistant). I'm still going back and forth on the colour a bit, but I'm thinking maybe the Acacia, which is a deep warm brown. Might be a nice contrast against all the cool tones of the house?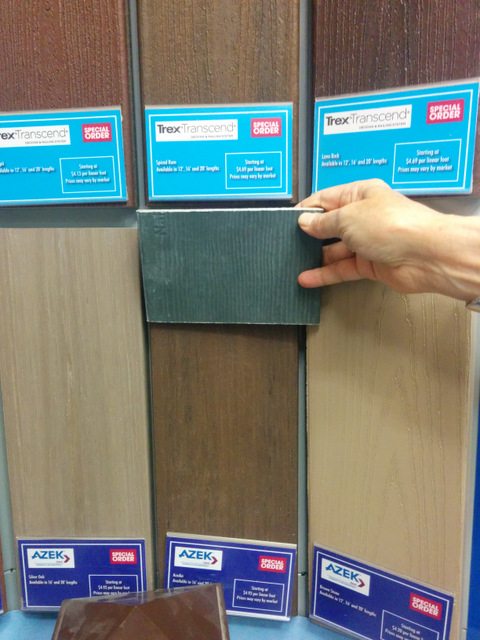 Oh, and did I mention our front door and sidelights came in? I'm super happy with it. I feel like it's a classic choice that has a craftsman vibe to it.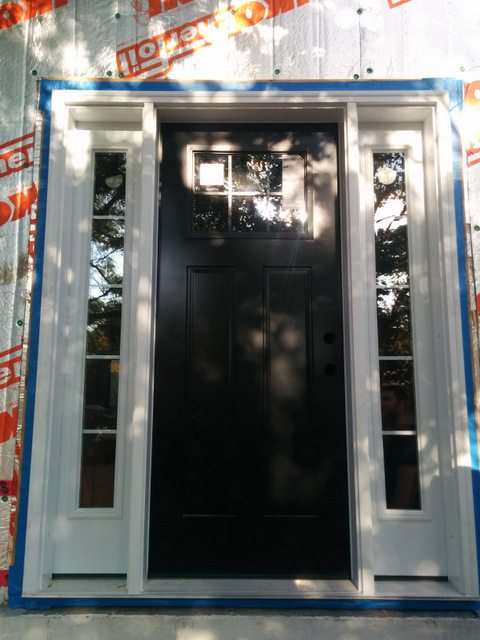 Anyway, that's where we are! We are only about 2 weeks away from drywall, which is ridiculously exciting for me. Drywall is when it all becomes a house that you can envision living in again, you know?