So our first wedding anniversary was Monday, which luckily fell on a long weekend in Canada. We made our way down to the Adirondacks, NY for the weekend (where we got married), and spent a great three days hanging out with family, doing lots of swimming, eating, and lounging around.
I'm big on traditions and documenting stuff, so I wanted to start a few little wedding anniversary traditions. The first one was to make sure we get a photo each year. To help mark each photo, I thought it would be cute to hold up a "Year #" chalkboard sign. I didn't actually have a chalkboard the right size ready to go, so I just painted some chalkboard painted onto a piece of cardboard. It didn't turn out too badly, but I'll be more prepared next year (hopefully..!).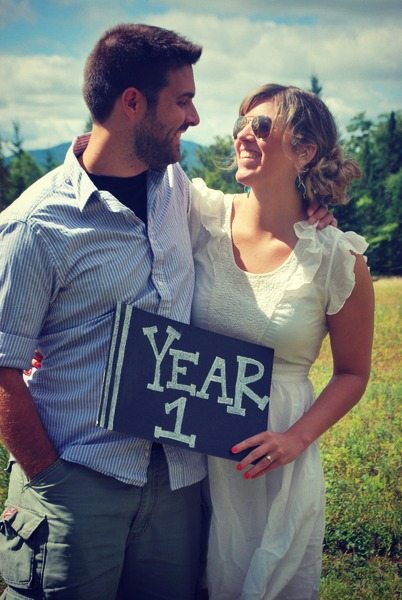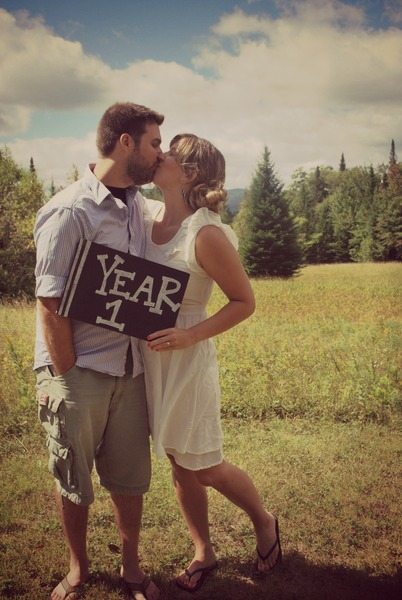 Now onto the gifts. So as I mentioned in yesterday's gift ideas post, I stuck to the paper theme. And apparently an etsy theme, as both came from etsy sellers.
The first was this ultra sweet 11×14 poster. I had found this husband-wife team on etsy when I had been looking for wedding invitations, but they were out of our budget at the time. I had bookmarked the shop though, and when I was racking my brain for a wedding anniversary gift I realized that this would be perfect. Here's a little snapshot of the proof (I'll post some photos when it's up on our walls!). A quirky, fun, piece of personalized art, right? They got DIY Dan's beard and the lodge in the background juuuust right. It totally makes me giggle. [on etsy here]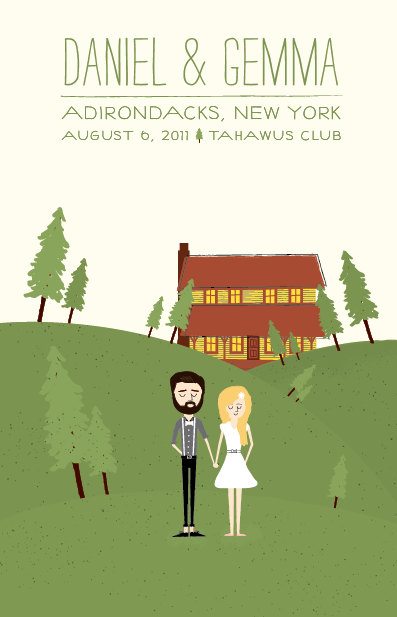 The other gift was this hand-bound leather journal that I had monogrammed with "g+d". This is the second tradition I wanted to start. The idea is that we'll crack open the book on each anniversary and write down what we did that day, our favourite moments/events from that year, things we learned, and anything else we feel inspired to write. Then we'll put in our anniversary/chalkboard photograph, and eventually have a nice big book of sweet wedding anniversary memories (assuming all on the marriage front goes well… haha KIDDING, honey!). [on etsy here]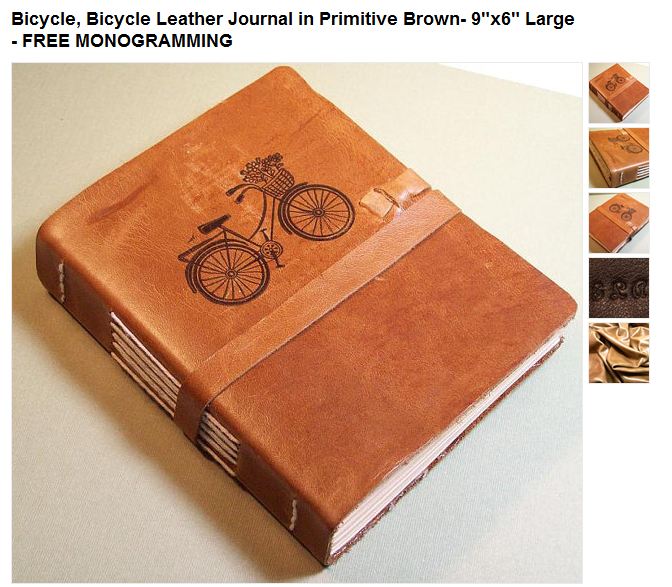 Dan was super sweet with his gift. He went to my fave jewellery store (Magpie – the same spot we had my wedding ring designed), and bought a stunning necklace by Vancouver-based jewellery designer Leah Alexandra.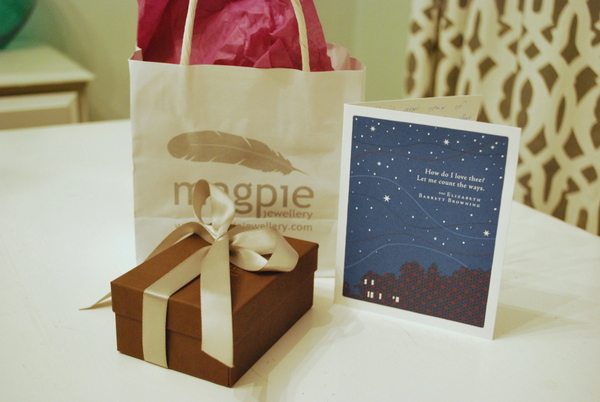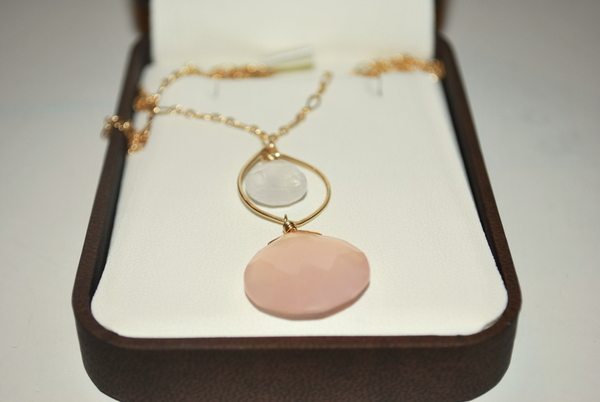 It's so pretty. Made with pink chalcedony and moonstone (you can check it out on Leah Alexandra's website here). I'm totally in love (with the necklace… and Dan too, obviously).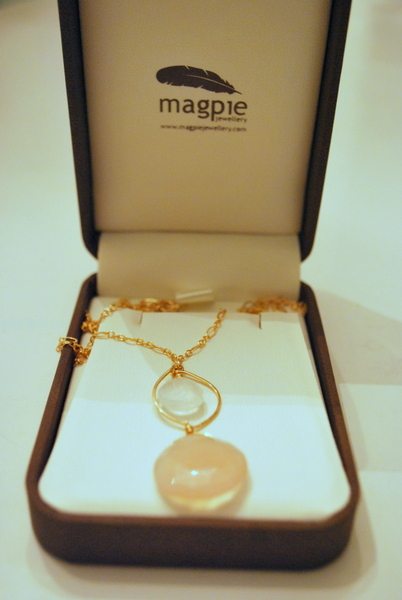 The cards were kind of ironic. My "freshly brewed awesome" card was a quirky find from when we were in Washington and my inscription was sort of joke-y, while Danny's was so sweet with a long inscription that totally made me burst into tears. Kind of reflective of our wedding vows –  mine were peppered with jokes (like promising always to rinse my cereal bowl before I leave it in the sink) and Dan's were beautiful and sentimental (and didn't leave a dry eye in the house). Funny how that works out – cause I think I'm the more sappy/shmoopsy-poopsy one in person.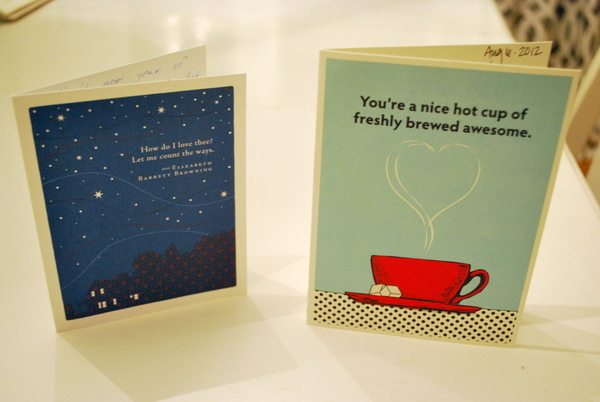 Now onto the events of the day. The hubby had organized a sweet little picnic, complete with champagne. So yummy!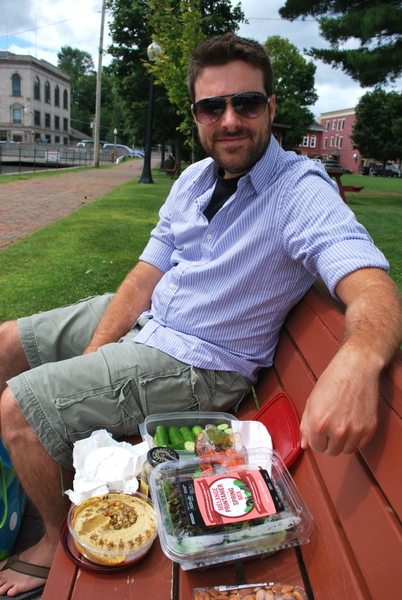 And as we picnicked by the lake, we got to writing our first entry in our new journal.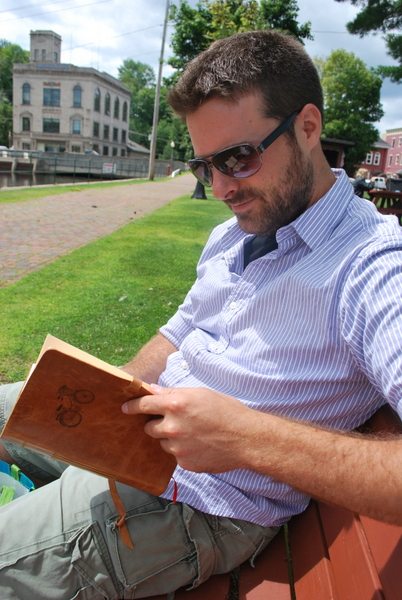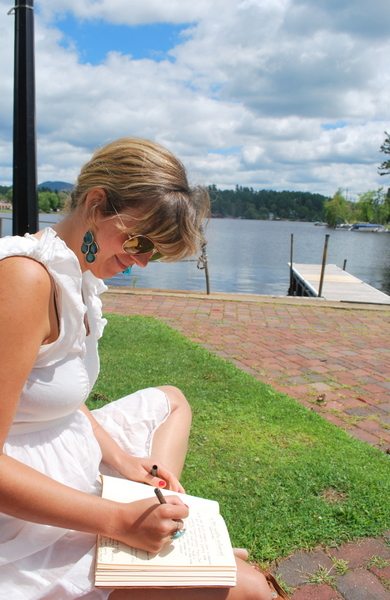 I'm never good at the self-portraits, especially with the honking Nikon DSLR, but we tried…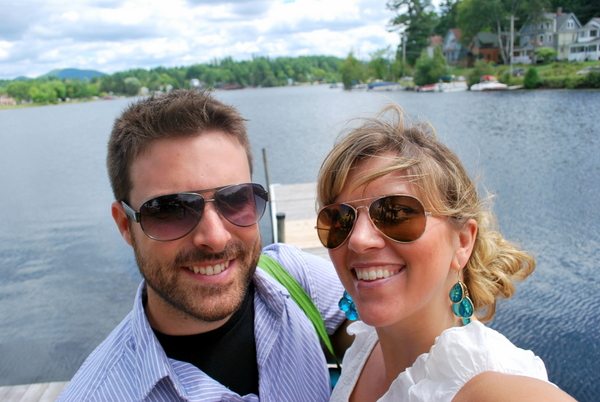 We spent the afternoon in Saranac Lake – a small little town in the middle of the Adirondacks (upstate NY). After picnic'ing, we browsed around the shops, cafes, and antique stores.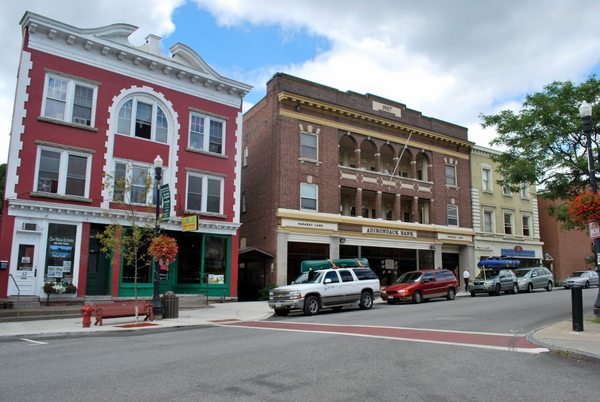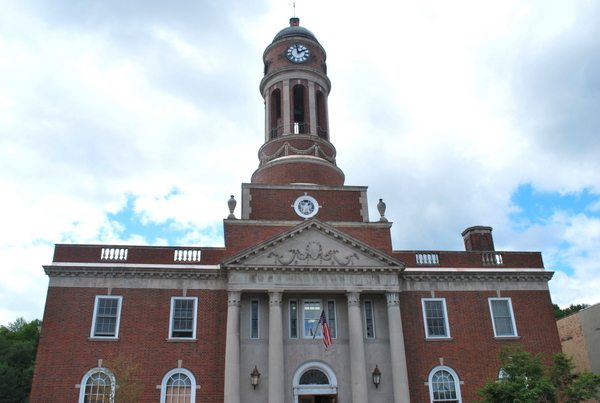 Clearly Dan knows the way to my heart. He joined me (and didn't complain once) as I dug around one of the most jammed-packed two-level antique stores I have come across lately. Not everything in the trunk of our car was from that one shop, but you get the gist. I totally struck gold that weekend.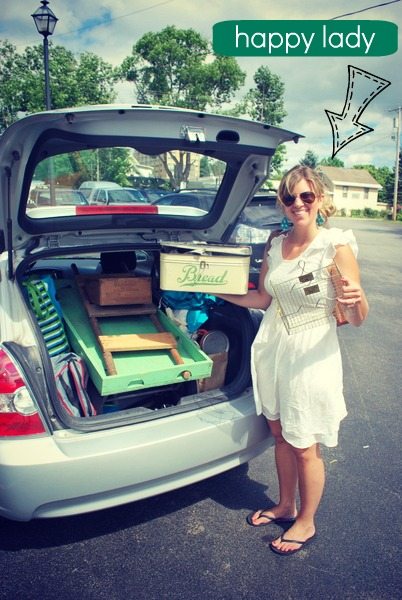 After our little afternoon in the Adirondacks it was time to head back to Ottawa. We capped the day off with a nice walk around our neighbourhood (accompanied by heaping scoops from our fave gelato spot). Hope the rest of our wedding anniversaries are as sweet as this one!
What about you guys? Had any really lovely celebrations lately? Maybe an anniversary of your own or a birthday? Or maybe you've struck gold at the antique/thrift shops lately?