If you haven't read about our wedding before (here), you won't be surprised to hear that it was a total DIY budget-friendly affair. Here is a quick recap of my fave 12 DIY Wedding Decor Ideas (click on each one for the full write-up/tutorial).
1. Burlap Buntings – 12 DIY Wedding Decor Ideas
I made a few different burlap buntings: this love one for the table where we had gifts, old family photos, and our guestbook, and another for our photobooth. These are super easy to make and add a really nice handmade touch. [tutorial here]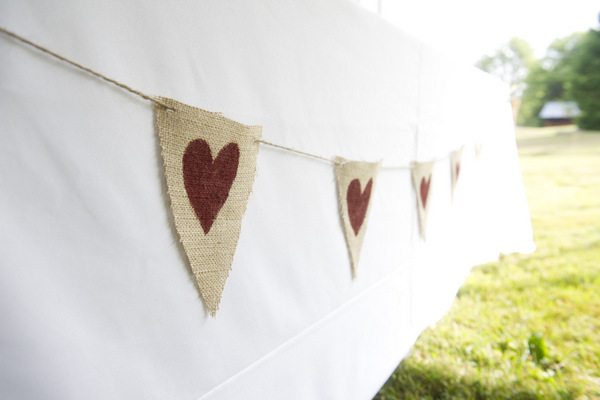 On the same table I had a little bit of family memorabilia. We printed wedding photos (or if we couldn't find any, just nice photos of the couple) of all of our grandparents and parents. I loved this since it meant that many of those very important people could somehow be represented at our special day, even if they couldn't be there in person. I think the guests really liked stopping and looking at the photos too.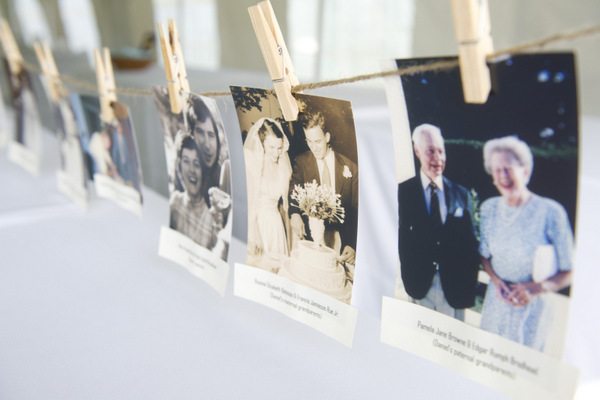 2. DIY Seating Chart – 12 DIY Wedding Decor Ideas
For our seating chart, I went to my favourite free colourful resource: paint chips! We named each table after meaningful places that we had visited or lived together. [Tutorial here]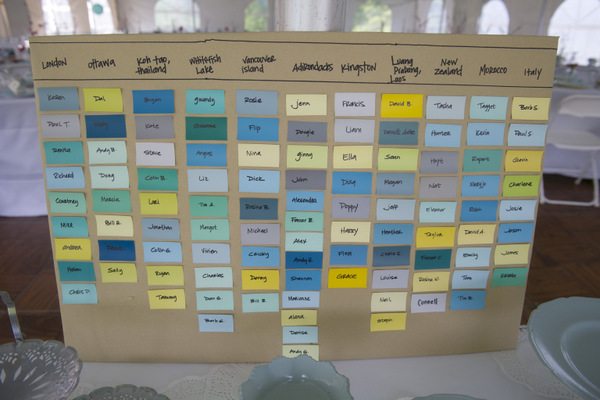 3. DIY Photo Collage – 12 DIY Wedding Decor Ideas
Then each table had a little card with the name of the place, a collage of photos of us from that spot, and a write-up on the other side about why it was important to us. Again, I think it added a personal touch that guests really enjoyed. [Tutorial here]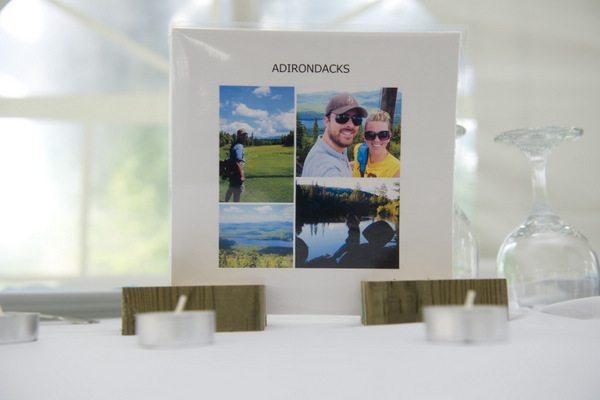 We didn't have a traditional cake (we served apple pie for dessert, and then had a cupcake table), but we wanted to use this retro cake topper that had been used by Dan's maternal grandparents. Although the bride doesn't look anything like me, the dapper dark-haired groom looks a little like my sweet hubby.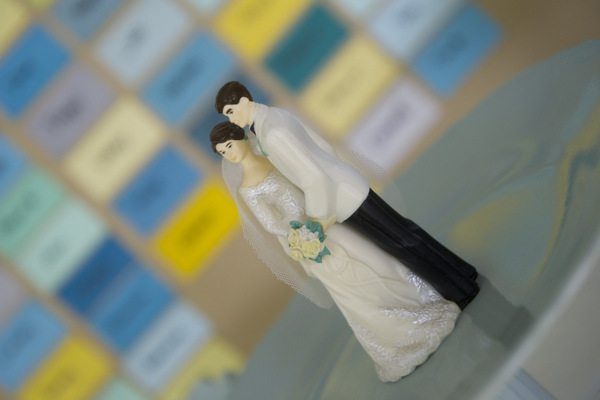 4. DIY Guest Travel Guide – 12 DIY Wedding Decor Ideas
My crafty sister-in-law put together these really darling booklets for each guest on things to do in the region. Not only was it packed with useful info (like where to get some yummy local ice cream), but they were hand-bound, hand-written, and included our names and dates on the front and back. How great is she?!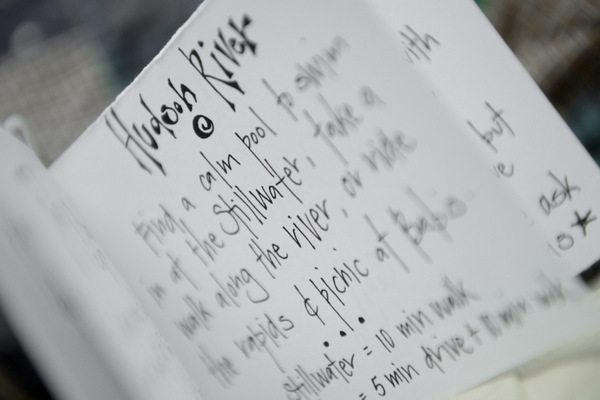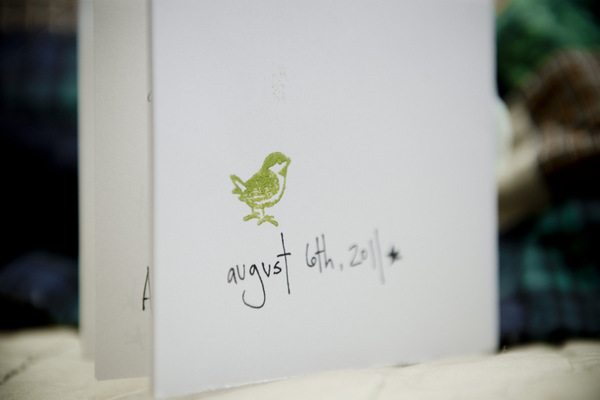 5. DIY photo booth props – 12 DIY Wedding Decor Ideas
I used some old boxes for things like cards and photobooth props. They add a nice dose of rustic charm, and are so easy to bring onsite.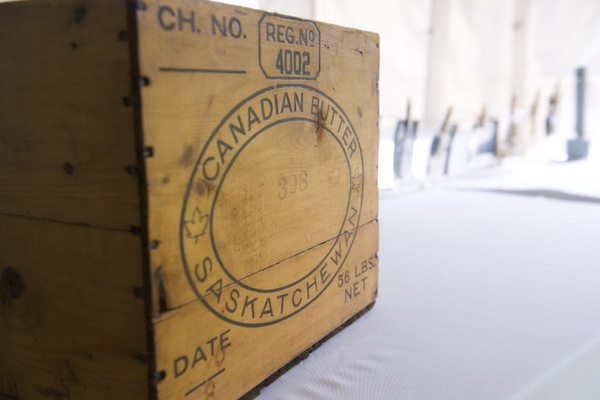 6. DIY wedding favors – 12 DIY Wedding Decor Ideas
I had been racking my brain for sweet budget-friendly favours for a while, so when my parents suggested something with lavender (their garden was exploding with it) and I found this lavender sea salt recipe on Martha Stewart, I was sold. It took about a day to make them all, and the house smelled of strong lavender for at least a week afterwards, but I really liked how they turned out. They were meant to be used in cooking (as they do in the South of France), but some folks even threw them in as bath salts and loved them. [Tutorial here]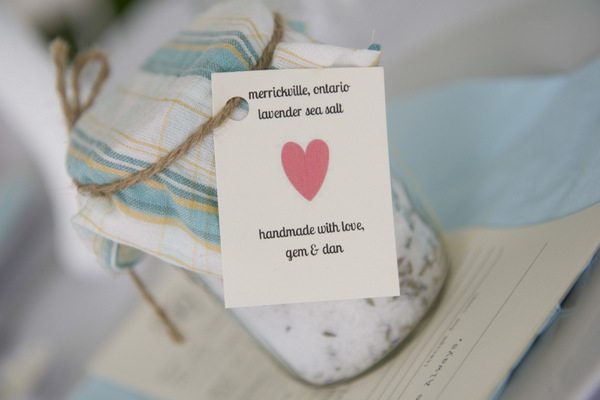 7. DIY centerpieces – 12 DIY Wedding Decor Ideas
Instead of doing big centerpieces on each table which would be costly and bulky, we decided to go for multiple smaller vases with one or two stems in each. I collected milk glass vases and mason jars, but wanted a more eclectic mix and wasn't sure if I would have enough of just these two items. To bulk up my vase supply, I grabbed old beer and wine bottles and other small vases and sprayed them this sea blue colour. They turned out nicely and mixed in well – It looked sweet and pretty and understated. [Tutorial here]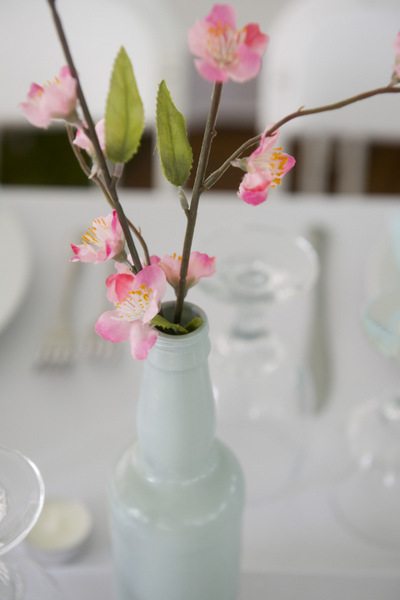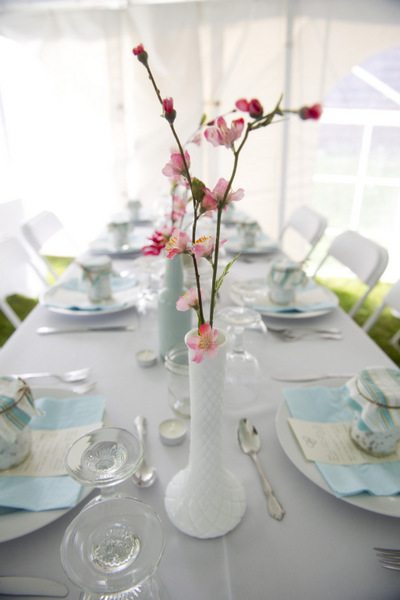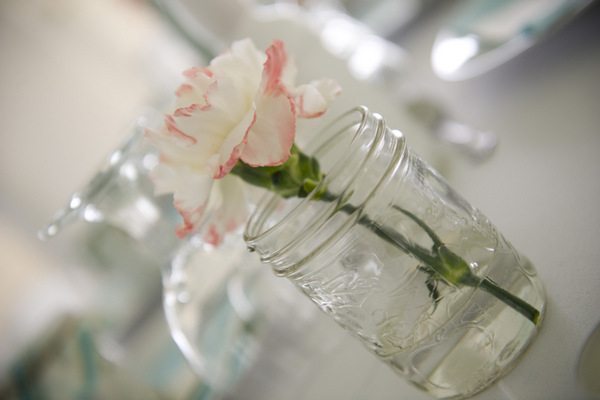 8. DIY Wedding Ad Libs – 12 DIY Wedding Decor Ideas
Another little activity for the guests and keepsake for Dan and I were these wedding ad libs. We put one on each table setting and scattered some pencils around. I think guests had fun filling them out, and we were roaring with laughter reading them in the wee hours of the morning that night. [Tutorial here]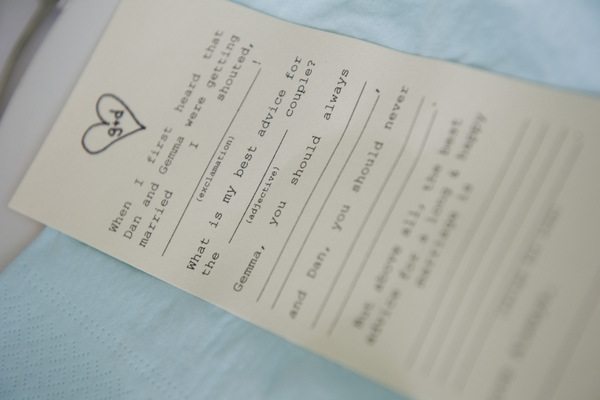 9. DIY Rustic Wedding Signs – 12 DIY Wedding Decor Ideas
To add to the rustic character of the wedding and to make sure our guests knew where to go, we made two big signs (one with our names and an arrow, and the other with "eat, drink, and be married"). [Tutorial here].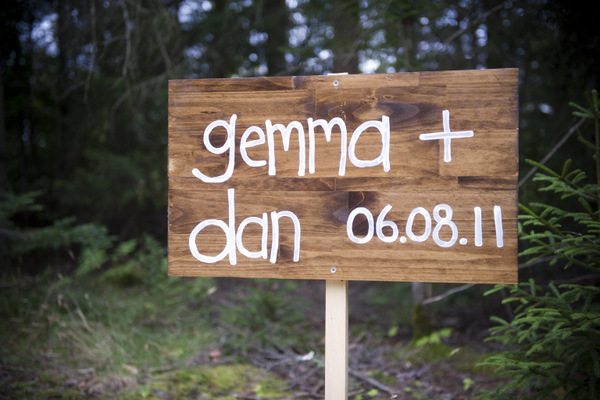 10. DIY Programs – 12 DIY Wedding Decor Ideas
Instead of traditional programs, I decided to do program-fans in case it was a muggy day (which it was!). These heart-shaped fans were in all different colours and were waiting for each guest on their chair. [Tutorial here]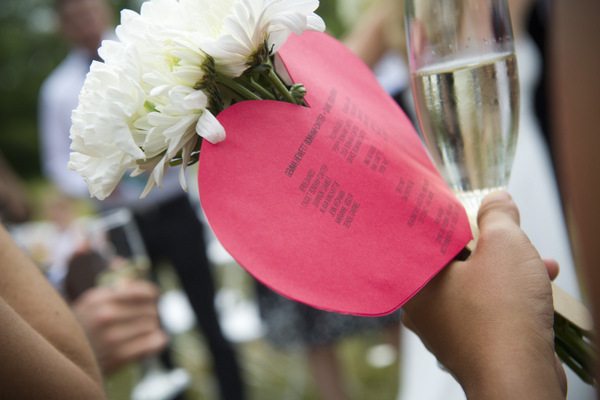 11. DIY Cupcake Table – 12 DIY Wedding Decor Ideas
For our cupcake table, I made a series of DIY cupcake stands out of candle holders, plates, some glue, and spray paint. Easy, affordable, and colour-coordinated! [Tutorial here]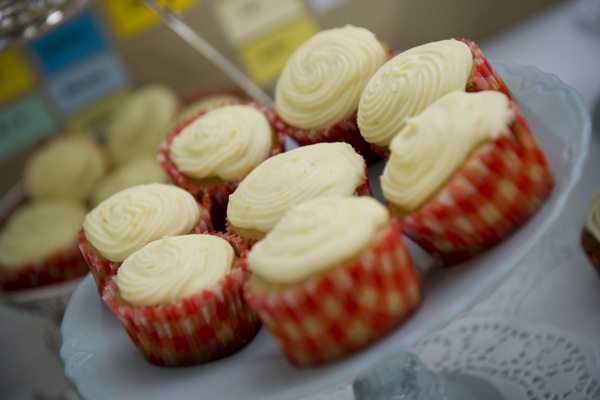 12. DIY lighting and decorations – 12 DIY Wedding Decor Ideas
Since we were married in a tent, I wanted to make sure we had some fun lights and lanterns dotting the ceiling. We strung little twinkly lights, but also grabbed a bunch of these ultra-cheap lanterns for a bit of fun. [Tutorial here]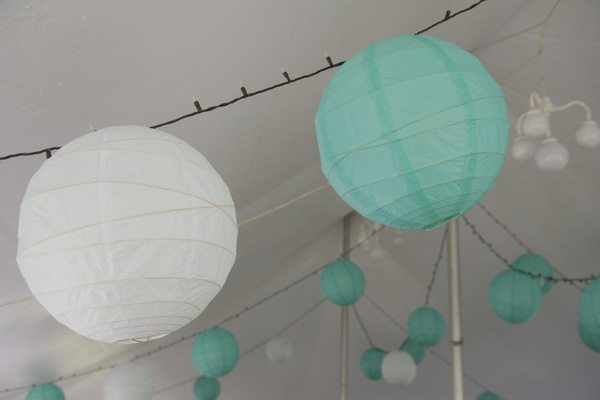 And that's it! Phew. I forgot how much work we put into that wedding. It was so much fun though – I loved doing all of the little details, and I often think that it's those things that really add the "special" factor to a wedding. It gives that personal touch and makes the day feel like the couple, you know?
I have seen so many other cute ideas on Pinterest, and sometimes wish I could go back and add even more. I think that's just me being a way-too-keen DIYer, though. What about you guys? Any really great projects or little details from your wedding or other weddings you've been to?