Have you seen those modern wooden christmas trees and wanted to make your own? Well I made a tabletop one for our entrance and I'm obsessed with how it turned out. I'm sharing the tutorial today, so keep reading!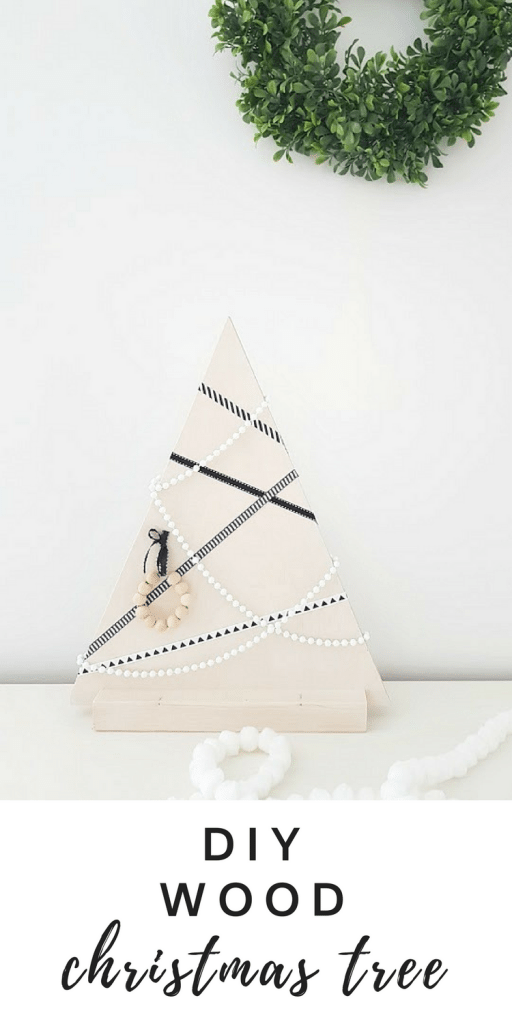 I've joined forces with four other rad bloggers who love black, white, greenery, and shine as much as I do for our Modern Holiday Home series. We're going to be bringing some fun holiday projects and decor EVERY SINGLE WEEK for five weeks.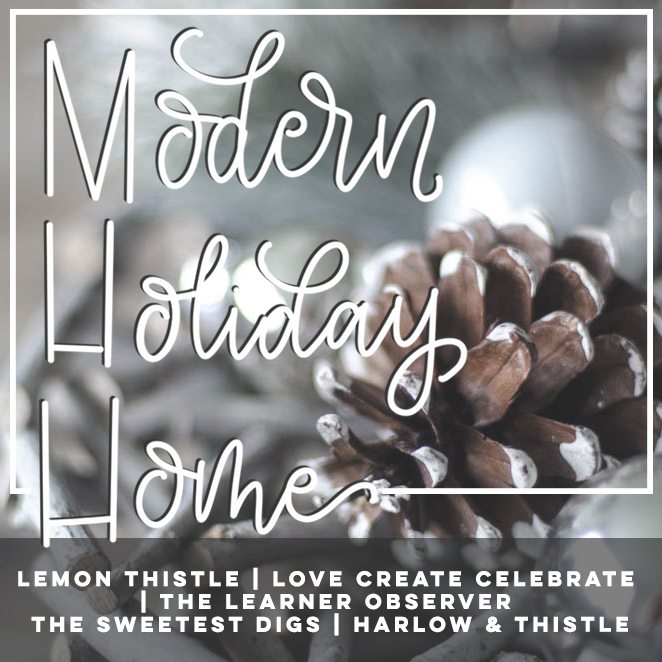 Week 2 is all about stain!
We partnered with Minwax and each incorporated stain into our projects in different ways.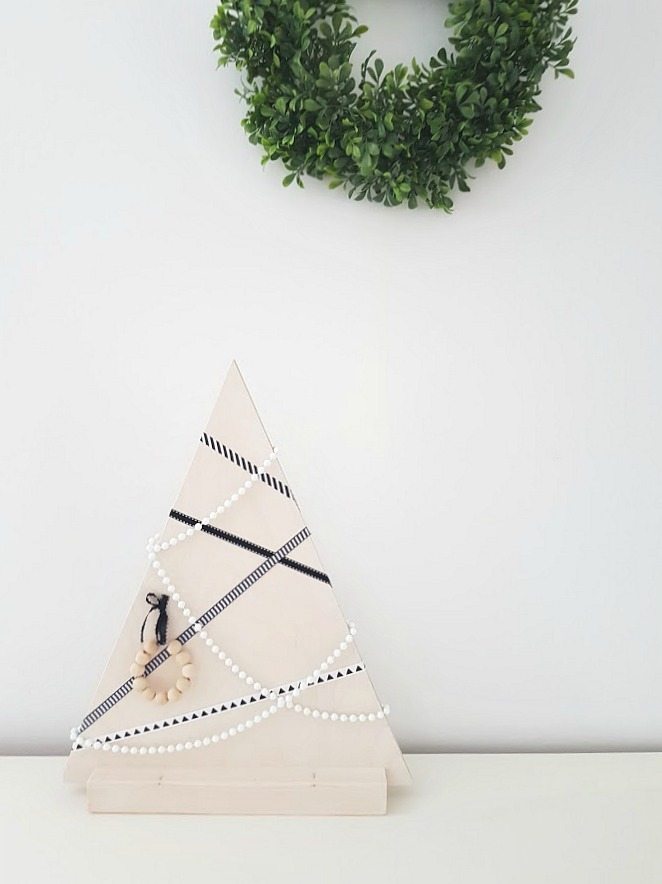 Wooden Christmas Tree Supplies You'll Need:
-Wood. One large piece roughly 20 x 25 x 3/4 and one small scrap piece 2×4.
-Minwax White Wash Picking Stain (you will only need 1 quart for this project)
-Sandpaper. Get a mixed pack like this so you have both medium and fine grit.
-Thin Black and white ribbon like this set, or this chevron spool.
Make Your Own DIY Wooden Christmas Tree:
Alright, let's dive into the tutorial!
Step 1: Cut Wood Tree and Base
I'll admit that my Dad, who is an amazing woodworker, took over this part of the project for me. I sketched out what I wanted on a piece of paper, and then basically just watched him do his thing!
We drew out the triangle shape on a large piece of wood which measured approx 20 x 25 x 3/4 inch.
He then cut it down to the triangle shape.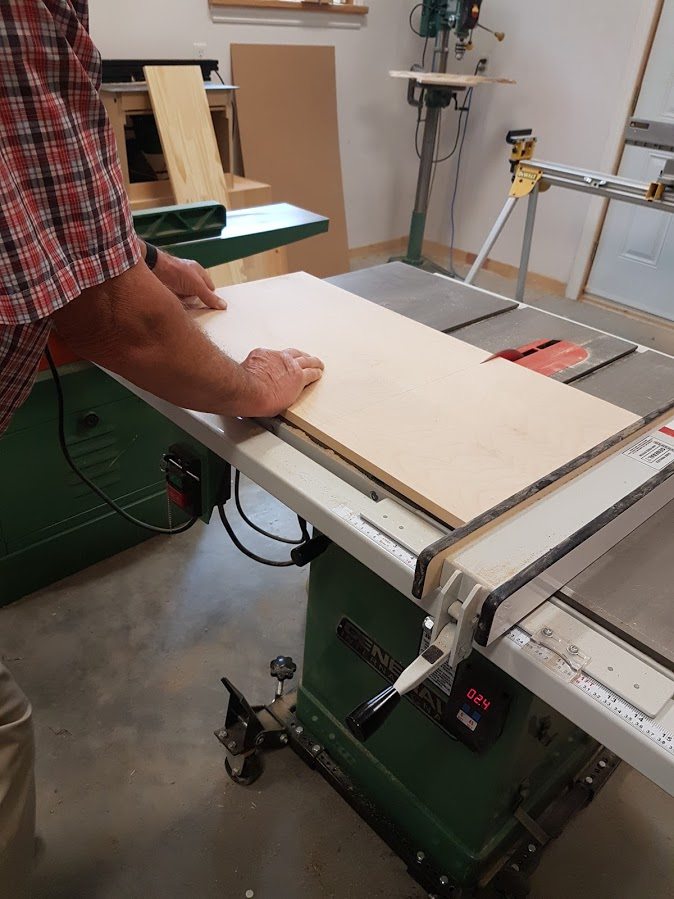 Then we took a piece of 2×4 that he had leftover from a previous project, and cut it to be just a little narrower than the bottom edge of the triangle.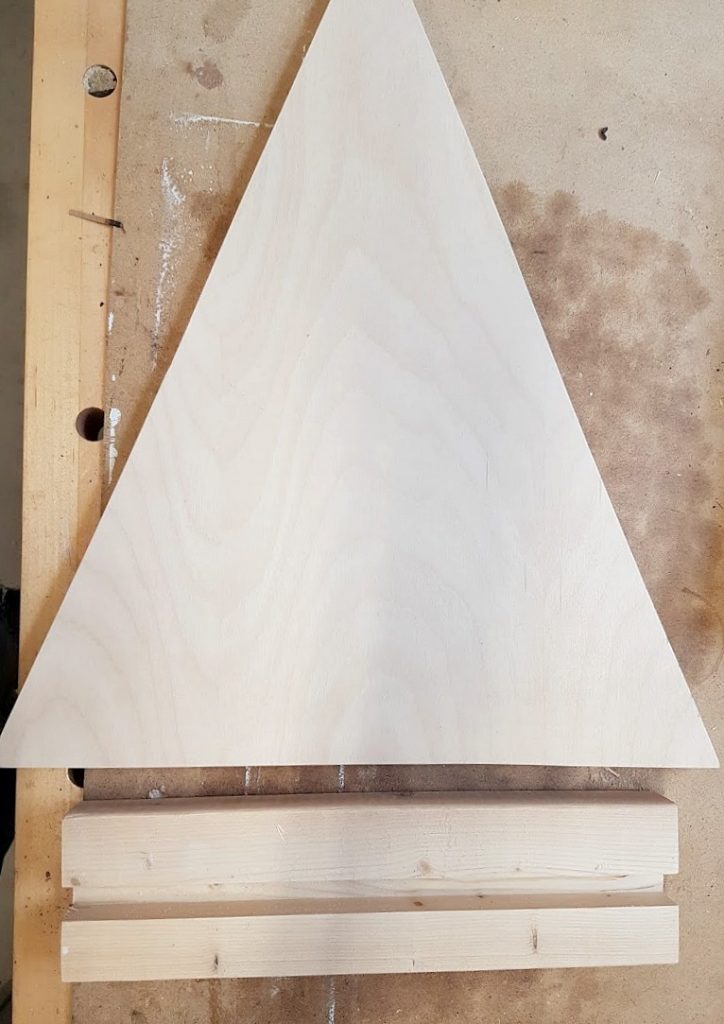 Then my dad routed that piece of 2×4 so that the triangle piece would slot in. If you didn't have the tools for this, you could also chisel the piece down to create that notch. Basically you just need something as a base to keep your triangle standing up vertically.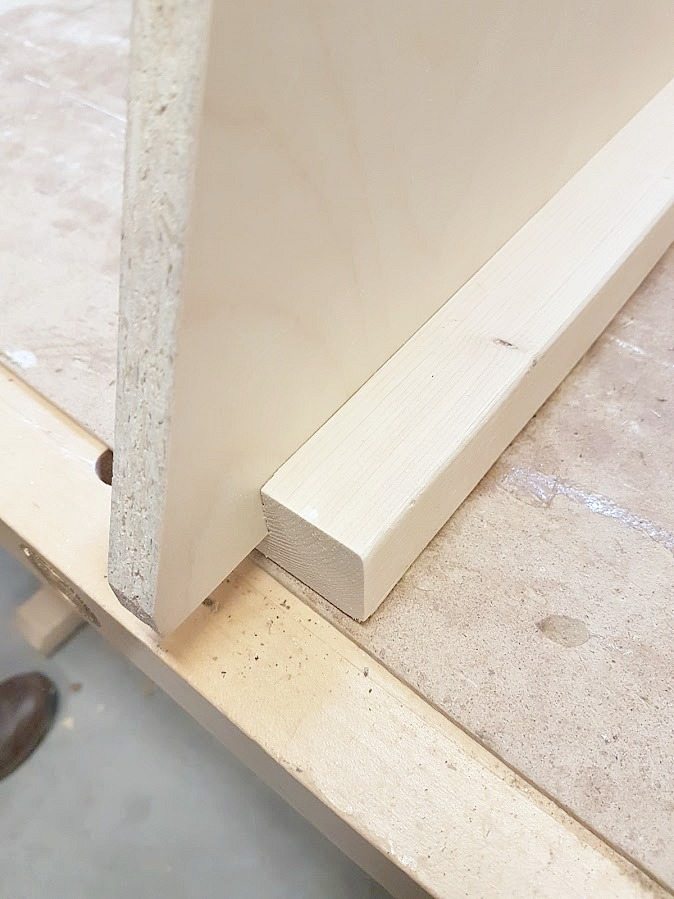 Step 2: Sand
Once you have your pieces cut out, then you want to make sure they are smooth. There won't be many rough areas of the wood since there weren't that many cuts, but go over the edges with some sandpaper to smooth everything out (going from high grit to medium to fine).
Step 3: Apply Minwax Stain and Sealant
I didn't want to leave the wood raw. Instead, I wanted to have a light whitewashed look to it. Something that would fit into my all-neutral holiday decorating scheme, but still leave a bit of the grain showing through.
Have you used the Minwax white wash pickling stain before? If you like that white washed look, this is the BEST stain!! It gives it that milky finish, but you don't have to go mixing anything up yourself. So easy to do! I wish I had had this stain back when I built our farmhouse table. I looooove it.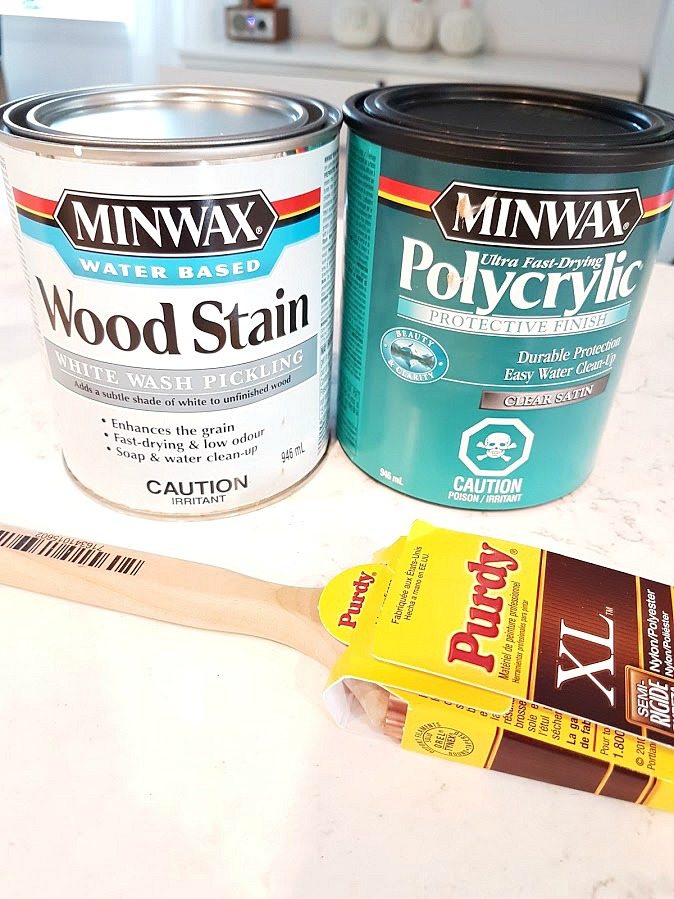 The easiest way to apply the stain is to paint it on, let sit for a few minutes, and then wipe off the excess with a clean cloth. I did this twice to give my tree that whitewashed look.
I loved the way it looked after the pickling, and because this isn't a surface that's going to get a lot of wear and tear, I didn't end up using the Polycrylic Top Coat. That stuff is great though if you're ever painting furniture or a piece that gets a lot of use. The polycrylic is a perfect sealant and top coat that doesn't yellow and is low order (cause lots of them can stinkkkk!).
Step 4: Decorate
Now that the tree is all ready to go, it's just a matter of decorating it however you want! I love all things neutral, so I grabbed some black and white ribbon from my local craft store, along with some white beaded garland, and strung it along the tree in a cute pattern. Because the tree is going to be sitting on a dresser, I just taped the ribbon at the back of the tree since it won't be visible. I threw on a little wood bead ornament I had made last year, too (again, just taped it up using clear tape).
And ta-da!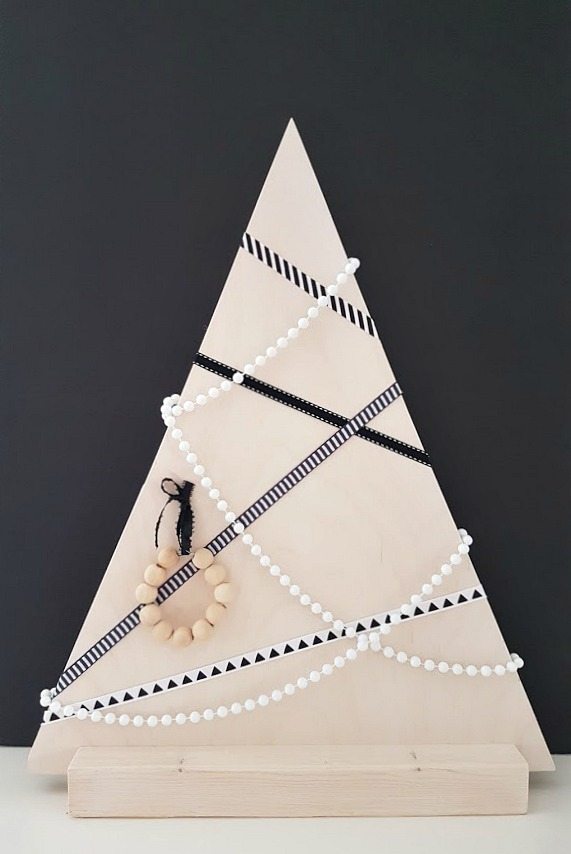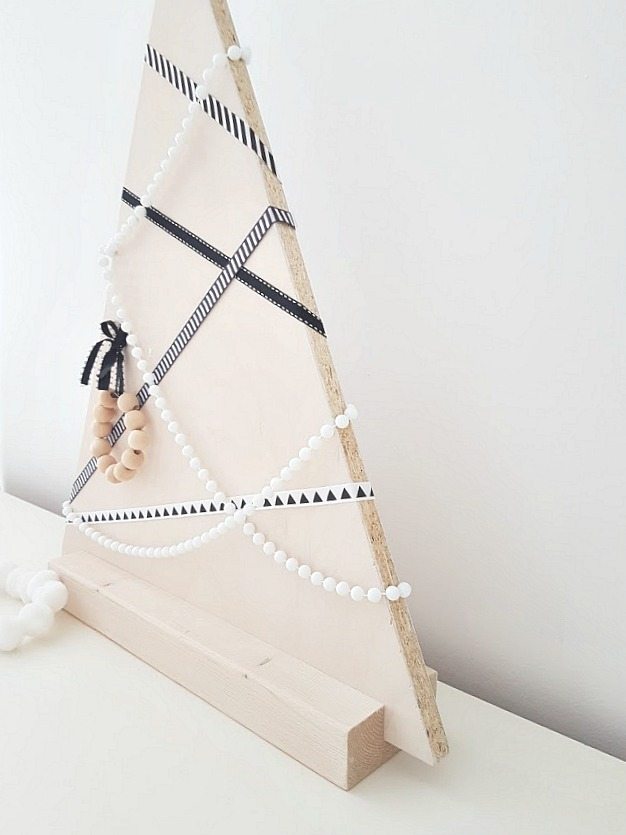 I love the way it turned out! Totally has that scandi, modern vibe. You can also take the ribbon off and give it a new look every season.
Pssst – sneak peak at a new line of mugs coming to my shop soon! Simplicity :)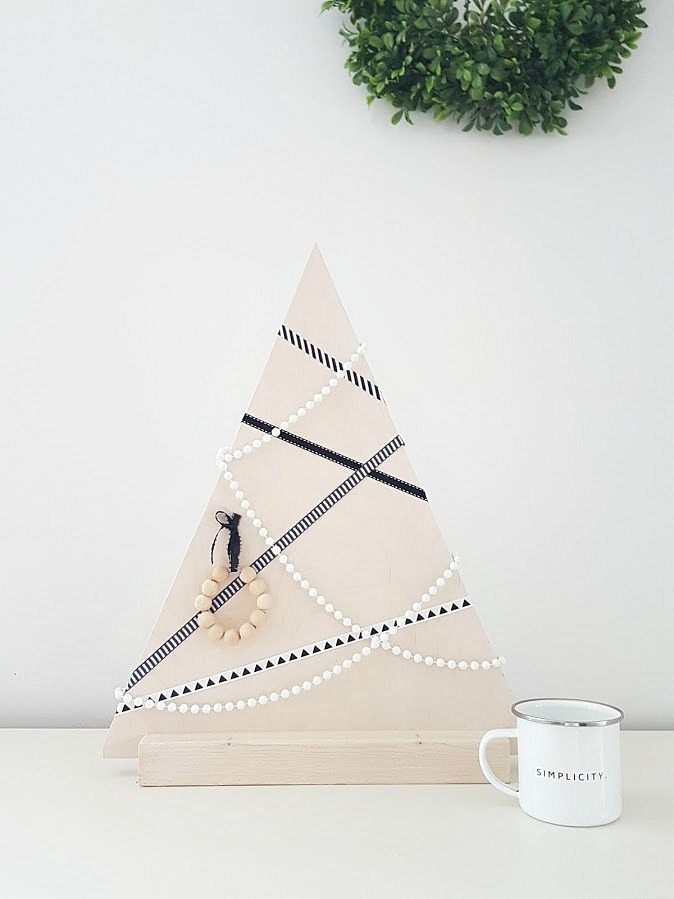 Don't forget to pin it!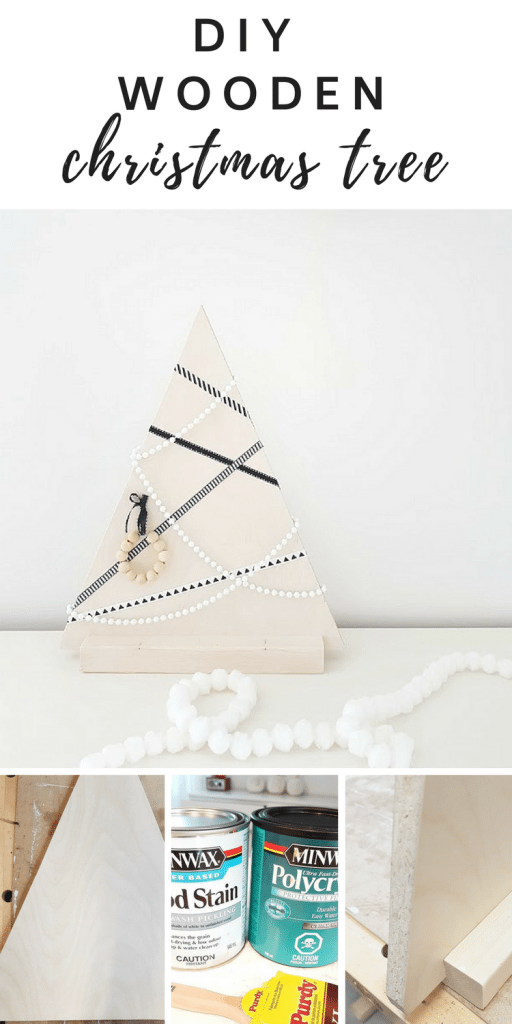 Modern Holiday Home Series:
And now go check out what Colleen, Thalita, Andrea, and Lindi did for their week 2 projects!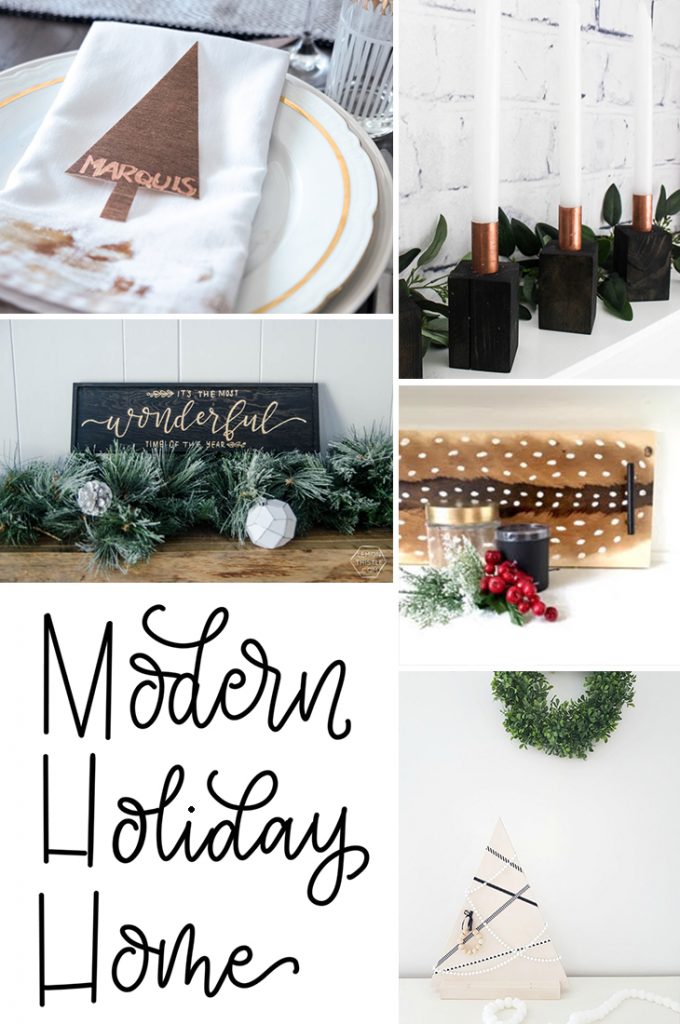 Harlow & Thistle's DIY Fawn Print Wood Serving Board / The Sweetest Digs' Wooden Christmas Tree/ Love Create Celebrate's Advent Candlesticks / The Learner Observer's Mini Wooden Trees/ Lemon Thistle's Stain Relief Wooden Holiday Sign
A big thank you to Minwax for sponsoring this week's projects! We love partnering with such great brands.
Want More Related Posts?
–Hearth and Hand Holiday Collection launched by Joanna Gaines (gorgeous stuff)
-Make this cute DIY advent calendar