My favourite part of any decor project is install day (ohhh, the accessories!) – it's the moment when it all comes together. Well, install day has come and gone, and we can officially call this nursery for sweet baby Meredith done-zo. What we ended up with was a blue and purple nursery that feels soothing and personalized, with a little dose of whimsy.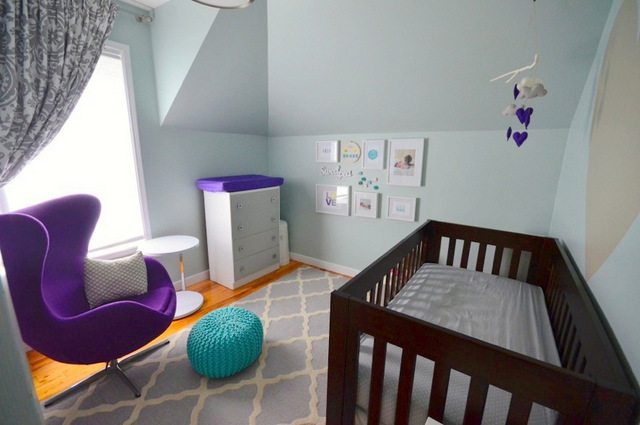 Even though we didn't do much to the actual room (same paint colour, existing crib, dresser, light fixture, etc) the space feels like a far cry from where we started: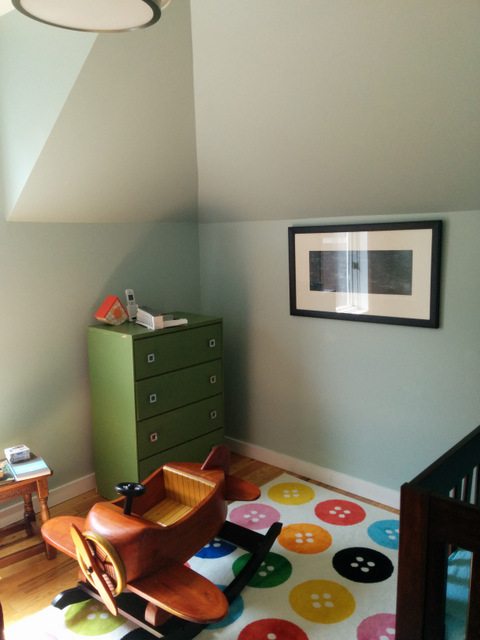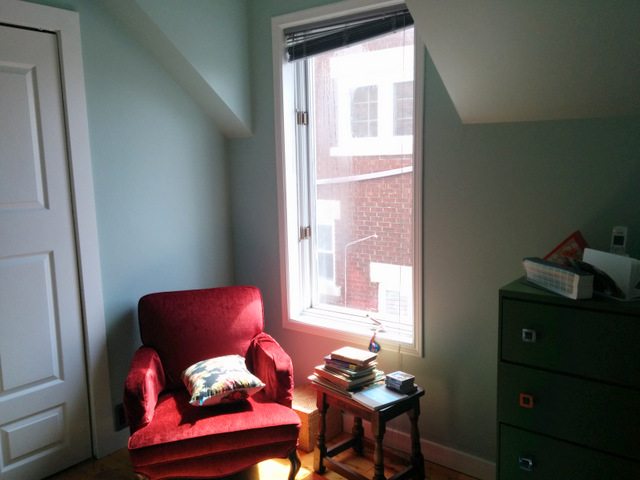 Let's start in the reading corner. We used IKEA Ribba picture ledges to maximize the small amount of wall space. I love that the outfacing shelves turns books into artwork.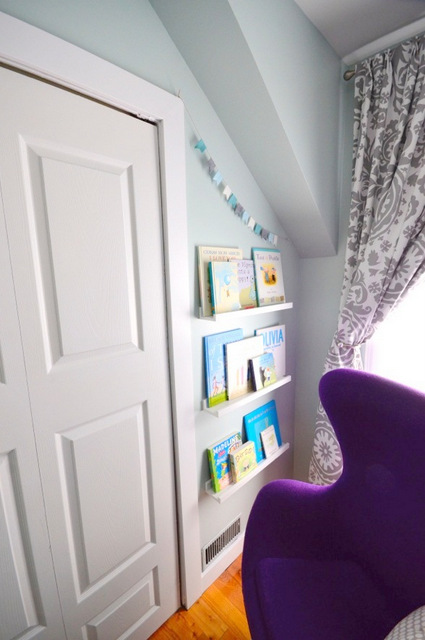 I love kids books, don't you? Snuggling up for a story has got to be one of the best parts of parenthood. Maya is starting to sit more still when we read her books, but I still think her favourite part is just turning the pages and "reading" herself (ie. chatting as she points at the page). Funny girl.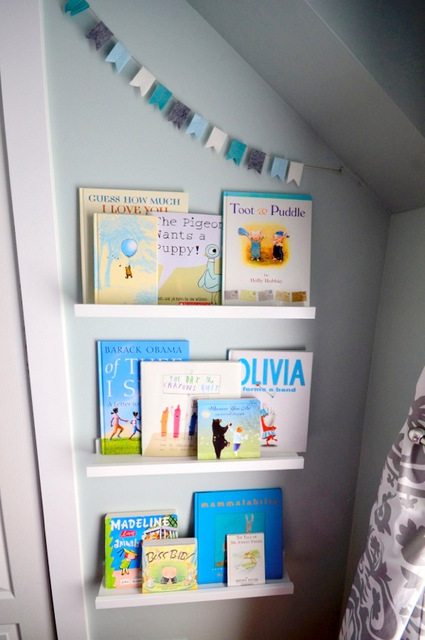 I hung this darling little felt bunting. It (and some other accessories) came handmade from the Blue Without You Etsy shop. Let me just tell you – this seller is AMAZING. She will use custom colours to match your room's decor, and is just a total pleasure to work with. Highly highly recommended!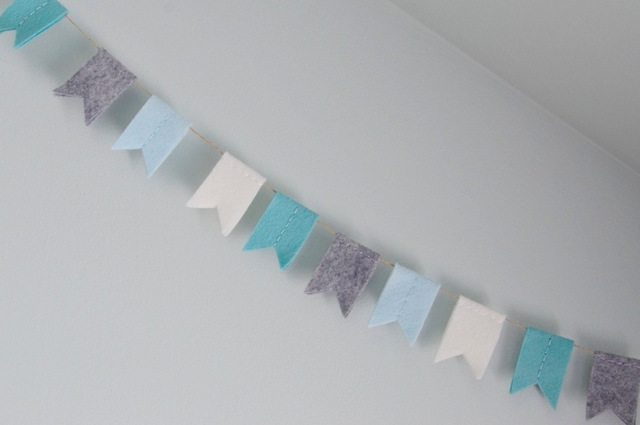 Moving onto the next corner of the room, we have the used-to-be-green dresser. I knew a two tone application of grey and white paint would totally transform this bad boy.
Okay and see that cute change pad cover? It came from another Etsy seller – ButtercupForrest. We actually bought two different covers so that they can be switched out when there are certain blow out issues going on. This shop has pretty much every fabric you can imagine, so you're bound to find something that works for your room scheme.
Can I just say, I was such a naive new mama when I was pregnant and thought that just one change pad cover would be sufficient. I was all "why would I ask for/purchase TWO of these and waste money on this? Money can be put to way better use". Ahhhh little did I know the amount of …. well, pee and shit .. that would occur and go everywhere in those early months. So the lesson? Just buy two (or more) change pad covers. You won't be sorry.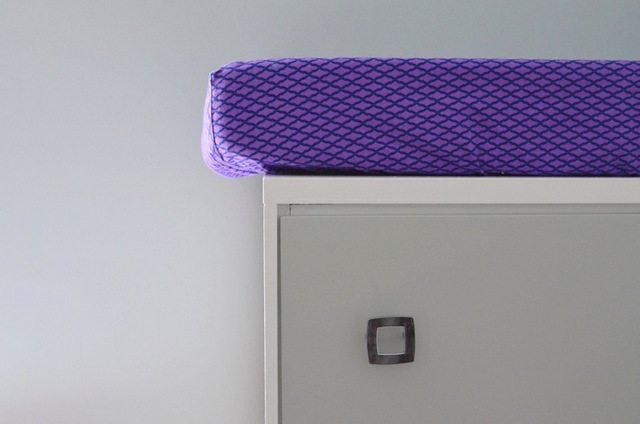 Back to the room makeover. There was what my friend/client Sarah titled "The Great Ottoman debate" when we were doing the nursery. I initially had bought one from Target that had some pattern and hits of yellow in it — this was when I was going down the initial path of a more colourful, eclectic vibe in the room. When I got a better sense from Sarah and Jeremiah that they wanted a more soothing room staying true to the purple and blue scheme, I returned that ottoman and we decided to go ottoman-less. A few weeks later, Sarah was doing some browsing and came across some knitted aqua beauties at Restoration Hardware and started having second thoughts on the ottoman debate. She sent the link to me, and I quickly totally encouraged her to hit the "buy" button (come on, Restoration Hardware? LOVE). And that's how we ended up with this vibrant blue guy in the room. I think it goes beautifully, don't you?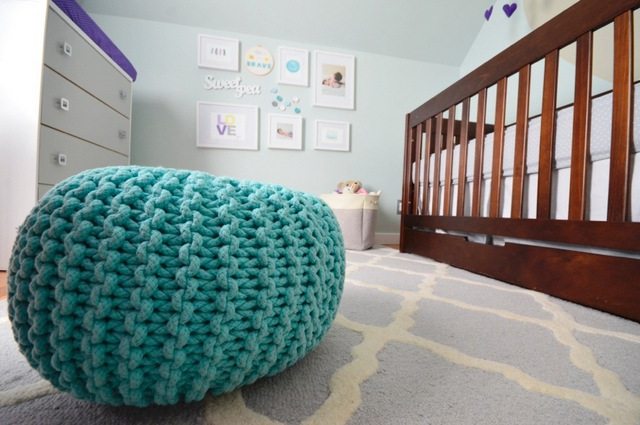 Okay, so now moving on to the other side of the room. Here is the little gallery wall I hung up (okay, Dan hung up – love that handy hubby of mine). White Ribba frames from IKEA (mattes turned around so that they are a crisper white), the 'Sweet Pea' sign from Target, a mixture of photographs and artwork (the LOVE you print is from my shop!), and some handmade goodies.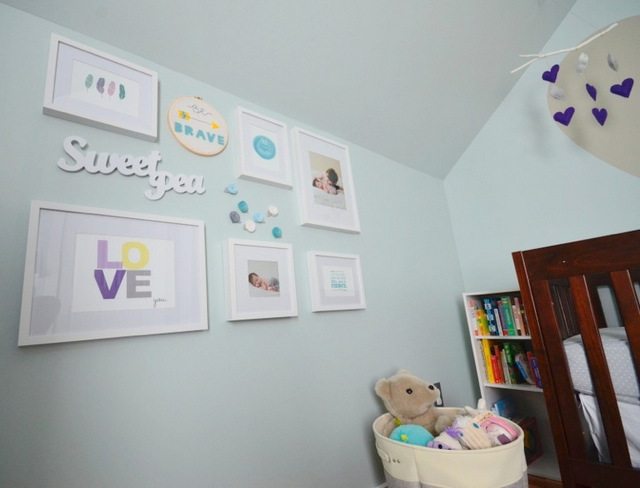 The 'Be Brave' embroidered hoop and felt flowers are from this Etsy seller (the one I raved about above). So cute, right?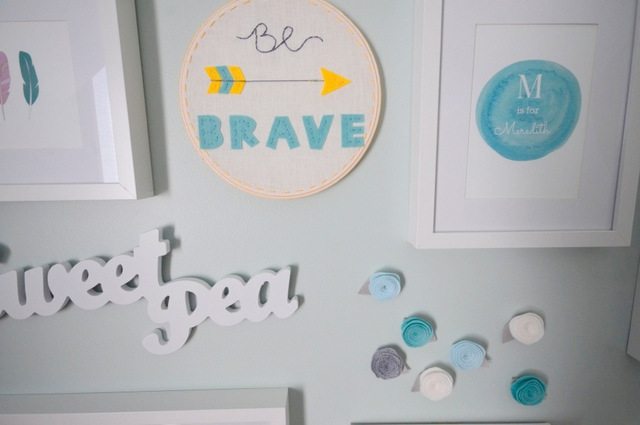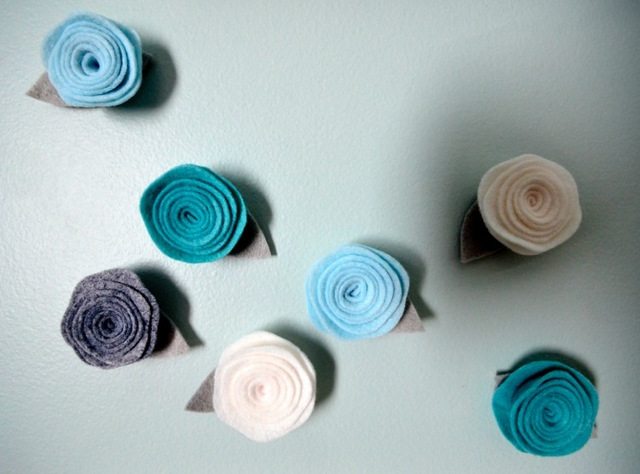 And the decal!! I love this part of the room. The impact it makes behind the crib on a wall that otherwise might have been left blank, is amazing. The grey is warm (duh, the colour is called "warm grey") and it works perfectly on the blue. You can find the heart decal here, but warning – you may end up browsing Urban Wall's shop for hours. It is FULL of sweet decals. I may or may not have already ordered some for Maya's room in the new house (can you guess which one?).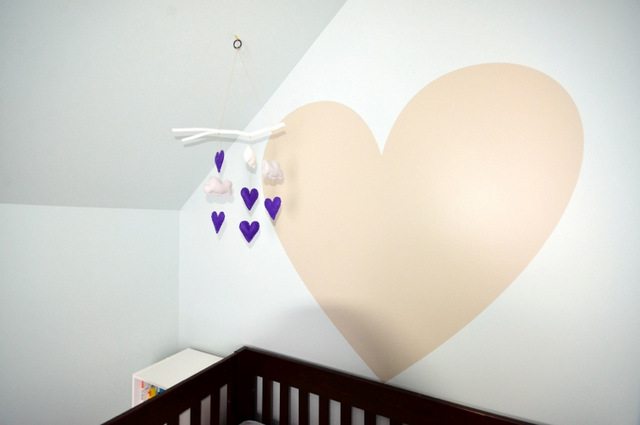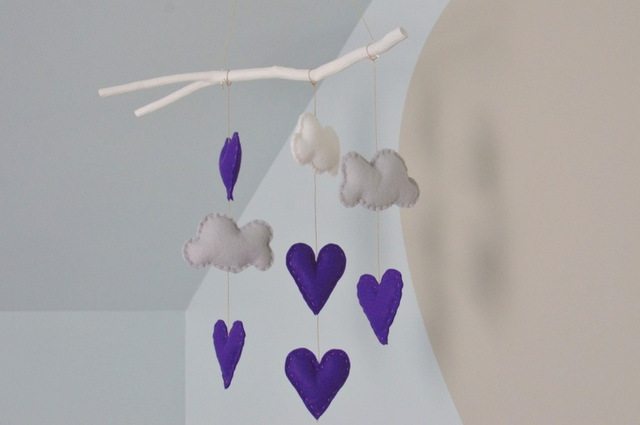 Another darling handmade piece from Blue Without You. We custom requested the violet colour to match with the egg chair on the opposite side of the room – it really helped to integrate that colour into the space.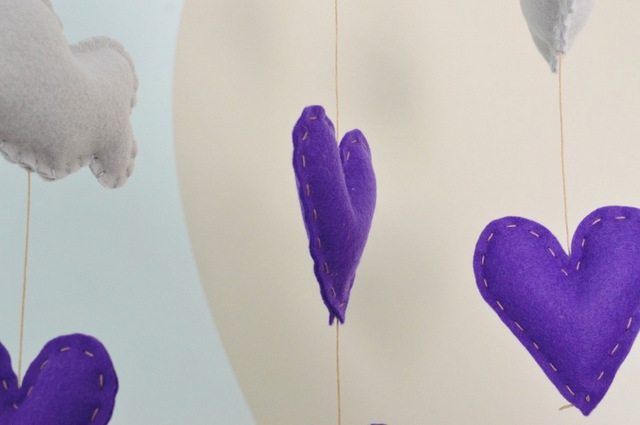 Some labelled pics, specifically for Pinterest. PS. Do you follow me on there? I would love it if you did (@thesweetestdigs)!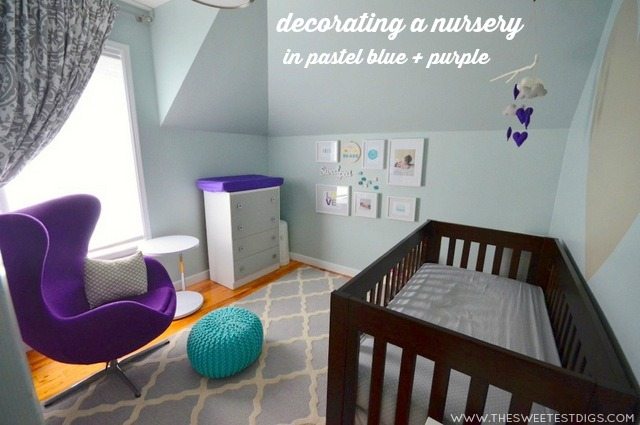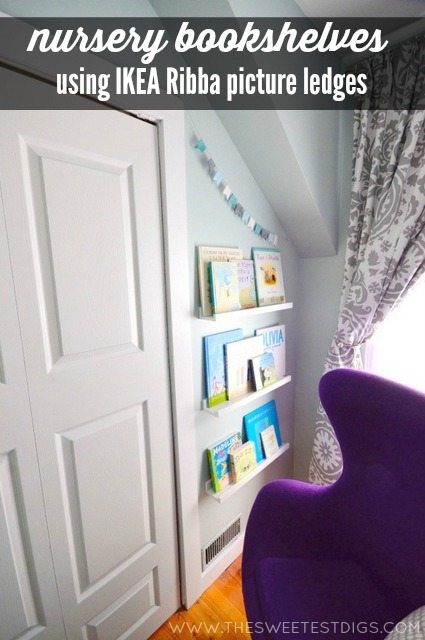 All photos in this post are care of Jeremiah Soucie – client/friend/Father to baby Meredith. Thanks J!
And now for the big long list of where everything came from.
Source list:
-Paint colour: Rainwashed, Sherwin Williams
-Drapes: Varenna Ash from Tonic Living
-Mobile: Blue Without You Etsy Shop
-Felt bunting/flags: Blue Without You Etsy Shop
-"Be Brave" embroidery hoop art: Blue Without You Etsy Shop
-Felt flowers: Blue Without You Etsy Shop
-Large heart decal (in 'warm grey'): Urban Walls
-Throw pillow on chair: Fabric #3 in this collection
-Pouf: Restoration Hardware (in aqua)
-Change pad cover: ButtercupForrest on Etsy – Fabric selection #3
-'Love you' art print: My etsy print shop! 
-White side table: Wayfair
-Frames: IKEA
-'Sweet Pea' sign: Target
-Rug: Overstock trellis rug (in grey)
-Crib sheet: Target
-Crib: already owned
-Dresser: DIY project
-Egg chair: already owned
It's going to be a sweet space for Meredith to grow up in, don't you think? And most of the items in there should be able to grow with her. Maybe the egg chair will eventually come out and a little desk or something go in. In any case, I know Sarah and Jeremiah love it – which totally makes my day!