Remember that paint chip mobile I made the other day for two of my most favourite friends and their little guy on the way? Well, a few weekends ago we threw a baby shower for those same friends. And since I was part of the "planning committee", you can be sure it was full of DIY decorations and games.
First up: decorations. I re-used some of the tissue flowers from another event (see those here), grabbed some balloons from the dollar store, my spray-painted mason jars, and some fresh flowers.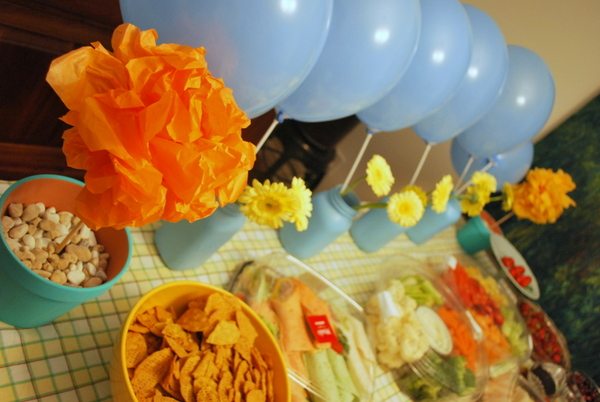 Everything was really simple, but sweet.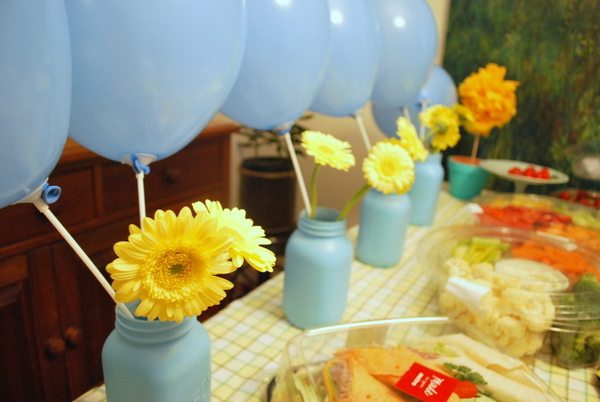 I also dotted some flowers around the rest of the house in mason jars (of the non-painted variety!).
I thought it would be fun to have a guestbook, but decided to do a thumb print tree instead of the usual book. I downloaded the tree here from "One Fab Day", had it printed at Staples on 11×17 paper, and then grabbed some washable ink pads from Michael's. I forgot to take an after photo, but by the end of the afternoon it was totally covered in blue and green leaves. It's a nice reminder of the day and can even be framed as artwork down the road.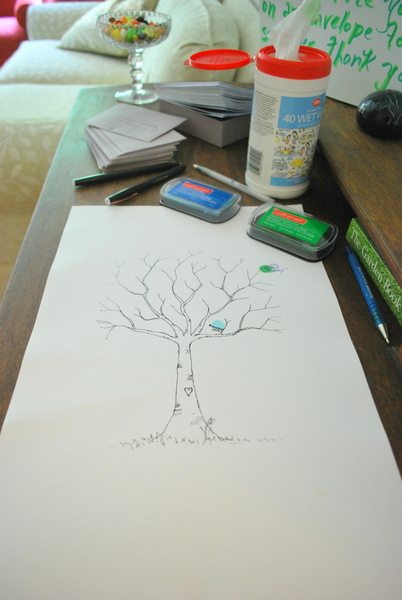 We didn't have too many games, but wanted to have a few fun "stations" for guests. One of these was a little onesie crafting table. I grabbed some plain onesies in various sizes and colours, a bunch of fabric scraps, some peel 'n stick fabric applique (from Michael's), and printed some design ideas. The guests could come and cut out designs in the fabric, and then just apply it with the sticky applique (no iron required!). The instruction booklet says that the fabric will hold up for at least 30 washes, so since the baby will probably grow out of each onesie before then, I figured we were safe. This turned out to be pretty fun, and there were some really sweet designs by the end of the day (a bowtie, truck, airplanes, a worm, etc).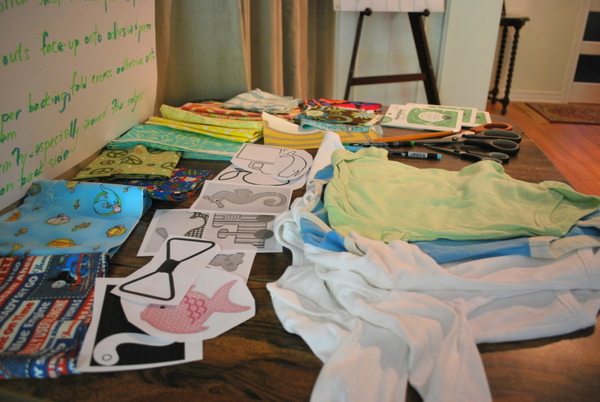 We also put up a chart for guests to guess the date, weight, and time of baby's arrival. People had fun weighing in, and a bottle of champagne was promised to the winner.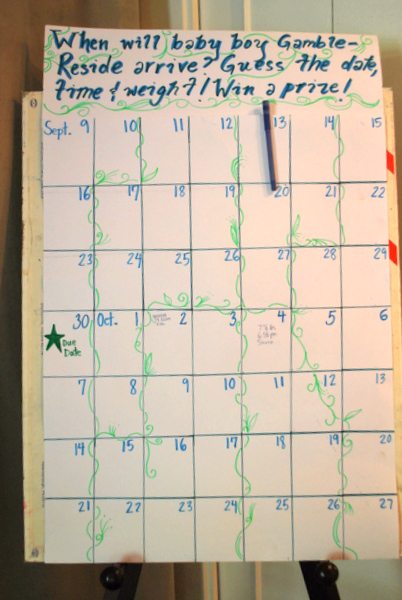 And here is the beautiful soon-to-be-mama, Shannon (and auntie gemma giving baby a kiss!).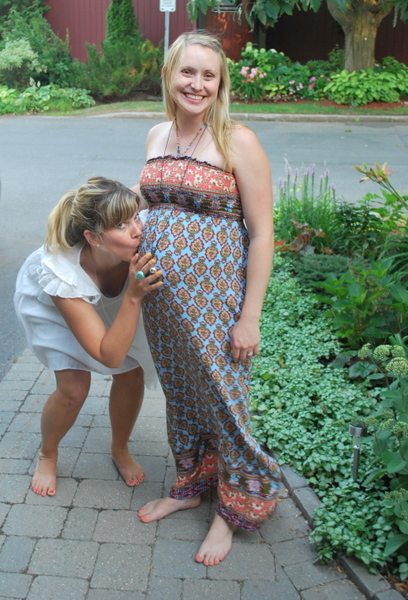 Such a fun day!
Have you guys thrown any baby showers or other parties recently? Maybe a bridal shower or birthday party? Any fun decorating tips or game ideas to share?