March is birthday month in our household. Here's what things have been looking like around our pad: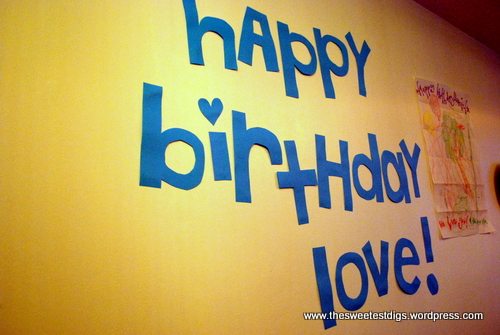 decorations for Dan the man (including a big drawing sent by his 2 yr old niece!)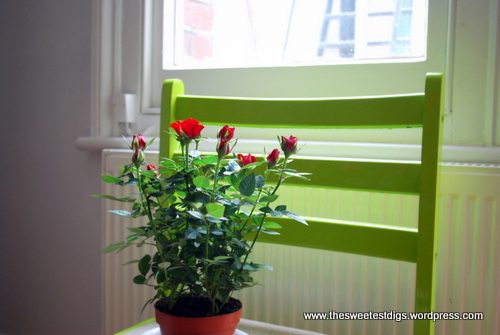 sweet little surprise for me on my day
Our birthdays are two weeks apart in March, so it's always a pretty fun time of year. We usually try and avoid getting big presents and instead put our money towards doing something. I'm not sure if I've mentioned our love of Jamie Oliver yet on the blog?! If not, here it is: we. love. him. His TV shows make us laugh, we can actually follow his simple but delicious recipes, and he does good things for people (have you heard about his food revolution, school dinners program, and foundation?).
A few months ago I came across one of his shop-come-community-kitchens in Clapham (south London). I browsed around and found that they do all sorts of cooking classes, so I bookmarked it as a possible birthday activity. And to celebrate last week, we went for it! We decided to do a risotto class since both of us love risotto but didn't have the first idea about how to make it (in a non-sticky/goopy way anyway). And we also knew it was a budget-friendly meal that you can do so many varieties of. Let me tell you, it was deeeelish. Here's the cute-as-a-button shop:
and the fun kitchen inside: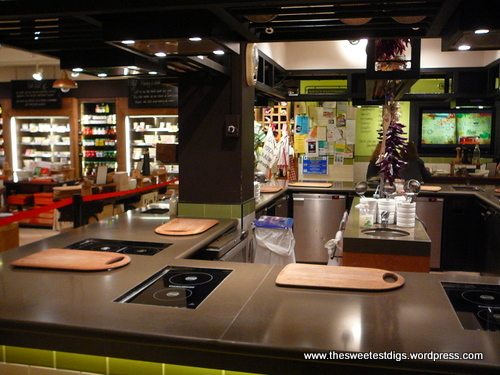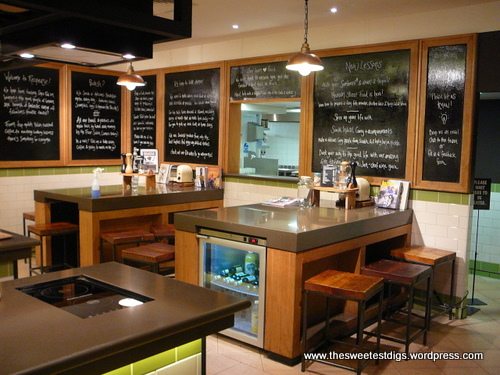 We were a group of about 8, all had a glass of wine in hand and the teacher was a hoot. This is what we started with: finely chopped onion + garlic + celery, risotto rice, oven-roasted butternut squash cubes, butter, parmesan cheese and vegetable stock. I won't go into all the details of the recipe because you can find the whole thing here, but I'll point out the main tips and tricks we learned.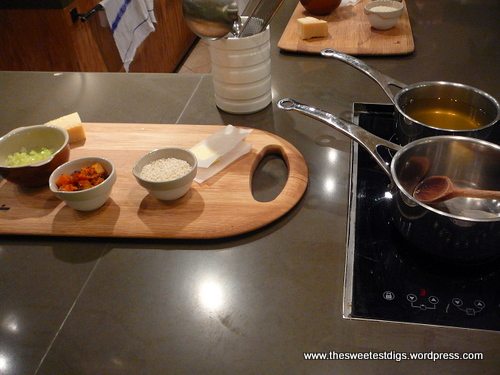 You start by melting a big chunk of butter in your saucepan and then toss in the onion and celery mix. Let this cook down for a few minutes. It should be already be filling your kitchen with a scrumptious smell. Start to heat up your stock at this point (FYI- they recommend buying reduced salt, high quality stock when you can't make it fresh yourself).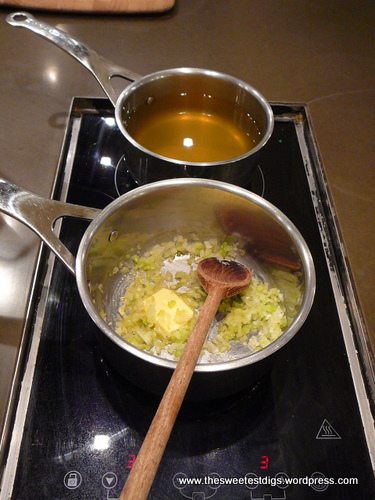 Then you add in your risotto rice. There are three main types of risotto rice: carnaroli, vialone nano, and arborio. Arborio seems to be the kind that you find most often at the grocery store, but actually the carnaroli type was recommended as it's less likely to get stodgy/goopy if you overcook it a bit. At this point we also added a glug of white wine to the risotto.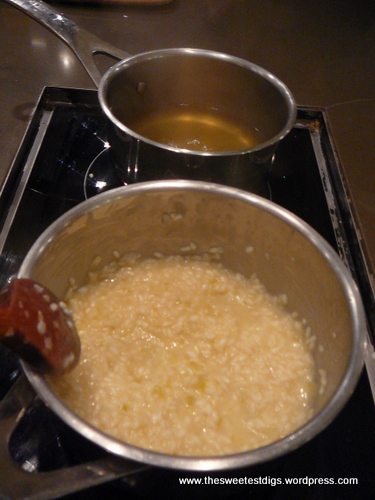 This was the main trick: As you add your stock, you want to let the risotto cook down quite a bit between each ladle. So you would add a ladle of stock to the rice, stir it constantly (you want to break up the rice) until it was quite dry (like in the pic below). Then add your next ladle and do the same. We added about 4-5 ladles in total. Just taste the rice after several ladles to know when it's fully cooked. It should be fairly al dente but not at all chalky.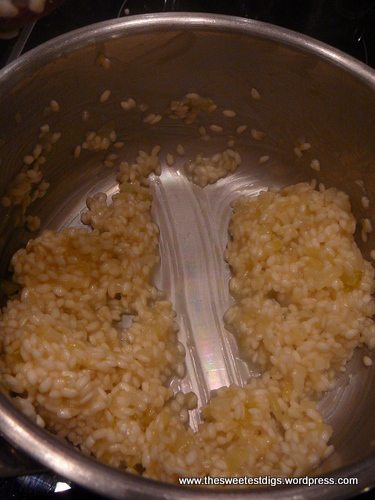 Well, hello there!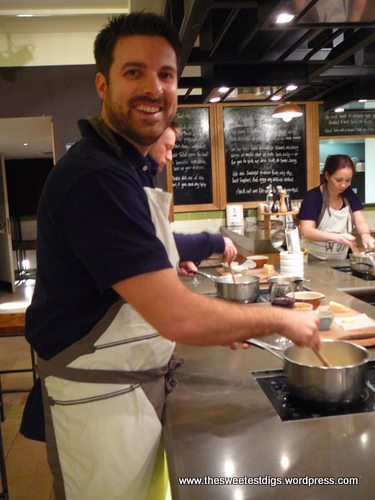 Our version was a parmesan-butternut squash risotto, so at the very end we added the pre-cooked squash cubes and loads of fresh grated parmesan. The squash had been roasted in the oven with some salt, pepper and olive oil. You can add a whole mixture of things to risotto from mushrooms, to seafood, to even sweet stuff like poached peaches and chocolate. Check out the jamie oliver website here for all sorts of varieties.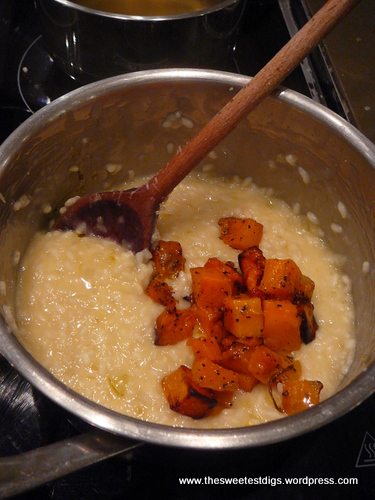 And here is the finished product! We added some aged balsamic vinegar to top it off. It was seriously yummy and SO filling. And you would never know that we didn't add any cream or oil — it was so rich.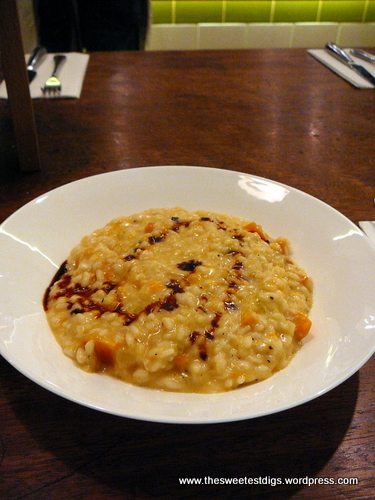 After eating we browsed around the shop. Jamie Oliver has just about ever item of kitchenware in his line now.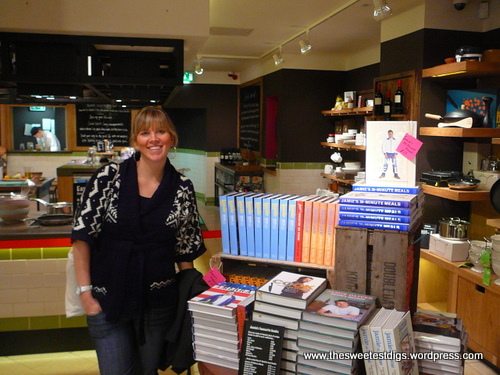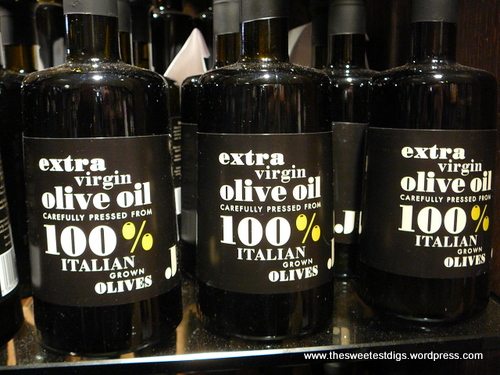 And that wraps up our jamie oliver inspired birthday! Are you a jamie lover like we are? Have you ever tried cooking from any of his cookbooks? Any other chef favourites to share?