When we first moved in to our bungalow, I went on a painting frenzy throughout the main floor of the house. We choose a dark gray for the master bedroom – a striking colour. Both Dan and I loved it. However, after several months of searching and searching for the right curtain, accent pillow and headboard fabrics for that room, I started to love the charcoal grey less and less. Because it was such a dark colour, it was really difficult to match, unless you used white (which we have enough of already with all the white furniture). I found a few fabrics online that I thought would work nicely, but they were super expensive designer fabrics. Nothing was coming up in our "sale bin" budget. So, after spotting some curtains in IKEA that were a great price, I decided it was actually cheaper to re-paint than to leave the charcoal colour and buy the expensive fabric. Time to re-paint, but how to choose the right gray paint?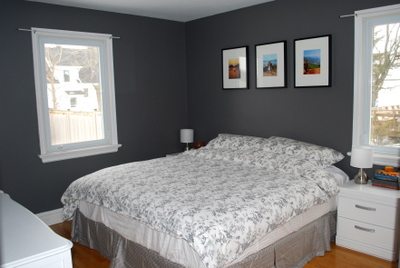 choosing the right gray paint – too purple
I looked at a few swatches and thought I got it right. But then once the paint went up on the wall, I realized how purple it looked. You really need to pay attention to the undertones of grays, as they can really come through once the paint is up on the wall. This one? Totally lavender. Ugh.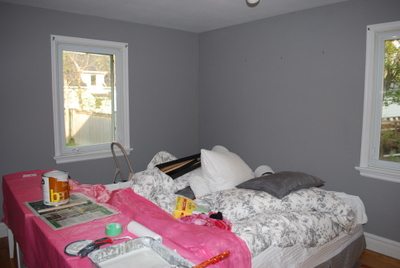 choosing the right gray paint – too green
I went back to the store for a second can and this time went for a more green-grey (called coventry grey, HC169). Luckily a few strokes in with this new colour and I knew it was just right. One coat and it was done – the perfect light grey tone I was hoping for.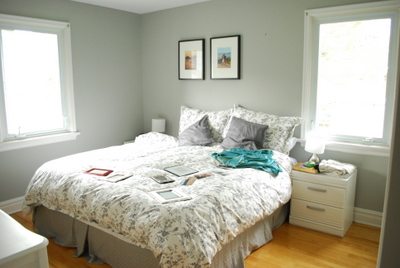 Stay tuned to see how the bedroom mini-reno turns out!