When EQ3 got in touch recently and selected me to be their December "blogger of the month" I was ridiculously flattered. I'm crazy for the Canadian store – did you know it originated in Winnipeg and they still manufacturer most of their products (including all upholstery pieces) there? Love that. And don't forget the EQ3 Reverie sofa that I have been so pleased with.
I was gifted an accessory from EQ3 as part of this series, and I quickly chose the 'Conner' mirror in white (it retails for $99). I have been keeping my eyes peeled for a round mirror for above our bed for a long time now, and the Conner couldn't have been more perfect.
It's a pretty big mirror, so it's easier to have two people on hand to do the install. The hubs and I measured out where the center spot on the wall would be, eyeballed the right height, and then broke out the drill. We do the paint tape trick of folding it in half and sticking it below the spot where you're drilling to create a little ledge where (most) of the debris should fall. It definitely helps with the clean-up.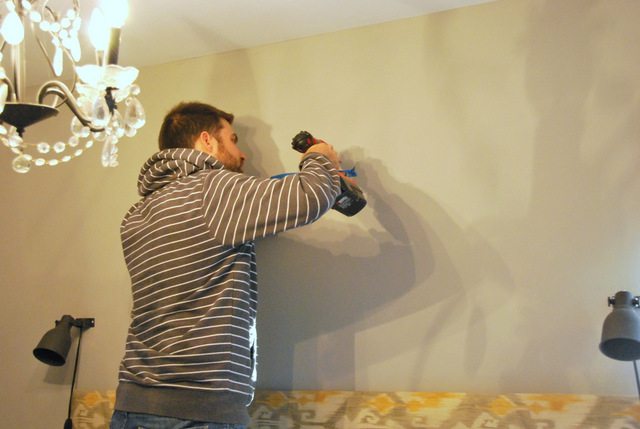 The simple round shape of the mirror plays off the straight lines of the bed and headboard perfectly. And it's big enough to have a presence up there, rather than feeling too small and rinky-dink, you know?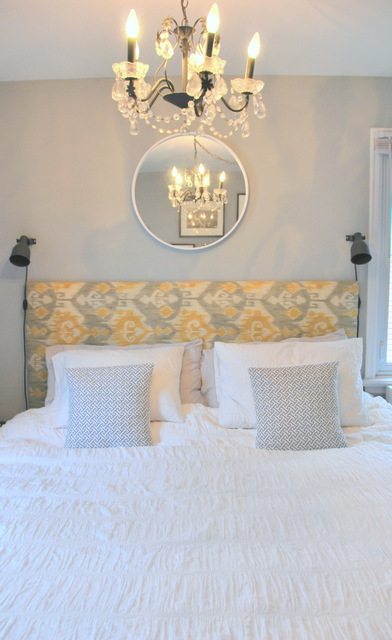 I like the way it reflects the chandelier and the art display around the TV on the opposite wall. Again, the lines on the opposite wall are very rectangular (frames + TV), so it's really nice to have the rounded shape of the mirror to add some dimension.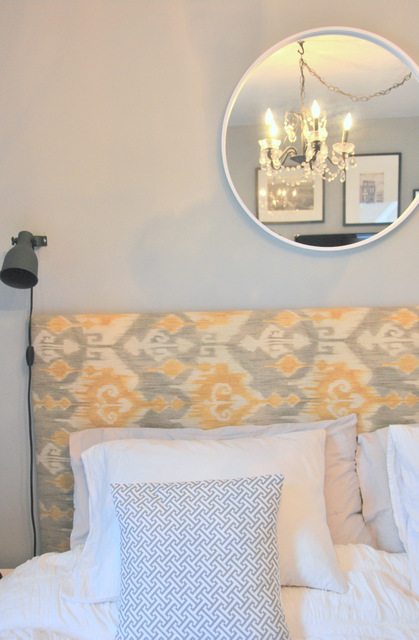 And the symmetry that the mirror + light fixtures + pillows provides in the room is much needed with our off-balance windows.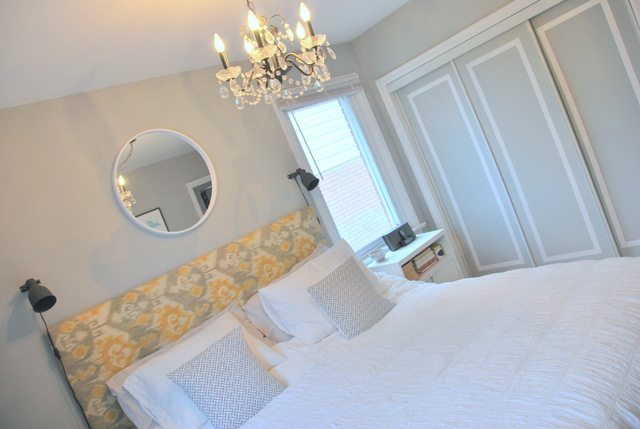 One of the features I really like about the mirror is that it is inset quite deeply within the painted wood frame. Somehow it makes it feel more luxe that way. It gives off a bit of a nautical feel, don't you think?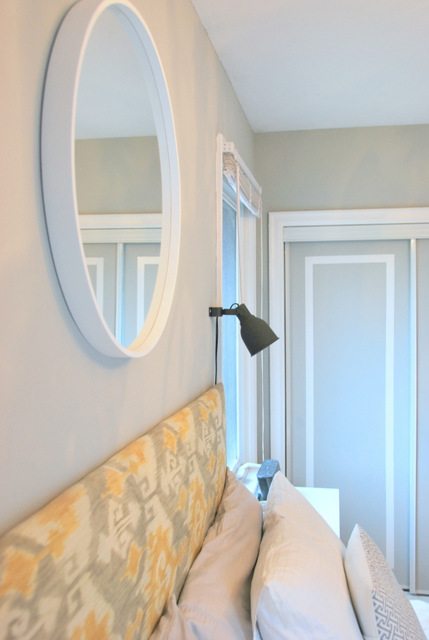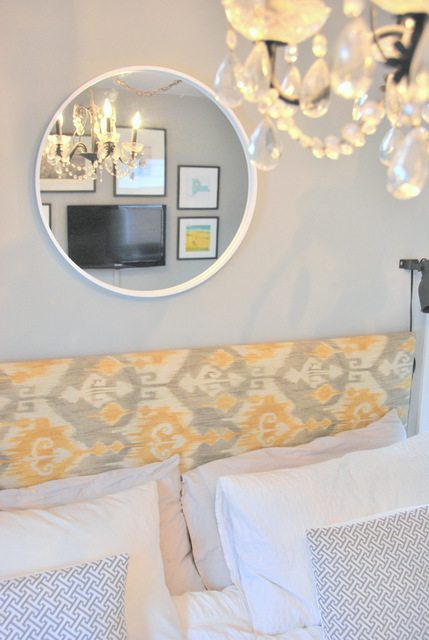 Sometimes it's just one piece that can make a room feel a whole lot more complete, you know?  And although I used this in our bedroom, the scale and look of the mirror would be fab in so many different spots. I can picture it looking gorgeous in a bathroom above a vanity, in an entryway above a narrow table, above a fireplace, or on a big wall in a mixed gallery wall.
Thanks a million to EQ3 for having me as the blogger of the month, and for this lovely mirror! I couldn't be more pleased.
PS. I owe you guys a few other bedroom updates. More on those wall-mounted lights and bedside table soon.
What do you guys have hanging over your bed? Anything? I always find it a difficult spot to decorate. Leave just the headboard, add a mirror, mixture of frames, some antlers or other more arty object, etc. So many choices! Oh, and I always make sure to hang things really securely…wouldn't want anything coming down in the middle of the night!
Get Access to The Vault.
Get FREE organization printables, art printables, design guides, and more. There is SOOOO much good stuff.
You know you want in!