I am trying to stay ahead of the holiday craziness this year and get some of the items checked off the "to do" list. So far I just have Christmas lists brainstormed for loved ones and some DIY projects pinned, but our Christmas cards from Shutterfly? They have been designed and ordered. Boom. They arrived the other day, and they are g-to-the-orge.
I spent way too long going through all of the options on Shutterfly, but was pretty sold when I came across this beauty (called 'All Stripes New Year's card). Black, white and gold, with some stripes, and lots of room for pics and text? Perfect.
They have whole coordinated collections now, so I grabbed some matching address labels at the same time (these 'Glamorous Season' ones) to create a stylish little package. Makes the whole thing so easy as you get the envelopes too.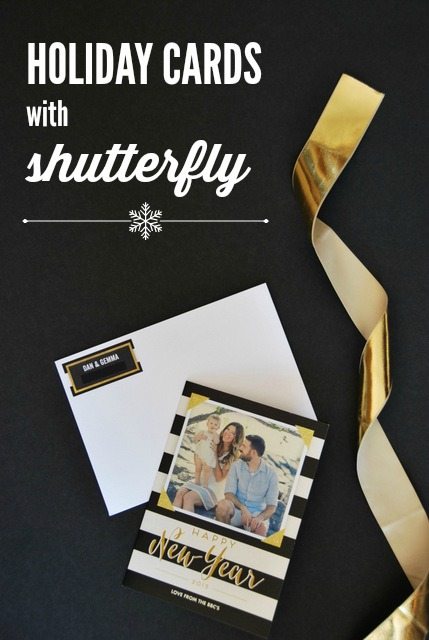 To design the card, I picked some of my fave pics from our beach photoshoot this summer for the front and back, and then made up a quick collage of other memorable 2014 moments for inside the card (I made the collage in PicMonkey).
I really love the ability to add the text. I wrote a quick summary of our year which kind of doubles as the whole "Christmas letter" idea. Now we can just do a small note and signature in each card, and not have to take hours and hours to write each one (annoying when you pretty much just want to say the same thing in all of them!).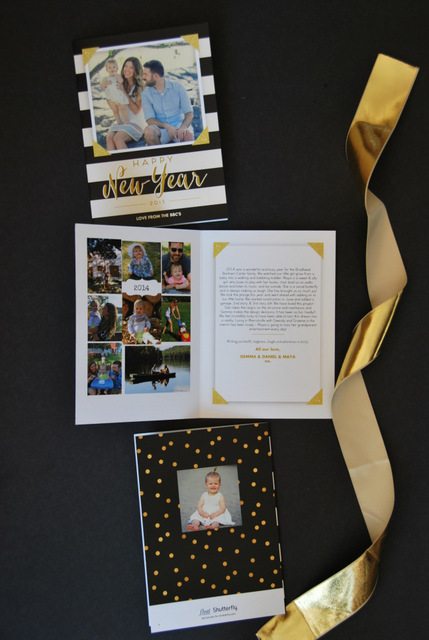 Shutterfly always has sales on the go for all of their various products. You can check out their special offers page to see them all. Right now you can save up to 40% on cards, 40% on calendars, 50% on photobooks. See what I mean about good sales?
Are you guys holiday card people? I always have been, thanks to my Dad who hand writes about 100 every year. I love getting them and dotting them around the house. It's like getting a little present in the mail every time one comes.
*Disclamer: Shutterfly has sponsored this post, but all opinions are, as always, my own!*