So after talking about all the shopping and planning we did for the condo redesign project (see that here), let's get to some after pics. Those are always the best part, right? Remember the living room before (see the rest of the before pics here)?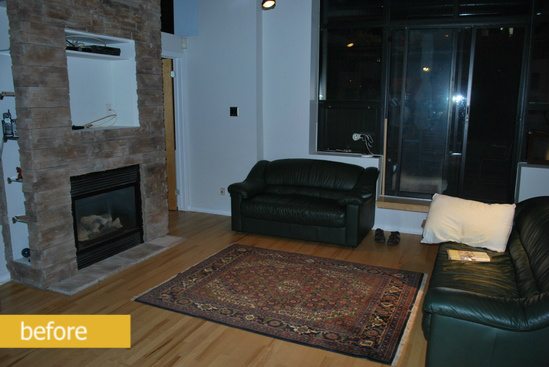 Well here it is looking much brighter, more contemporary, and well, finished. What do you think?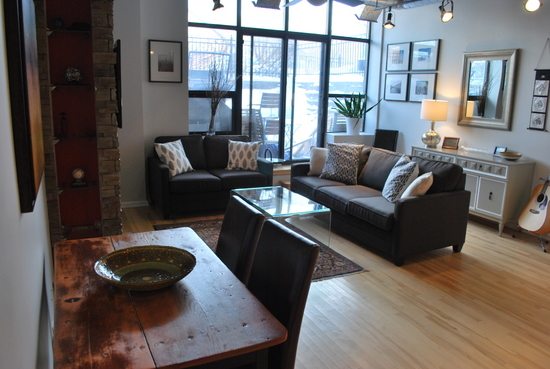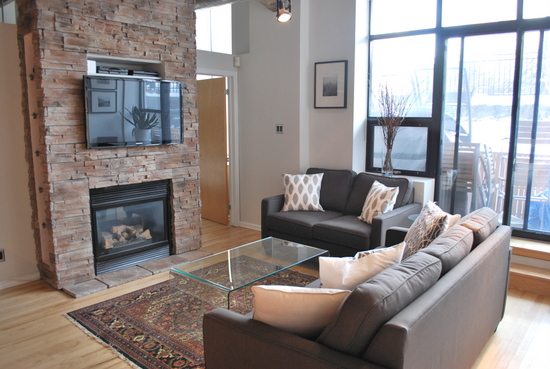 The colour scheme is pretty neutral, but mixed with pops of colour and pattern throughout. We started off with a blank slate and I just kept layering piece after piece until it felt right.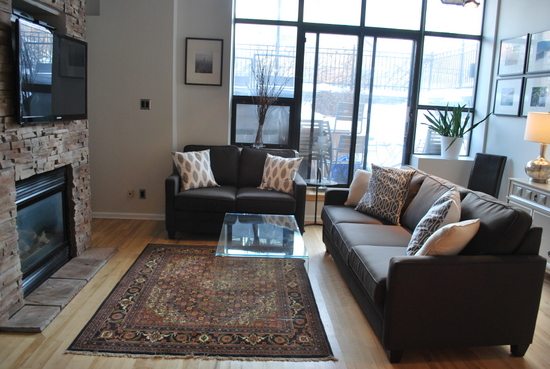 The glass coffee table is perfect for showing off the Afghanistan rug. It also doesn't break up the space, like a chunky or dark coffee table would have.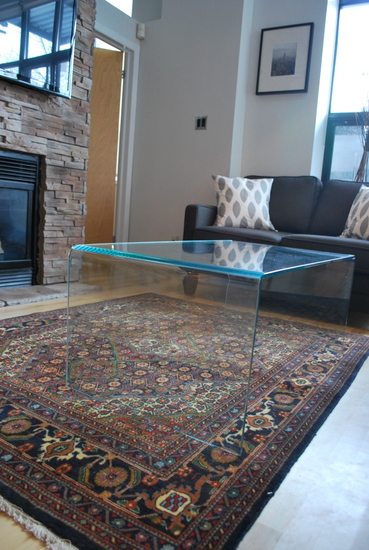 And that buffet I scored off Kijiji for $20? Well with a coat of green/brown paint (and white on the trim details) it looks fab. It's probably one of my favourite pieces in the whole place.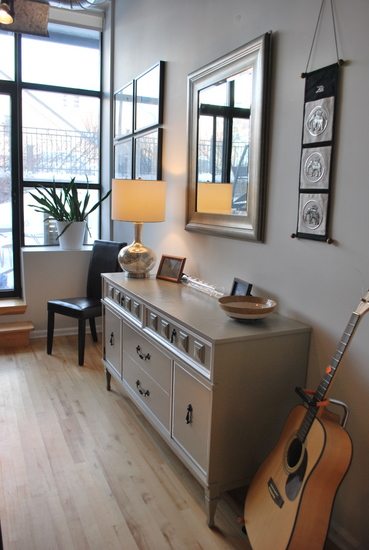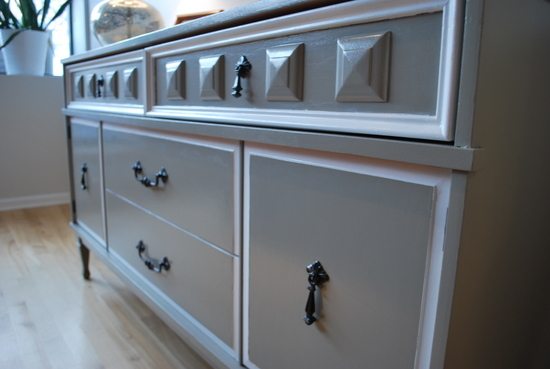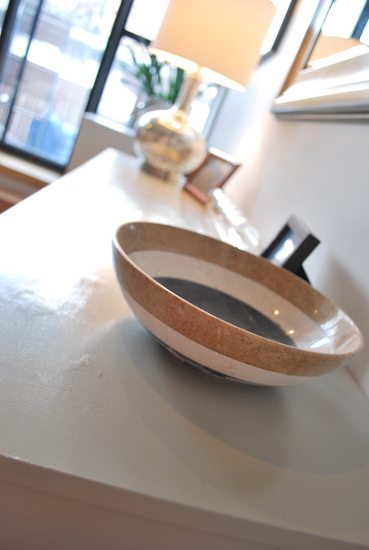 Since we were trying to keep costs down for artwork, I blew up some of the owner's travel photos and framed them with the IKEA Ribba frames (and new bright white matte board that I grabbed from my local arts shop – Wallack's). The big mirror over the buffet (which was a steal at around $40 from HomeSense) bounces light and makes the space feel way bigger.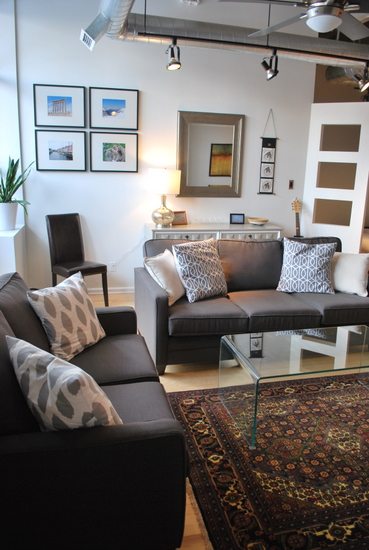 The dining room table which I grabbed for $200 at an antiques shop looked great after a coat of matte black paint on the legs. It adds a nice rustic element to the space. Pushing it up against the wall means that it fits the space and two can easily sit down for a meal. When more guests come over, it's easy to pull it out from the wall and grab the other two dining room chairs.
Oh and the piece of art above it – another steal from HomeSense at about $75.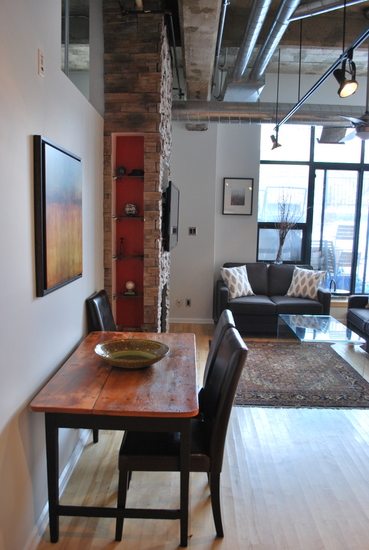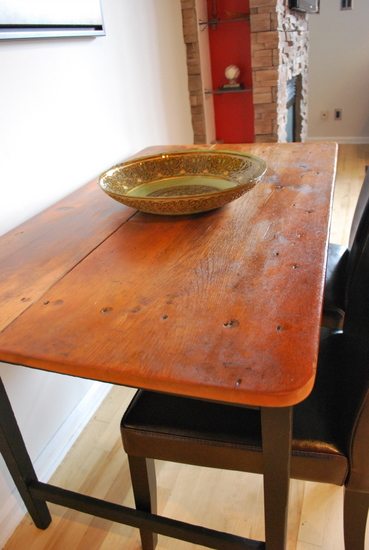 I wanted to add in a pop of orangey/red somewhere to pull out some colour from the rug, so these built-in shelves were the perfect place to do it. They had sort of been lost to begin with, but now are definitely a feature.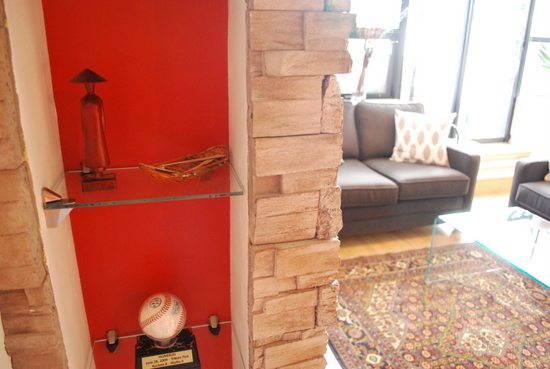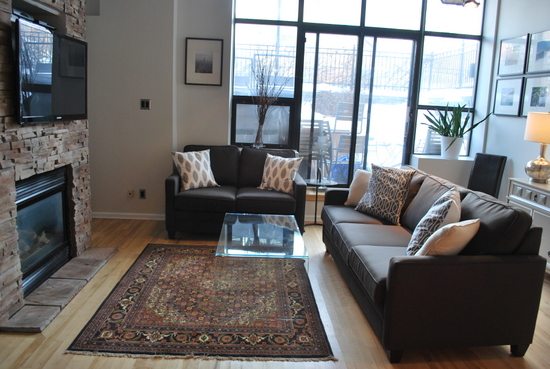 So that's it for the living room! I'll be back later this week with the bedroom, bathroom and kitchen. Fun, fun!
**You can check out part 2 of this before + after reveal here**
What do you guys think of the space? Did it meet the casual-contemporary-loft look we were going for?  Do you think the mixture of high and low pieces work? 
Get Access to The Vault.
Get FREE organization printables, art printables, design guides, and more. There is SOOOO much good stuff.
You know you want in!