Now that my 3-year old daughter Maya is totally getting the idea of Christmas (we have had jingle bells on repeat in the car since November 1st), I figured it was time that I make a DIY advent calendar for her to enjoy.
I wanted one that was reusable and that I could fill up with a mixture of treats, little gifts, and also messages with activities to do together ("go see the neighbourhood xmas lights", "make a christmas card for ___", "find a toy to donate", etc.).
I fell in love with the ones I had seen made from muslin cloth bags so decided to go with that idea. I loved how classic and sweet it was. Plus bonus points for being so easy to make and pack up for storage during the year!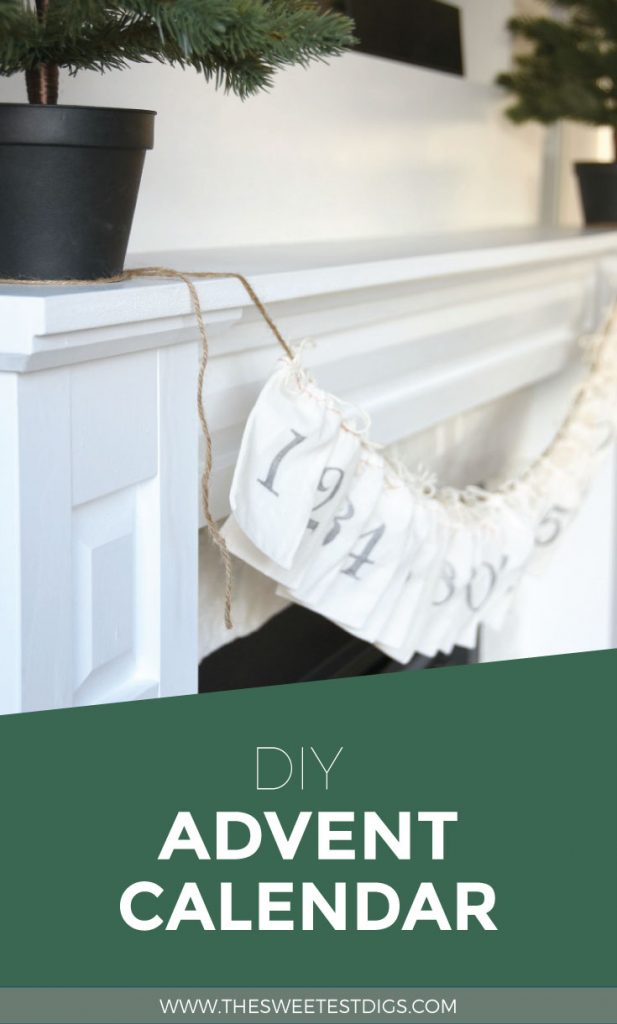 Here's What You'll Need:
*Affiliate links have been used. See my Policies page for more information.
Small Muslin Cloth Bags – You want to go for around 3 x 5 in size, give or take a little (much bigger than that will make it seriously big to string)
Numbers Stamp Set – I couldn't find regular rubber stamps with large enough numbers, so instead I used stamps that you peel off and stick onto an acrylic block to use. The ones I used were from Michael's, but I found this stamp set that looks really similar. You also need to get an acrylic block to affix the stamp to.
Permanent Stamping Ink – I made several of these advent calendars and tried out both red and black (they both look great!)

Here is the black stamping pad, and you'll see all the colors listed beside it from the same brand.

Twine/String – This is to hang your calendar. Choose the style that suits your design scheme!
Scissors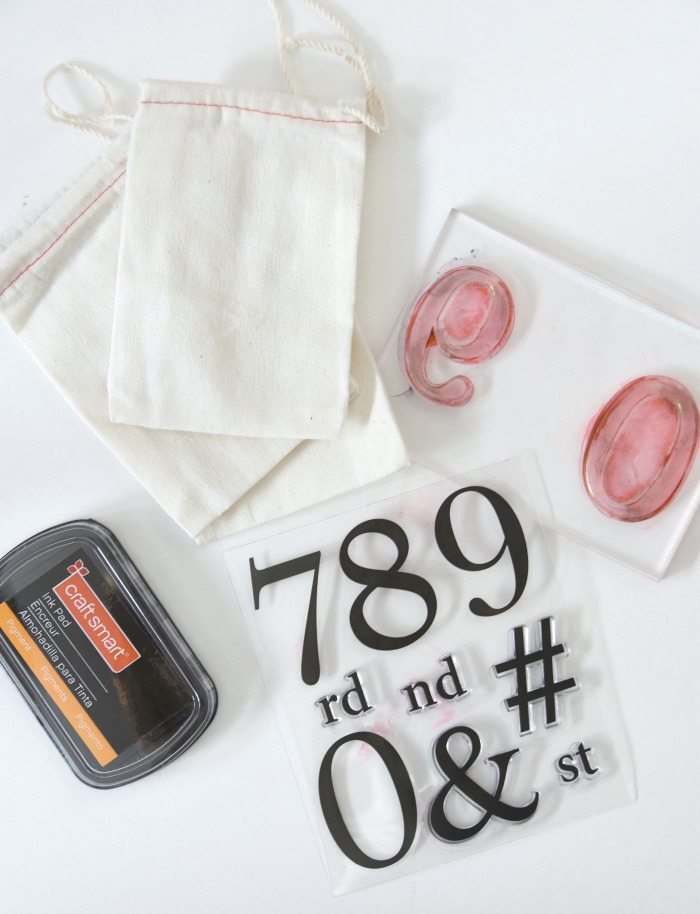 The DIY:
It's an incredible easy tutorial. I almost feel a little bit silly writing it out ….
Step 1: Lay out Bags
It'll be a lot easier if you lay out all your bags onto a big work surface. Otherwise you might get muddled up on which numbers you have and haven't done.
Step 2: Stamp Bags
Here's my tip to make it a little quicker and easier if you are using the same type of acrylic block stamps like I did. Do everything with a 1 first (so: 1, 10-19, 21). Then do all the 2's (2, 12, 20-25). Then all the 3's (3, 13, 23). Etc. You need to keep track of them as you go, but overall it made it a lot faster – especially if you are making several.
Although I read about putting a piece of cardboard into your bag when you stamp it, I did a few test runs and found that the ink doesn't actually come through. No need to have a backing.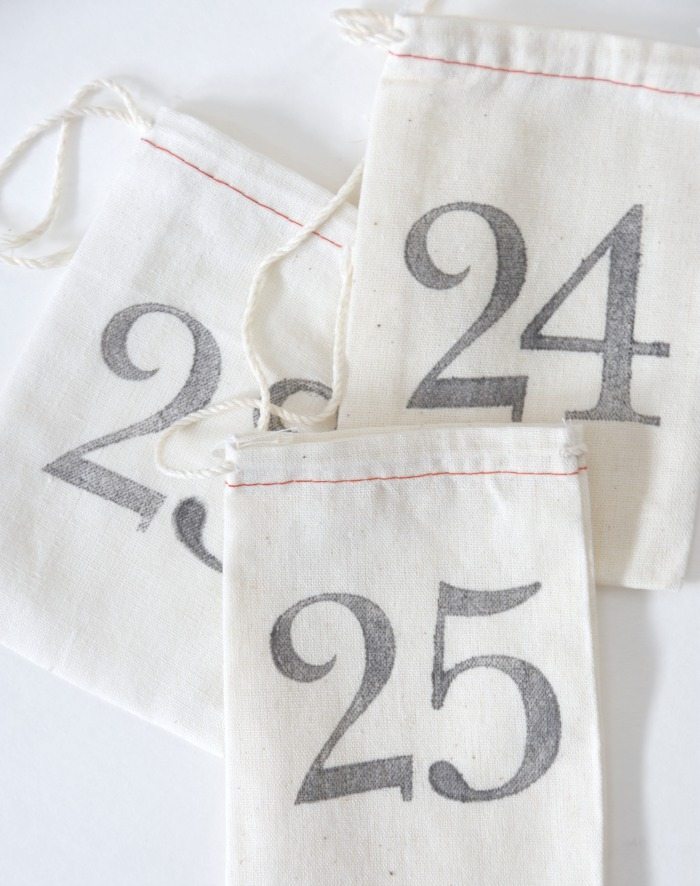 Step 2b Optional: Iron
If you wanted to be really sure that the ink had set, you can take out your iron and go on top of each bag for a few seconds. I made a few calendars – one where I did this and others where I didn't. I haven't noticed a difference between them, but if it's going to give you more peace of mind, then go for it!
Step 3: Hang up in your house!
You need a fairly long string to hang all the bags from. I used a jute string, but you could use a coloured twine or baker's twine. Pretty much whatever goes with your overall design look.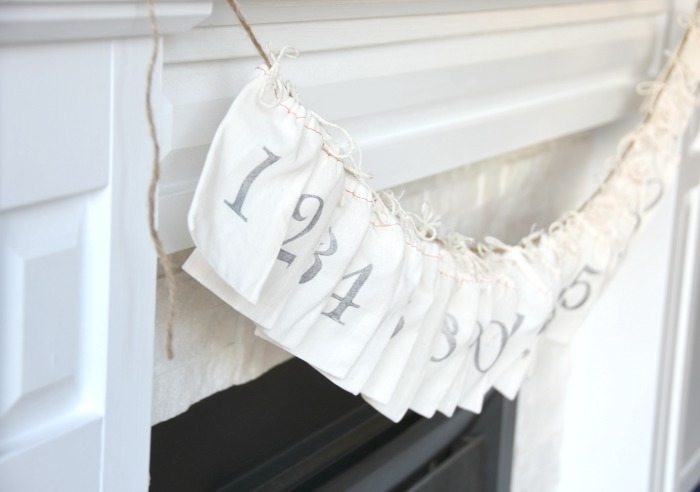 See what I mean about it being easy? The most annoying part is cleaning up the acrylic block afterwards and the ink that got on your hands (wear gloves! I wish I had!).
I love the way it looks along our fireplace mantle (FYI – I pull it up on top of the mantle when we have a fire going).
If you don't have a mantle, you could tie the string anywhere in your house that made sense – on a window, even with tape on the wall, on a dresser, etc. I have also seen folks use clothespins to hang the bags instead of tying them. Totally up to you!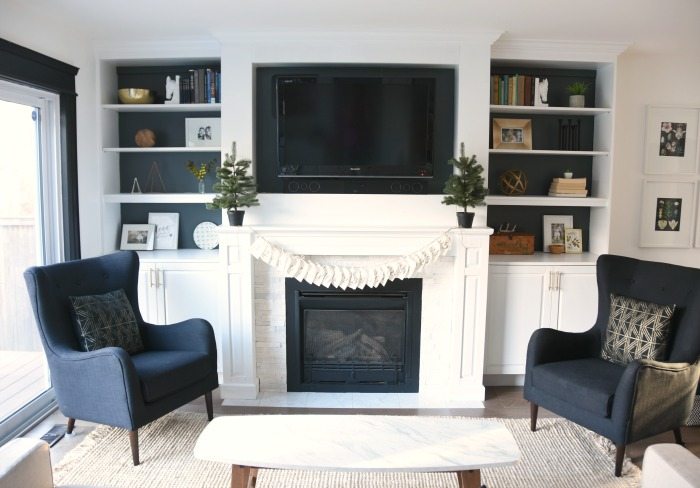 The two mini trees that I used to anchor the strings with came from IKEA (about $15 each). I don't think we're going to be able to do an actual real tree this year, as James is pulling up on EVERYTHING. I have visions of it falling on top of him. I'm trying to come up with lots of fun alternatives though so the house still looks super festive.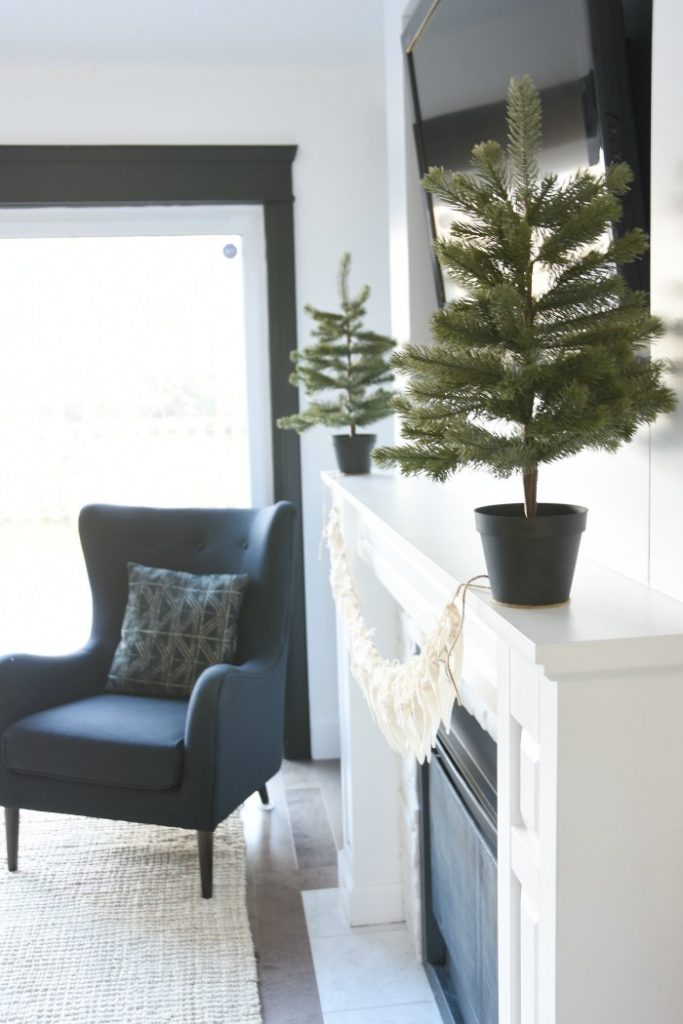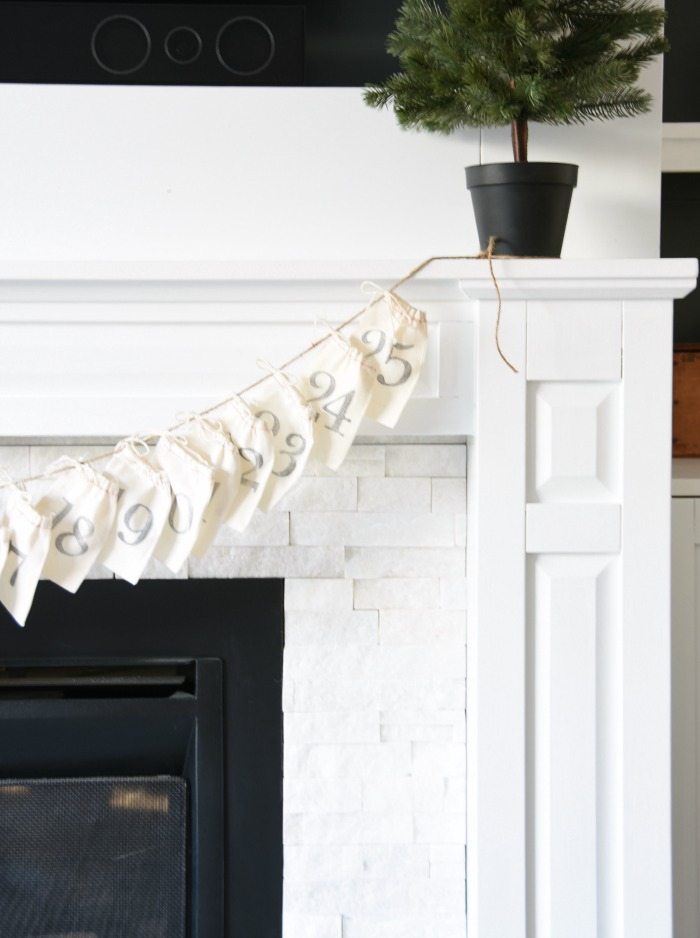 I made some of these calendars to give away as gifts and to sell at an upcoming pop-up shop.
Wrap them up with some string, loop a bunch of twine to go with the bags, and then put a little label on. So adorable, right?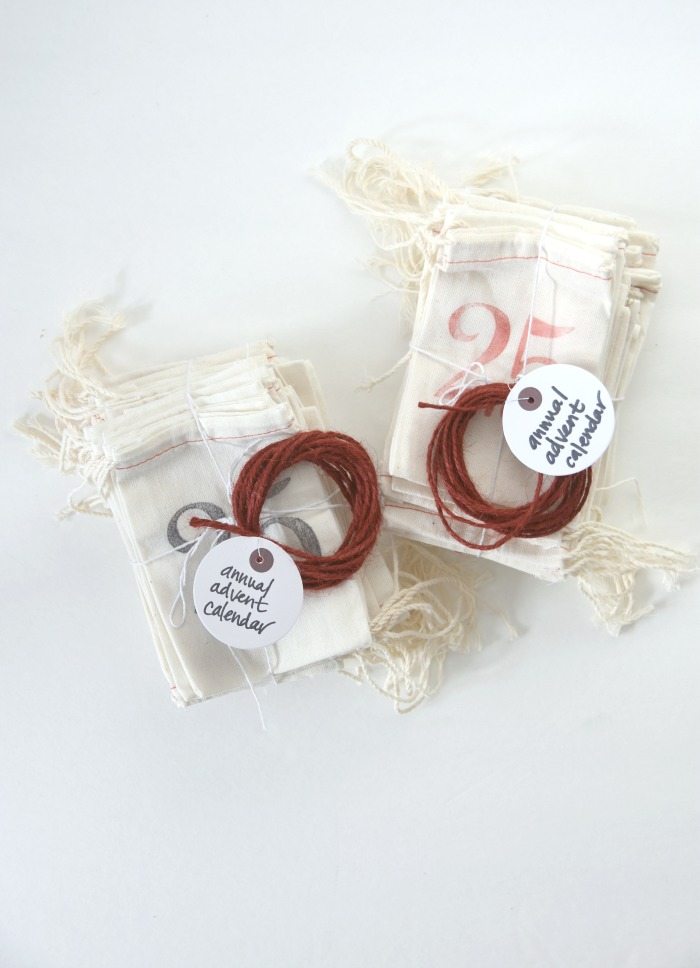 What about you guys? Do you do advent calendars with your kids? Or buy a chocolate one for yourself (don't worry… I won't tell!)?